The Long Road Home!
Photo credit: Larry French/NatGeo/PictureGroup

Martha Raddatz is fearless, she calls it smart. Not only is she a reporter with ABC News, she is the network's Chief Global Affairs Correspondent, reports for ABC's World News Tonight with David Muir, Nightline and other network broadcasts, but she actually covers her stories on the ground in places most would fear to tread.  We wondered where her guts came from so we asked her at the Premiere of The Long Road Home shown at National Geographic based on her best-selling book.  "First of all, if anybody says to act like you're fearless, they're crazy because you shouldn't be fearless, you should be smart. I  go home after two weeks," she told Hollywood on the Potomac. "I think you have to feel passionate about what you do.I  feel passionate about this story, I feel passionate about the fact that 1% of our population, less than 1% of our population, serves and for those families I just feel a profound responsibility to tell those stories."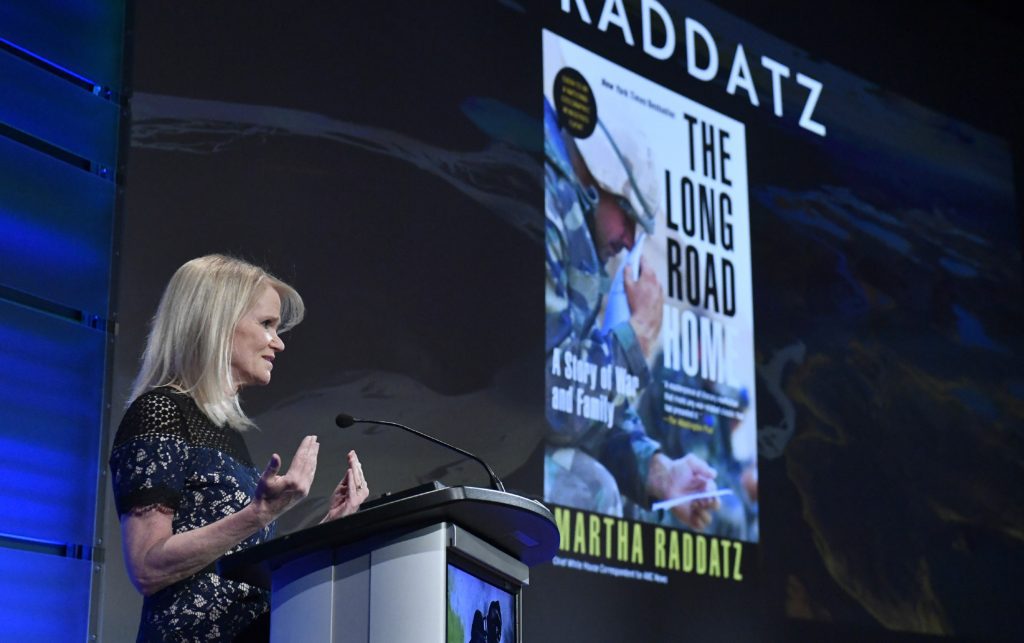 Martha Raddatz
"I mean right now, tomorrow, I can stop doing that if I wanted to. I don't do it for reputation. I do it because I feel that responsibility to tell the story and my family understands that it's scary for them sometimes too, but it means everything to me. When I first started going to the Pentagon, it was peace time; but you can't sit down and enjoy your life when guys who just lost their buddies and start sharing these unbelievable intimate details about their thoughts and their fears and their hopes and their dreams and not be connected to them forever and not care about how you tell that story. And so, I'll keep doing it," she added.  It's like a brotherhood that keeps them together we suggested and maybe that keeps them together, eliminates some fears and they protect each other. "It does," said Raddatz, "because you're protecting each other. It's funny you said that because when I'm over there and with someone else who hasn't been there, I feel strongly [protective] and I feel less fear. In many ways, you have to put aside that fear. The spouses were amazing. I felt in many ways like a bridge between the soldiers and between their families because I'm over there seeing what they're doing in the war zone, but I'm also with their families; so I'm over here and they can relate to me to that … tell what it's like over there."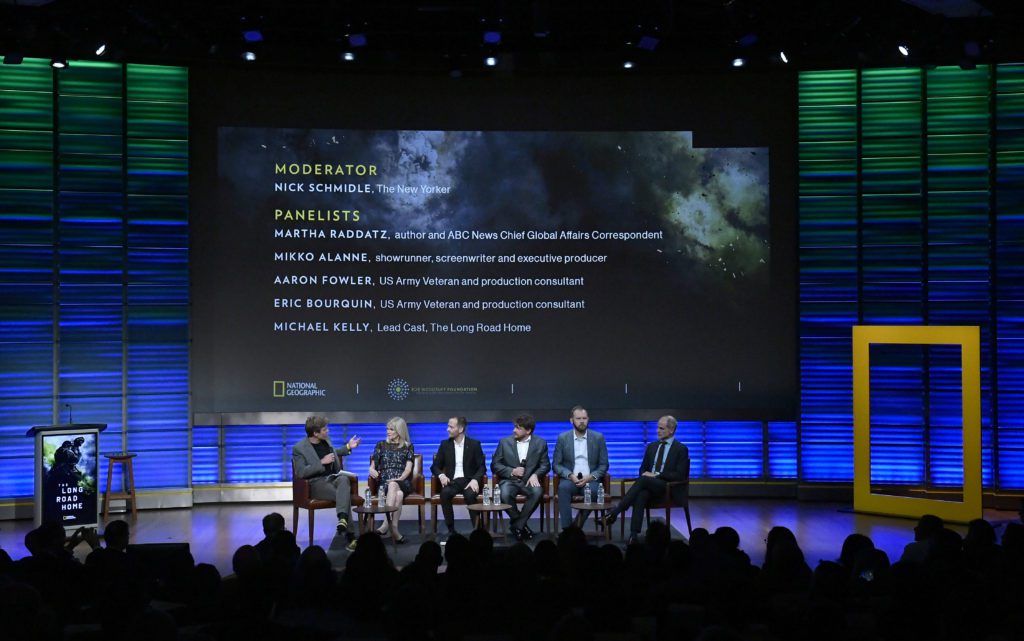 Moderator Nick Schmidle of The New York Times, Martha Raddatz, Screenwriter and Executive Producer Mikko Alanne, Production Consultant, U.S. Army Veteran, Production Consultant, U.S. Army Veteran and Soldier Eric Bourquin, and actor Michael Kelly
Synopsis: Based on her bestseller, The Long Road Home chronicles the events of April 4th, 2004, when a platoon was ambushed in Sadr City, Baghdad in an attack that came to be known as "Black Sunday." The First Cavalry Division came under surprise attack. On the home front, over 7,000 miles away, their families awaited the news for forty-eight hellish hours-expecting the worst. It shares remarkable tales of heroism, hope and heartbreak. The cast includes two-time Emmy-nominated actor Michael Kelly as Lt. Col. Gary Volesky; Emmy-nominated actor Jason Ritter as Capt. Troy Denomy; Kate Bosworth as Capt. Denomy's wife, Gina; Sarah Wayne Callies as LeAnn Volesky, wife of Lt. Col. Volesky; Noel Fisher as Pfc. Tomas Young; and Jeremy Sisto as Staff Sgt. Robert Miltenberger.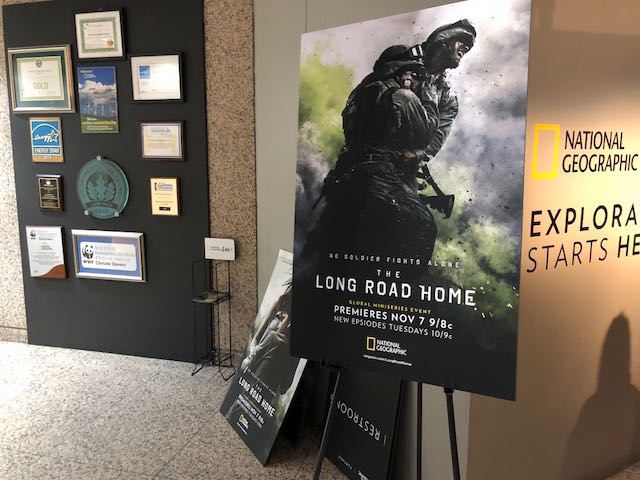 Photo credit: Janet Donovan
We sat down with Executive Producer Edward McGurn to discuss how you handle working on such an emotional and powerful story:  "That's the reason to do it. Obviously, it's a subject you can't take lightly and we have the responsibility of telling all of these people's stories. A lot of the guys are here. They worked with us on the film. It's a big responsibility. This is just the beginning. Then it gets a lot more emotional as we go," he said of the series.  One of the things that stood out in our mind was the use of body language to tell the story. The actors didn't even have to move. There was so much language in their face and their eyes – very impressive intention. "Yeah. It's kind of a magical thing. When you have a cast that big, you can't actually write lines for everybody. They start engaging in these events together as a group. We shot sequentially, so they really are discovering the moments as they go through them. That's where you get their real reactions. In editing, that's what you discover; these beautiful moments where the actors were maybe not the focal point of the scene, but we find the second or third camera's covering them, and they have this great expression, and you use that. You're right. It's given such a complexity to the show because they never turned off. We put them through three weeks of boot camp before this. They'd start having that unit cohesion. Later in the series, the translator becomes the focus of episode 5 which is something we're proud of. I haven't seen a movie that really goes into what the other sides' experience is. He's our way into the Iraqi side; why the Iraqi's were fighting; what this all meant from that group."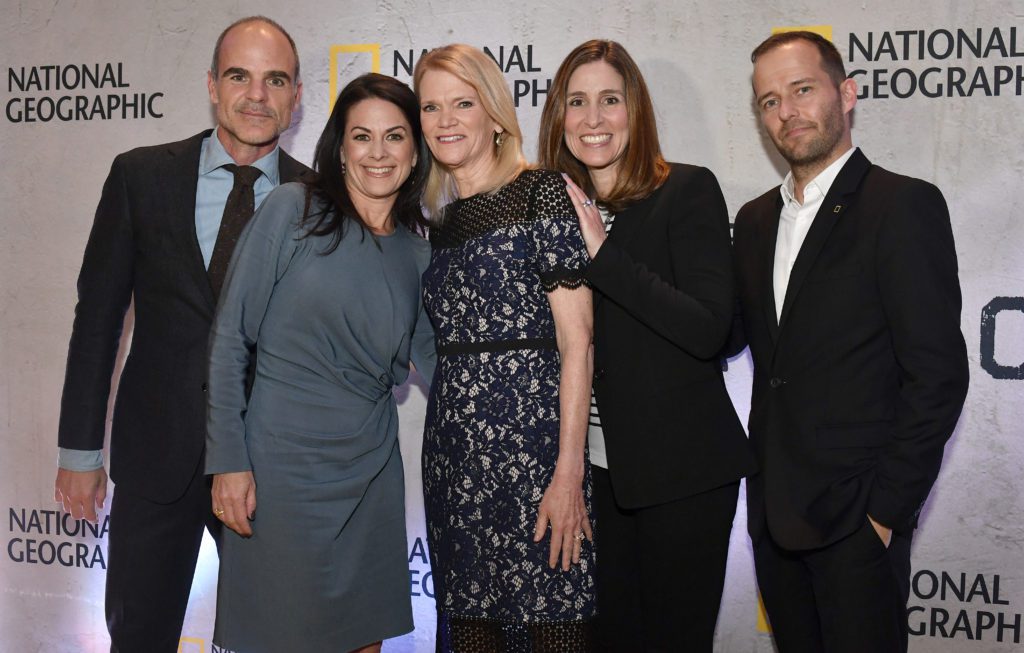 Michael Kelly, National Geographic CEO, Global Networks Courteney Monroe, Martha Raddatz, EVP, Scripted Programming Carolyn Bernstein and Screenwriter and Executive Producer Mikko Alanne.
Michael Kelly plays Lt. Col. Gary Volesky, a man he admires and beyond. "He is a real man who's still serving our country, and I think he's why I took the role. I read about him. I watched interviews on him. There came a point when he talked about his wife. He was like, 'She's the real hero, being at home.'  It was that video that made me say, 'I've got to play this man.' They think I'm the right guy to play the role. I've got to do him the justice he deserves."  Volesky served in the Gulf War, Iraq War and War in Afghanistan. He earned the Silver Star for his actions on 4 April 2004. "Any time you're playing someone who is a real person, the weight of that responsibility is incredible. When you're playing someone who is real and is still alive and is still serving in this country, and every day he's out there fighting for my freedom, putting his life on the line so that I can play cops and robbers for the day is such responsibility. These are the freedoms that we enjoy in this country, and it's because of these people. The least you can do is do the best job you can."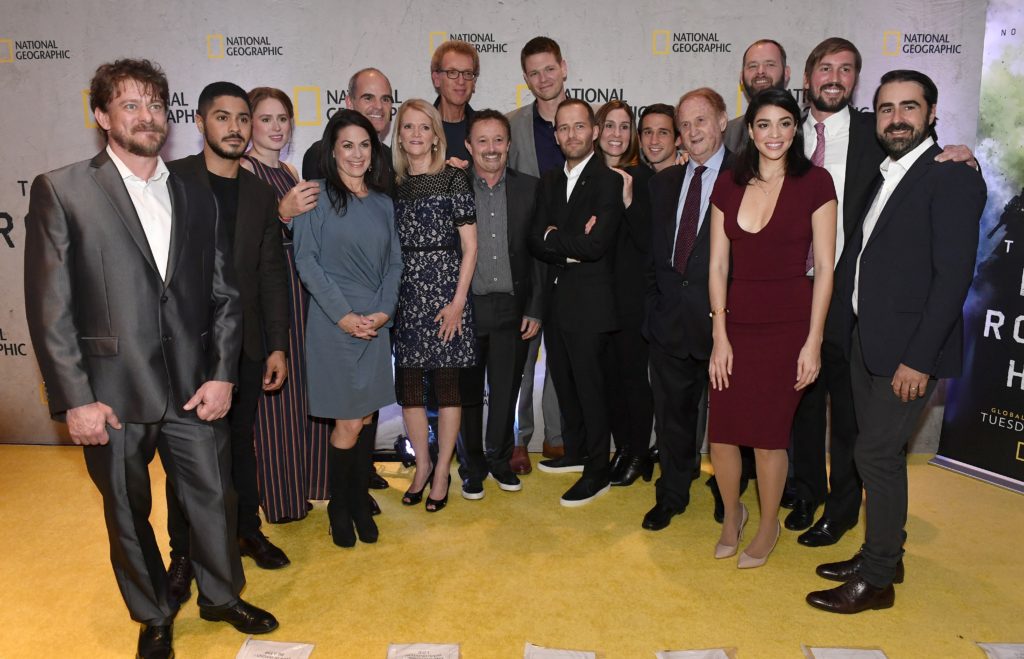 National Geographic Global Networks CEO Courteney Monroe, fourth from left and Martha Raddatz pose with cast and producers at the premiere.
Jon Beavers, who plays Sgt. Eric Bourquin, was there with the real Bourquin who was the most distrustful of the Iraqi translator. Having only watched the first two episodes of the eight part series, we wanted to know if he killed the translator.  They weren't talking. "I can't tell you that," said Beavers.  "You've got to tune in. "Some of those moments are played out differently in the retelling on film then they actually went down. The translator character is a bit of an amalgamation of several characters, actually. It may not have played out exactly in the way that we depicted, but it's sort of the license that a storyteller takes to make up a bigger point about relations and how they're felt. You can't sort out who is with you and who's not, you really can't."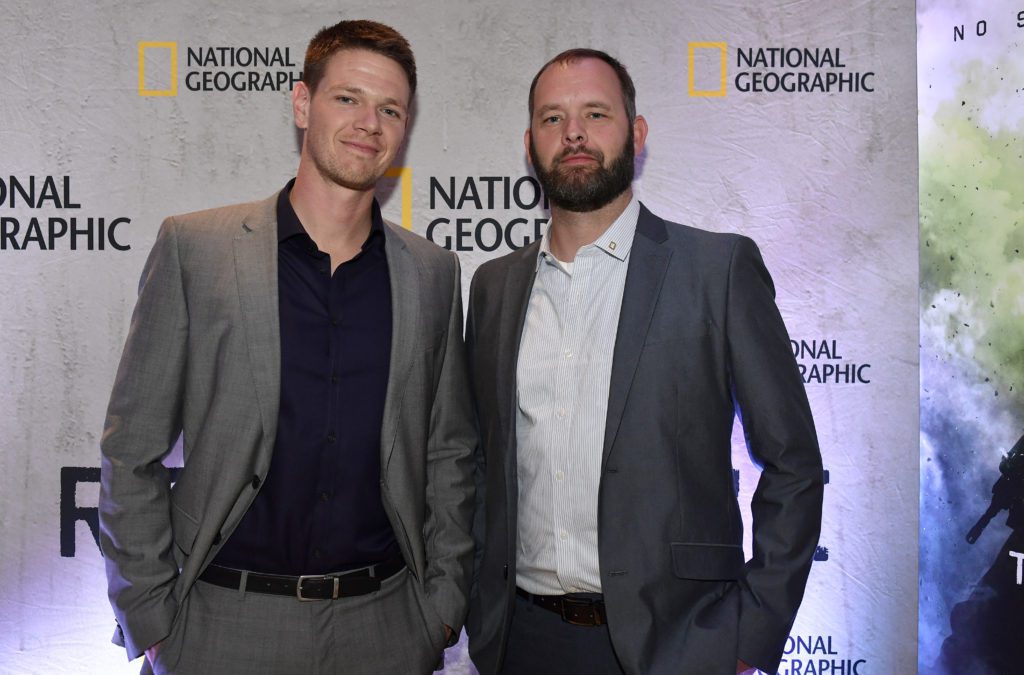 Jon Beavers and Eric Bourquin
"It's a split second decision that you're making on the fly," added Bourquin. "When I kicked the door in and went inside with the crew, I see people coming in and I've still got guys behind me who are walking down the hallway and into the house. I still think about, to this day, things could go very different. The fact that I'm a human and they're human, we recognize that and were able to establish that they're not a threat. We still did what was required of our job. Rile them up, keep everybody together, make everything secure; that way we can still ensure our safety, and theirs as well. With this whole thing, this is such a grand and big grand experience where they're trying to make everybody feel all these emotions at the same time. The way they pitted him against them. The real interpreter, he was a fantastic guy. That guy ended up wearing partitioned body armor, just like he does in the TV show. He was fighting the same way we were. It was much like that. They were in it just as much as we were. The same way he was. It's very respectful and we're very proud of what the guy's accomplished while we were there.  Being on set was very surreal. I got to see all of my friends that I grew up with, or guy's that looked almost just like them, wearing all the equipment because I was a Lieutenant consultant on the show. We were there to make sure all the uniforms are correct and levels are correct. Being the watchers, to see people mimic our actions and our movements, is not like the star watching a movie." 
Moderator Nick Schmidle, Martha Raddatz, Mikko Alanne, Production Consultant, U.S. Army Veteran and Soldier Eric Bourquin, and actor Michael Kelly
"I got great advice," Beavers reminded him. "I started out really intimidated, but he spent the whole time there with me. And the guy's are just so incredible generous and encouraging. He told me I could do it before I really even believed I could do it. I figured if he thinks so then shoot, maybe he's right." "I think what a lot of people are really going to connect to is that it's not a war story, it's a human story, it's a love story," Bourquin interjected. "You can be the people in Humvees. You can be the family back at home. You could be the Iraqi's or someone's who's just forced into the situation unwillingly. Everybody will be able to connect to it and realize everything that is sacrificed by these great men that make it something. Guy's coming out there trying to rescue us."
The Long Road Home will debut with a special two-hour premiere Tuesday, Nov. 7th at 9/9c on the NatGeo Channel.
Save
Save
Save
Save
Save
Save
Save
Save
Save
Save
Save
Save
Save
Save
Save
Save
Save
Save
Save
Save
Save
Save
Save
Save
Save
Save
Save
Save
Save
Save
Save
Save
Save
Save
Save
Save
Save
Save
Save
Save
Save
Save