A Culinary Journey!
by guest contributor Joe David
Photo credit: Patricia McDougall
"The cuisine of any country is a fundamental part of its heritage. The ingredients reflect its geography, while the savor and colors accent the aesthetic tastes of its inhabitant." Najmieh Batmanglij, author of New Food of Life.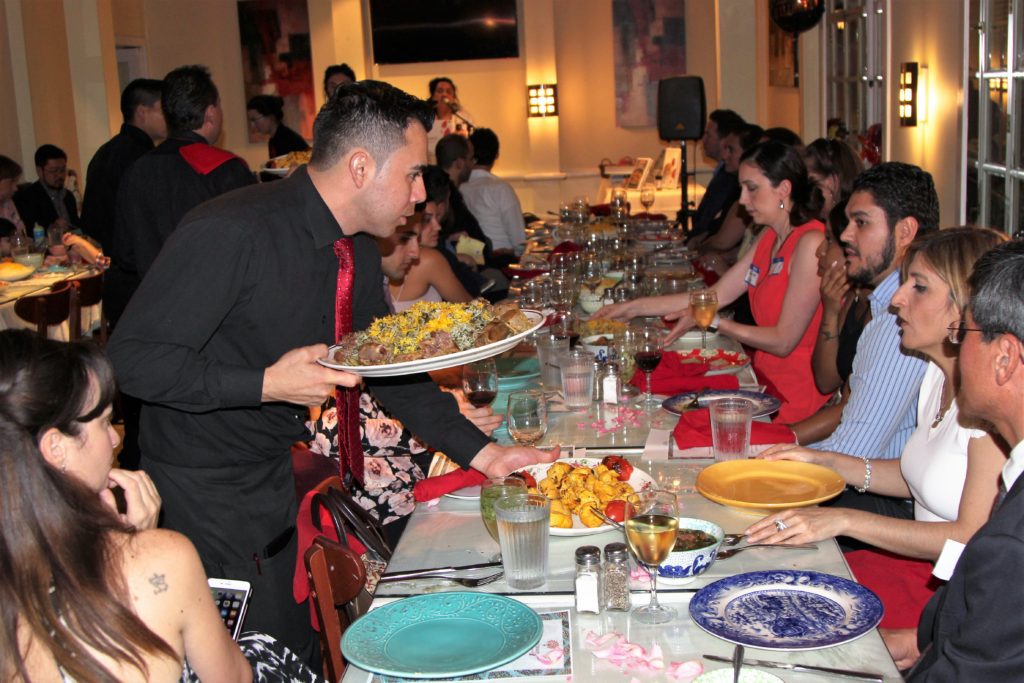 Last week over 50 select Washingtonians enjoyed a magic carpet ride to Ancient Persia. During their four-hour journey, they sampled the food, poetry and even a few romantic stories. But the focus of the evening, despite fascinating distractions, was the food – a multi-course meal of savory flavors from the sweet to the tart, served in abundance, seasoned gently with poetry and history. It was a memorable evening in which tradition and history blended with food to provide the right garnish for diners who yearned for ancient culture and culinary reflection.
The dinner, which was part of a series of Ancient Dinners, was prepared with care and took place in a private dining room at the Oakville Grille and Wine Bar in Bethesda.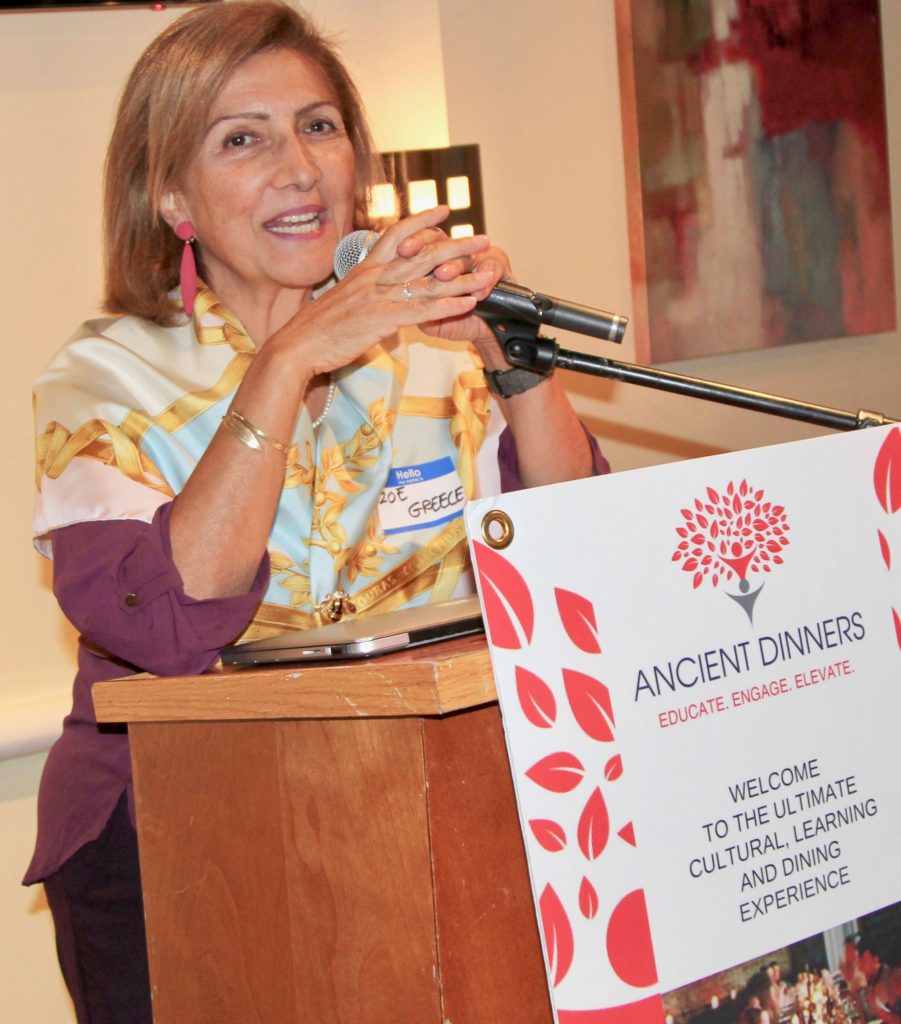 Dr. Zoe Kosmidou
Dr. Zoe Kosmidou, the founder of Ancient Dinners LLC, was the hostess. After a long career devoted to cultural diplomacy, she decided to transition into a new career and founded Ancient Dinners. "It is the perfect transition for me," she said. "After years in the diplomatic core, traveling the world, I have learned that a culture's traditions, health habits and mores is often reflected in its food and diet. Buried within the multi-layers of its cuisine is a history lesson waiting to unfold during the dining experience."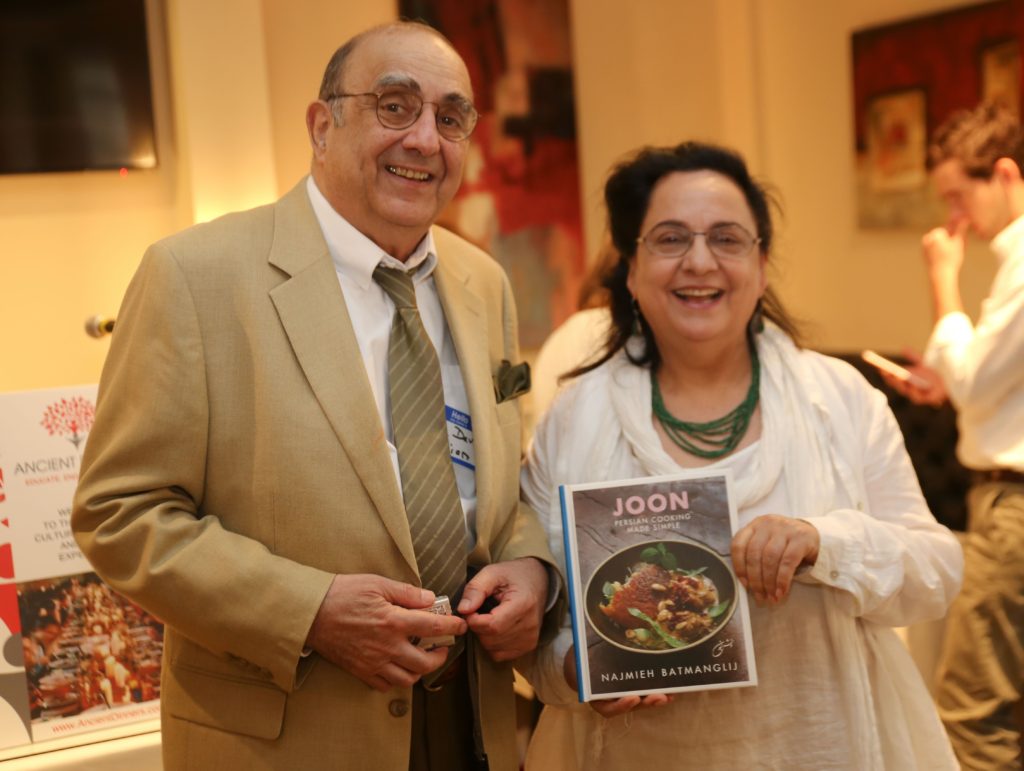 Joe David and Najmiieh Batmanglij
One of the three speakers was Chef and Culinary Historian Najmieh Batmanglij, author of New Food of Life cookbook, among others. To many foodies familiar with Middle Eastern cuisine, she is considered the queen of Persian food, one of Washington's most respected gourmands and culinary historians.
Chef Najmieh began the magic carpet ride into the past with a refreshingly pleasant cucumber drink; it was followed by a succession of delicious Middle Eastern foods, imaginatively accentuated with fruits, spices, meats, and vegetables to create new and familiar flavors, abundantly served with mountains of saffron and herb rice.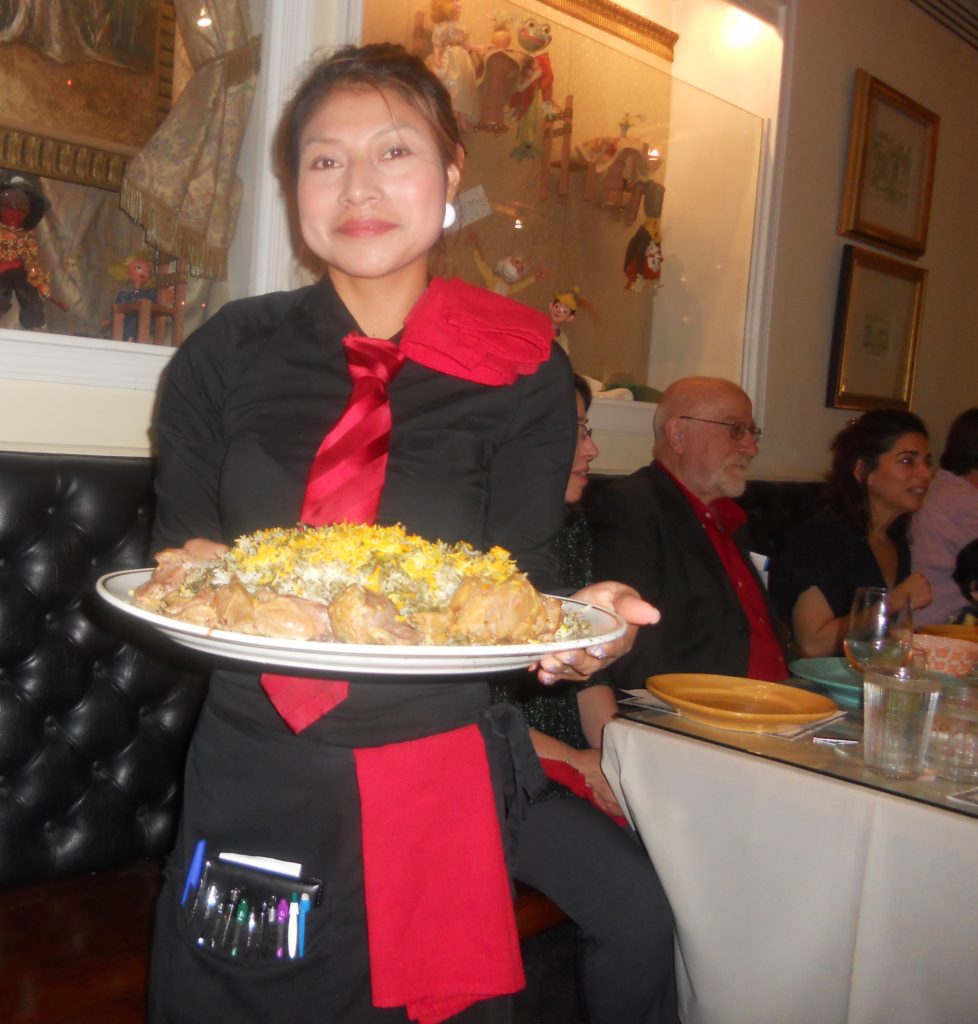 "When I am at home with the samovar steaming and the house fragrant with the smell of onions and garlic cooking; when the air is filled with the captivating aroma of mint and rare spices," the chef said, "beautiful memories come back to me of my childhood in Persia!"
Such also was the case for the over 50 attendees at the Persian banquet, many of whom were prominent world-travelers who appreciated the subtleties and the delicacy of the authentically ethnic cuisine. During this grand evening of food and culture, delicately seasoned with a pinch of history and nostalgia, the time travelers were able to forget their particular ethnic identity and for four hours experienced the pleasures of a true Persian dinner.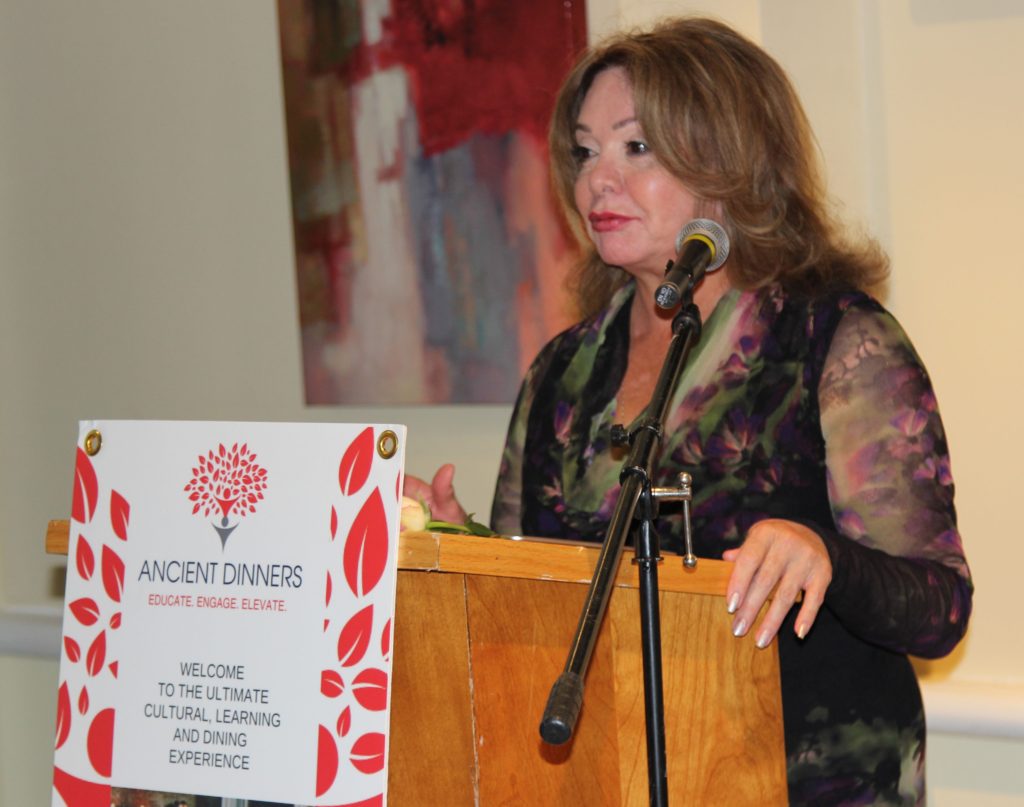 Dr. Zidi Berger
"Like an ancient Greek symposium," Dr. Zoe Kosmidou said.  "Those attending the dinner enjoyed not only a gastronomic feast, but also an opportunity to learn from an engaging mix of speakers. For me, Ancient Dinners is more than just a culinary event. It is an introduction to other cultures, an extended hand of friendship to other nationalities, for the sole purpose of better understanding and uniting people."
Dr. Alex Nagel
Two prominent guests highlighted the evening's activities, Dr. Alex Nagel, a Smithsonian curator and expert on Persian archeology, who commented on the culture and history of this once great empire, and Dr. Alireza Maghsoudi, MD, a preventative cardiologist, who reviewed the health value of the culture's food.
Some of the guests present at the Persian banquet included: Dr. Joanna Athanasopoulos Owen, PhD, AAFSW President, Geophysics and Environmental Management; Dr. Helen Abatzi, World Education Specialist; Theodore Vakrinos, Esquire; Dr. Zigi Berger, MD, Women's Wellness Institute; Henry Chou, PhD, Center for Advanced Medicine; Howida Diab, former Cultural Attache, Embassy of Libya; Bill Outlaw, Public Relations, US Veteran Affairs; and Gizem White, Founder/CEO of Turkish Coffee Lady.
The menu for the dinner included some famous Persian dishes – from Fesenjan (tasty chicken in a flavorful pomegranate sauce) to Baghali Polow (lamb shanks with saffron rice, fava beans and dill). The next dinner will be an Ancient Roman Cena on December 5, 2017, at Aperto restaurant, Washington DC.  Guests expected to attend include: Award-Winning Author, Chef, Food Historian, and Mediterranean Diet Expert Amy Riolo along with Award-Winning Chef/Restaurateur and Owner of Aperto and Al Tiramisu restaurants, Luigi Diotaiuti. For more information, visit www.AncientDinners.com.
Save
Save
Save
Save
Save
Save
Save
Save