Racing…Jumping…Charity!
by guest contributor Alissa Kellly
Photo credit: Jennifer Wood – Jump Media

Costumes, Racing, Jumping and Charity Events Highlighted the 2017 Washington International Horse Show. There was something for everyone at WIHS held last week at the Capital One Arena. With six days and five nights of competition and social events, WIHS is one of North America's most exciting and entertaining equestrian event.
Kama Godek as scarecrow
On Thursday evening, Barn Night reigned supreme as groups of horse-crazy enthusiasts came to the Capital One Arena to cheer on their favorite riders. Competition included the High Junior/Amateur-Owner Jumper class, presented by Kadley Farm, and the $35,000 International Jumper Accumulator Costume Class and Best Costume Bonus, presented by Equestrian Sport Productions. Riders went all out in their costumes, painting their horses, wearing masks and donning laugh-out-loud attire. A scarecrow, Dracula, Kahleesi from Game of Thrones and even the Hamburglar competed that night!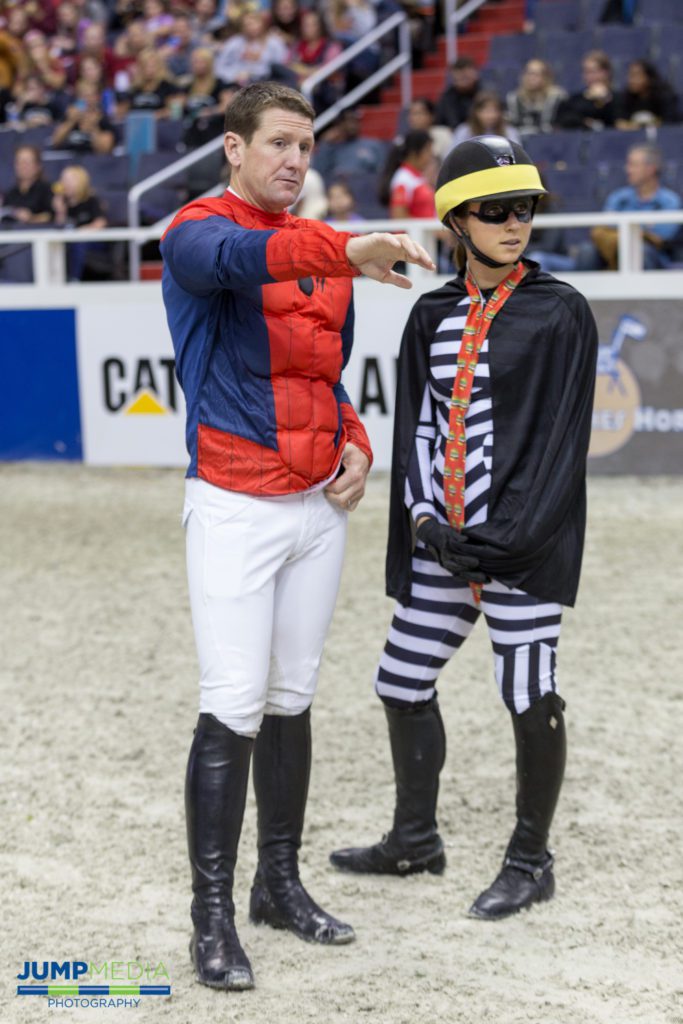 McLain Ward and Adrienne Sternlicht
According to WIHS Board President Victoria Lowell, "The show was a huge success this year. We had the best competitors including US and International Riders who came from around the world. The big winner was Beat Mandli of Switzerland who won the $130,000 Longines/FEI North American League World Cup Washington class. McLain (Ward) won our $50,000 Speed Final on HH Carlos which was the final class of his career as McLain decided to retire him after his strong effort."
WIHS also hosts nightly parties with skybox level views of thrilling equestrian competition while offering the chance to mingle with friends and family, all while supporting WIHS partner charities. On Thursday evening at the WIHS Buck Breast Cancer Benefit, attendees were able to pledge money to support the Clear for the Cure "pink ribbon" fence in the International Jumper Accumulator Costume Class, presented by Equestrian Sport Productions. A portion of each ticket benefitted the Capital Breast Care Center.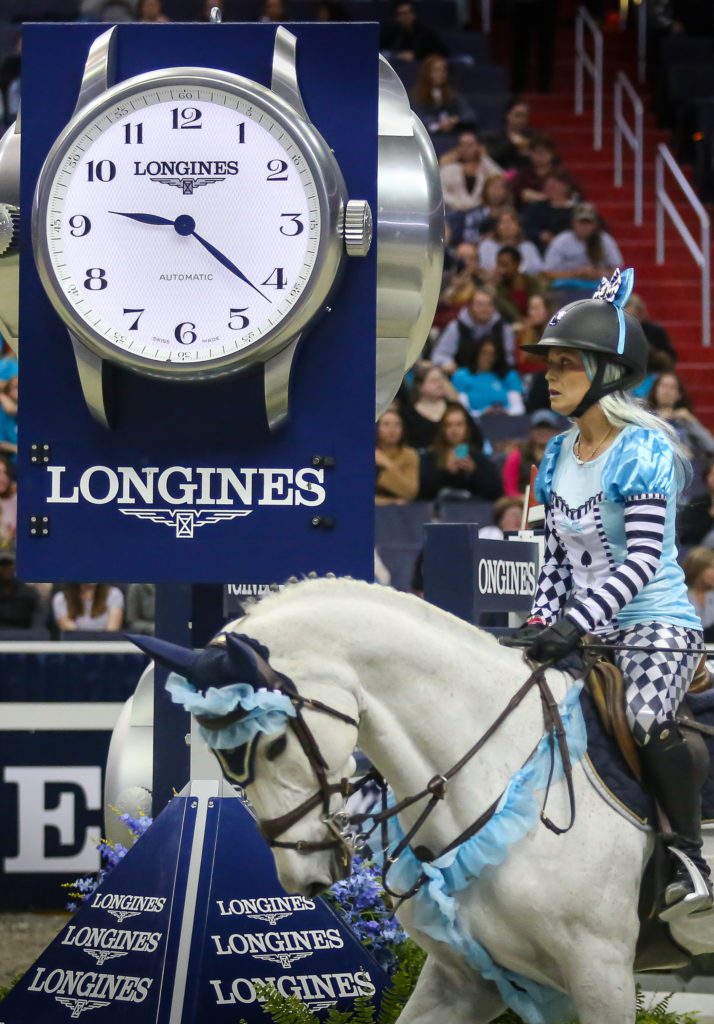 Amanda Derbyshire and Lady Maria BH (Alice in Wonderland)
During the week-long event, WIHS welcomed the military, supporters and their families to celebrate an evening honoring servicemen and servicewomen. Proceeds from the Armed Forces Reception benefit TAPS (Tragedy Assistance Program for Survivors), the WIHS Official Military Charity since 2010. Saturday night's President's Cup Party celebrated Olympic athletes, past and present, many of whom competed in the arena that evening. Committed to assisting equestrian athletes in accomplishing their goals, the — USET Foundation is the beneficiary of the President's Cup Party.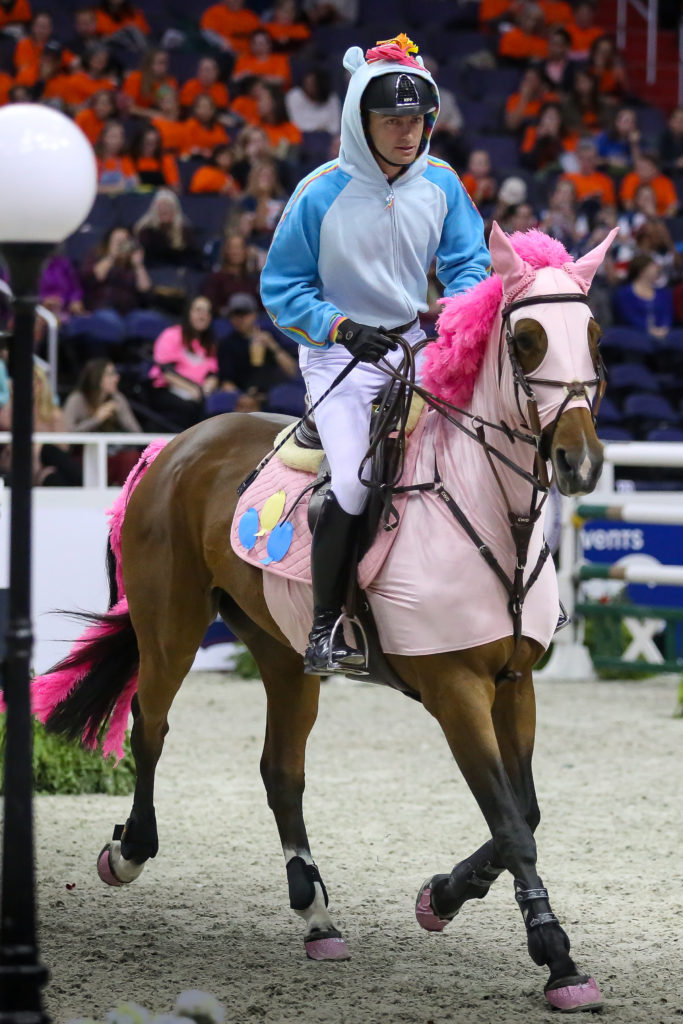 Andrew Ramsay and Cocq A Doodle (My Little Pony)
"WIHS supports the Tragedy Assistance Program for Survivors (TAPS) which helps provide compassionate care to all those grieving the loss of a military loved one. WIHS also supports the Capital Breast Care Center which provides patient navigation, breast health education and screenings to underserved women in Washington DC," said Lowell.
Saturday night hosted the best of the best. Riders under 18 years of age contest their final round in the Lindsay Maxwell Charitable Fund WIHS Equitation Finals. They had to switch horses and ride an unfamiliar mount over a course of jumps to determine who will be crowned the equitation champion.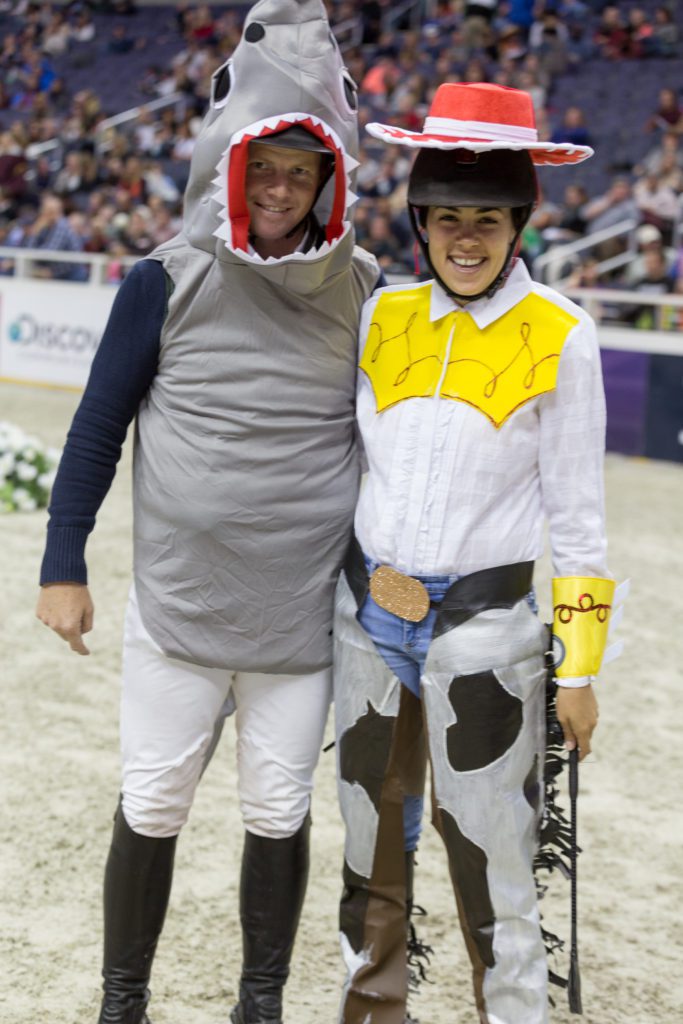 Shane Sweetnam and Brianne Goutal as Jaws and Jessie from Toy Story
Former WIHS Equitation Finals champions include Kent Farrington (1999), currently the #1 rider in the world and two-time Olympic gold medalist McLain Ward (1993), currently #2 in the world. Other WIHS Equitation Finals alums active in grand prix ranks include Brianne Goutal (2004), a judge in this year's Finals, Jack Hardin Towell Jr. (2006), Lillie Keenan (2010), Victoria Colvin (2015), and Hunter Holloway (2016). The $130,000 Longines FEI World Cup™ Jumping Washington, presented by Events DC for the President's Cup, is the pinnacle of show jumping sport. Riders were vying for valuable points to qualify for the 2018 Longines FEI World Cup™ Jumping Finals, held in April in Paris, France.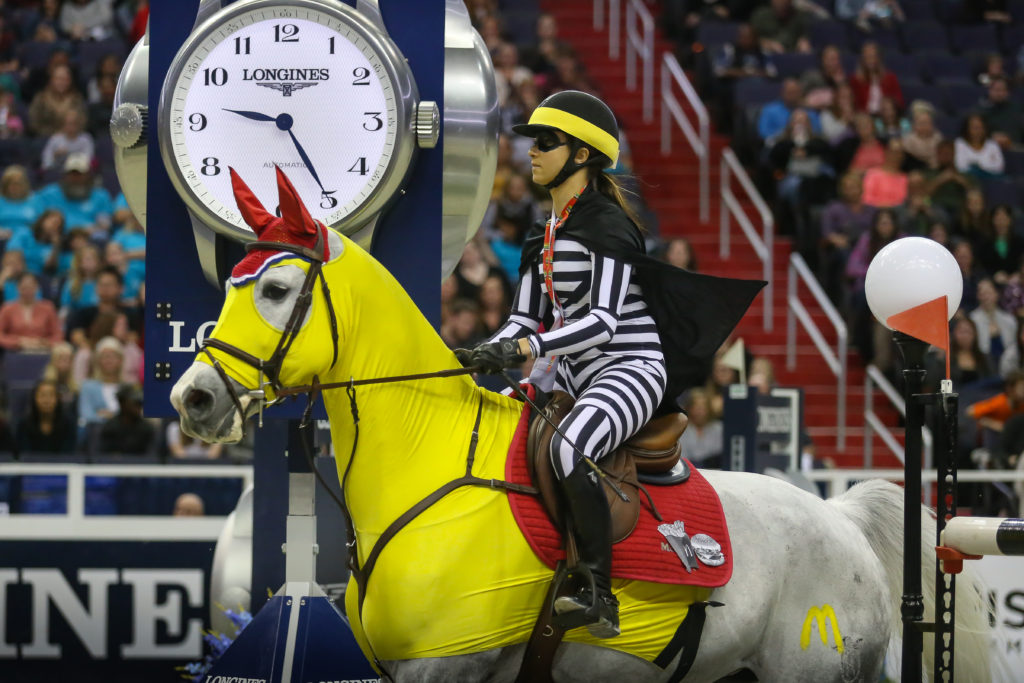 Adrienne Sternlicht and Pembro
What's next for WIHS? Lowell is excited. "We have our 60th Anniversary coming up next year which will be a huge celebration and our goal is to become a 5* FEI rated competition which is the highest level of international competition for equestrian sport."
Save
Save
Save
Save
Save
Save
Save
Save