Priceless!
Photo credit: Brendan Kownacki
In celebration of Capital One's newly launched SavorSM card which encourages people to come together to create memorable moments around food, guests gathered at the newly reestablished District Wharf at what some are dubbing "the coolest new waterfront in the country" where renowned celebrity chef Bryan Voltaggio prepared and served a custom four-course meal.  It's called the Priceless Table!  It was.
About Voltaggio: Bryan is the executive chef and owner of four restaurants including VOLT, Lunchbox, Family Meal, and RANGE. As a finalist on Top Chef Season 6, Voltaggio is the first chef to compete on both Top Chef and Top Chef Masters. The James Beard Foundation Award finalist co-authored the cookbook, VOLT.Ink, with his brother, Michael and HOME. As a father and chef, Voltaggio is a passionate philanthropist and supports Share Our Strength (SOS) in their fight against childhood hunger. He has raised close to half a million dollars over the last five years to support innovative school breakfast programs, meals for achievement, and the national No Kid Hungry campaign. He lives with his wife and high school sweetheart Jennifer and their children in his hometown of Frederick, MD.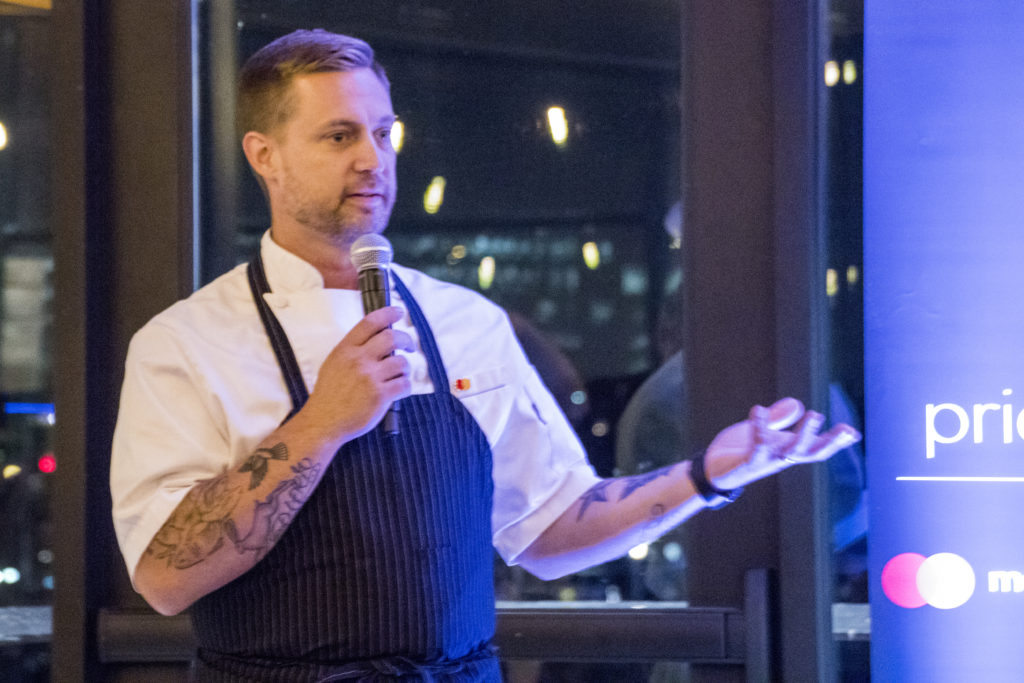 "Today's menu is going to be a lot of fun. I'm going to come out and talk about each dish starting with the first course," said Voltaggio to an attentive audience. "A lot of these dishes are favorite memories of mine and hopefully they might spur within yours. In particular, the first course – beets.  I'll explain why it's on the menu now. When I first got involved in my first restaurant, we put a beet dish on the menu. People kept coming to me saying that, 'I hated beets as a child. I can't believe that you did this to me, but now all of a sudden I like them and now you've changed this memory. You've changed this old memory that I had when my parents were pushing beets at me and now I enjoy them.' I can't tell you many times as a chef can change peoples' mind about food, especially the way they get to enjoy something that they were afraid of at one point, or they pushed away. My brother hated Brussel sprouts, but somehow likes them now. He hated broccoli, but he likes it now. I ate everything, so I was okay. This has been a dish that has been on our menu for a long time," he said referring to beets, "but it has evolved over time and continues to be a part of me."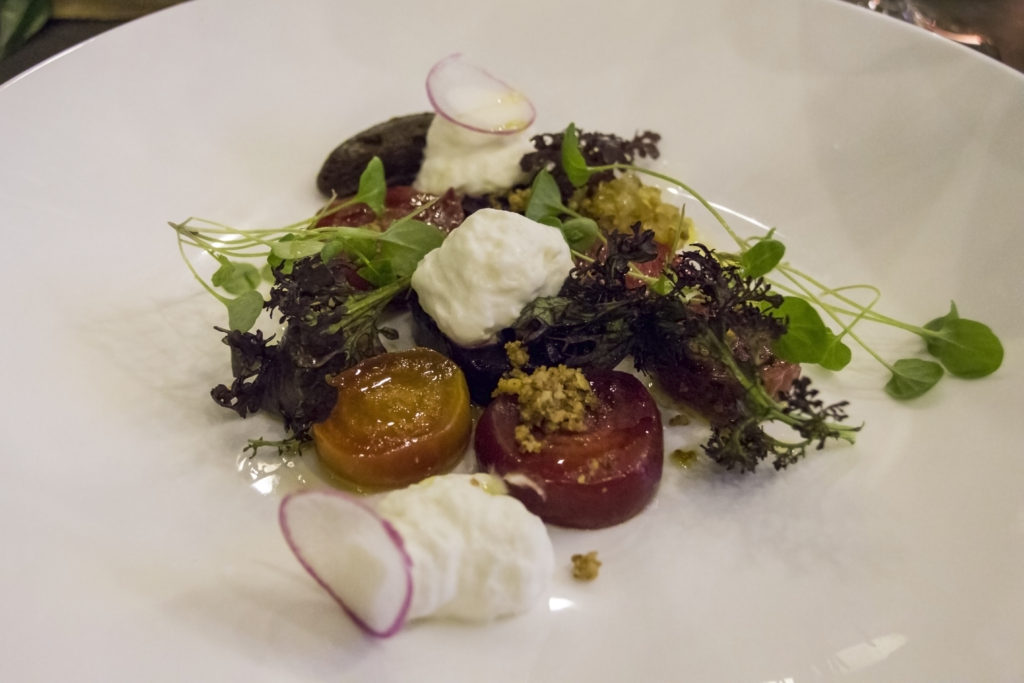 First course: salt roasted beet, cherry glen farm goat cheese, walnut, fennel mostardo, figs paired with paul direder, rose, zweigelt, frizzante, wagram, austria 2015.  Voltaggio, who believes in partnerships, has remained a close alley of Cherry Glen Farm.  "When I first met them they had like 100 goats. They were making cheese because somebody on the farm had a dairy allergy; that way they could have goats cheese and goats milk. Then it turned into this incredible little farm side cheese company that grew, and grew and grew. We wanted to partner with some people in our backyard, and this is one in particular.  I've had a longstanding relationship with them. It has won awards all over the world; but they're honestly just great farmers who are just trying to do something real in their area. I've always been a huge supporter of that. It's been on every menu we've ever had since opening my restaurant."  We'd like to thank the allergy person because the goats cheese was amazing.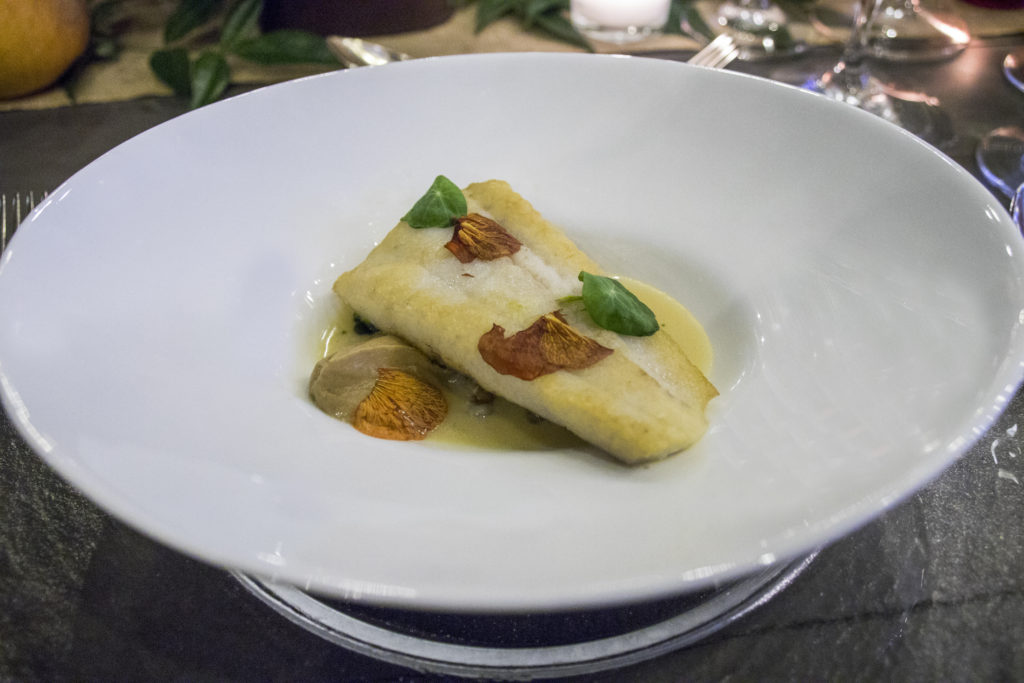 Second course: fluke, caramelized cauliflower, sprouted grains, fermented grape, chive paired with chateau de puligny-montrachet, chardonnay, remilly ler cru, saint aubin, burgundy, france 2013. "I have to tell you about this course," explained Bryan. "This one is really fun. So this is kind of a play on Sole Veronique. We take the classic sauce that normally has grapes in it and what we do is we ferment the grapes and make a really rich fish roux with mountains of  brown butter … there's a really great silkiness to it. We add caramelized cauliflower and let that cook over night so that it ages 24 hours. We cook it really slowly. It lets the natural sugars out of the cauliflower so they actually caramelize and brown; And then we just make a nice rich puree … just cook the fish in olive oil and serve it with some leaves. It's phenomenal."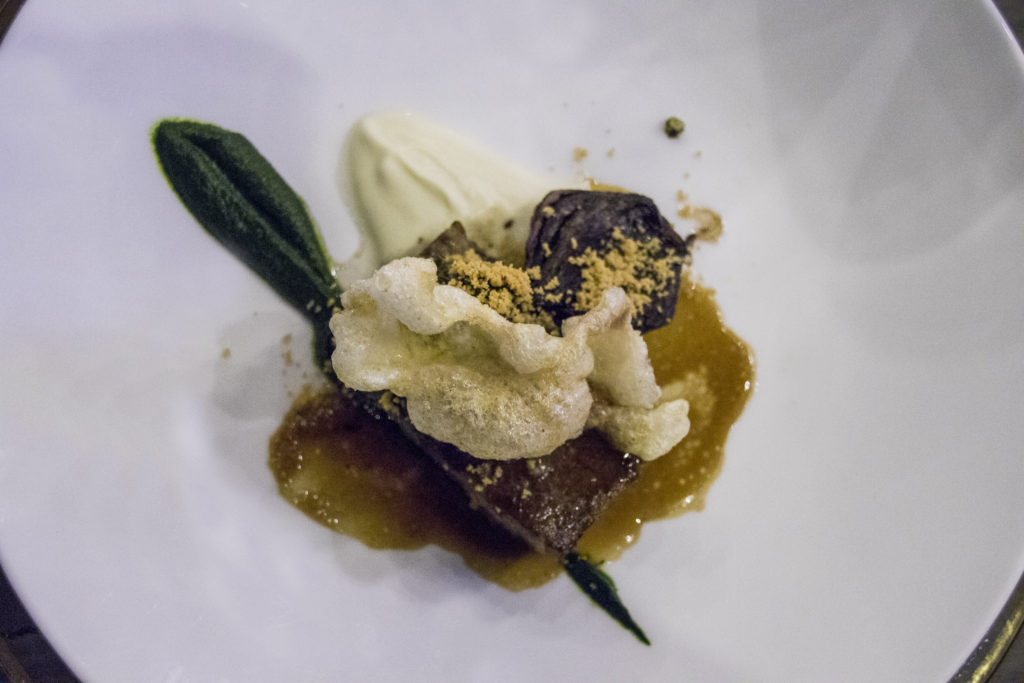 Main course: beef short rib, caramelized onion, pickled onion, brown butter paired with domaine la boutiniere, grenache blend, chateauneuf-du-pope france 2013. "We cooked you some braised beef. It's actually warmed overnight, so 48 hours. We've just seared it very lightly and served it with braised greens over the top and seasoned with a little bit of curry. And then also parsnip, kale and some cobbler salt over the top."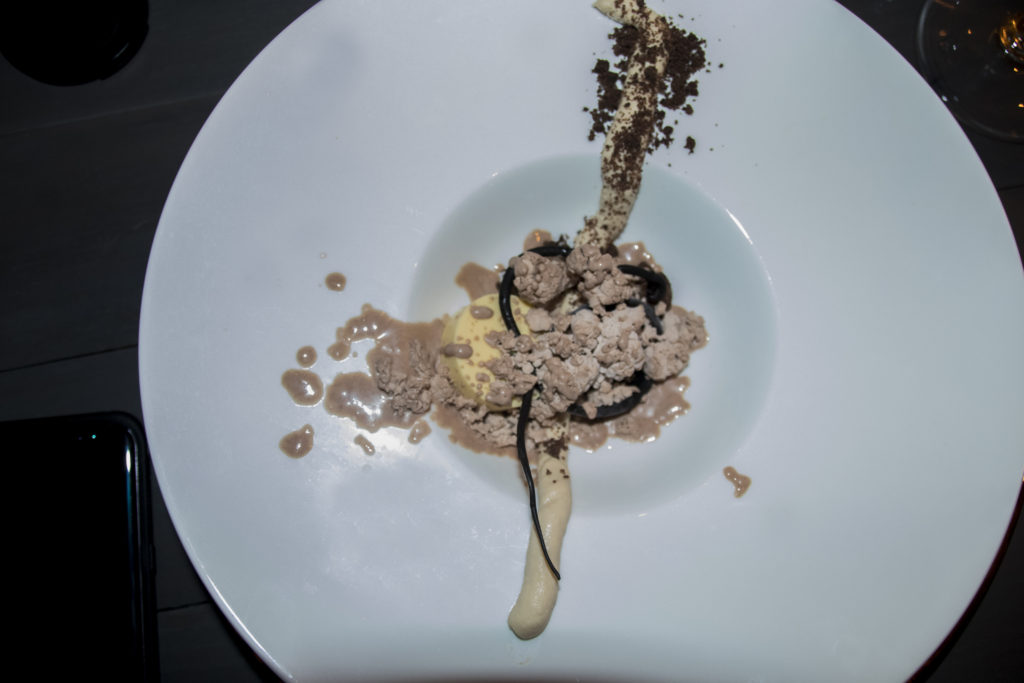 Dessert: chocolate, cerated malted chocolate, caramelized white chocolate ganache, passion fruit paired with ferreira, branco, port, dour valley, portugal. Dessert was perfect and arrived in a bit of a mist because it was infused with nitrogen. Heavenly!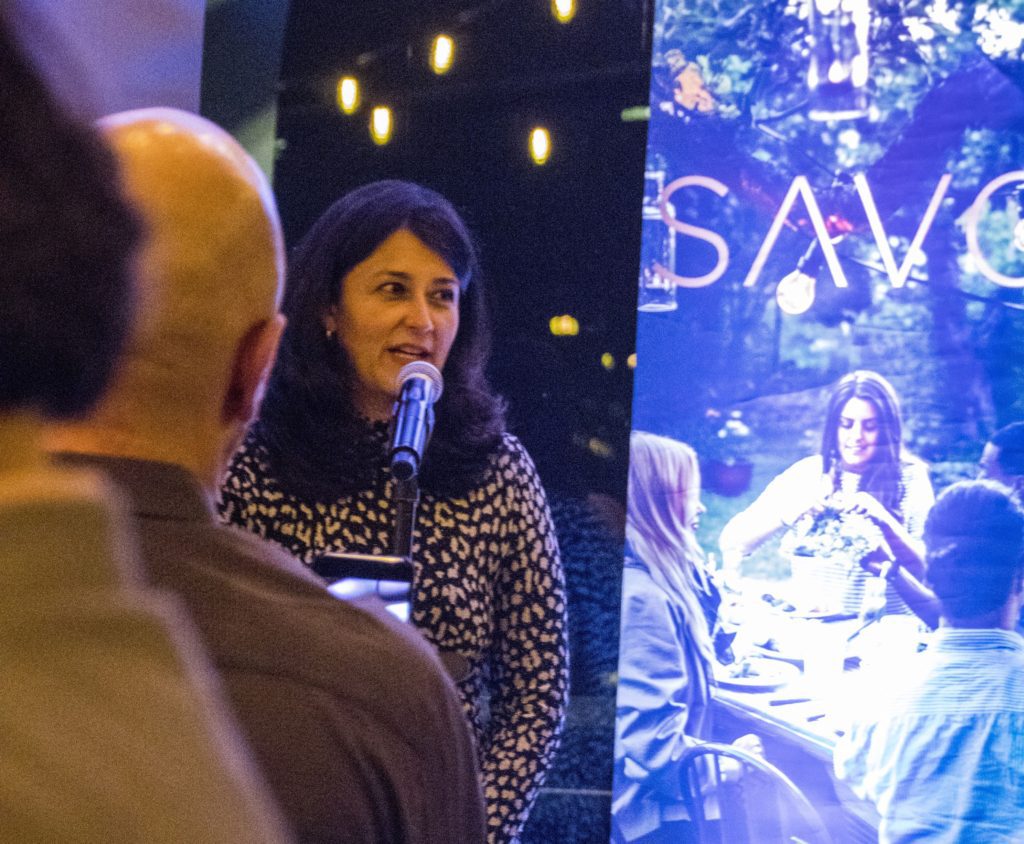 Emilia Lopez
Emilia Lopez, managing vice president at Capital One, lead the team for the new Savor card a few weeks ago. "At Capital One we are constantly striving to meet our customer needs, whether we are building new great digital features, promotions or new products, we are constantly innovating. When we went to the journey to develop this product, we asked our customers what matters most to them. Food and the memories around them was a recurring theme. Whether it was trying a new recipe on the internet or going to celebrate at a new restaurant, or planning for tomorrow, food was central to peoples lives. With our Savor card you will get 3% cash back from dining, 2% on groceries, and 1% on everything else. With no annual fee, it essentially allows you to reward people for doing what they already like to do and enjoy the most which is spending time with their families and friends, turning meals into memories."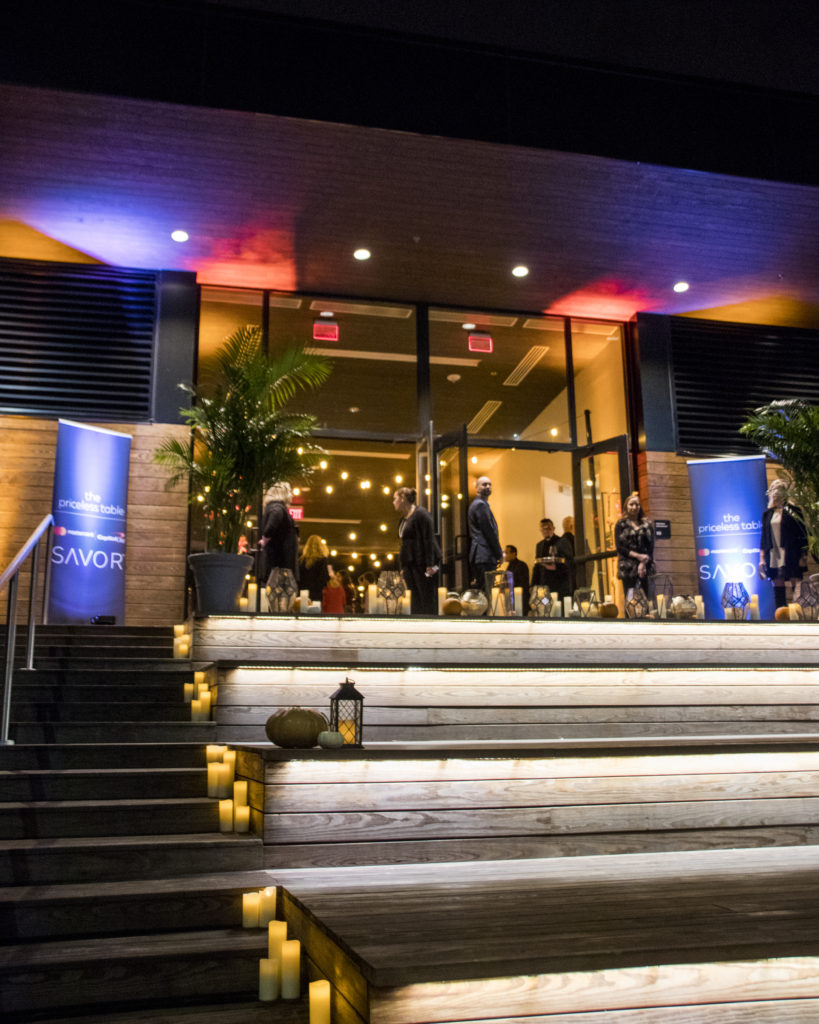 "Thank you all for coming out tonight," said Voltaggio.  "It is an honor and a pleasure to be here and be a part of this amazing launch. As a chef, finding out that there is this really great partnership between Capital One and MasterCard, and creating a card that actually pushes people into my restaurants is fantastic!  Just thinking about the fact that as people who are involved in food, love food, celebrate food, celebrate around food, there finally is a card and a partnership that enables you to actually be able to get something back. We all get something. I get reservations and you get cash. So, it's a really great partnership all around."  Priceless!

Save
Save
Save
Save
Save
Save
Save
Save
Save
Save
Save
Save
Save
Save
Save
Save
Save
Save
Save