Oh, What a Night!
Photo credit: Andy DelGiudice – NIAF

"I don't mean to brag, but where would America be without Italians?" Emmy-Award-winning actor, NIAF Celebrity Ambassador and Sicilian American Michael Badalucco who opened the 42nd NIAF Gala at the Washington Marriott Wardman Park Hotel in Washington, DC in honor of Sicily.

"I'm going to speak from my heart," said outgoing COO of NIAF John Viola, mentioning his Sicilian roots, memories of his grandfather, his family and his bride of three weeks, his partners and friends. "If you were there last night and were there this morning, you could tell that this is an organization that has vigor, that has future, is prepared to move our community forward and I think that is an amazing accomplishment." But the buzz of the evening was Viola's colorfully designed Sicilian jacket, fresh out of Century 21.  Quipping that he wished he'd worn his own Sicilian jacket "instead of this very black jacket," Italy's Ambassador to the United States Armando Varricchio addressed close ties between his country and ours. "Italy is a strong partner and ally of the United States." he said. "I see many friends here who show how close our relations are."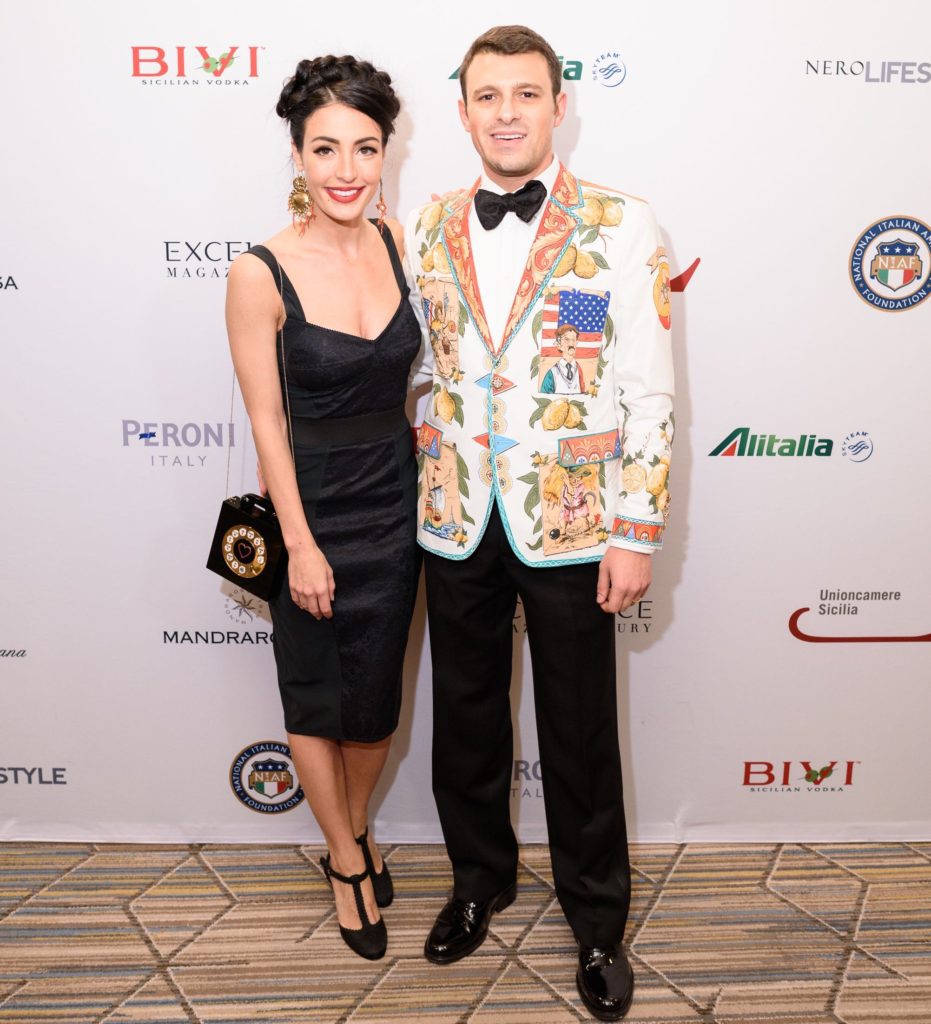 Nicole Di Bona and John Viola
Emceed by Emmy Award-winning journalist and Fox Business Network anchor Maria Bartiromo, it was an evening that brought more than 1,500 guests to their feet with celebration, laughter and tears. Among the honorees was famed TV Chef Nick Stellino, recipient of the NIAF Special Achievement Award in Humanitarian Service. The chef spoke of his dreams and self-confidence that took him from his native Sicily to America, and inspired him to work his way up "from dishwasher to prep boy and from prep boy to chef," then to running his own restaurant and to his cooking program on public television.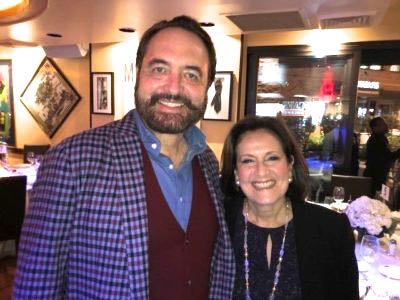 Chef Stellino with Anita McBride at Cafe Milano
Chef Stellino sat down with Hollywood on the Potomac at the NIAF Board dinner the previous night at Cafe Milano in Georgetown where he talked to us about everything from growing up in Italy to collecting watches.  Stellino was being honored for his humanitarian work with the Red Cross. "After I witnessed the earthquake in Sicily as a child at the center of Sicily, my father wanted me to see the destruction that had taken place and all these villages that were completely wiped out. There was no military there, nothing except for the Red Cross in there helping people. And it was something that stuck with me ever since. Where there's trouble there's the Red Cross, so that is the reason why I choose the Red Cross as my choice of humanitarian effort. That gives me joy."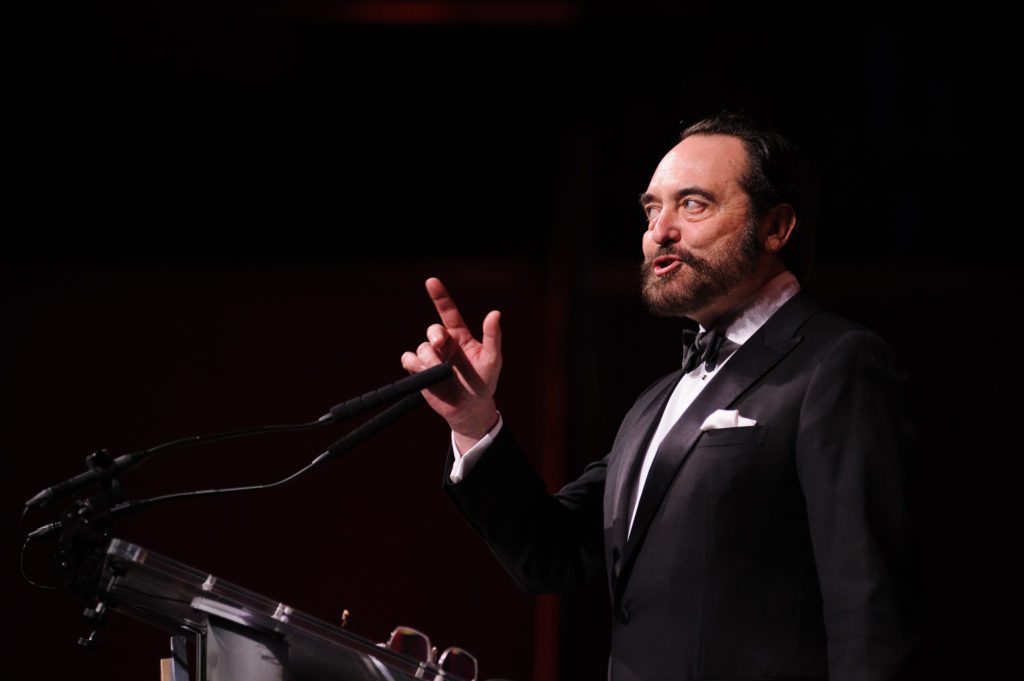 Chef Stallino
"I kind of need to tell you a little bit of my adventure in America. I graduated from Arizona State. I worked green market in finance. I worked as a research market analyst for Farmers Insurance Group. So I worked as a broker for almost eight years and then I became a dishwasher. Yes, this is true. After seven years I decided that cooking was going to be what I wanted to do. I went from dishwasher, then I moved to prep boy, from prep boy to sous chef, eventually made it as a chef, then I ended up running my own restaurant. My father never cooked one day in his life, but somehow he managed to get a working permit as a chef. So somehow, it made it into my own DNA."

Her Royal Highness Princess Beatrice di Borbone delle Due Sicilie, was the recipient of NIAF's Special Achievement Award in Philanthropy. She spoke of Sicily and her work in southern Italy, then added, "If I share with you one thing, it is please never forget who you are and where you come from. As I travel, I never see an identity as strong as ours around the world. First of all I have the good news for you: My English is not perfect so my speech will be very short."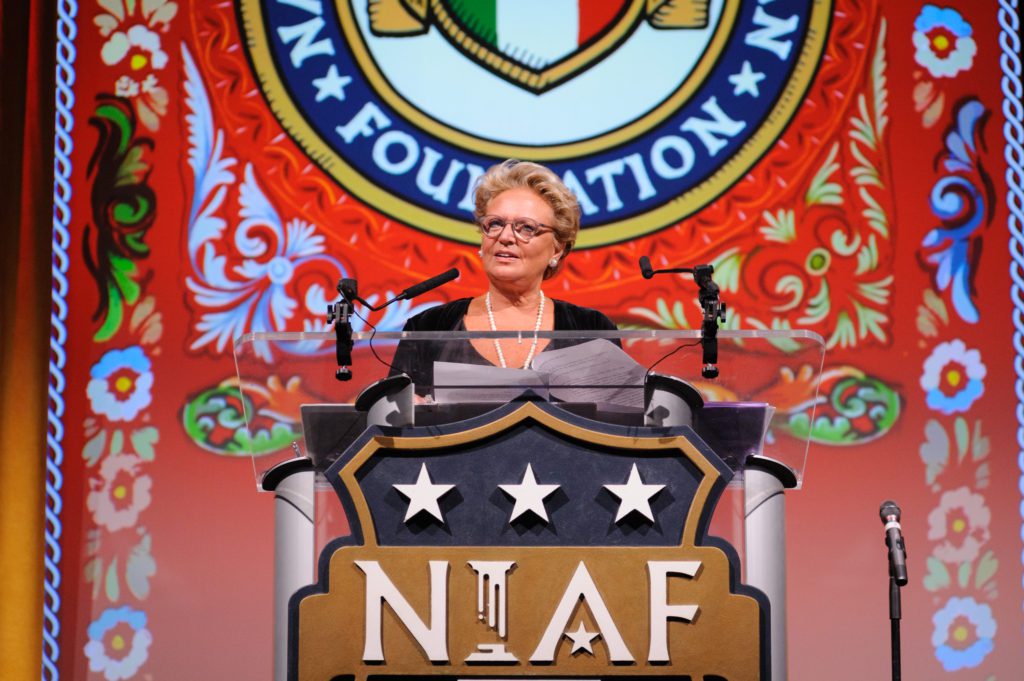 Her Royal Highness Princess Beatrice di Borbone delle Due Sicilie
With the Gala ending, NIAF Co-chairs Patricia de Stacy Harrison and Gabriel Battista thanked the honorees and guests, and then called outgoing NIAF President John M. Viola out on stage to recognize, as "somebody who set the bar about protecting the Italian American culture."  With the members of the NIAF Board joining them, Harrison and Battista presented an award to Viola representing the many progressive changes he made during six years at the NIAF helm. "To honor John, we would like to ask each member of the NIAF Board of Directors to join us and also Mr. Viola to come up to the stage," said Harrison. "As many of you know, after serving as president of NIAF for the past five years, John is leaving to pursue new opportunities in his career, and to spend more time with his extraordinarily beautiful bride Nicole. We are all gonna miss him, and tonight we really want to recognize his leadership, our great affection for him. He's introduced new generations of Italian Americans to NIAF. He created the ILLC for emergent leaders, and he's elevated our heritage."  There was way too much talent to recognize along with the other honorees so we ask you to go the NIAF website.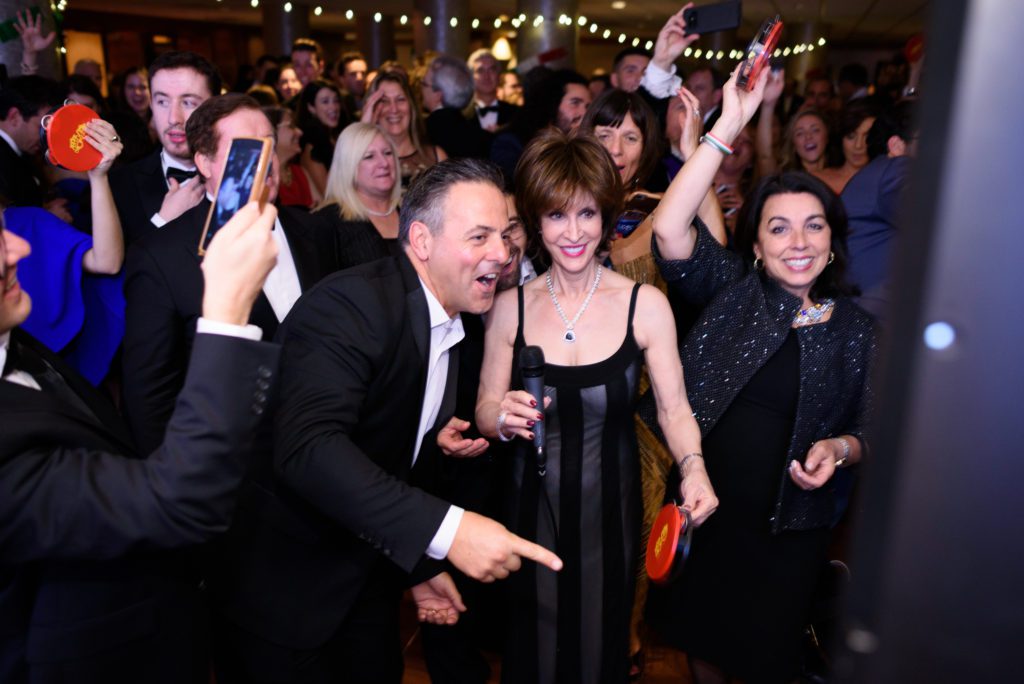 Deana Martin
Ending the Gala Dinner was crowd favorite Alfio, once again getting guests on their feet with some Italian favorites, including "Luna mezz'o mare," which sent everyone toward the After Party happy once again, where guests and late-night celebrators, tambourines embossed with the NIAF logo in hand, sang karaoke and danced to popular Italian and Italian American classics well into the morning.
John Viola, Alfio and acclaimed tenor James Valenti:
Save
Save
Save
Save
Save
Save
Save
Save
Save
Save
Save
Save
Save
Save
Save
Save
Save
Save
Save
Save
Save
Save