A Glittering Night!
by guest contributor Joe David
Photo credit: Patricia McDougall and Jane Pennewell
"Listen deeply enough that you are changed by what you hear." Hal Saunders, Founder SDI
It was a memorable night of awards at the National Press Club – with enough attending celebrities to please anyone who enjoyed gala dinners surrounded by local glitterati.  The evening excitement began when Congresswoman Nancy Pelosi, the Minority Leader of the United States House of Representatives, stepped into the ballroom. Almost instantly, the cameras came rushing toward her from all directions and began flashing. She was the super star, the magnet that made the evening glow – she along with the Sustained Dialogue Institute (SDI).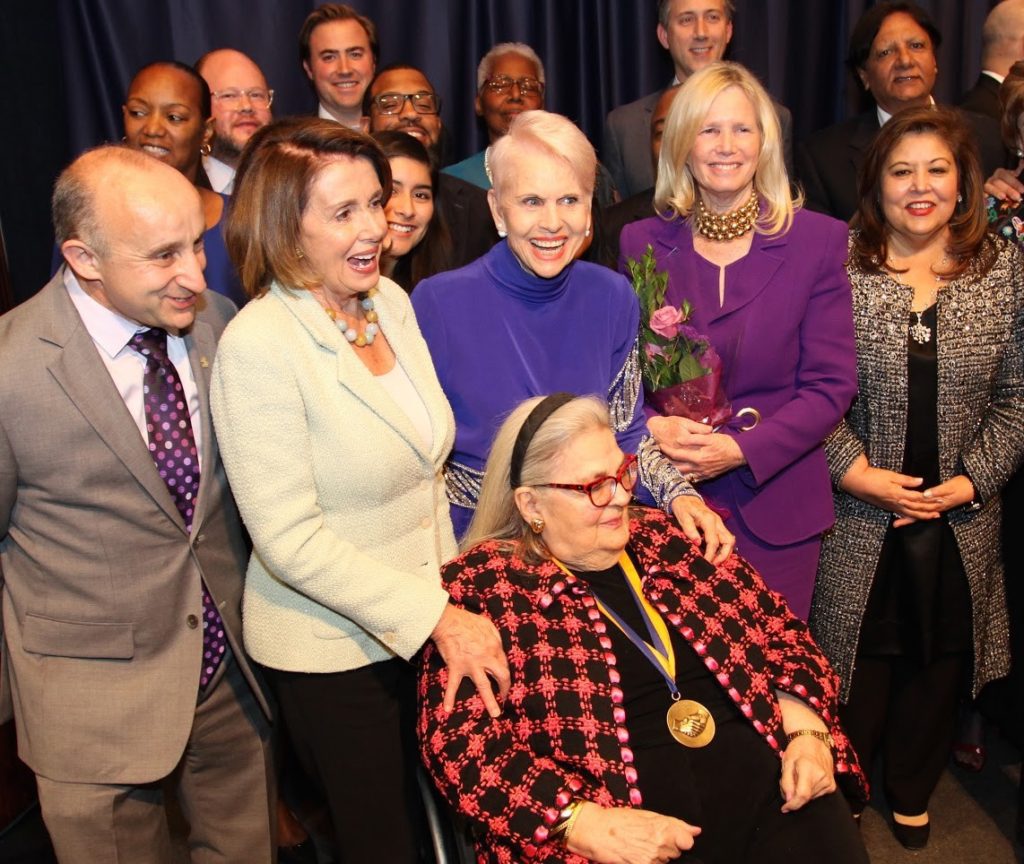 Rev. Mark Farr, Nancy Pelosi, Jan Du Plain, Susan Blumenthal, Shaista Mahmood, and (seating center front) Esther Coopersmith
For the occasion, over 200 of Washington's smart and powerful leaders filled the grand ballroom for a $275-plate chicken-and-rice dinner, organized by SDI to honor six award winners for their role in making the world a little better for others of all backgrounds. Rear Admiral Susan Blumenthal, M.D., honorary gala chair, defined the theme of the evening by underscoring the importance of promoting peace to a world in peril. She was followed by Reverend Mark Farr, SDI president, who elaborated by identifying the Institute's goals.
"Each year we present awards to select honorees who have dedicated their lives to the noble cause of advancing peace through inspiring dialogue," Reverend Farr said. "These awards are especially important, and they are only given to individuals, regardless of partisanship, who promote dialogue, especially sustained dialogue, when addressing national and global conflict.
"We offer it to those who heal our nation, transcend its current divisions, and bring about equality and justice for all," he went on to say. "For the younger awardees, making their way into the world, we have a special Sustained Dialogue Advising Team award. We hope by presenting them with this special recognition we will encourage them to stay the course and promote the dialogue, which will bring us all together in the decades to come."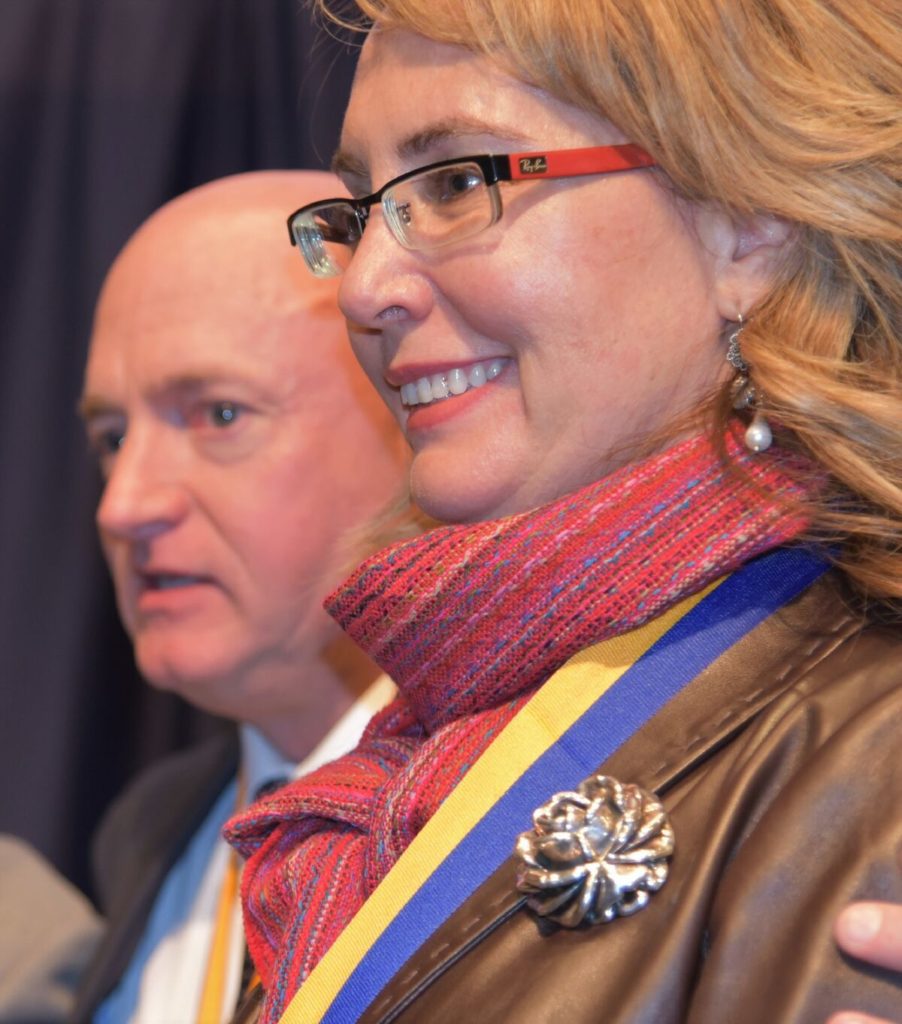 Captain Mark Kelly and Gabby Giffords
The most prestigious of the four awards presented was the National Dialogue Award. This year it was given to Captain Mark Kelly and to his wife, Arizona assassination-attempt survivor and former Congresswoman Gabriel (Gabby) Giffords. The award is reserved for those who help to create a world where people can coexist peacefully, justly and productively through dialogue. Congresswoman Pelosi who introduced the renowned couple prefaced her presentation by referencing the compassionate reception Gabby received by Congress after her remarkable recovery from the attempted assassination. "The couple's special strength has been their ability to make the world a better place by bringing peace through dialogue. There is nothing more important than that. And there is no one more worthy and more outstanding as a symbol of peace than the Astronaut and the Congresswoman. Anything they receive gains more luster, simply because of who they are."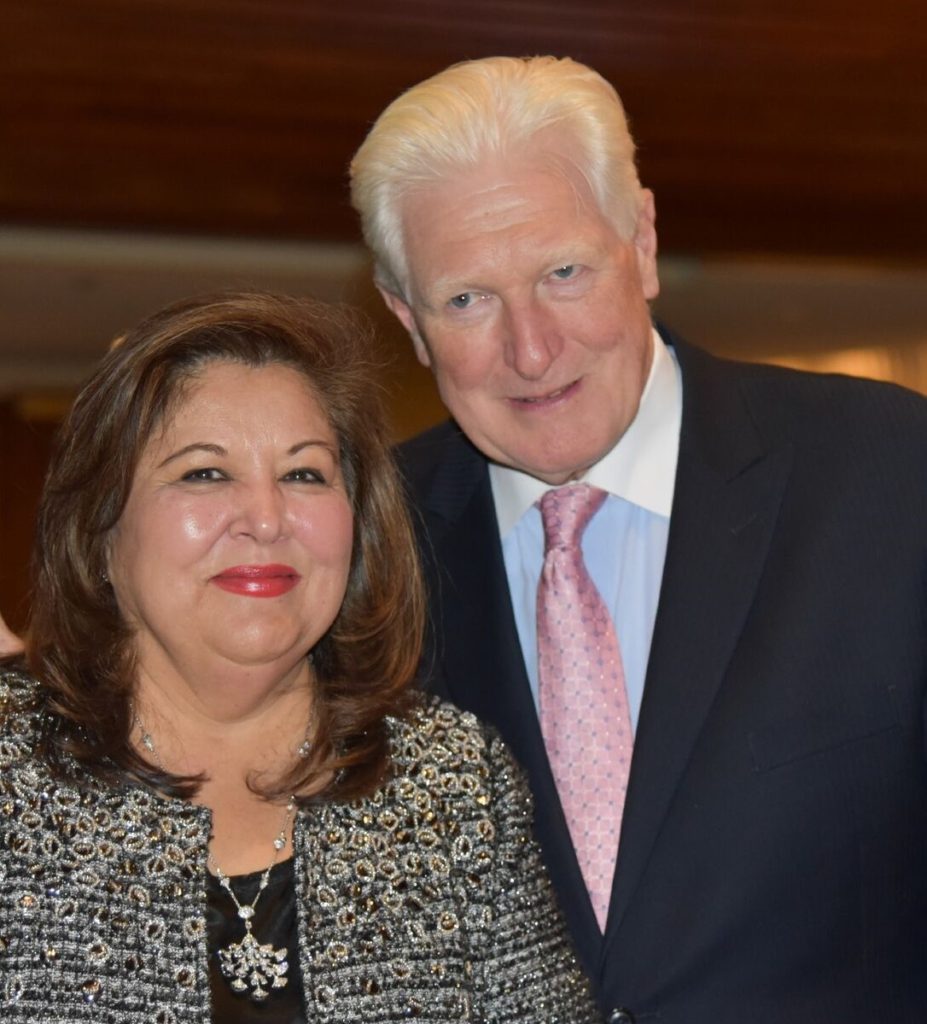 Shaista Mahmood and Jim Moran
The second award, the Global Peacemaker Award, was offered to Ambassador-at-large Rafat (Ray) Mahmood and Shaista Mahmood of Pakistan. This award is bestowed on individuals of special merit who have dedicated their lives to bringing peace to countries or communities under tension or in conflict. It also extends to those who use the arts, culture, sciences, or humanities, especially across borders or divides, to bring about peace.
"The Mahmoods are an excellent example of those who have given their lives to bringing together people of divergent backgrounds," Former Congressman James Moran said before presenting the award to the couple. "These two fine people believe in the decency of most men, which they are enhancing through friendship and sustained dialogue. It is through such efforts that they spread goodwill and define what our country is and what we want our country to be."
A third award, The National Dialogue's Lifetime Achievement Award, was presented to Washington's legendary Grand Dame, the Honorable Esther Coopersmith. She received it for her many contributions, which benefited countless individuals throughout Washington, DC, as well as internationally during her role as a goodwill ambassador for UNESCO and as a leader in the nation's capital.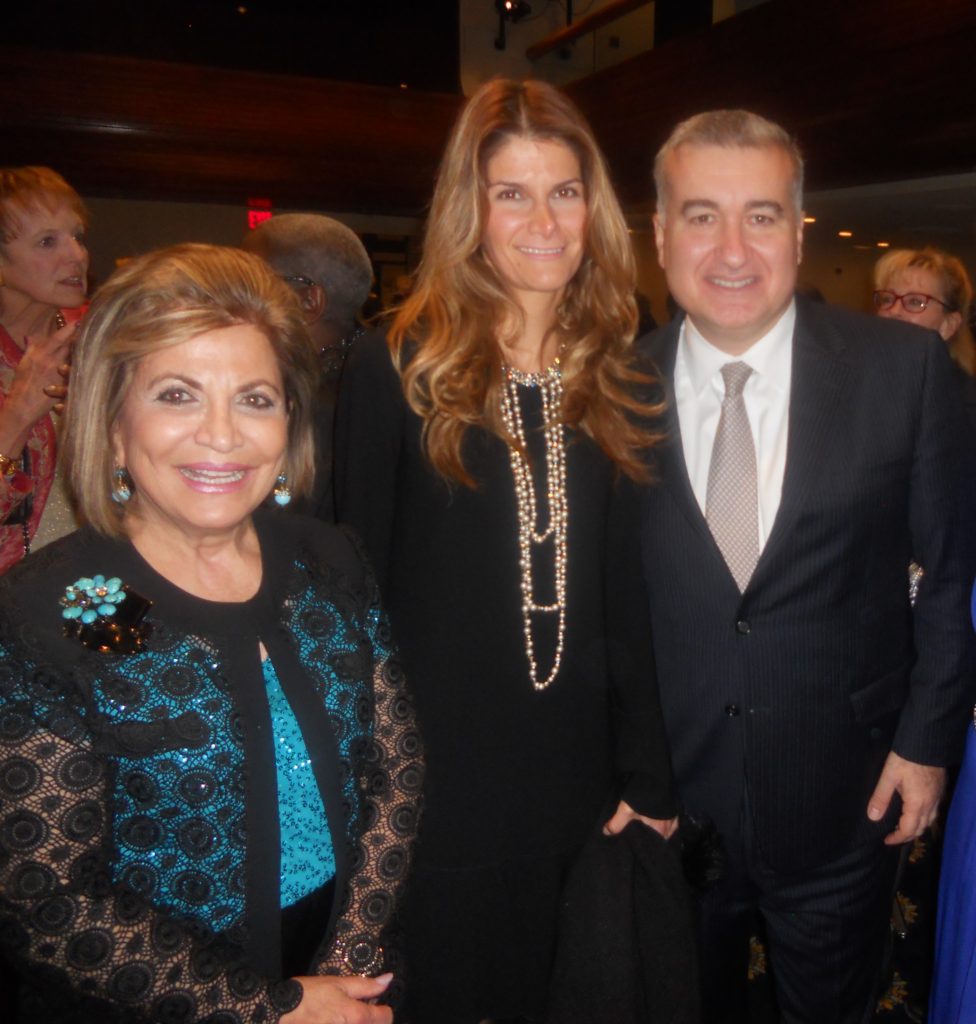 Annie Totah, Lala Abdurahimova Suleymanov and Ambassador Elin Suleymanov
The fourth award went to the Sustained Dialogue Advising Team, Janetta Hammock, Edwin Mayes, Naomi Sigg, and John Killings, for their dedicated work on the campus of Case Western Reserve University.
These annual awards dinners came about as an outgrowth of Dr. Harold "Hal" Saunders' work, which he began in the 1970s when he became a key participant in the international peace processes. Two of his most noteworthy achievements included bringing about the Camp David Accords between Israel-Egypt in 1978, and negotiating the Iran Hostage Crisis in 1981. For nearly 35 years, he applied a five-stage peace process to resolve conflict, which he developed and refined over the years. To broaden his outreach, in 1999 he founded the SDI whose mission has always been to encourage leaders able to transform differences into positive relationships that will unite individuals and countries.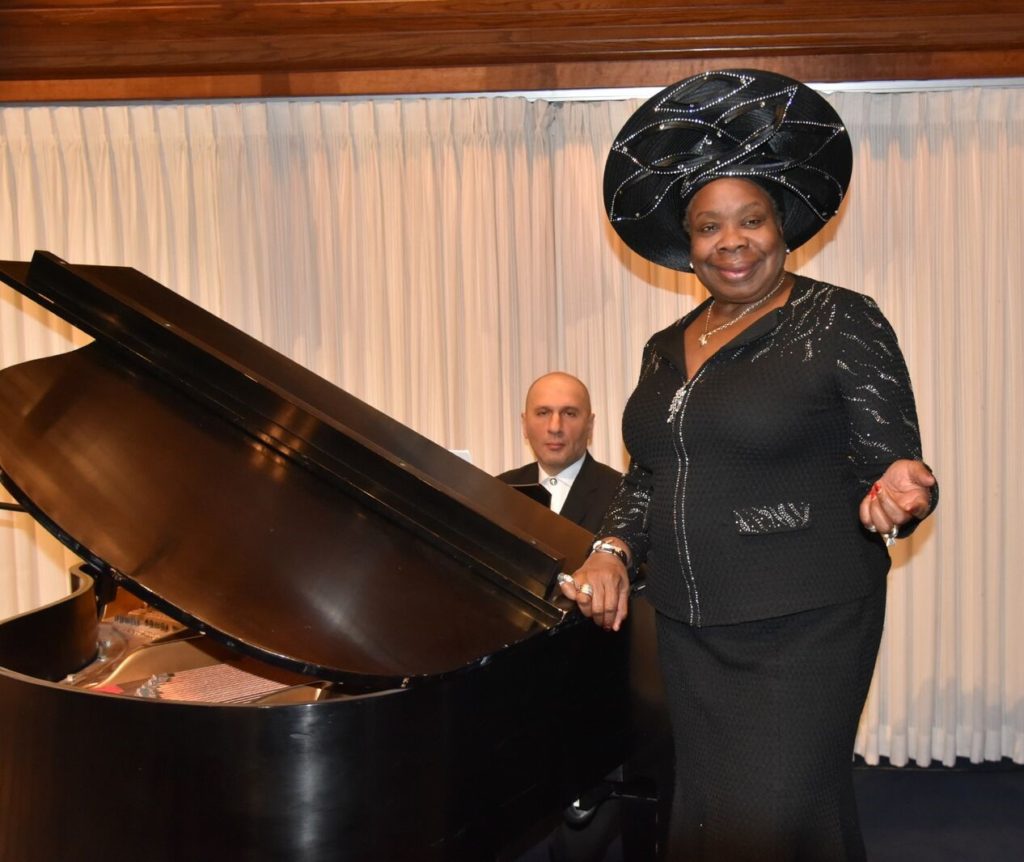 Pianist Rafael Javadov and Gloria Herndon
Among those present for the evening gala dinner were: Judith Terra, former SDI gala chair; His Excellency Aizaz Ahmad Chaudhry, Ambassador of Pakistan and Diplomatic Gala Chair, and his wife, Mrs. Najia Chaudhry; Senator Edward J. Markey (D-Mass); Ambassador Dr. Neil Parsan, World Bank, and Mrs. Tara Compton Parsan; His Excellency Elin Suleyman, Ambassador of Azerbaijan and Mrs. Lala Suleyman; His Excellency Grigor Hovhannissian, Ambassador of the Republic of Armenia and Mrs.Victoria Hovhannissian; His Excellency David O'Sullivan, European Union and Mrs. Agnes O'Hare; Ambassador Swanee Hunt; Philanthropist Annie Totah; John Drew, President, TCMA, Ronald Reagan Building & International Trade Center; Andrew Gelfuso, Vice President, Ronald Reagan Building & International Trade Center; Philanthropist Shahin Mafi; Michelle Fenty, Former First Lady of DC; Socialite Willie Lewis; Jerome and Lizette Barry, Embassy Series; and Dr. Gloria Herndon, President, GB Group Global.