Alexandra Gravas….
Photo credit: Dimitrios Machairidis
"Indescribable! Singing in the Roman Agora opposite the Acropolis, I could not believe how blessed I was, honestly. The magic of thousands of years of history at the foot of the Acropolis in Athens is unique. The music was becoming eternal like the ancient marbles surrounding us,"  Mezzo Soprano Alexandra Gravas told Hollywood on the Potomac about her concert in the Roman Agora of Athens, Greece inaugurating her world tour of the United States, Poland and other countries across the world.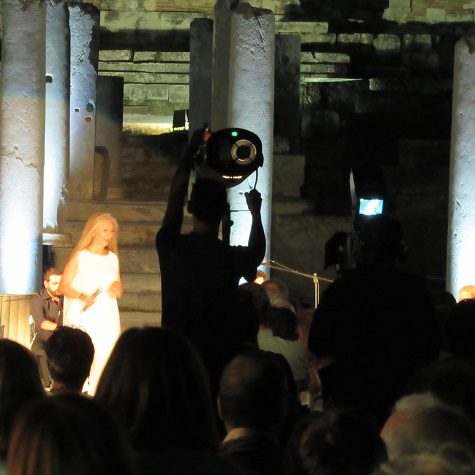 Alexandra Gravas
"With pianist Petros Bouras we were invited for a second time by the Hellenic Department of the University of Georgia, in Atlanta, to perform in the 'Florence Kopleff Recital Hall' a concert with songs ranging from Greece, America, Mexico, China, Lebanon and Germany, all under the umbrella of love," she added. Alexandra Gravas belongs to the new generation of Greek singers who very successfully combine the western traditional and classical singing with their Greek musical roots. Born and raised in Germany, Alexandra never forgot her Greek roots. On the contrary, Alexandra as a child adored singing Greek songs together with her yiayia, her grandmother.
Gravas at Roman Agora: copyright Alexandra Gravas by Ilias Zisis
"Since I was a child, I had the dream of becoming a singer.  Absolutely! In my mind I was already a singer from day one! Despite all the obstacles I had to overcome! I am very fortunate to be able to speak the Greek language and to sing the Greek song repertoire. It includes so many different musical styles, from classical music, traditional songs from Asia Minor and Rembetiko to the very unique contemporary music," Gravas told us. "The combination of poetry and music is a very important part of contemporary Greek music. It started sixty years ago with the great songs of Manos Hadjidakis and Mikis Theodorakis and is still going on until today. It makes me proud to be part of what we call the Hellenic Heritage and to be able to spread the Greek songs and language through my performances to a wide audience outside the borders of Greece."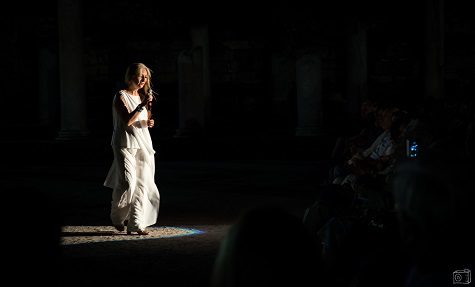 Gravas: copyright Alexandra Gravas by Ilias Zisis
Alexandra Gravas has premiered works by internationally acclaimed composers like Mikis Theodorakis, Mimis Plessas, George Tsontakis, Jonnusuke Yamamoto, Demosthenes Stephanides, Francis James Brown, Dante Borsetto, Otto Freudenthal, Achim Burg and Harue Kunieda.
"Μy classically trained voice has given me the opportunity to sing a wide range of repertoire. Although the so called "Cross-Over" is practiced a lot in our days, people still think in certain set categories and sometimes they have difficulty in accepting that a singer can effortlessly switch from one category to the other. Personally, I choose the repertoire of a program according to my concert theme. The songs can range from the standard classical song repertoire to a simple beautiful Greek, Chinese or Mexican song. I cannot really tell you which one I like the most."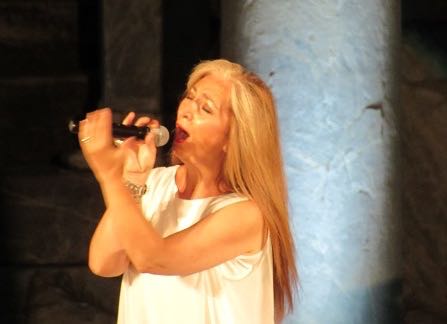 Alexandra Gravas
She has performed in major concert halls around the world including China, Germany, Great Britain, Belgium, Holland, Japan, Austria, Spain, Israel, Sweden, Cyprus, Turkey, Hungary, Italy, the USA, Malaysia, Chile, Brazil, the United Emirates, Mexico and Lebanon.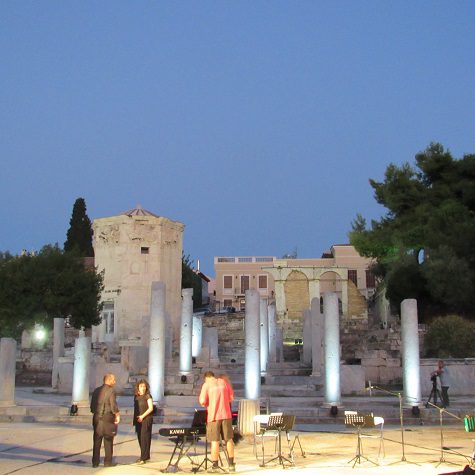 Roman Agora
"The Chinese and the Mexican audience impressed me the most. Their enthusiasm was overwhelming. I am always aiming to become friends with my audience. After a while the language barriers are nonexistent. Emotions expressed through great songs makes this happen, and we forget where each of us comes from. Therefore, by the end of a concert we feel as if we have known each other for a very long time."
Gravas: copyright Alexandra Gravas
Alexandra never stops making her dreams come true. "Despite the fact that sometimes dreams can provoke strong dilemmas, you never run out of them as long as you are blessed with doing what you choose.  Being part of a motion picture and hearing my voice on the big  screen was one of my dreams. Well, that is finally happening next summer," said Alexandra while preparing her World Premier of the Greek oratorio "PRAYER" by the Greek composer Pigi Likoudi.