Lullaby of Peace….
by guest contributor Joe David
Photo credit: Nicole D'Amecourt – Patricia McDougall
Given today's world events, it was appropriate that a select group of Washingtonians last week reserved a few hours to pause and share a solemn moment – The Lullaby of Peace – at the Arts Club of Washington. Although the moment was in memory of all the children and women killed during Nagorno-Karabakh War in 1992, for Washingtonians in attendance it was a time to pause and reflect.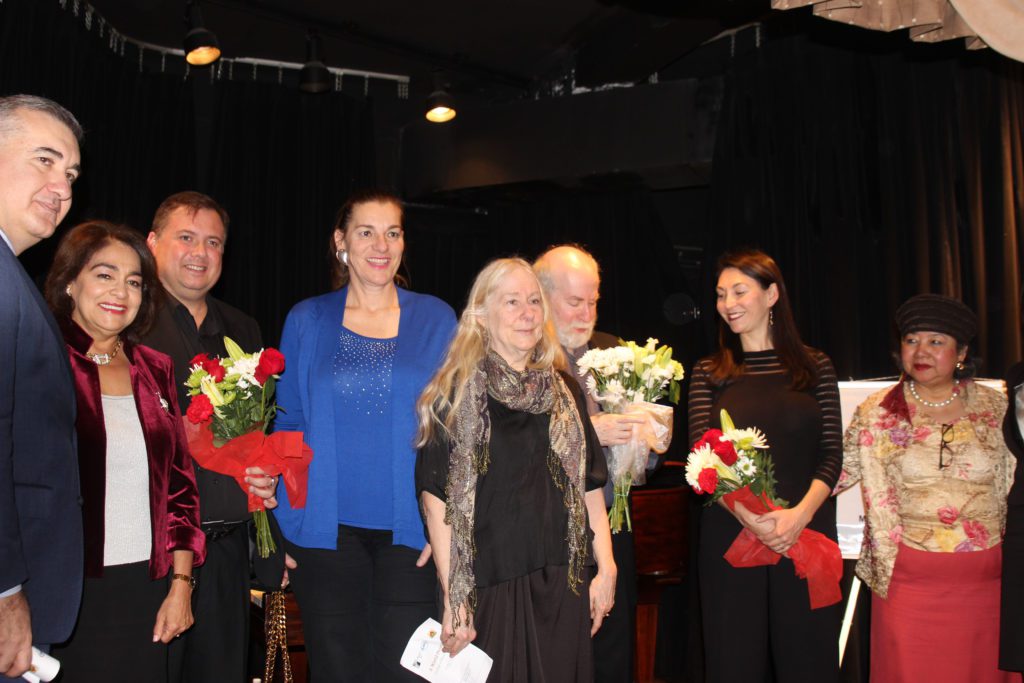 Friends of Lullaby of Peace
The late morning concert, sponsored by Washington International Piano Arts Council (WIPAC), began with a musical prayer on the piano by Haskell Small, accompanied by the haunting, meditative sounds of a clarinet played off stage by Cheryl Hill. This moving tribute to the victims of the 1992 war, especially those innocent women and children killed, culminated with an emotionally charged musical poem entitled "The Khojaly Lullaby" by Azerbaijani Poet Yusif Savalan.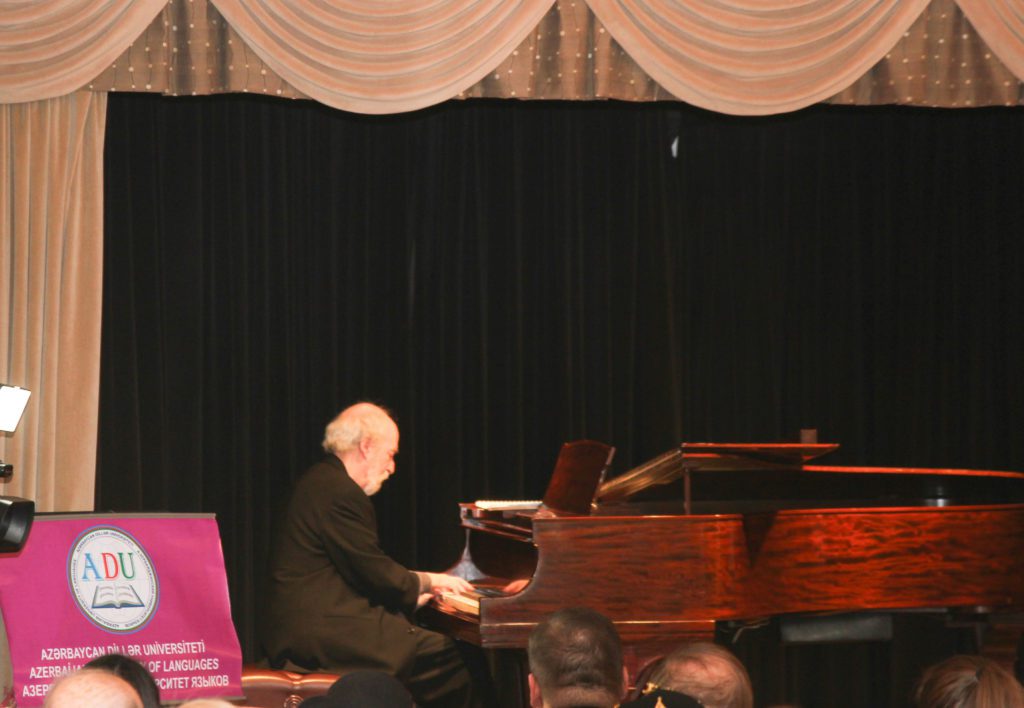 Haskell Small
Khojaly's kids will never grow up.
 Their dreams lay buried in their eyes. 
Those who survived will go on, 
the spirit of terror now in them. The memorable musical finale, performed simply on a dark, stark stage and delivered with surging emotional impact, was performed by Haskell Small (piano), Cheryl Hill (clarinet), and Laura Choi Stuart (soprano). Irving Benavides (narrator) read in translation The Khojaly Lullaby. Portia Davidson, executive board member of WIPAC, expressed privately the painful emotions that she felt during the concert. "The entire performance absolutely tore me apart," she said. "I have never had such a profound emotional reaction to a concert as I had today. There aren't enough kind words in my vocabulary to express my deep gratitude to Dr. and Mrs. Leslie Fenton for making this moment possible with their generous gift."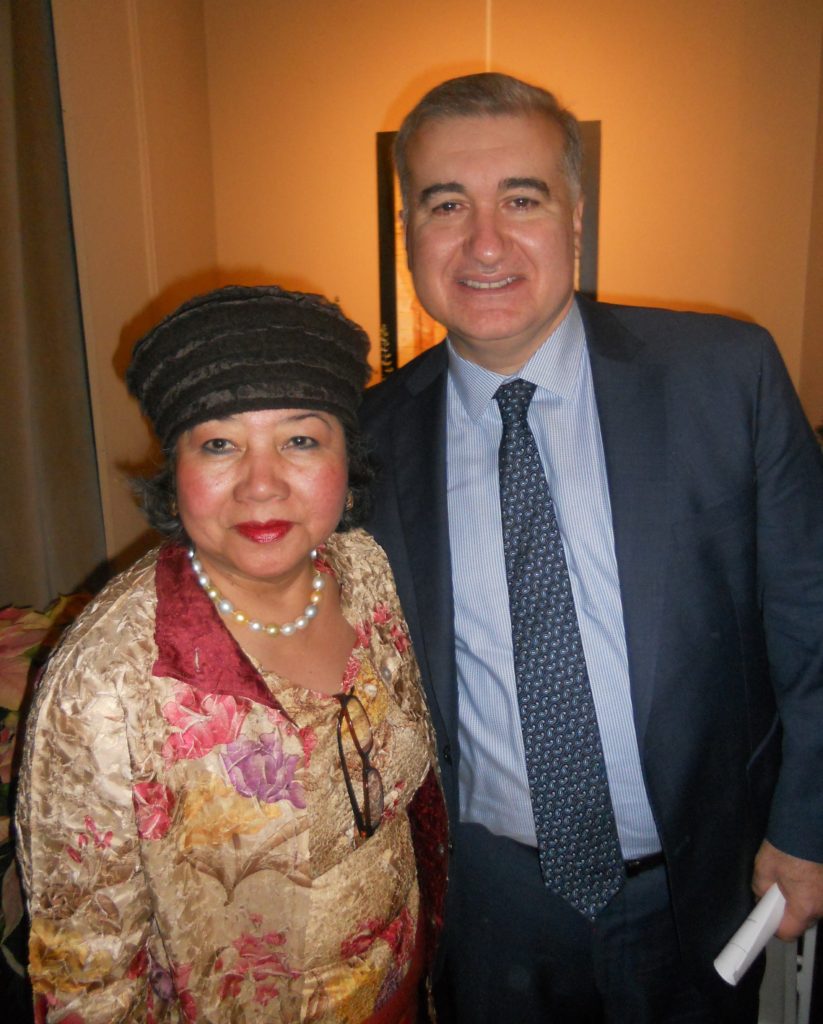 Chateau Gardecki and Ambassador Elin Suleymanov
A "Lullaby for Peace" by Haskell Small was commissioned by Chateau Gardecki, WIPAC chairperson and founder. It was translated into English by Dr. Shahla Naghiyeva and edited by American poet Shara McCallum as a tribute to the wonderful world of music, "the Language of Peace."
During his introductory remarks, the Ambassador of Azerbaijan, HE Elin Suleymanov, stressed the importance of peace by pointing out, "In all wars, there are losers on both sides. It is only through meaningful communications with others that we can know peace. If we don't establish a connection with others, what we will only know is tragedy."
Dr. Shahla Naghiyeva, professor of languages at Azerbaijan University, optimistically elaborated: "We want our children to smile again, to never know sorrow. May there always be sunshine, may there always be a blue sky for them to enjoy."
Barbaara Fenton
The Arts Club event was made possible by a gift from Dr. and Mrs. Leslie Fenton and sponsored by Arts Club Vice President Susanne Eisinger, WIPC ex officio president.
Over the years, WIPAC has become an important addition to Washington. It has been presenting piano concerts in cooperation with embassies in the city since 2002. It's annual Winners Grand Prix Concert, held in April is one of its most important fundraising events of the year. The money raised is used to finance its summer piano competition, which each year features four non-professional pianists, all winners of special awards for their successful participation in the international piano competitions for that year.