Bon Anniversaire!
Photo credit: Janet Donovan
Lynda Webster was born on New Years Day………..the first baby born on New Years Day in Macomb Township, McDonough County, Illinois to be exact.  "I quickly learned it was the worst day of the year besides Christmas to have a birthday. Parents were always hungover, nobody wanted to have a pink birthday cake and nobody even as an adult wanted to go out to dinner that night. In fact Bill (her husband William Webster) always says, 'What's for dinner, honey?' So after all these years of having a very disappointing birthday, with a few exceptions, I decided 'I'm just going to give a birthday party for myself and invite my most fun friends.' So you are my most fun friends."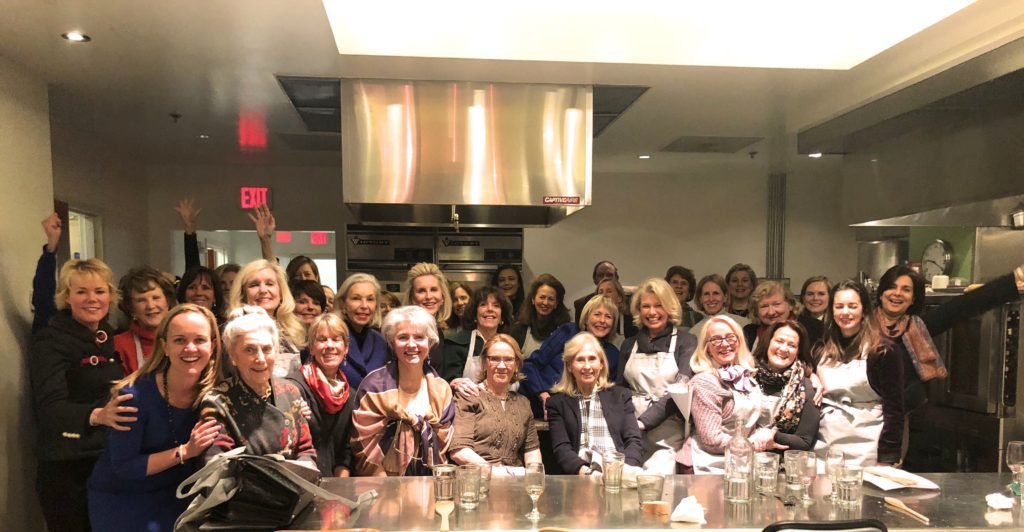 The fun friends!
As it turns out, the fun friends were those who wouldn't mind putting on an apron and cooking their own dinner – and we thought that was 'fake news.'  Guests ended up at CulinAerie on 14th Street.  A beeline to the wine bar ensued when we realized it wasn't 'fake news.'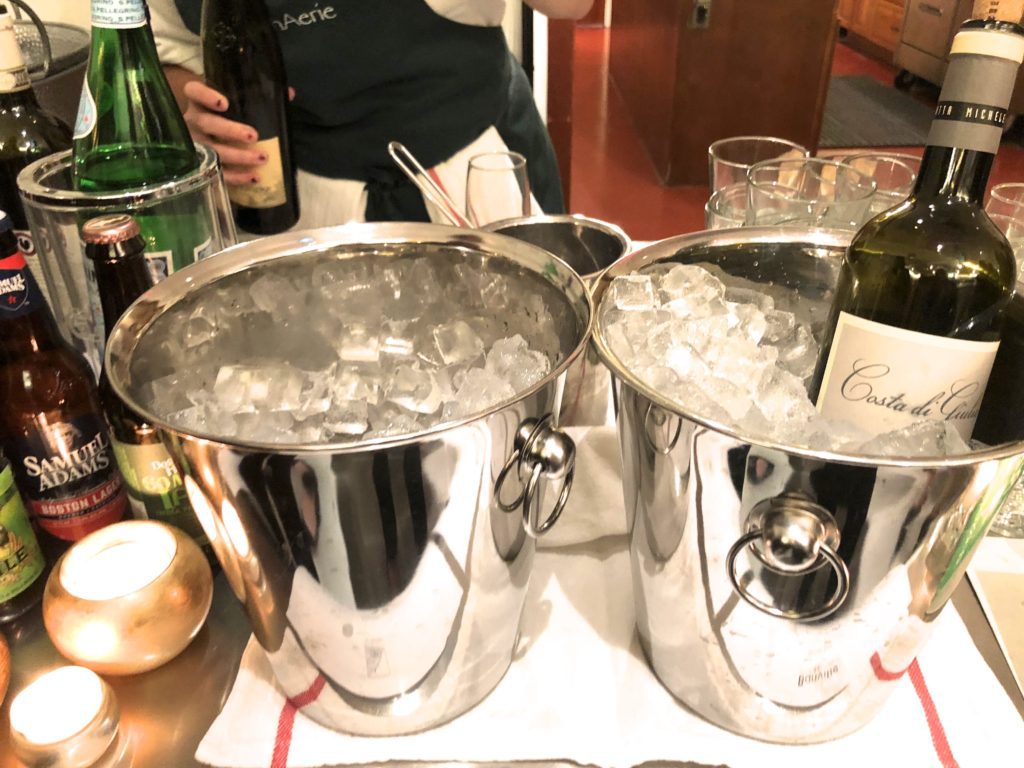 Enter Susan Holt who explained everything.  Susan C. Holt, CulinAerie co-founder graduated with honors from L'Academie de Cuisine's two-year Culinary Career Training Program in 1989 and worked in various Washington, D.C. restaurants for six years, notably Georgetown's famous 1789, at which she held the position of executive sous-chef for two years. She also worked at The Dining Room at the Ritz-Carlton for two-star Michelin chef Gerard Pangaud, as well as authoring a newsletter, Tastes and Flavors, for his eponymous restaurant. Susan was an instructor at L'Academie de Cuisine for twelve years, teaching such classical technique-driven classes as bouillabaisse, puff paste, risotto, and soufflés. She has conducted classes at Sur la Table, The US Botanic Gardens, The Epcot International Food and Wine Festival, and Montgomery (MD) College, as well as having been featured on Fox Morning News, Good Morning Washington, and The Ask Heloise Show. She is a former Board member of Les Dames d'Escoffier. Translation: She's good!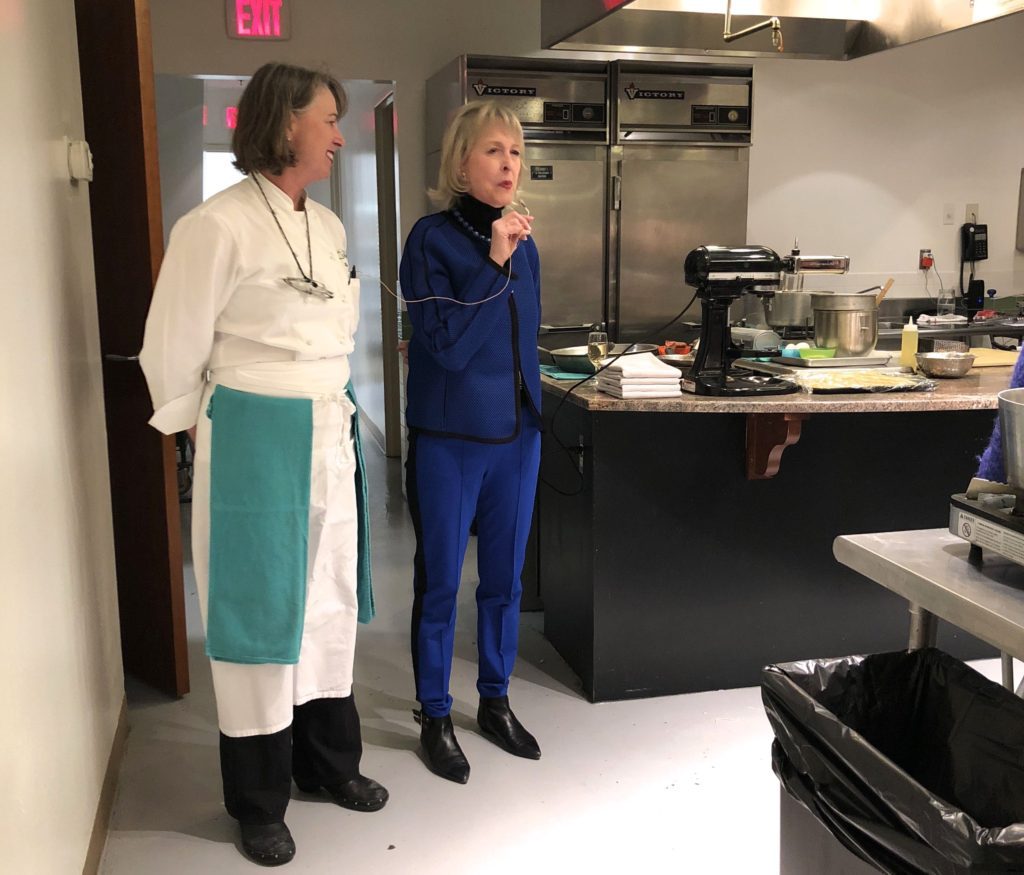 Susan Holt and Lynda Webster
"This is very exciting," said Holt.  "Linda and I are neighbors. We ran into each other in the dog park not very long ago and she told me that she wanted to do this for her birthday and I said I would be very happy to accommodate. So let's grab our aprons and by the way, you can adjust these now or later, but if you've ever wondered why the ties on an apron are long, it is to allow you to bring them to the front and tie them so you can hang kitchen towels from them. I hope you're hungry. Not hungry yet? You will be, trust me. Does everyone have a seat? Excellent, if you could please take it. You ready? Can I have your attention?  Also with me tonight, I have a guest chef Ryan Sanderson. Good friend of mine for thirty years, formerly the Director of the Professional Program for Canada Cuisine. And I'm thrilled and delighted that after nearly ten years in business, he's finally agreed to come on. So, I'm going to go through this lecture of the three dishes you're going to make and then you'll replicate them by row. Ryan was actually a couple years ahead of me. As I like to say 'Before the fall of Communism.'  So that means before food TV, before that whole culture that has sprung up now."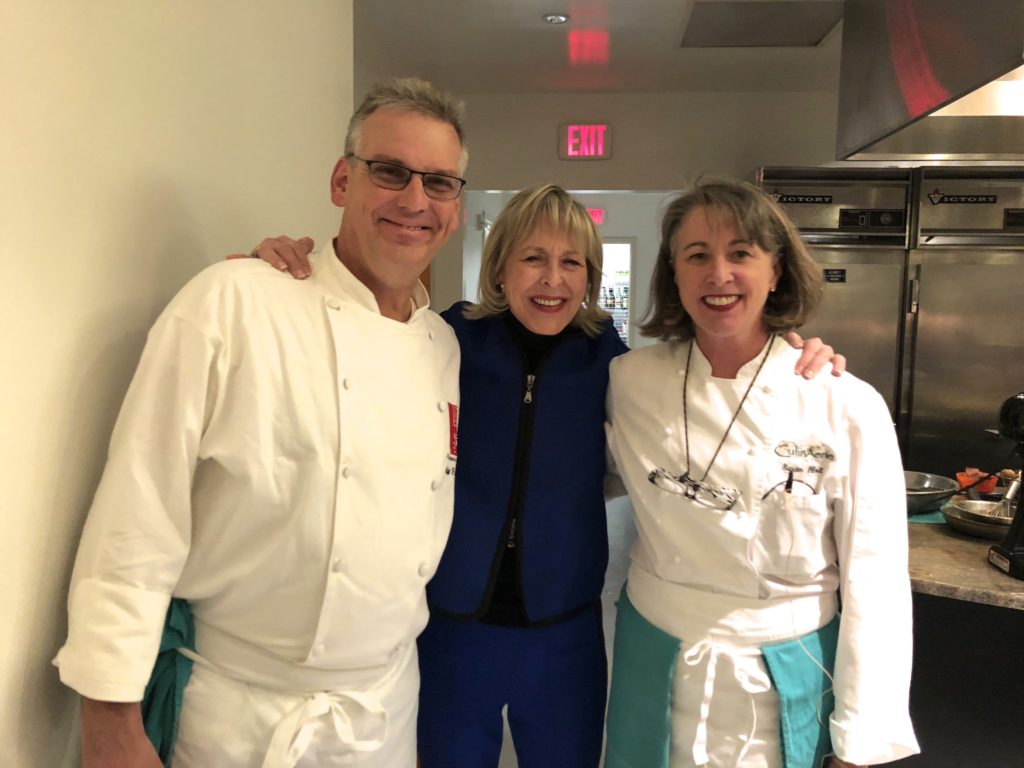 Chef Ryan Sanderson, Lynda Webster and Susan Holt
"We're doing a tortellini, which is an egg pasta," continued Holt. "I already made it for you. It's a very simple sauce of sage and butter. I'm going to show you how to roll the pasta out.Then we're doing a chicken cacciatore, which is of course hunters chicken. There is a version of this in probably every culture. There are also similar versions within the Piedmont region. You may have heard of chicken marengo. Napoleon chef invented it. It's a similar version, only with red wine and bread. You all also know that there's no starch served with you entrée. So your pasta is your first course, then you'll have the chicken. Then the dessert is a Gianduja Leiter. Gianduja is a hazelnut chocolate that is kind of like Nutella on steroids. So it's really, really good. Flour-less. For anyone with gluten issues. I'm going to start with the pasta."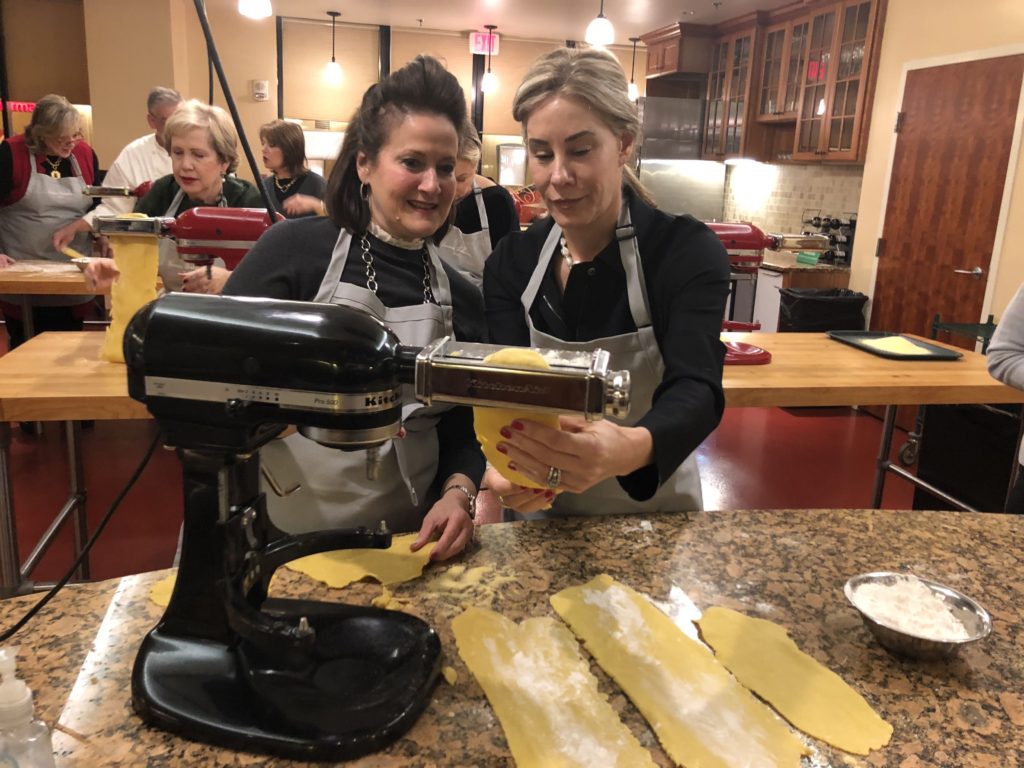 Anita McBride (L) takes the pasta lead.
Next up: Chicken Cacciatore. "You would do this in a one pot dish. We're just gonna do the sauce in the pan and roast the chicken in the oven. The sauce has lots of lovely  aromatics: Bacon, onions, white wine, tomato. A lot of white wine. Why is there that much white wine? We don't know. I want you to think about that question. Alright. We're just gonna do the sauce, as I said, we're not gonna do the chicken in the pan. We're just gonna do the sauce. So, to turn these burners on press the knob, this button, down until it clicks. Turn the knob until it clicks. No, no. Don't do anything now. Do nothing. Nothing. So, I'll start some of the bacon. This is really high quality slab bacon from Wisconsin. Anyone from Wisconsin? Nueske's? Nueske's bacon. They sell it in the airport, I'm told. Okay. This is Nueske's bacon. If you want to buy the best bacon you can. So, for the bacon, this is what you want to do. You want to cut this in half like this. You don't want pieces that are too big or too small because they don't shrink very much. This is real bacon. This is not the bacon that they put water in, this is the bacon they talk the water out. So, we're gonna put the bacon in like this. By the way, when you go to cook, don't try to take the cutting board over. Take the pan under and then use your hand, not the knife. And then we don't touch it. Alright so, the next thing we'll do is the onion. This is very easy to do. We're gonna take one end off, we're gonna take the other end off. Now that, to cook it later. Thank you ladies. You can certainly dice it in this case because it's a sauce that cooks for a long time, traditionally, with the chicken. I can take everything off like this. If I did not want to take it off and I wanted a dice because it's cooking quickly." Okay, at this point we don't have the slightest ides what Susan is talking about, so we load up on the wine, especially since this was Hollywood on the Potomac's duty.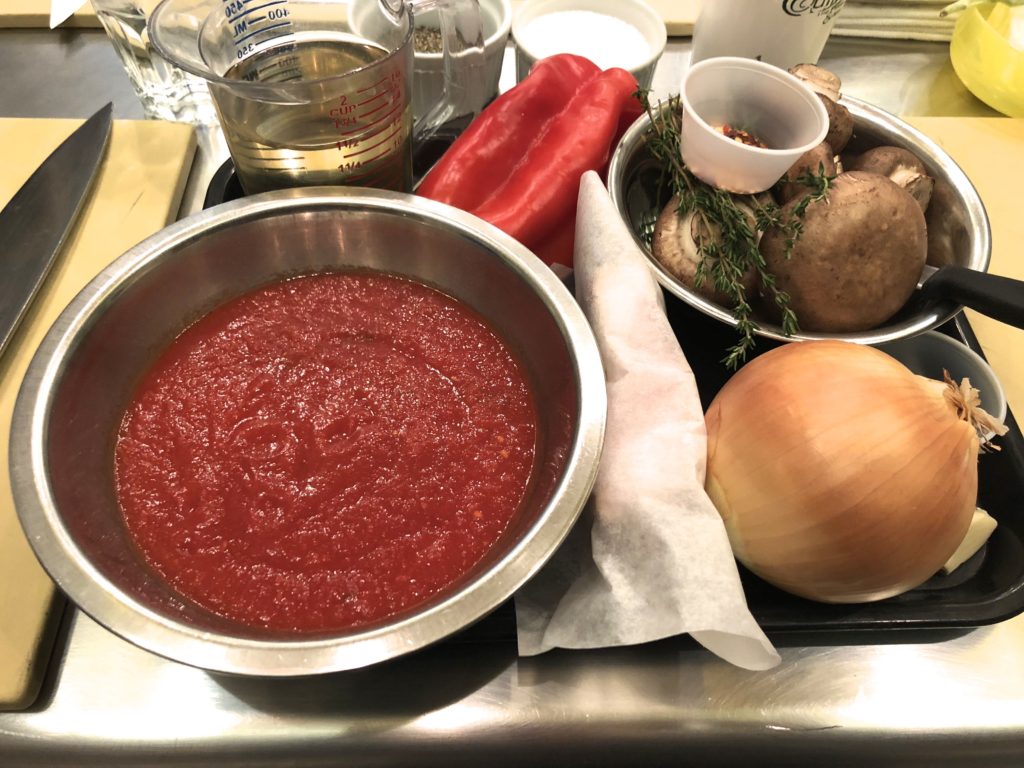 Then the outrageous dessert and a birthday tribute to Lynda.  Amazing concept and evening.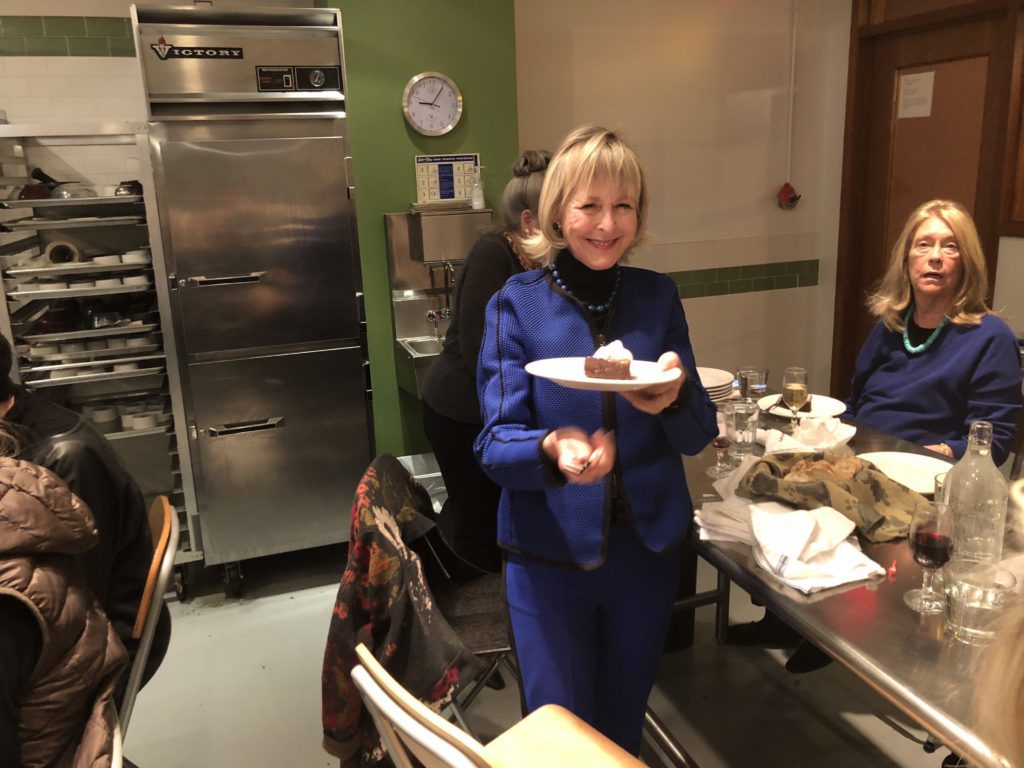 Lynda Webster toast

and on the counter – don't judge!
Come on in!