Reach Higher!
by guest contributor Dannia Hakki
Photo credit: Chuck Kennedy

Food Network stars Ted Allen and Amanda Freitag, in partnership with the The Reach Higher Initiative, hosted a salon-style dinner at Hogan Lovells that sparked a conversation between policy makers and education pioneers about student success and the future of education. The Reach Higher Initiative, started by former First Lady Michelle Obama during her time in the White House, works to inspire every student in the U.S. to take charge of their future by completing their education past high school.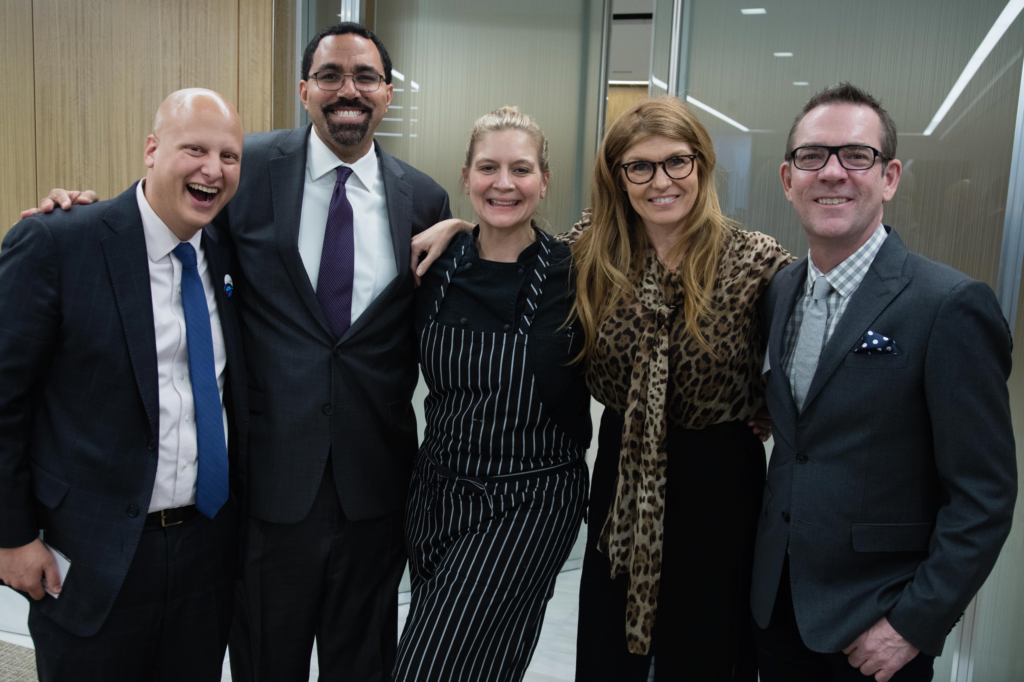 Reach Highers Executive Director Eric Waldo, Former Secretary of Education John King, celebrity chef Amanda Freitag, Golden Globe-nominated actress Connie Britton and Food Network Host Ted Allen
Freitag and her team prepared a beautiful three-course meal featuring butternut and acorn squash salad, coq au vin and Meyer lemon pie for dessert. Notable attendees included:
Golden Globe-nomniated actress Connie Britton
Former Obama administration Secretary of Education, John King, Jr.
Former Obama administration Executive, Tina Tchen
Spotify's Head of Global Talent Diversity, Travis Robinson
2018 School Counselor of the Year Kirsten Perry
Guests at the dinner mixed and mingled ahead the School Counselor of the Year Awards, presented by Reach Higher and the American School Counselor Association. The ceremony was held at the Kennedy Center with Michelle Obama, Ted Allen, Lala Anthony and Carla Hall.