Swimming with Sharks!
Photo credit: Joy Asico
"Welcome to the French Embassy. I am the French Ambassador – I think you guessed it. I am going to make a speech: I have a suit and I have a French accent, so I guess that it's not that difficult to conclude that I am a French Ambassador," said the always stylish and witty Gérard Araud during opening remarks at The Environmental Film Festival in the Nation's Capital Benefit Gala at the French Embassy in honor of 2018 Environmental Champion honoree Dr. Sylvia Earle, co-chaired by Wendy Benchley (think Peter Benchley and Jaws) and other high profile environmentalists.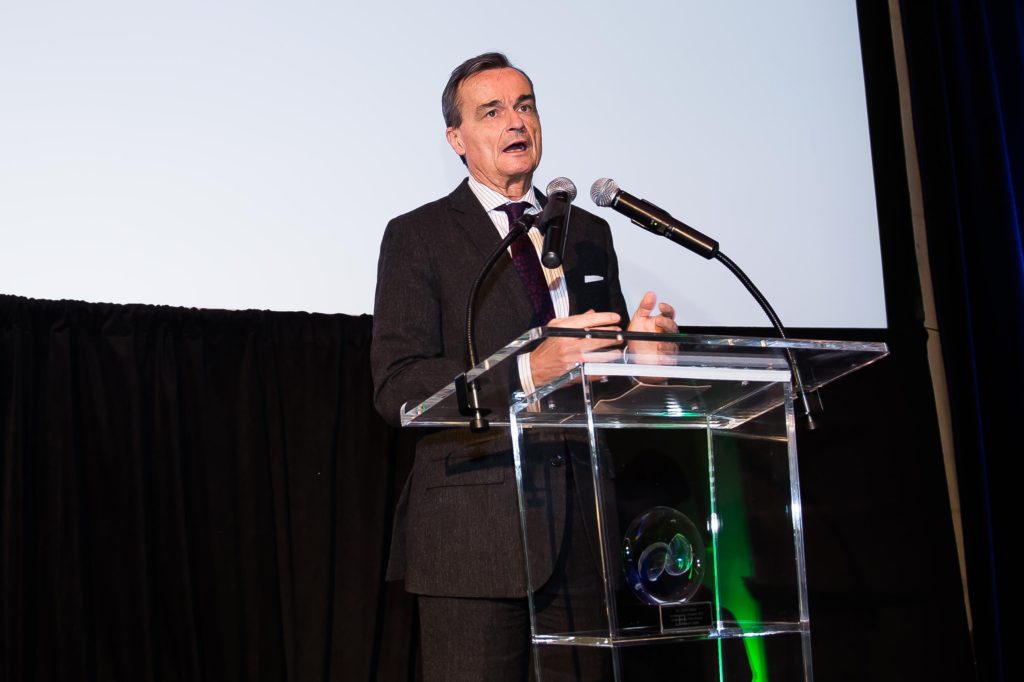 Gérard Araud
The French Embassy was one of the first embassies to to lead an international showcase of environmentally themed films and it has hosted festival screenings since 1996. "We believe that the fight against climate change must change scale and become irrepressible….a real commitment to fighting climate change," Ambassador Araud added. "In July 2017, France launched a climate plan containing a series of emissions and innovative measures to impact the objectives of the Paris Agreement. France is speaking about its commitment to achieving energy in private transmissions on a national level. We are working internationally and we are conversing with The Ambassador of the European Union.  France is a founding member of the International Alliance to Combat Ocean Acidification.  Tonight, it's a great honor for us to welcome Dr. Sylvia Earle who is a world renowned oceanographer and author and has been recognized for her involvement in ocean conservation in film. I would like also to acknowledge the presence of Fabien Cousteau, the worldly grandson of Jacques Cousteau, who is coming to know his grandfather's legacy through the Fabien Cousteau Ocean Learning Center to educate the young generation on the importance of preserving our oceans.  The French Embassy will continue to work with you to care for and protect the environment with the hope that together we can then MAKE OUR PLANET GREAT AGAIN!"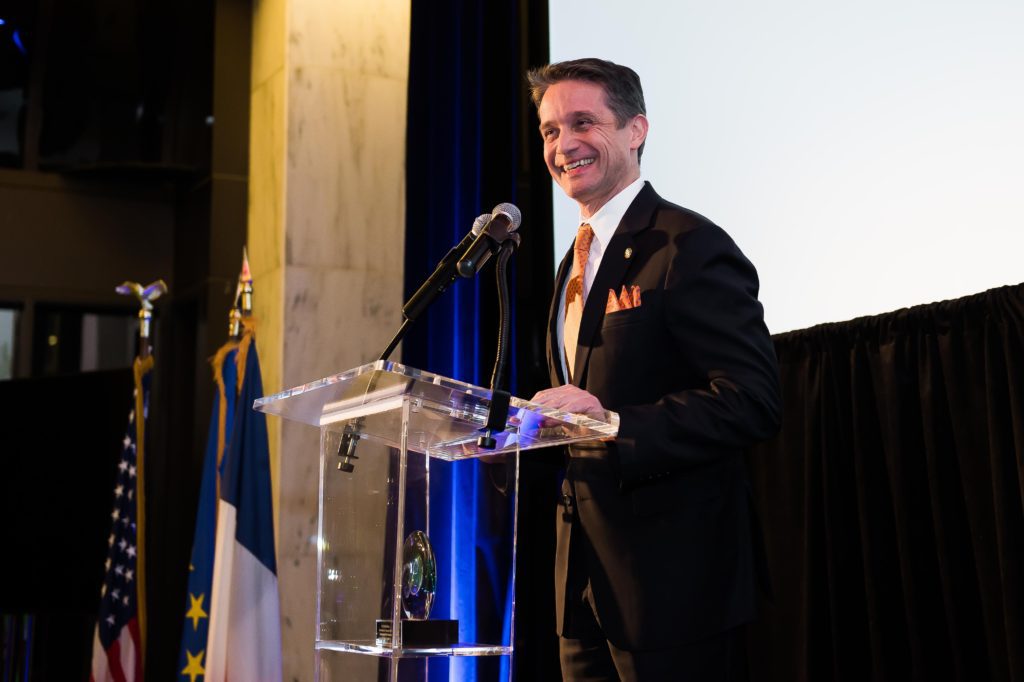 Fabien Cousteau
Prior to the program, Hollywood on the Potomac chatted with co-chair Sarah Nixon about "Sylvia the Rockstar."  Nixon along with her husband Bob produced the NatGeo series: Sea of Hope: America's Underwater Treasures.  "I'll tell you one amazing story and that is that when we screened Mission Blue for The Environmental Film Festival – they have a great program that they do with the young people in the city –  at The Warner Theater and they had 2500 children, young people junior high through high school from every quadrant of the city and the most amazing thing was … I said to Sylvia 'Sylvia, get ready. Their cellphones are gonna be on, they're gonna go to the bathroom, they're gonna be talking.'  We never had a public screening before and this was before it came out on Netflix and we sat there and it was amazing. Not one cellphone was out, no one had to go to the bathroom. We didn't tell the audience that Sylvia was in the audience, that she was there. And so Bob (Nixon) went out on the stage afterwards and the young people, just totally unprompted started chanting, 'Sylvia! Sylvia!'  She's a rockstar. I was crying. Sylvia was like, 'They didn't take out their phones or go to the bathroom.'  But the coolest thing was they lined up, 50 at a mic, and these were kids who come from Northwest, Southeast, Southwest, Northeast and the first kid that came up the mic to ask this question said, 'I've never seen the ocean. I'm not sure I wanna be a scientist, but I wanna help you.'  And I think tonight's a testament to that."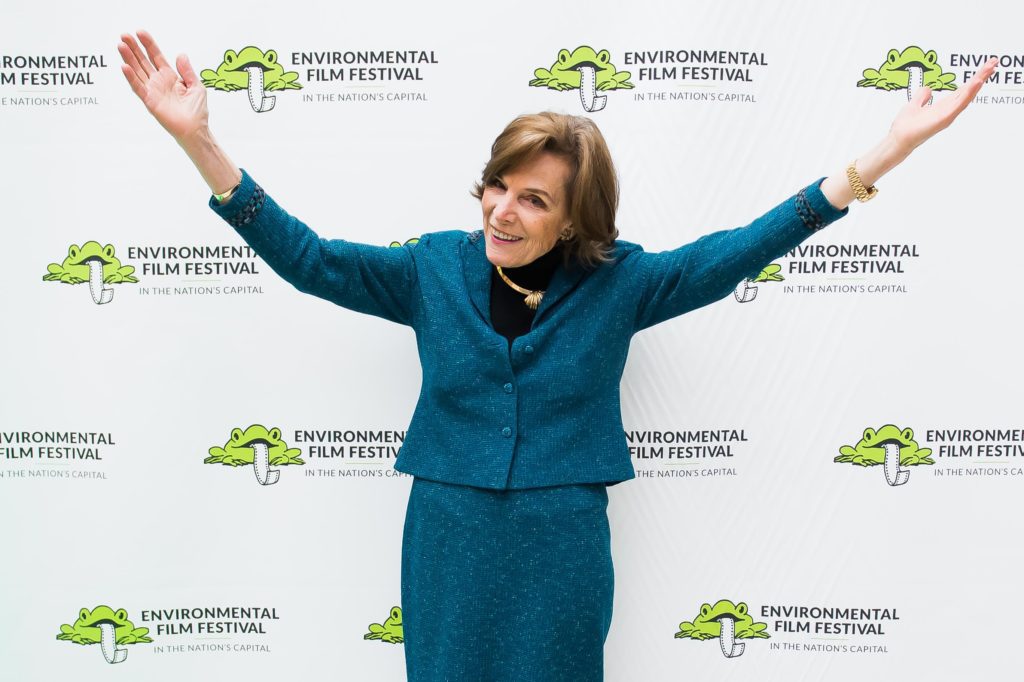 Sylvia Earle
"Sylvia's a dream to work with," National Geographic's Wes Della Volla told us. "Without protecting the oceans, we don't have air, we don't have the oxygen, we don't have a green planet without a blue ocean. And that's the best thing that I think Sylvia's really doing right now and the fact that she connects with young people. I had her out for our Family Day. We had 400 kids in the audience, sold out crowd, people trying to get in the door. They wanted to hear Sylvia talk about the oceans. And the best part is, she works with other explorers to bring them out onstage and cultivate them as well. So she's cultivating an entire generation – she's helping cultivate a whole new generation."  As for his thoughts on the new administration:  "I think it's actually making those of us who care about the planet think smarter and work quicker and harder to protect the planet – even more so we realize the urgency of what we're doing."

Back at the podium: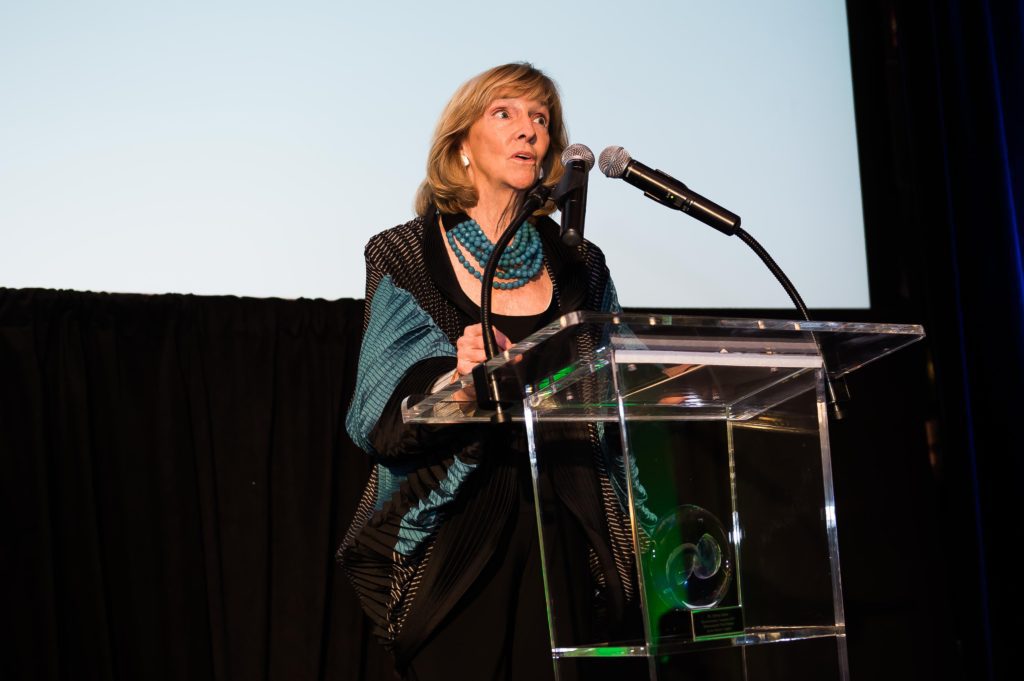 Wendy Benchley
Wendy Benchley is "a renowned global voice for protecting sharks and safeguarding our seas," according to her website.  "As a scuba diver for more than forty years, she has witnessed dramatic changes to our ocean's wildlife and its habitats. This has motivated her vigorous efforts to help shape smarter, stronger environmental and marine policies with government officials, NGOs and other civic leaders. Wendy co-founded the prestigious Peter Benchley Ocean Awards,™ an annual award honoring her late husband's legacy, in order to shine a light on the exceptional conservation work being done by marine scientists, researchers, explorers, and policy makers both in the United States and internationally. Now in its seventh year, the Benchley's have awarded nearly fifty honorees for excellence and achievement."  "Sylvia knows the power of film and story telling and is also fascinating and fun and a great dinner partner," said Wendy. "She is always a woman just bursting with curiosity. She connects, she inspires, she perseveres and she gets action. Sylvia changed how I experienced ocean life. Without Sylvia I never wouldn't have seen the most subtle events in the ocean. She is the ultimate teacher who is continually engaging us to see and protect the the ocean."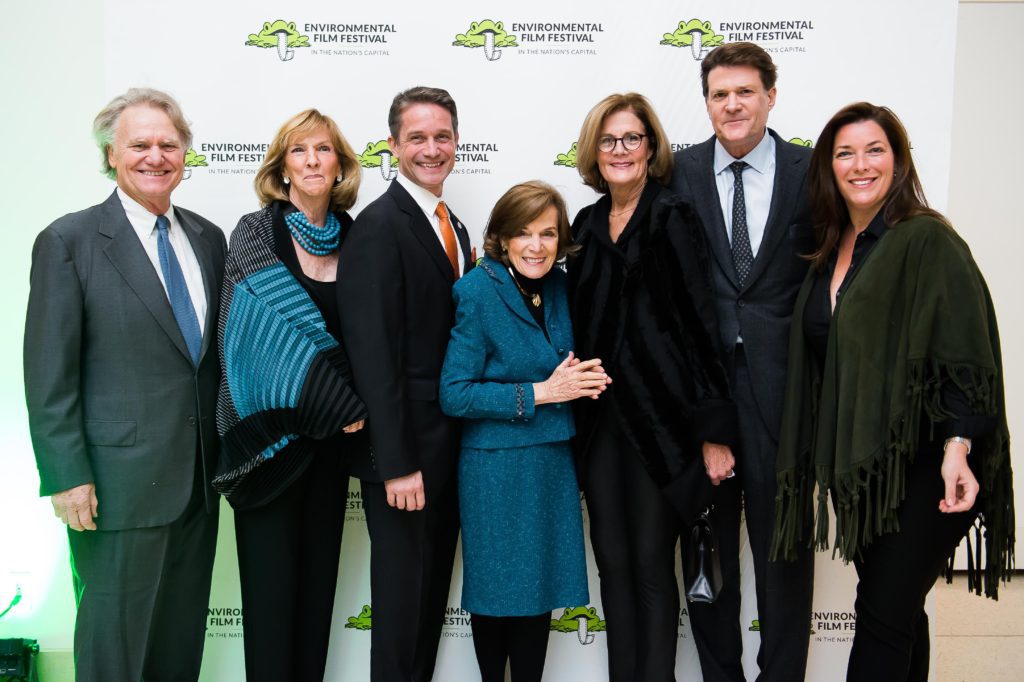 "We are blessed to have you as a life time family friend," said Fabien Cousteau who used to play with Sylvia's daughter in her backyard when he was four years old.  On this night he made a formal apology for leaving so many holes in the yard where they were playing archeologists.  He stressed the importance of film-making and story telling which explains the importance of the ocean. "You are an environmental champion and inspiration with scientific knowledge. At the end of the day you represent up: People protect what they love. Congratulations and a symbolic toast to you Sylvia."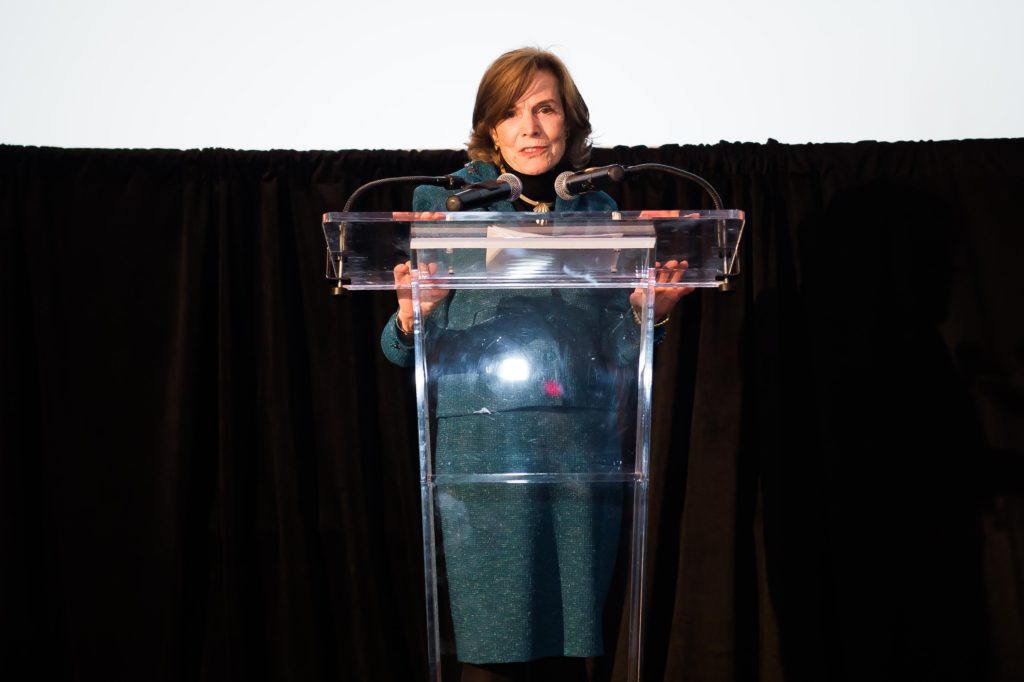 Sylvia Earle
Sylvia, who is both diminutive in stature and funny, engaged in a playful moment by adjusting the microphone downward: "Oh well, I fit nicely in submarines," she joked. "What we have here we take for granted – we can not take that for granted any more:  We have the evidence, we have the visual evidence, we have the stories based and anchored in truth. I am so grateful to be around at this point in time. We humans are blessed with the ability to learn things, pass them along, learn things, pass them along so that all of us right now are the beneficiaries, and the kids of today are perhaps the luckiest of all (referring to tech tools). Every moment of our existence depends on treating our environment with respect. We still have a chance."
Hollywood on the Potomac sat down with Sylvia Earle at NatGeo last year where she told us she felt safer swimming with sharks than driving a car!