Oh What a Night!
Photo credit: Courtesy of Kathy Kemper
"Before I get started, I wanted to apologize for arriving a little bit late. You know, we're late tonight because Jared could not get through the security," Trump joked while referring to his son in law and senior advisor Jared Kushner whose security clearance was relegated to the kiddies corner just before the annual White Tie Gridiron Dinner at the Renaissance Hotel.  "This might be the best night I've had since watching your faces on election night."
Ivanka Trump with Secretary Elaine Chao (R)
Founded in 1885 as The Gridiron Club of Washington, D.C., it is the oldest and one of the most prestigious journalistic organizations in Washington, D.C. Its members represent major newspapers, news services, news magazines and broadcast networks. Membership is by invitation only and has traditionally been offered almost exclusively to Washington newspaper bureau chiefs. Recently, however, it has begun opening its doors to such non-newspaper media figures as Bob Schieffer of CBS News, Mara Liasson of National Public Radio, and Judy Woodruff of PBS. Courtesy of Wikipedia
The night is full of sarcastic banter between the press and The President – no holes barred. There were so many great one-liners by President Trump's speech writer, we wouldn't be surprised if he dumped his day job for a crack at Saturday Night Live.  Hollywood on the Potomac's favorite line:  "I really am very proud to call him The Apprentice," Mr.Trump said of his VP. "But lately he's showing a particularly keen interest in the news these days. He is asking has he been impeached yet?"
Guests recovered the following morning at a lavish Sunday Gridiron brunch hosted by His Excellency Sheikh Meshal bin Hamad Al -Thani Ambassador of the State of Qatar and Mr. T. Dean Reed, Member of the Gridiron Club at the Four Seasons in Georgetown.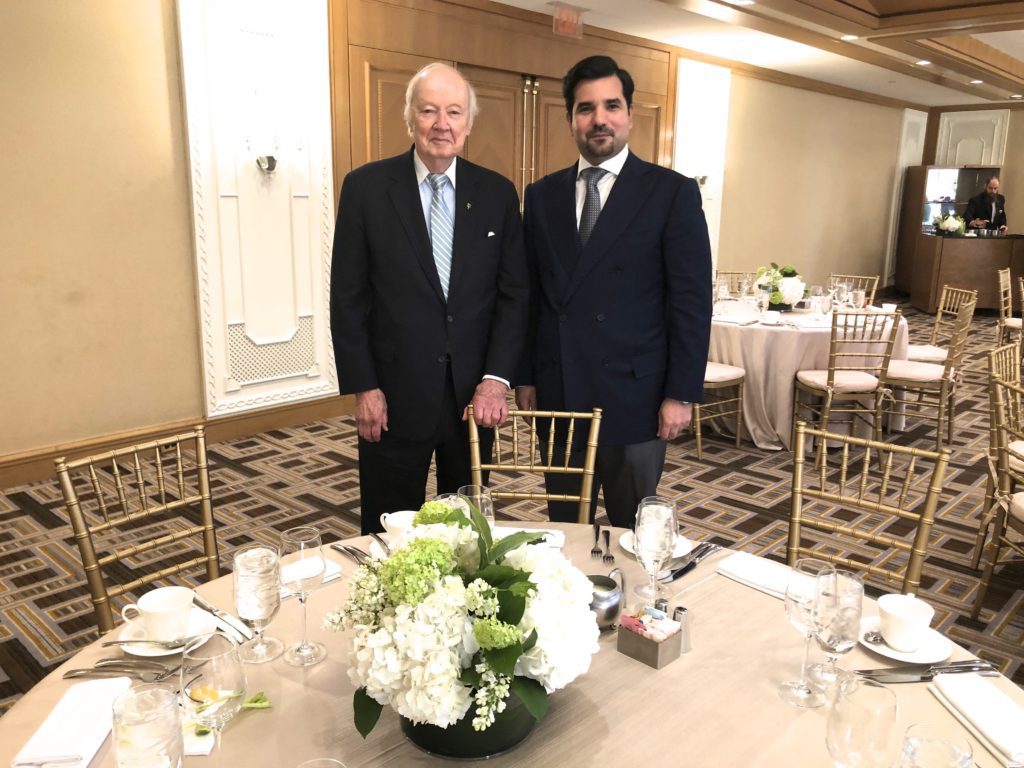 Mr. Reed and Ambassador of Qatar
The Ambassador of Qatar remarked how impressed he was that both political parties could make jokes about one another in a civil evening – with Republicans, Democrats and the White House in one room. He said that he hoped it would be a lesson that he could bring back to his country – and an example that the United States can set for the world community. "This was my first time I attended this beautiful event. What was most amazing for me is the process itself. This manifestation of ideas and positions done in a very, very civilized manner in a very beautiful environment," he told Hollywood on the Potomac. "Positively, I'm most impressed when people are around laughing. For me in my mind I was just thinking, how beautiful this process is."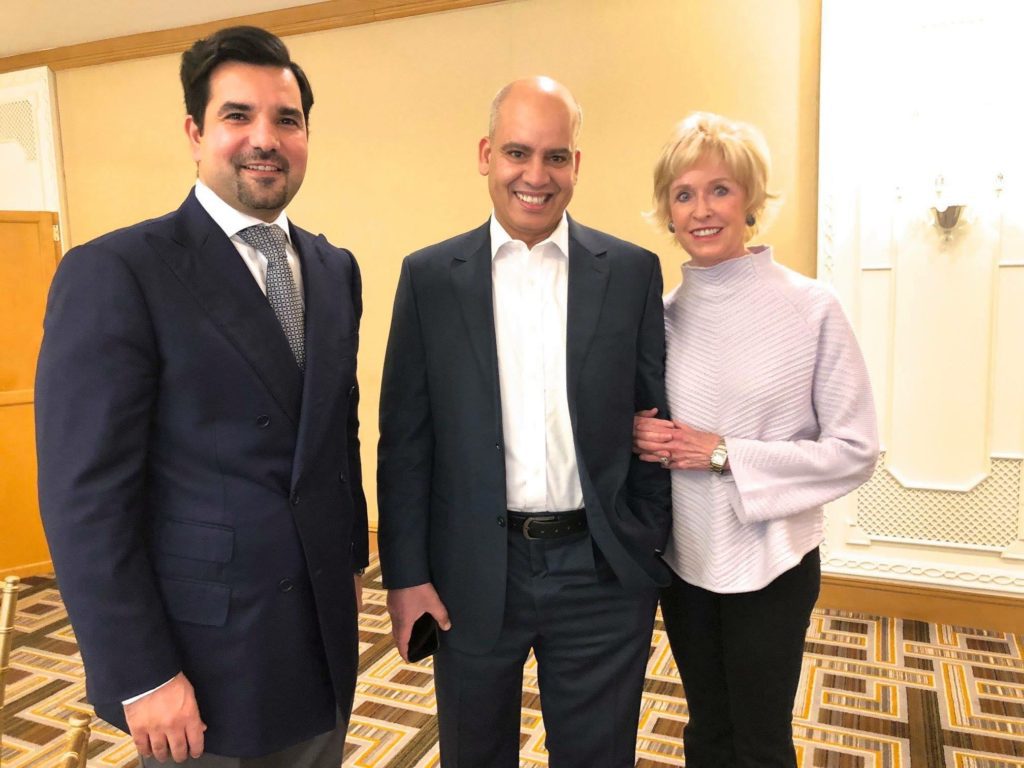 Amb. of the State of Qatar, Abderrahim Foukara, Coach Kathy Kemper
"I'm one of the Minor Officers at the The Gridiron Club and  a long time member. We were very excited, of course, that the President of the United States attends our dinners. It always is very important to us that he attends. We were doubly pleased that the President and his family and most of the Cabinet attended this year. And then, you asked what my best impression of the evening was: It was that the President was a very good sport. He seemed to enjoy the evening and he was himself. He enjoyed the remarks and it was just a grand evening all together."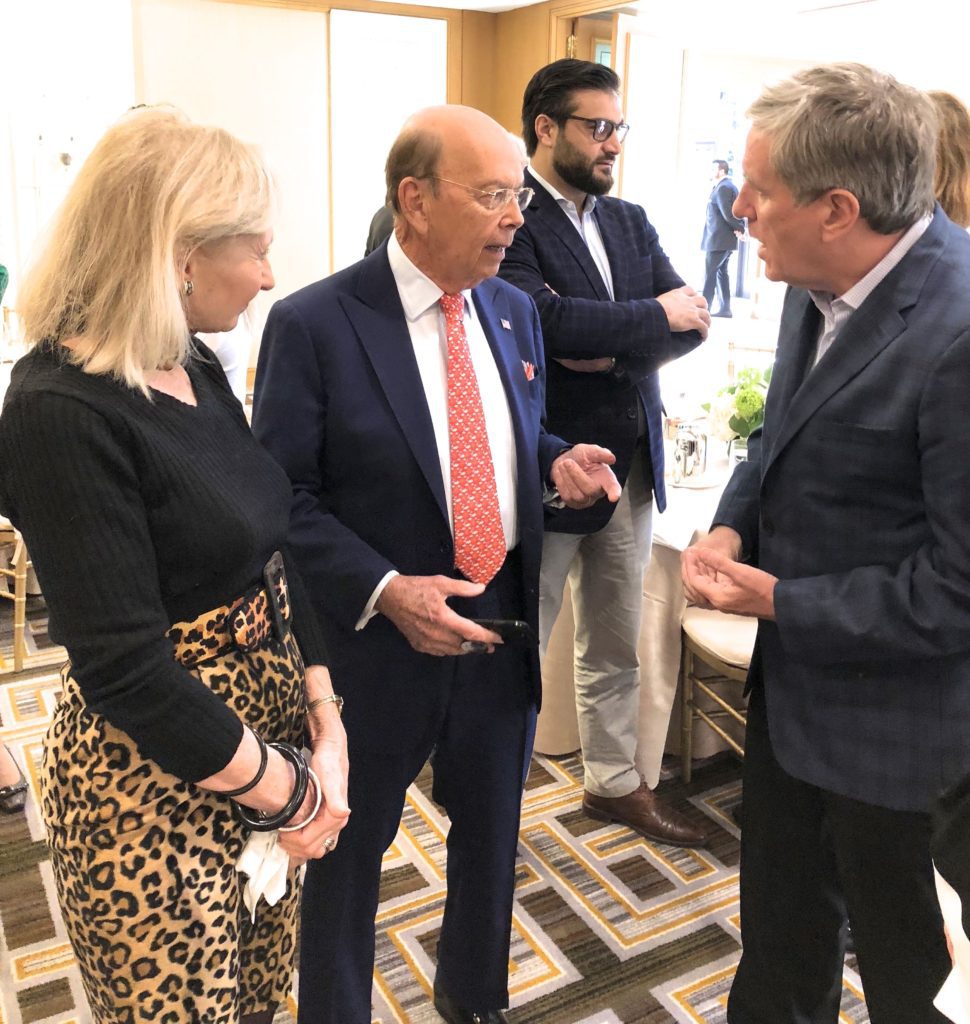 Willee Lewis, Sec. Ross, Amb. of Qatar (in background), Ambassador Dan Mulhall, Ireland