Historic Visit!
by guest contributor Joe David
Photo credit: Armenian Assembly of America
H.E. Bako Sahakyan, the President of the Republic of Artsakh, visited Washington this month and for one week the modest Republic with a mountainous terrain and a turbulent history became the subject of interest on Capitol Hill.
"After having visited Artsakh," Congressman Adam Schiff (D-CA) said to the President and his delegation during their visit to the Hill, "I know first-hand the courage and resilience of your people. Along with my colleagues in the Caucus, and throughout the Congress, I stand with them in support."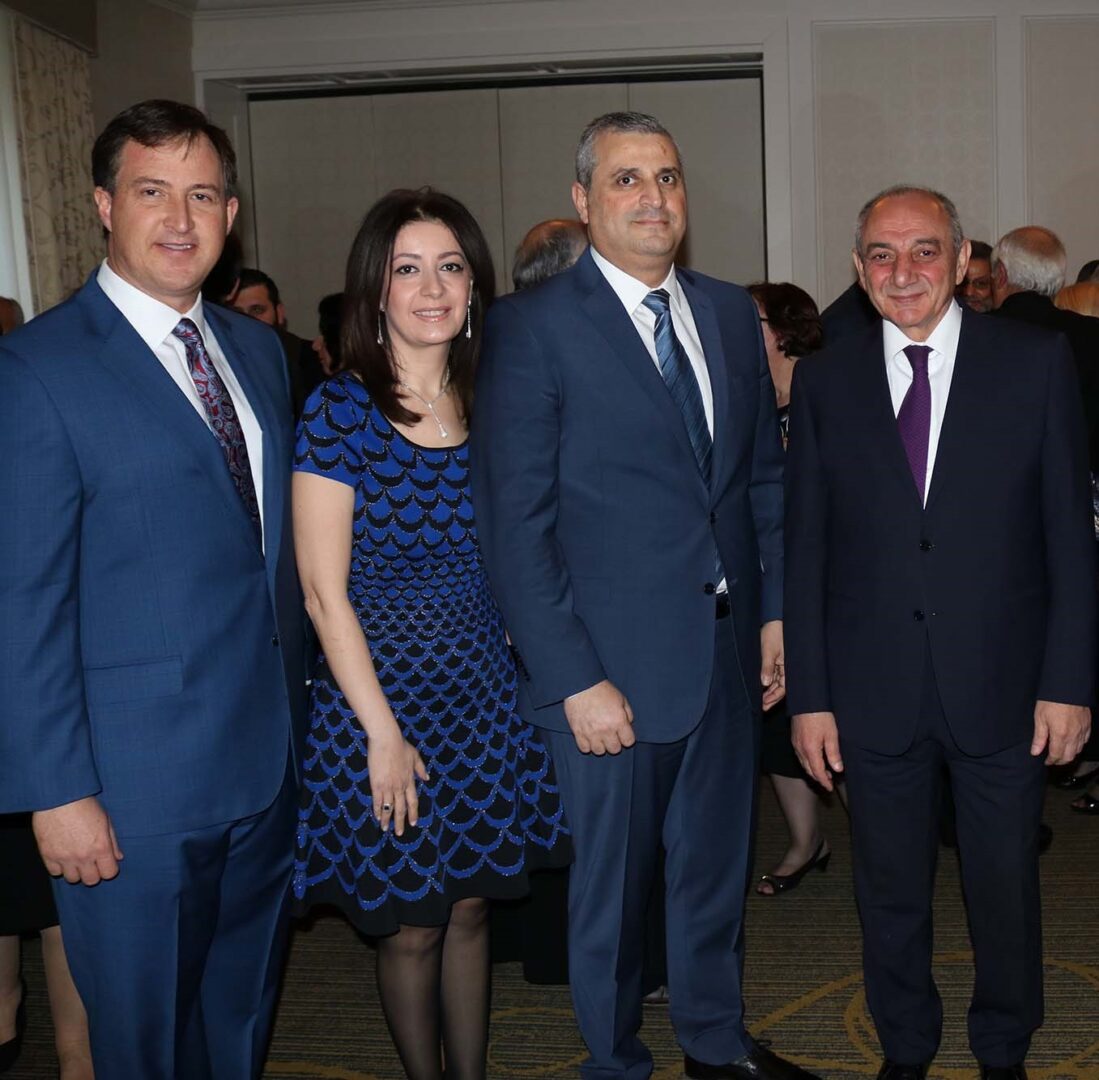 Bryan Ardouny, Ambassador's wife (Armenia to U.S.) Victoria Hovhannissian, Ambassador of Armenia to U.S. Grigor Hovhannissian and H.E. Bako Sahakyan
On Saturday night at a private dinner at the University Club, over 100 guests including dignitaries, representatives of the U.S. government, the Diocese of the Armenian Church of America (Eastern) and the Armenian government and leaders of the local Armenian American community came together also in support of Artsakh. To honor the President, a private and elegant dinner reception was given, in which he was surrounded by his Republic's most ardent followers. For the President, his delegation, and his many guests, it was a night of fine music and conversation and the beginning of new opportunities for Artsakh.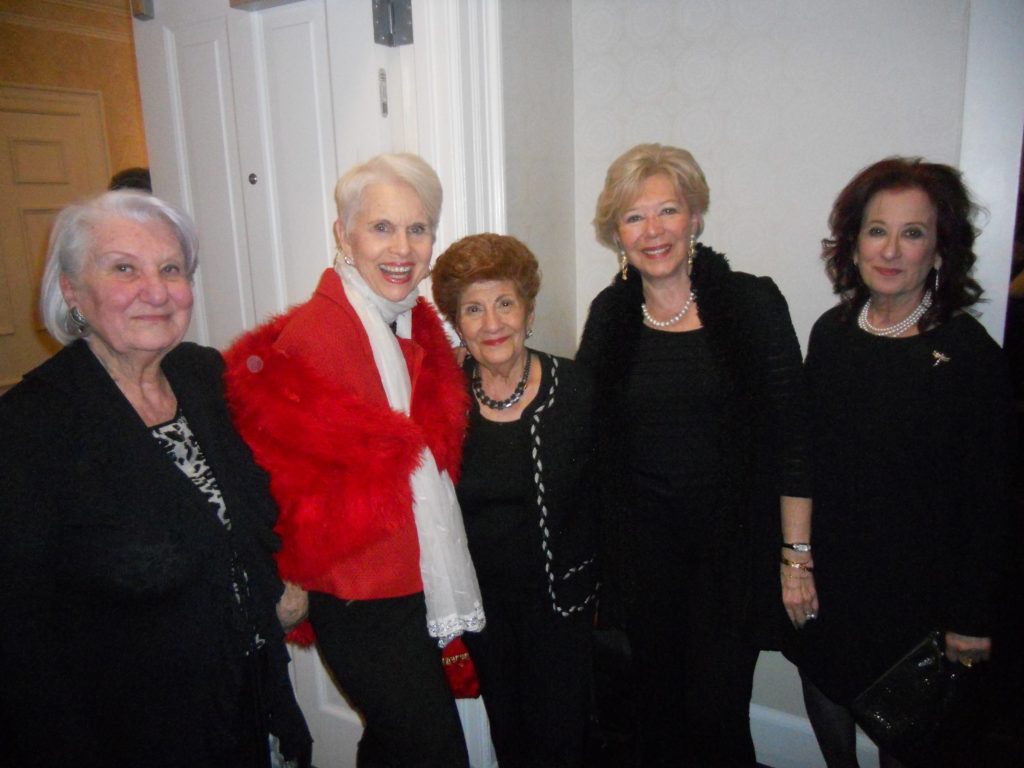 Doris George, Jan Du Plain, Clara Andonian, Nicole D'Amecourt and Mary Ann Kibarian
Although the Republic is a small Armenian state squeezed between Armenia and Azerbaijan, it has deep roots in history that extend back to the fifth century BC. In 1921, Joseph Stalin annexed Artsakh and made it part of Azerbaijan which it remained until the demise of the Soviet Union in 1991. Like other Soviet Republics, Artsakh declared its independence in compliance with the Soviet Constitutional Law and became a sovereign state. Unfortunately, up to the present day, Azerbaijan has refused to recognize Artsakh's independence. This has resulted in ongoing conflict that to this day remains unresolved, primarily due to Azerbaijan's reluctance to seek peaceful resolution. Despite the continued conflict, the people of Artsakh have remained remarkably strong and have managed to date to maintain independence.
Annie Totah and Former U.S. Ambassador John M. Evans
"It has been very hard for those people who live in Artsakh," former U.S. Ambassador to Armenia John Evans said. "Many of them are really just trying to live out their lives without damaging their relationship with their Azerbaijani neighbors. Like so many of us in the West, I have great sympathy for their struggle."
An important highlight of the dinner was when the Artsakh President showed his profound appreciation for his stately welcome and presented to the Armenian Assembly of America (the Assembly) the Medal of Gratitude, which Annie Totah, a Member of the Board of Trustees, accepted on behalf of the Assembly. The Medal was his gracious way of thanking the Assembly for its significant contribution in restoring and developing the economy, science, culture and social spheres of Artsakh, as well as for defending and promoting international recognition of the new Republic.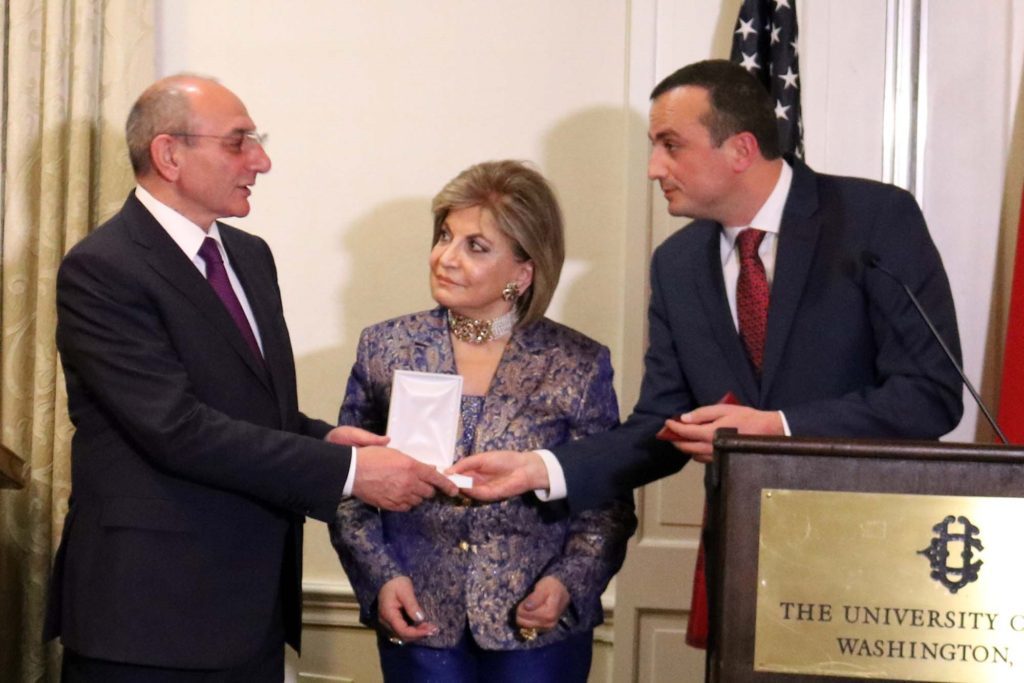 H.E. Bako Sahakyan, Annie Totah and Permanent Representative of Artsakh Robert Avetisyan
"We have proudly given much of our time and effort to helping Artsakh," Annie Totah said on behalf of the Assembly. "During the President's brief visit, we have presented him and his delegation with the opportunity to make contact with leaders in Congress and offer them first-hand, objective information about the country and its quest, while at the same time strengthening U.S.-Artsakh relations."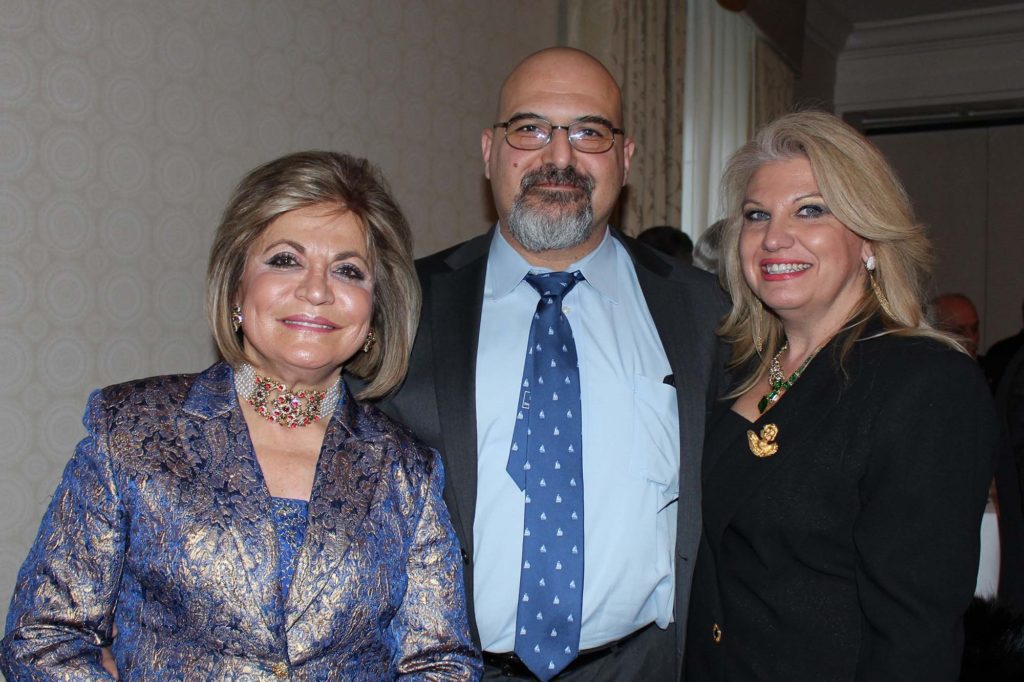 Annie Totah with Mark and Lita Keshishian
Although the President's visit didn't receive significant attention by the media, this was a historic moment for all his many friends. The President by his week-long visit reaffirmed the special bonds that exists between Armenia and America which he hopes to bolster in the coming years.
Established in 1972, the Assembly has played a leading part in promoting public awareness of Armenian issues by encouraging greater Armenian-American participation in the American democratic process, and by assisting Armenia and Artsakh with humanitarian and development programs. As a result of its many charitable and humanitarian efforts, it has become today an important non-partisan, tax-exempt organizations for promoting public understanding and awareness of Armenian issues in Washington.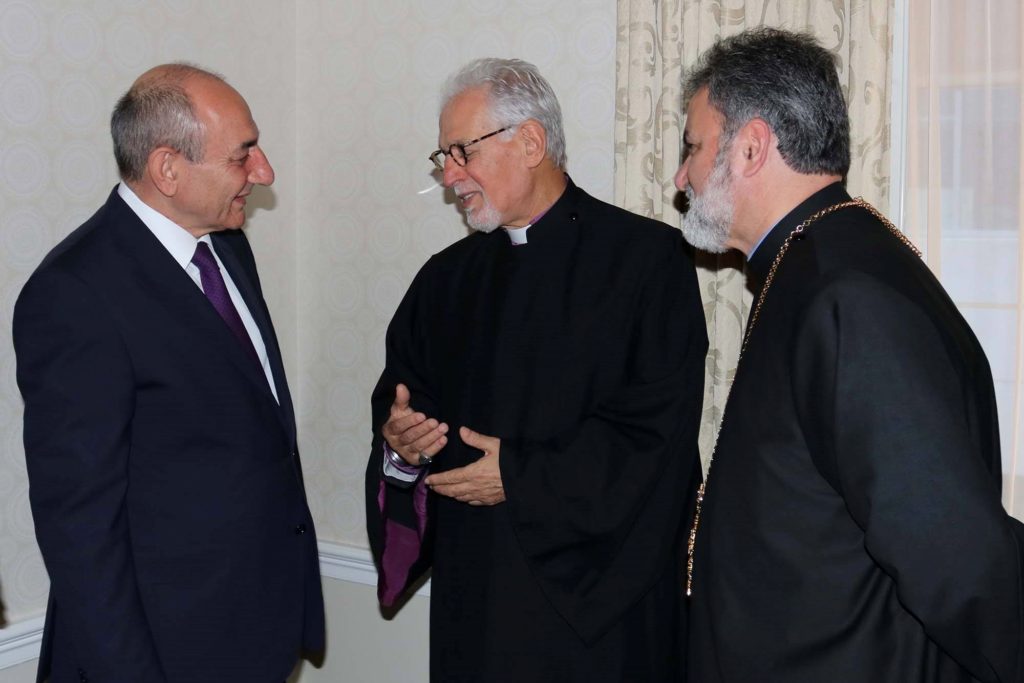 H.E. Bako Sahakyan, Archbishop Vicken Aykazian, the Very Reverend Father Oshagan Gulgulian
Among those in attendance honoring President Sahakyan and his delegation at the University Club were the Armenian Ambassador to the United States H.E. Grigor Hovhannissian, former Ambassador John Evans, Annie Tota, former U.S. Presidential Speechwriter Aram Bakshian, His Grace Archbishop Vicken Aykazian, Diocesan Legate of the Diocese of the Armenian Apostolic Church of the Eastern United States; His Grace Bishop Anoushavan Tanielian, Vicar General of the Eastern Prelacy of the Armenian Apostolic Church of America, Assembly Board of Trustees Co-Chair Anthony Barsamian, Assembly Executive Director Bryan Ardouny, Armenian National Institute Director Dr. Rouben Adalian and other leaders of the Armenian-American community.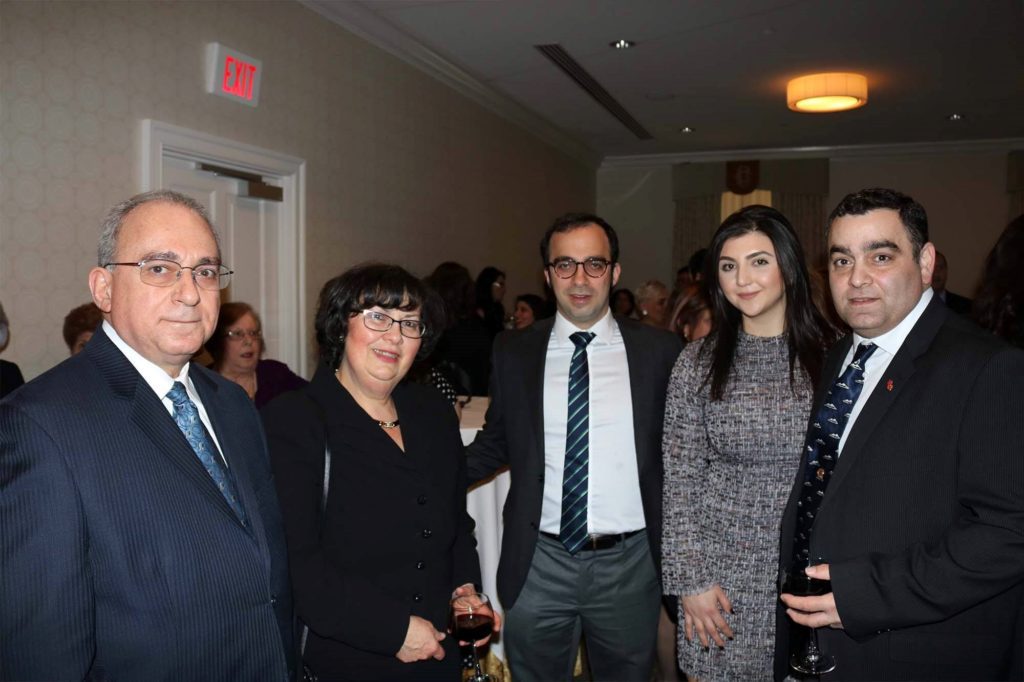 Director of Armenian National Institute Dr. Rouben Adalian, Alice Adalian,, Diran Adalian, Mariam Khaloyan, Assembly Activist Steven Keytanjian
The evening formally came to a close after special guest Anahit Arushanyan performed a musical selection on the piano. With remarkable musical sensitivity and skill, the 20-year-old Long Island Conservatory of Music student played selections from Sergei Rachmaninoff, Arno Babajanian, and George Bizet. Ms. Arushanyan who is originally from Artsakh has won multiple awards in recent years for her piano performances, including First Prize in Forte International Music Competition held in Carnegie Hall and the Grand Prize at the Stars at Tenerife International Music Competition.