Afternoon Delight!
by guest contributor Linda Roth
Photo credit: Linda Roth
ProChile and the Embassy of Chile held a private preview of Chilean wines to be presented at the 23rd Annual Cata d'Or, the "Oscars" of Chilean wine awards. The wines were presented and curated by Pablo Ugarte, Executive Director of Cata D´Or, Jamal Rayyis, internationally recognized wine writer and critic, Julio Fiol, Chargé D´Affairs, of the Embassy of Chile.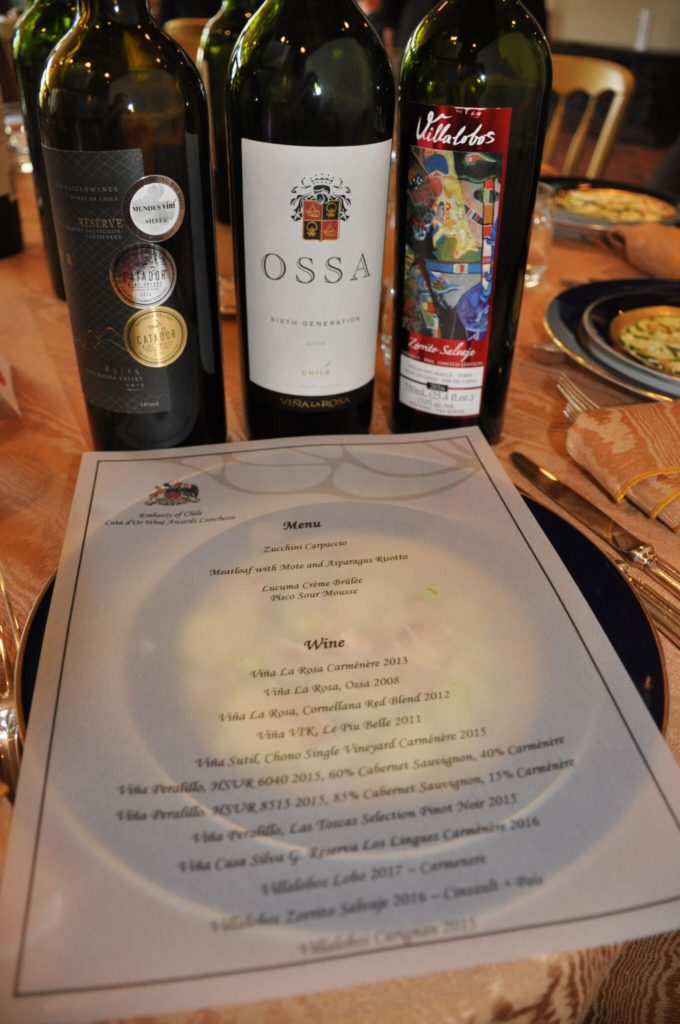 Cata d'Or menu & wines
This preview was the only tasting of its kind in the United States. It was held at the Residence of the Ambassador of Chile. "I regret the ambassador is not here to greet you, but as you may know, we just had our election in Chile and a new ambassador has not yet been appointed by our new president," offered Julio Fiol.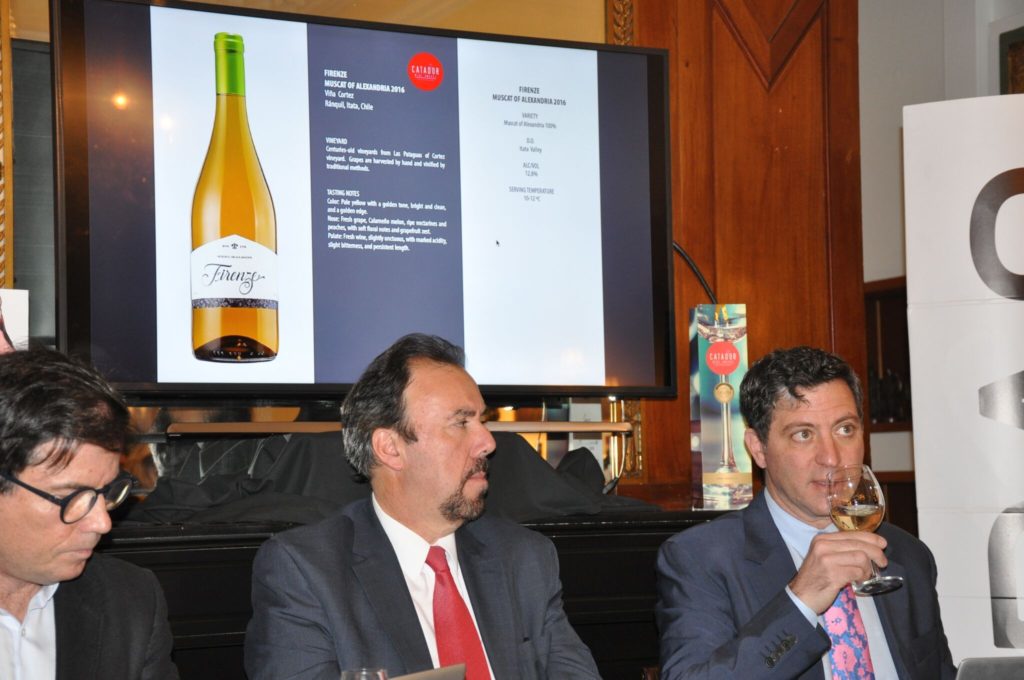 Pablo Ugarte, Julio Fiol and Jamal Rayyis
Jamal Rayyis, New York-based wine authority, flew in for the tasting. "Anyone who has been following Chilean wines for the past quarter century or more knows that the country's vintners are able to craft international-styled wines that beautifully express the exemplary quality of fruit grown there. However, what was special about today's presentation was that people were able to see another side of Chile – the heritage of small vine growers and winemakers from a part of the country that is often overlooked."
For those who thought Pablo Ugarte looked familiar, he was the lead singer is the Chilean rock band UPO, which was very popular in the late 1980's. He is now more known for his taste in wine than music.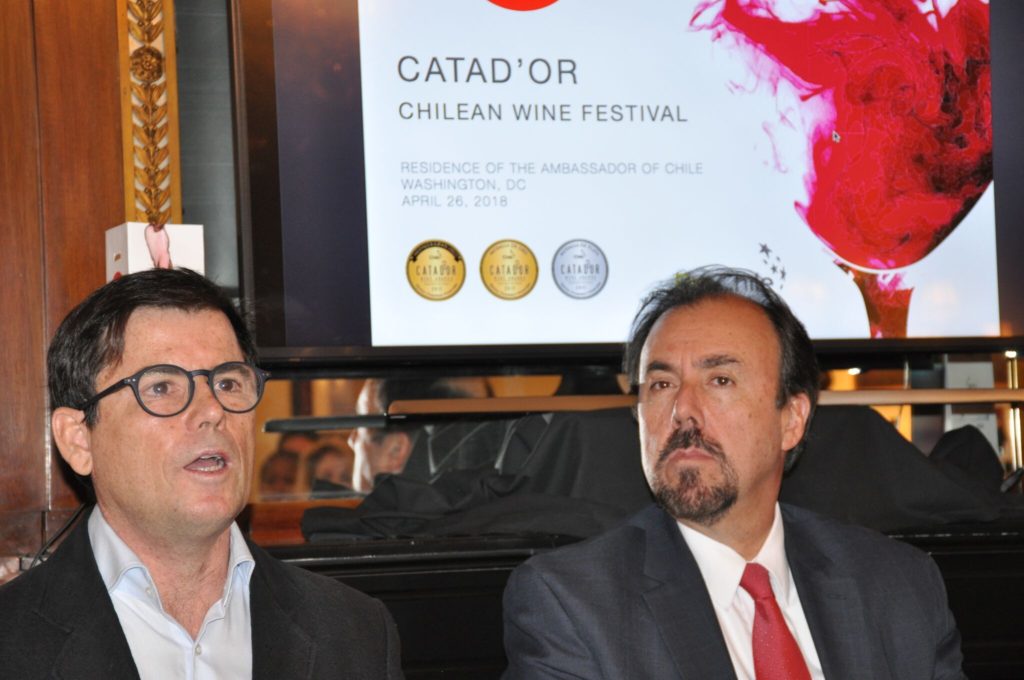 Pablo Ugarte and  JulioFiol
Some wines were from grape varieties that are not familiar to Americans, such as País, Cinsault, and Carignan. "These are not new wines, but wines had been previously despised by the 'experts'," pointed out Jamal. "They offer a glimpse at history, but also point to a hopeful future in which diversity is not only honored as a principal, but also savored in real life."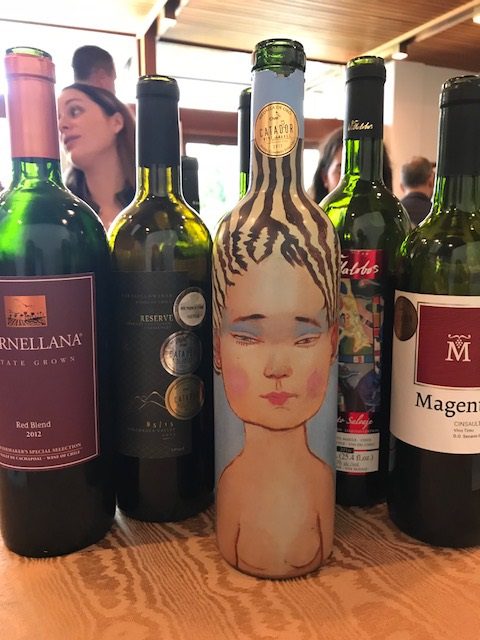 Experts convene each year in Santiago, Chile to judge entries from the country's diverse landscape of wine-making and terroir. The five celebrated Chilean wineries and their wines at the tasting included:
Viña La Rosa Carmenere 2013; Viña La Rosa, Ossa 2008; Viña La Rosa, Cornellana Red Blend 2012
Viña VIK, Le Piu Belle 2011
Viña Sutil, Chono Single Vineyard Carmenere 2015
Viña Peralillo, HSUR 6040 2015, 60% Cab. S., 40% Carmenere; Viña Peralillo. HSUR 8515 2015, 85%Cab. S., 15% Carmenere
Viña Casa Silva G. Reserva Los Lingues Carmenere 2016