Sobibor!
by guest contributor Shelley Hymes
Photo credit: Geoff Chesman (ImageLink Photo)

His Excellency, Ambassador Anatoly Antonov and the American-Russian Cultural Cooperation Foundation (ARCCF), Chaired by Susan E. Carmel, hosted a moving movie premier event for Sobibor at the Embassy of the Russian Federation. Based on true events, several hundred in attendance saw for the very first time in the US, a film that tells the heroic story of Soviet officer Alexander Pechersky, who led a daring revolt and mass escape of doomed prisoners at the infamous Nazi concentration camp where hundreds of thousands of European Jews and Soviet Jewish prisoners of war were exterminated.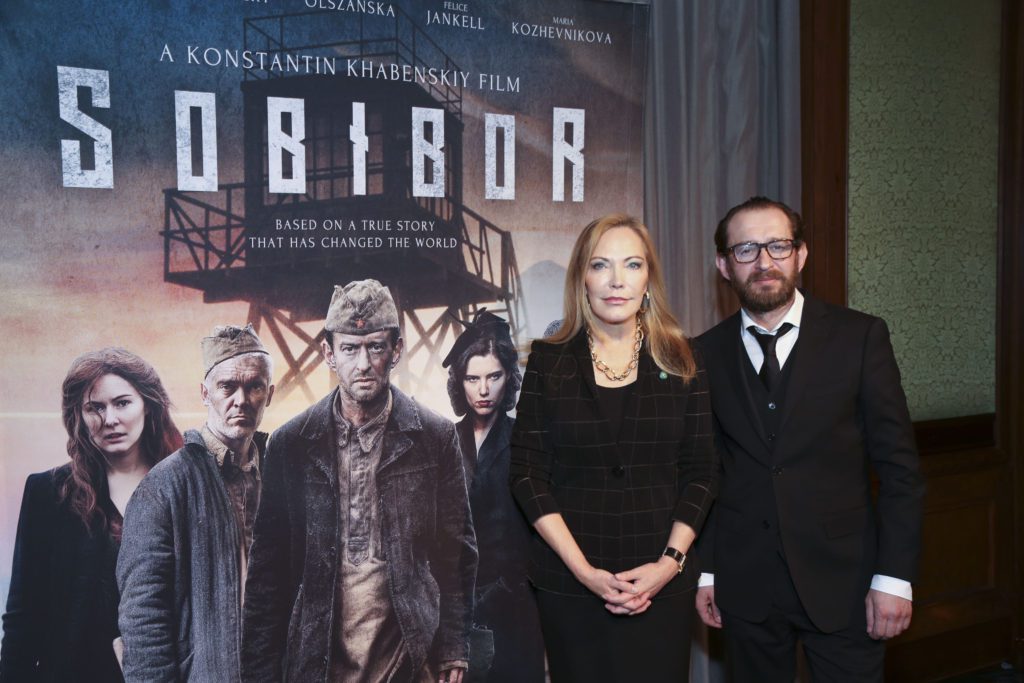 Susan E. Carmel & Konstantin Khabensky
Guests entered the ceremonial building of the Embassy of the Russian Federation through the Grand Central Hall on a red carpet. One side of the red carpet was flanked with a dramatic step and repeat of "SOBIBOR" where guests were photographed. The other side featured a gallery exhibit of historically significant details from the movie and the story of the Sobibor camp. The center staircase featured hundreds of white roses and blossoms in a vase of barbed wire on a pedestal of rough timbers. The white roses represented peace, freedom, and remembrance; the barbed wire represented the concentration camps. After the screening, guests enjoyed a reception in the Golden Room of the Embassy. Table centerpieces of white roses and rosemary (for remembering) were displayed in geometric metal vault type containers.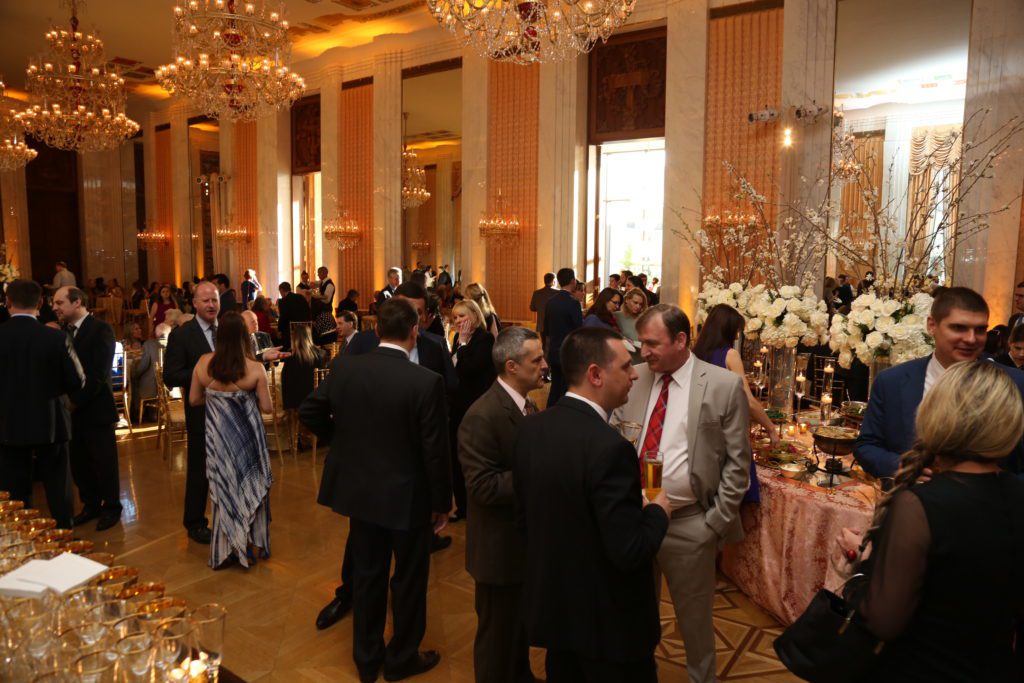 Featured speakers that evening were The Ambassador of the Russian Federation Anatoly Antonov; Deputy Head of Mission from the Embassy of Israel Reuven Azar; Thomas Yazdgerdi, Special Envoy for Holocaust Issues; United States Department of State, John Beyrle; Former Ambassador of the United States to the Russian Federation, and former Ambassador of the United States to Bulgaria, and the Director/Lead Actor of the movie Konstantin Khabensky. Khabensky is one of Russia's most popular actors, who is best known in the West for his starring roles in Night Watch (2004) and Day Watch (2006) as the protagonist Anton Gorodetsky. After the screening, Khabensky took Q&A's from the audience.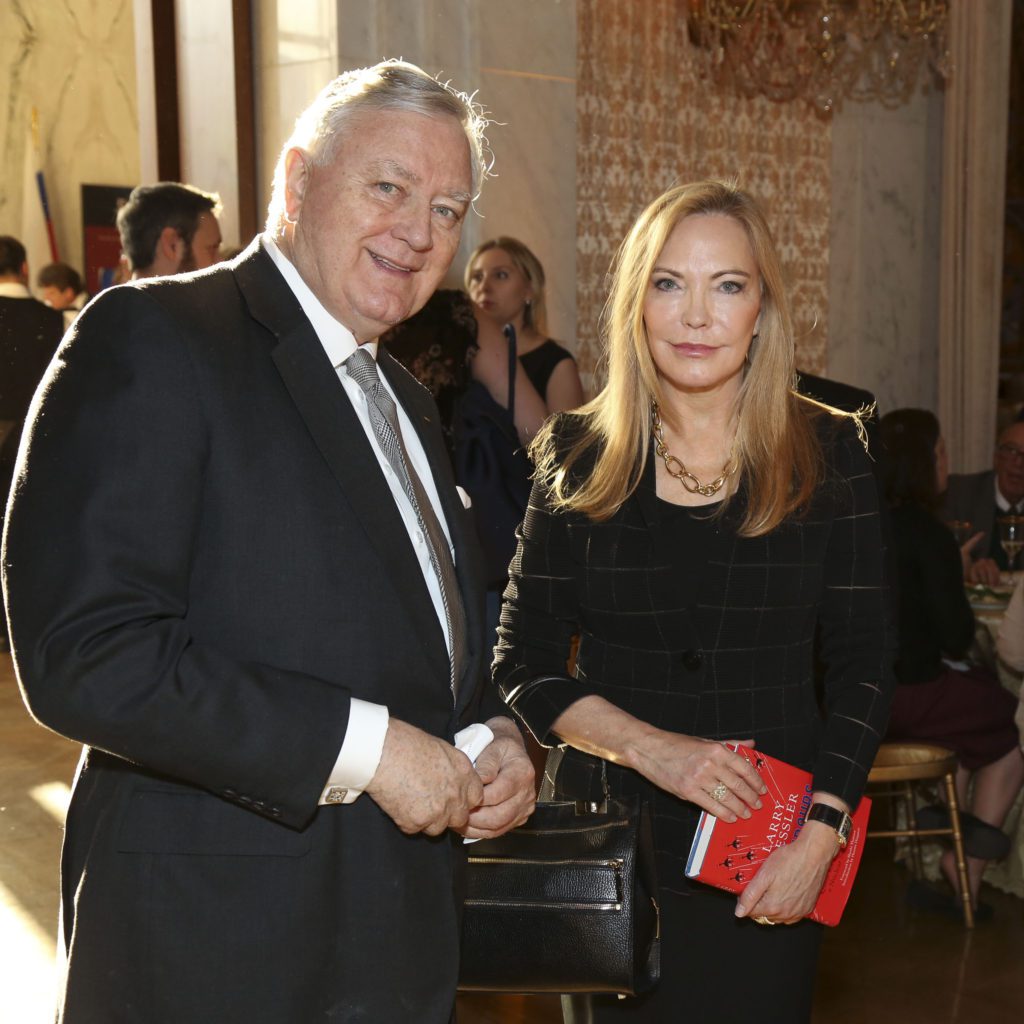 Senator Larry Pressler and Susan Carmel
During his remarks, Ambassador Antonov emphasized the importance of the event by saying: "We must remember that forgetting the lessons of the past can lead to the re-occurrence of terrible tragedies. Therefore, our duty is not only to honor the memories of millions of victims, but also to protect the truth about WW II and pass it on to the young generations, including through cinema."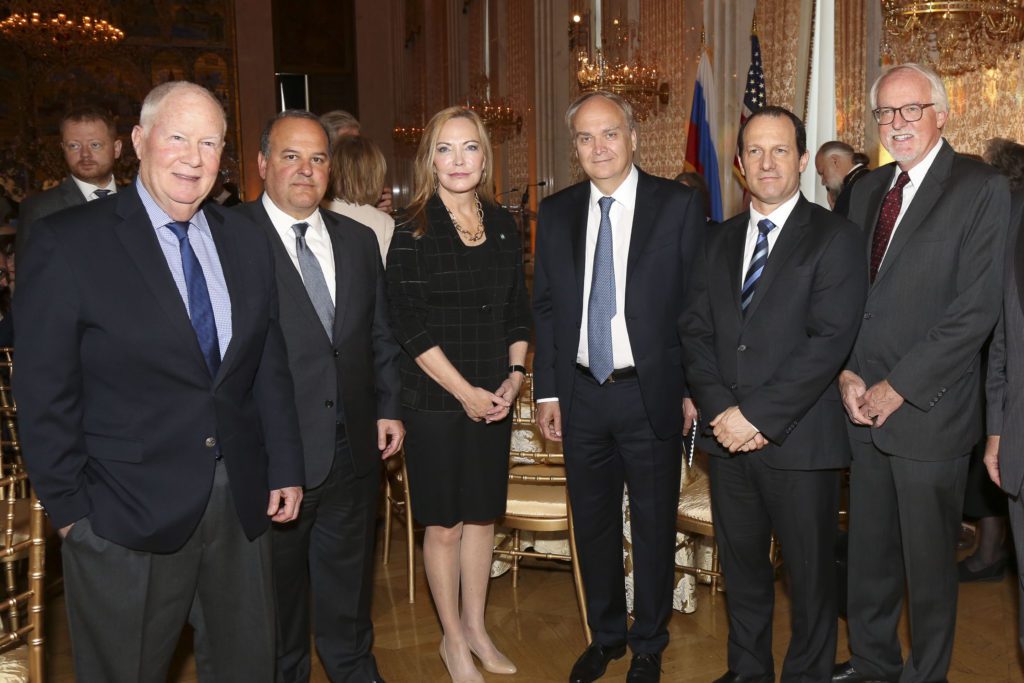 Rabbi Andrew Baker, Director of International Jewish Affairs, American Jewish Committee, Thomas Yazdgerdi, Special Envoy for Holocaust Issues, United States Department of State, Chair of ARCCF Susan E. Carmel, Ambassador of the Russian Federation Anatoly Antonov, Deputy Head of Mission, Embassy of Israel, Reuven Azar, John Beyrle, Former Ambassador of the United States to the Russian Federation and former Ambassador of the United States to Bulgaria
Said Deputy Head of Mission, Embassy of Israel, Reuven Azar, "I wish to extend Israel's deep appreciation to the Russian Embassy for screening the movie Sobibor, as well as to the producers. This movie commemorates the heroes of Sobibor who defied the Nazis and fought them fiercely. Especially among them, the Jewish Soviet commander Alexander Pachersky who initiated and led the rebellion. As Prime Minister Netanyahu told President Putin earlier this year in Moscow, Israel will never forget the Russian sacrifice in the fight against the Nazis."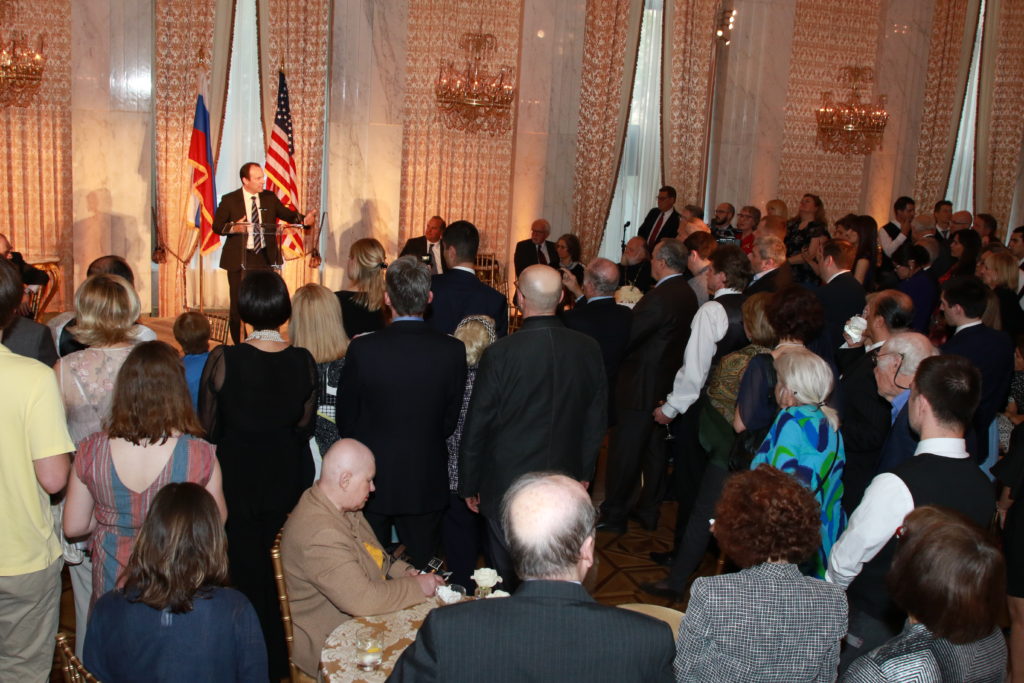 Deputy Head of Mission from the Embassy of Israel Reuven Azar
As stated by Thomas Yazdgerdi, Special Envoy for Holocaust Issues, United States Department of State, "Tonight, we honor the bravery of those who took part in the escape from the horrors of Sobibor.  By doing so, we also honor the memory of the Holocaust itself.  This is of crucial importance because the Holocaust is not just a tragedy that is significant for Jews and for Israel.  It has transcendent and enduring meaning for all of humanity and for each succeeding generation."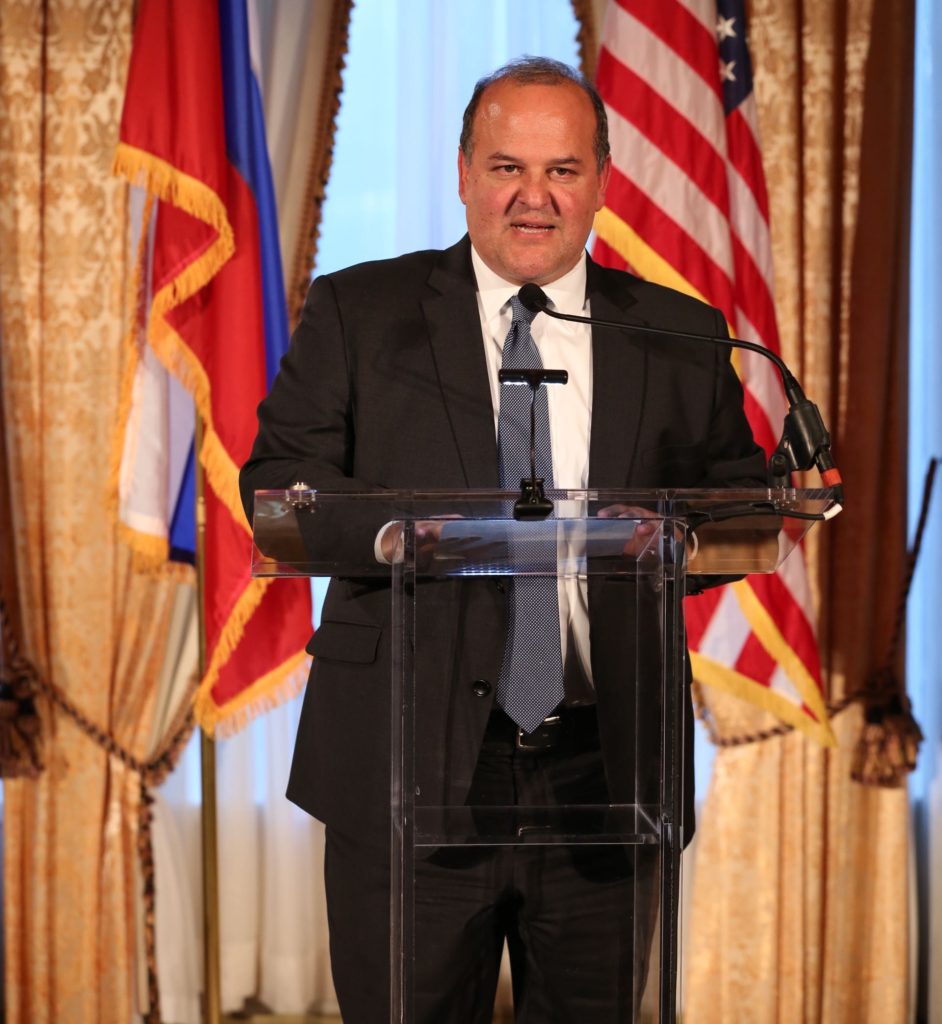 Thomas Yazdgerdi
According the Chair of the event and Chairman of the American Russian Cultural Cooperation Foundation Susan Elizabeth Carmel, "Both organizations that I chair – the Carmel Institute of Russian Culture & History which I founded at American University seven years ago, and the American-Russian Cultural Cooperation Foundation – are dedicated to overcoming harmful international, cultural and religious stereotypes through unbiased education, person-to-person dialogue, and cultural cooperation and exchange. I believe that by emphasizing the importance of these values to younger generations, we can make an impactful investment toward a more peaceful future."
Added John Beyrle, Former Ambassador of the United States to the Russian Federation and former Ambassador of the United States to Bulgaria, "At a time when racial and ethnic intolerance is clearly resurfacing as part of the political debate in many countries around the world, we need films like 'Sobibor' to remind us where extremism can lead, and why we must never shrink from fighting against it."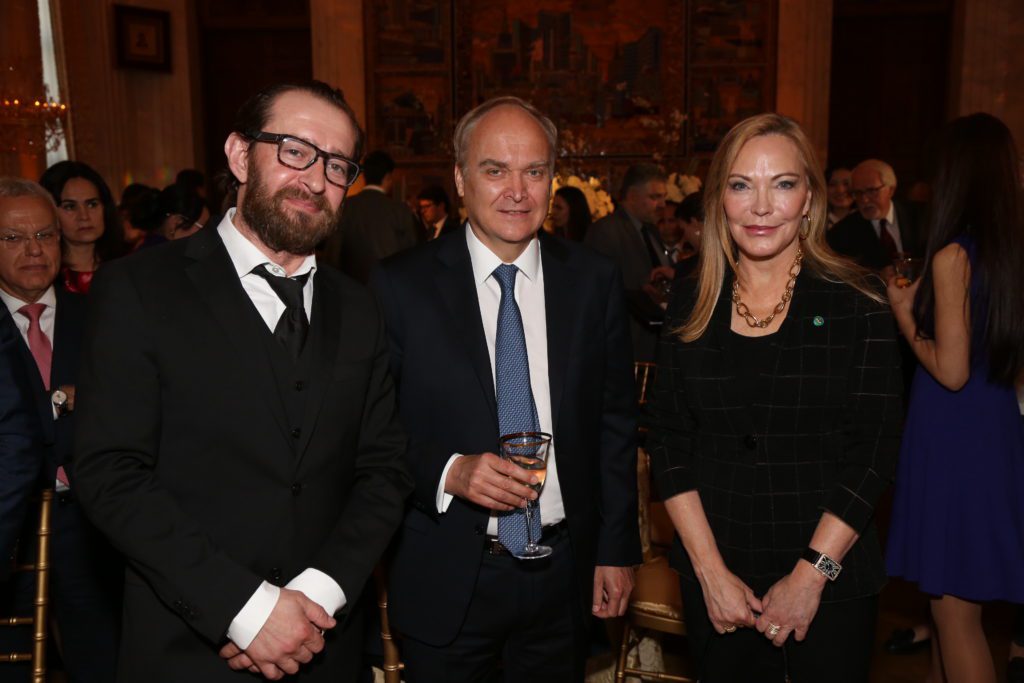 Director/Actor Konstantin Khabensky, Ambassador Anatoly Antonov,  Susan E. Carmel
Concluded Director/Actor Konstantin Khabensky, "Unfortunately, this is not the history of any particular nation, it is a virus that walks all over humanity. And in different historical moments it emerges, absorbs different points of our planet. If we treat it in a detached way, from the point of view of the observers, and consider that this disease will never touch us, sooner or later we will find ourselves in the epicenter of this virus."