Uji Tea Ceremony!
Photo credit: Janet Donovan
"It's a great moment to emphasize the Franco-Japanese relationship," said Gérard Araud, The  Ambassador of France. "We have enjoyed diplomatic relations for one hundred and sixty years and actually, we have celebrated this anniversary. It's always good to celebrate friendship and it's always good to do it with good food and also good dreams."
Ambassador Kazutoshi Aikawa, Deputy Chief of Mission of Japan, co-hosted a reception pairing French Gastronome & Japanese products with a traditional "Uji" Tea Ceremony presented by Sobin Koizumi Sensei from Kyoto. While a tea ceremony at the French Embassy may seem incongruous to the French way of life where Champagne flows from dawn to dusk, on this night it was where the two cultures formed a strong duo pairing French chefs that cook dishes which use tea.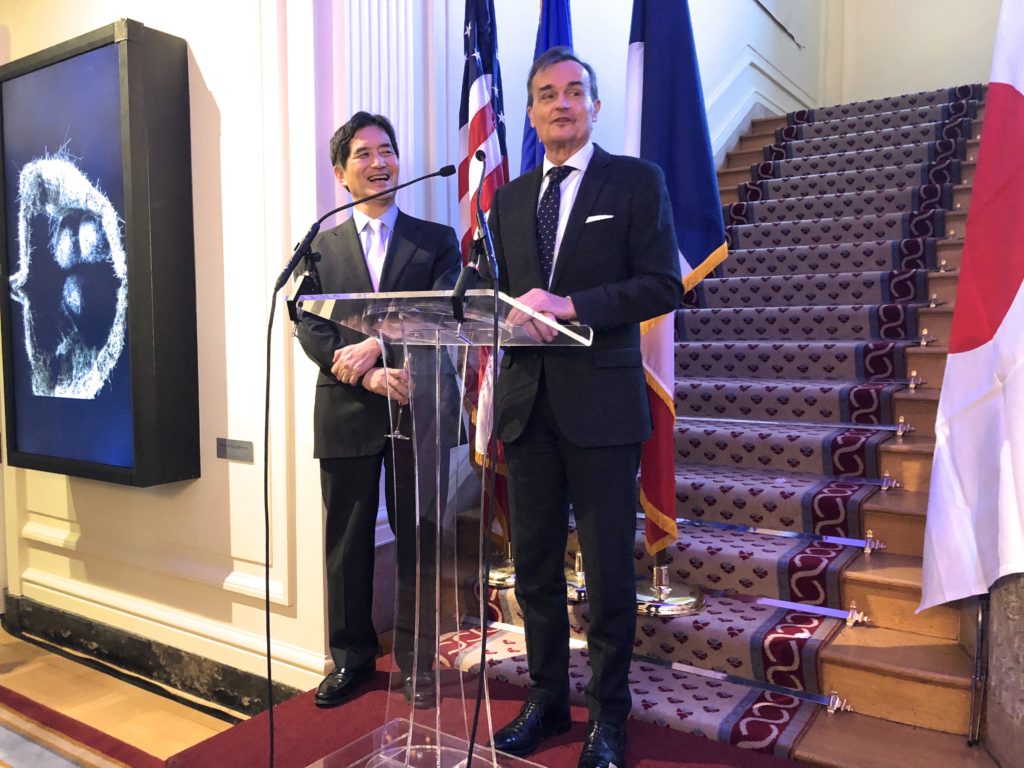 Amb. Kazutoshi Aikawa and Amb. Gérard Araud
"It all started with a type of tea – Uji Matcha Tea – and now The French and Japanese are starting to host these events around the world," added Amb. Araud.  "We have things in common because the intrinsic qualities of the Matcha Teas are derived from the particular region where it is produced which sounds like what we call in French a geographical [education].  And to be honest, since French production of tea was probably zero, there is no question of competition between France and Japan; it's only a question of cooperation. On our side, we are always excited by the idea that the qualities of the French gastronomy is recognized."

Kiyomi Buker (R), Social Secretary to the Ambassador of Japan with friends
"The Ambassador was my mentor when I was in New York working for the Japanese permanent representative to the UN," said Amb. Aikawa. "He [was] an excellent diplomat over there. But this time around I appreciate it that the French Embassy hosted this splendid event. The whole philosophy behind this is to find an ecstatic sort of harmony at the table with food served in refined tableware such as the Japanese small bowl covered with a small cup. One of the legendary French chefs Paul Bocuse, who unfortunately passed away this January, was a frequent visitor to Japan. His most famous signature dish was French soup, covered in the shape of puff pastry which was reported to be influenced by Washoku, a [traditional] Japanese cuisine."

"So, we have today three Japanese food and beverage companies from various regions of Japan," Amb. Aikawa explained.  "First, the sake brewer of Yamaguchi prefecture where Japanese Prime Minister Abe is from. Their success is not due to whatever political clout they have, but the success is due to their unconventional and very unique method of brewing methods of sake. So tonight, we serve their most well known brand which obviously pairs very well with the French cuisine."  He went on to describe all of the distillers, the Sake, the snacks of which there were many. We have chosen not to mention them all because our computer doesn't spell check in Japanese.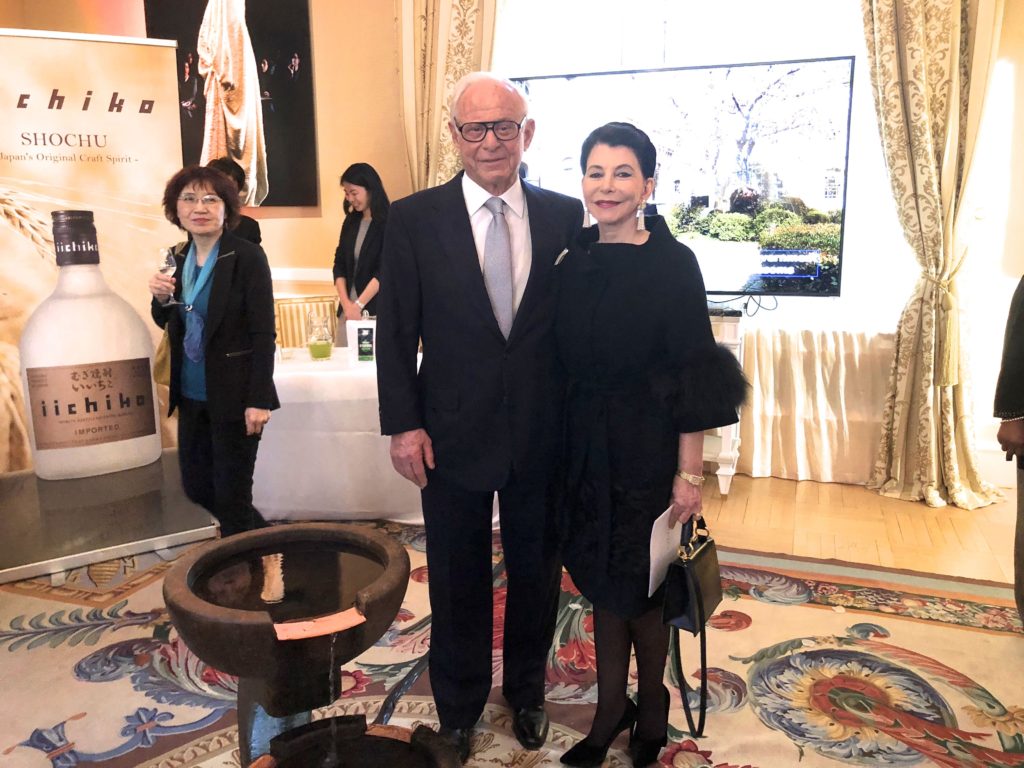 John and JoAnn Mason
Japan has also come up with numerous kinds of original snack foods and is one of the major favorite gifts that all the tourists coming to Japan are taking back to their home countries. Take that Doritos!