First Amendment!
Photo credit: Ken Visser

"I have remained involved with The First Amendment Awards since I was responsible for starting them back in 1979," Christie Hefner told Hollywood on the Potomac just prior to the awards presented at The Newseum in Washington, DC.  "They're now done under the auspices of the Hugh M. Hefner Foundation rather than the company. This is actually not the first time we've been in Washington. We've been in Washington at The Newseum twice before and have been in other cities – a lot in New York, Chicago some. One year we were in Texas when Molly Ivins was a winner. Then the last few years in LA where it was possible to do them in the backyard of The Playboy Mansion and [making it] possible for my father to participate. But, of course, now my father has passed away and someone else is living in the mansion. It seemed a particularly good time to come back to Washington with the focus on more than ever the imperative of an independent and free press."
Christie Hefner
This year's Lifetime Achievement Award was bestowed upon Joan E. Bertin, longtime Executive Director of the National Coalition Against Censorship (NCAC), who for 20 years was a leader and activist for the organization and responsible for its tremendous growth over the years.  She receives a Hugh M. Hefner First Amendment Award for her commitment of decades-long defense of human freedoms of thought, inquiry and expression in all forms, including the media, arts, video games, and books.
Joan Bertin and Tom Davis

The other award winners this year are: Simon Tam (Arts & Entertainment), the leader of the Asian-American rock band, The Slants, which fought a seven-year battle to defend their right to register the band's trademark after they were denied based on the grounds that the name was deemed disparaging by the government.  Laura Kipnis (Book Publishing), is a cultural critic whose 2017 book, Unwanted Advances: Sexual Paranoia Comes to Campus, argues that the climate of overblown accusation and sexual hysteria on American campuses is setting back gender progress, rather than addressing the realities of assault and harassment. Allison Stanger (Education), is a liberal Professor of International Politics and Economics at Middlebury College. When a student group invited conservative social scientist, Charles Murray, to speak on campus, Stanger supported the event despite her opposition to the policy recommendations in Murray's The Bell Curve. Stanger believes it is imperative for students to be exposed to alternate viewpoints, even if they're offensive. Jamie Kalven (Journalism), an independent journalist who broke the story of the fatal 2014 police shooting of 17-year-old Laquan McDonald in Chicago and subsequently resisted a subpoena demanding he reveal his source.
Zephyr Teachout and Alison Stanger
This year's distinguished judges were: Michael A. Bamberger, senior counsel in the New York office of the law firm Dentons and, since 1977, general counsel of the Media Coalition which defends the First Amendment rights of businesses that produce and distribute books, magazines, movies, videos, recordings, and video games.  Shelby Coffey III, vice chair of the Newseum in Washington, DC.  Coffey is a senior fellow of the Freedom Forum, where he studied and wrote about the media and First Amendment issues. He was executive vice president at ABC News in New York before joining CNN in 1999, where he was news chief at CNNfn. Zephyr Teachout is a political activist, former political candidate, and Associate Professor of Law at Fordham University School of Law. A talented and creative scholar, Professor Teachout brings a rich understanding of laws governing political behavior, both domestically and abroad, as well as the insights of her original work on corruption and its constitutional history.
Shelby Coffey III and Laura Kipnis

Back to our conversation with Christie: "I used to say there must have been something in the water in Texas that the women were drinking, because you had Barbara Jordan and Ann Richards and Molly Ivins…..amazing women," Hefner reminisced while looking back on these Texas women and former award winners. "My father, when he was alive, was a supporter of the ACLU and People for the American Way and organizations like that."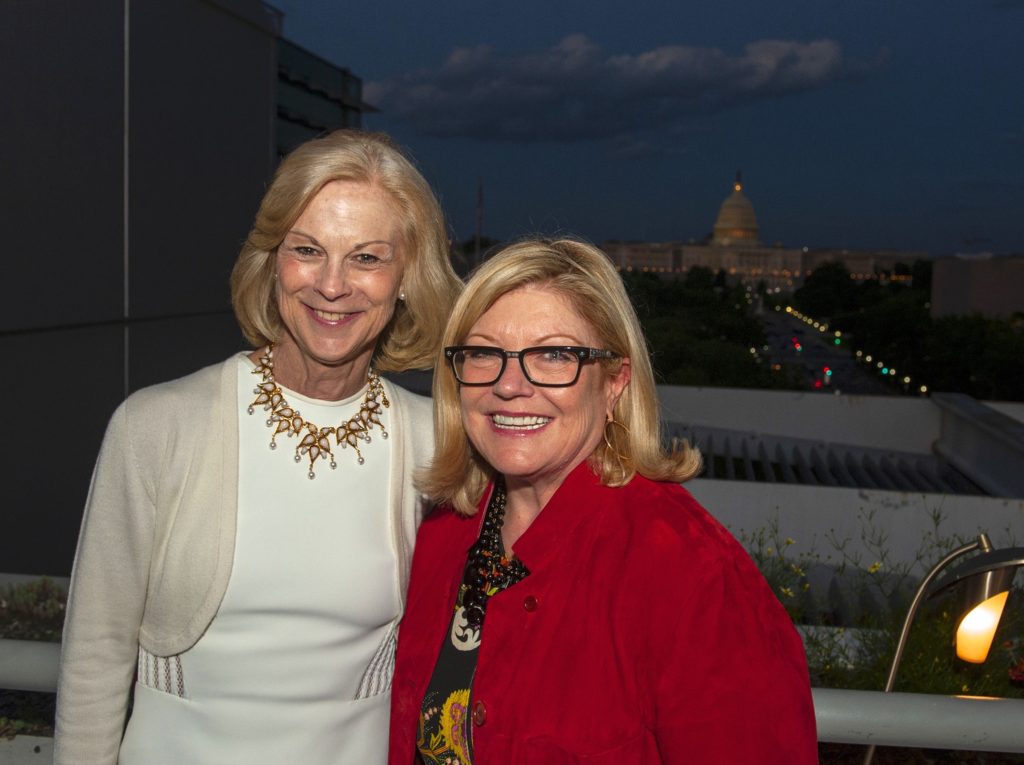 Christie and Gloria Dittus, Story Partners

Hefner on this year's award winners: "We have five distinguished winners who will be honored and three judges who will be presenting the awards to them. I would imagine that over the course of the evening, both the present environment in terms of hostility towards the press will be addressed as will issues related to [for example] the reason Jamie Kalven is being honored which is the importance of having access to information with regard to policing in our cities. In these times of Black Lives Matter and the question of what is the right relationship between an urban police force and the community it polices, the very critical role that the press plays in reporting on what is actually the actions of the officers, and being able to follow up on that is another issue that's going to be addressed; as is the issue of the backlash against certain conservative speakers on campuses. One of our other winners was the professor at Middlebury who actually was not only standing up for the right of Charles Murray to speak on the campus but actually got personally injured in trying to protect him. It will be, as it always is, an opportunity to address a range of contemporary aspects of what it means to have a First Amendment in this country."
Cooper Hefner, Christie Hefner, Wolf Blitzer
Christie on the press and this administration:  "Well, I think that when the President of the United States literally calls the press the enemy of the people that is the antithesis of the attitude of our founders – which as Jefferson said at the time of the founding of the country that if he had to choose between a government and the free press, he would choose the free press. I think there's no question but that there is an effort to undercut the credibility of the media, and that that is not helpful. Because fundamentally, as Senator Moynihan famously noted many years ago: 'We're entitled to our own opinions but not our own facts.' It is through the press that we are able to hold both elected officials and all institutions accountable."
Hollywood on the Potomac sat down with Christie Hefner at The Newseum in 2014. The two part interview is on her personal life and her professional life: