Oscar Countdown: "The Wife"
Photo credit: Brendan Kownacki
Since the screening of The Wife in August, Glenn Close has been nominated for Best Actress and her chances are good.  Here is a look back at Hollywood on the Potomac's interviews and event coverage.
"Jane Anderson (based on the novel by Meg Wolitzer) wrote the screenplay more than 14 years ago," Glenn Close told an attentive audience at a private screening of The Wife at AMC's Georgetown Theater. "It was a movie that Hollywood obviously didn't want to make. So, 14 years later, I guess it probably was this wonderful woman who was one of the main producers – Rosalie Swedlin. I was sent the script, and I liked it. I was intrigued by it. I had never played anybody like that before. Then, it fell apart, and then it came back together, like every independent film does. My definition of an independent film is a film that almost doesn't get made."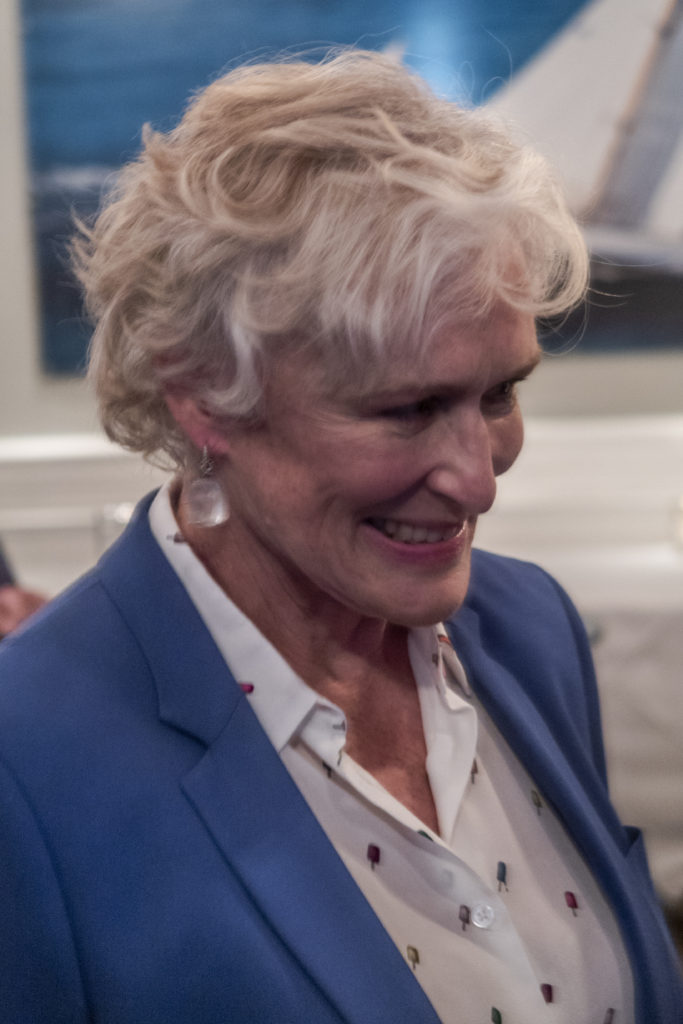 Glenn Close
The film was on and off again for a long time until Swedish director Björn Runge came along. Runge flew over for breakfast to meet with Glenn in a little cafe a block from where she has an apartment in New York, down in the West Village. They were a perfect match and the film was made.

About the film: "Behind any great man, there's always a greater woman – and you're about to meet her. It is crucial you get to know this woman – many of us already do and don't even realize it. Joan Castleman (Glenn Close): a highly intelligent and still-striking beauty – the perfect devoted wife. Forty years spent sacrificing her own talent, dreams and ambitions to fan the flames of her charismatic husband Joe (Jonathan Pryce) and his skyrocketing literary career. Ignoring his infidelities and excuses because of his "art" with grace and humour, their fateful pact has built a marriage upon uneven compromises. And Joan's reached her breaking point. On the eve of Joe's Nobel Prize for Literature, the crown jewel in a spectacular body of work, Joan's coup de grace is to confront the biggest sacrifice of her life and secret of his career. The Wife is a poignant, funny and emotional journey; a celebration of womanhood, self-discovery and liberation." Courtesy of imdb.com
The Wife was presented by The Middleburg Film Festival with filmmaker Susan Koch.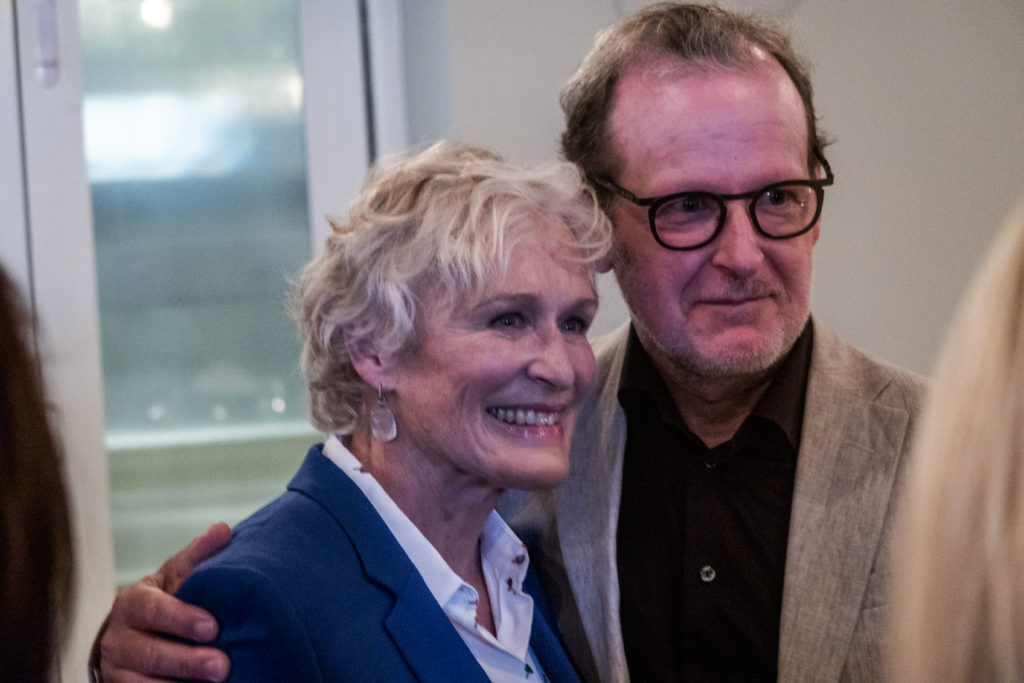 Glenn Close and Björn Runge

Christian Slater, who plays Nathaniel Bone, is obviously a crucial figure in this narrative. "He's the little anarchic spirit who comes in and rustles things, but we don't see that much of him. You come in at crucial junctures, but you're kind of a punctuation mark,"  Washington Post's film critic Ann Kornaday suggested to Slater at the Q and A following the screening. "Tell us a little bit about how do you prepare? How does an actor prepare for that kind of a performance? Are you building a back story when you're having those brief shard-like appearances?"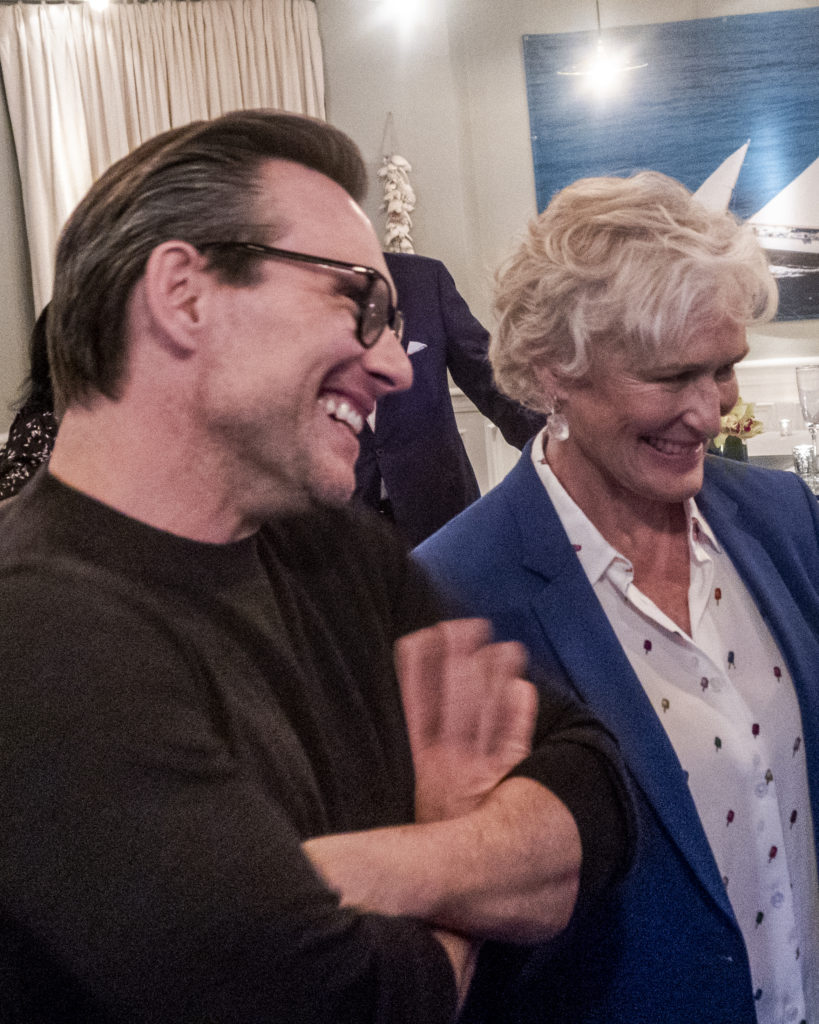 Christian Slater and Glenn Close
"Yeah, it gave me a lot to sink my teeth into," Slater answered.  "We talked a lot about this character, and what definitely makes him quirky, bizarre choices with him. Is this a guy that you could really trust, and feel comfortable with? And I loved the idea that he wanted me to have just a white eyebrow, right? And he had me every morning glue on these white hairs in the morning on my eyebrows. So yeah, I thought that was odd. It was just sort of off, and weird about this guy, but I loved the mischievousness of him. I was extraordinarily happy in this opportunity. I've been a fan of everybody who's involved in this particular project my entire career. So I was thrilled to get to be a part of it."
Interesting factoid:  Annie Starke, daughter of Glenn Close, stars as a younger version of her mother's character.  "The interesting thing is we weren't in scenes together because we were playing the same character," said Close to Runge at the Q and A.  "I was so proud that she got the part, and she got the part 'cause Björn was having trouble casting that role. I remember you would call me and say the voice is right but the look is wrong, or the look is right and the voice is wrong, and I thought about it for a long time because my daughter's a very independent person, and then I whispered to Bjorn on the phone one day, 'My daughter is an actress.' And that was it."
Guests enjoyed a lavish pre-screening reception at Fiola Mare on the Georgetown waterfront where the stars happily mingled and engaged them tirelessly in photo ops.   Photo credit: Janet Donovan
The Wife opens in theaters on August 17th.