World Cup 2018!
by guest contributor Shelley Hymes
Photo credit: Imagelinkphoto
Under the patronage of His Excellency Anatoly I. Antonov, The Ambassador of the Russian Federation to the United States, and co-sponsored by the American-Russian Cultural Cooperation Foundation (ARCCF) Chaired by Susan E. Carmel and the Sustained Dialogue Institute, a celebration was held at the Embassy to honor the unifying power of music and sports, and to commemorate the closing of the 2018 World Cup tournament. With Russian jazz great Igor Butman and the Igor Butman quintet featuring Fantine, over 500 attendees, including representatives from 20 participating countries, enjoyed a festive summer gathering that included a memorable jazz concert, buffet dinner and highlight film from the World Cup games.
Upon arrival at the Embassy, guests were greeted by valets and servers outfitted in official FIFA World Cup referee uniforms. Surrounded by posters of the 11 Russian cities hosting the World Cup, guests mixed, mingled and cocktail-ed with Zabivaka, the official World Cup mascot, who was also on hand for photo ops that served as commemorative souvenirs from the evening. Celebratory quarter finals cocktails included Kir Royale's from France, Crocktails from Croatia, Stella Artois (served in official FIFA World Cup Glasses) from Belgium, Pimm's Cup from England, and of course – Moscow Mules!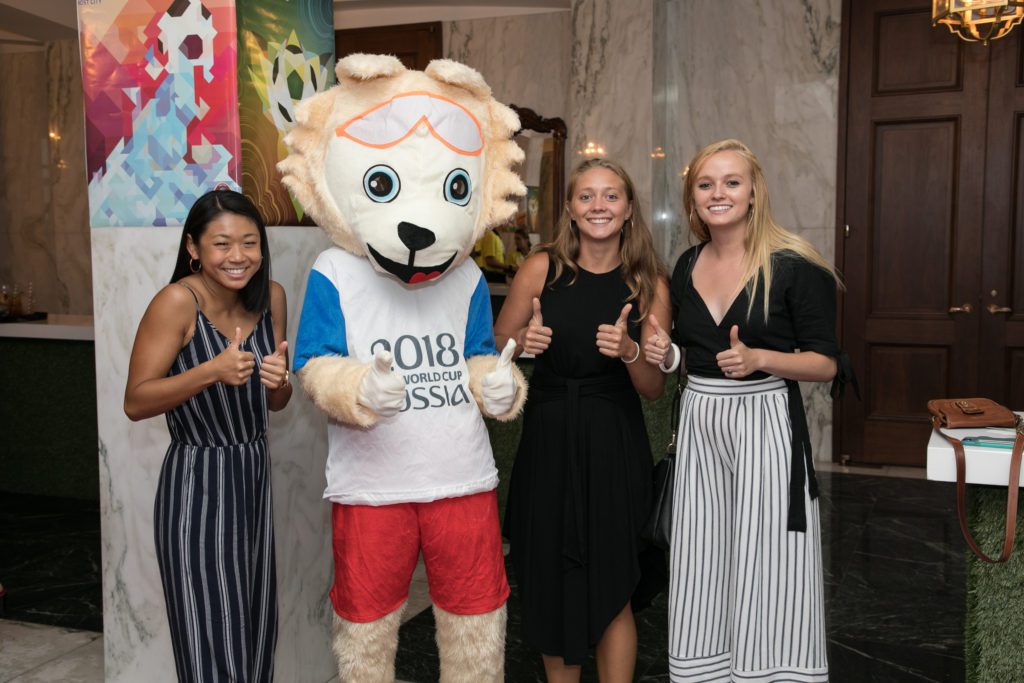 Guests settled into the Grand Ballroom for the program and performance which was transformed into a World Cup Stadium Jazz Club for the night.
Ambassador Antonov sent his greetings from Helsinki: "Welcome to tonight's event celebrating the World Soccer Cup in Russia. For the entire world the World Cup turned into a real celebration. We took our time to prepare for it – stadiums in 11 of our cities were built and reconstructed. Over 3 million people visited them during the championship. Russia also gained a world-level team. We have always been feeling for our team and celebrated its achievements. FIFA has already hailed this championship as "best ever" in history. It was because all Russians opened their hearts to the world and once again showed our signature Russian hospitality. We are certain that our country gained millions of new friends across the globe. Soccer for all of us is just an art, as, for instance, music. It's no coincidence that Igor Butman became a World Soccer Cup Ambassador of one of the host cities – Saransk. He rightfully deserved his title – the Ambassador of the Russian Jazz. Today Igor is also here. We have a great event in store for you. A night of soccer and music performed by Igor Butman and the Igor Butman Quintet!"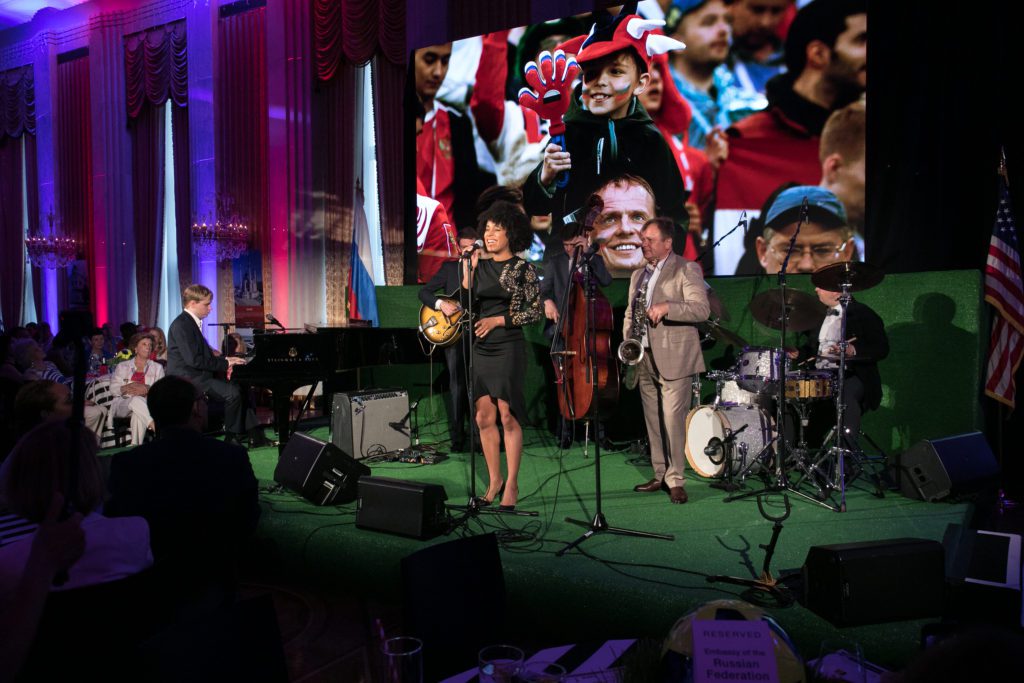 Igor Butman Quintet

Charge d'affaires and Minister Counselor Dmitry Zhirnov, Embassy of the Russian Federation, also welcomed the crowd and congratulated representatives from the French Embassy on France's World Cup victory with a special gift of Russian Imperial Porcelain.
In her remarks, ARCCF Chair and event co-sponsor Susan E. Carmel highlighted the importance of the evening's cultural significance. "Soccer is a truly universal sport," she said. "It is played throughout the world, in large gleaming stadiums and small rural schoolyards. But wherever a competitive match takes place, there is an atmosphere of sharing and friendship. The same is true of culture and music, which is why I am so delighted that a great icon of jazz and jazz diplomacy—Igor Butman—and his ensemble will be helping us to celebrate both the unifying excitement of the World Cup, and the sharing spirit of cultural exchange. I truly believe that through authentic face to face interactions, person-to-person dialogue and cultural exchange, that we are making an impactful investment toward a more peaceful future."
Igor Butman, Susan E. Carmel
World Cup Ambassador Igor Butman and his band featuring Fantine took to the stage for an incredible concert that received several standing ovations. Butman described the nexus of sports and jazz by saying, "I like beautiful football. This is a game for very hardworking people. Football is generally akin to the art of jazz, so first you need to prepare – it's a huge preparation, and then – improvisation. Great football players are great improvisers, because they are always looking for new ways, new tricks and combinations, and this is the beauty of football. It brings the art of football together with music, especially with jazz. We are infinitely glad to be a part of the 2018 FIFA World Cup – this sporting event, which, I am sure, has given unforgettable emotions to thousands of people from all over the world and will leave only kind feelings in their hearts. We can be proud of the way in which this Championship was held and especially with the fact that we were able to create a feeling of universal unity and an amazing atmosphere of joy throughout our large country. Today we're happy to share happiness with representatives of all world's members of the Cup!"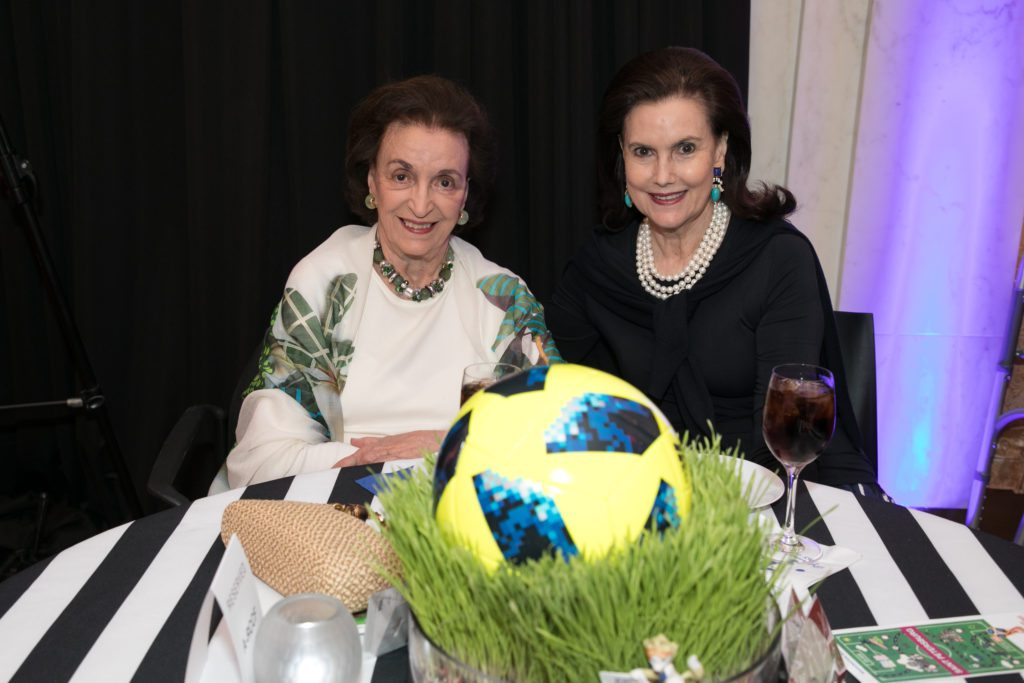 As the guests departed, their hands were filled with official World Cup souvenirs. Official Soccer balls, Zabivaka figures, stuffed mascots, key chains, cards and World Cup pilsner glasses were all happily taken home from a night to remember.