"MI: Fallout"
Photo credit:  Kris Connor for Paramount Pictures

"I do my own stunts," actor Tom Cruise empathically reminded the audience at the US Premiere of "Mission Impossible – Fallout" at The Smithsonian Air and Space Museum's  Lockheed Martin IMAX Theater.  We don't blame him; you'll see why in this behind the scenes clip.

"Mission: Impossible — Fallout" stars Cruise as Ethan Hunt as his IMF team (Alec Baldwin, Simon Pegg, Ving Rhames) and some old allies (Rebecca Ferguson, Michelle Monaghan) who team up after a failed mission causes "Rogue Nation" villain Solomon Lane (Sean Harris) to escape custody. The series is produced by Tom Cruise based on the television series of the same name.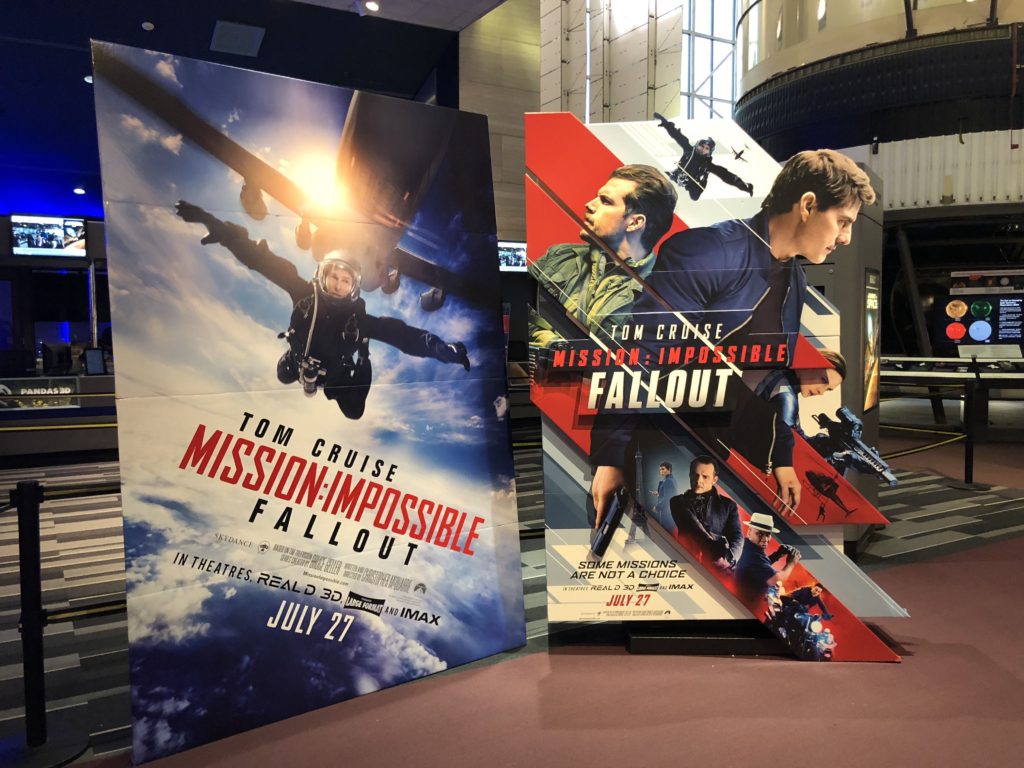 Photo credit: Janet Donovan
Fans braved an uncomfortable rain storm where on-lookers were warned to beware of lightening headed toward the museum. No one seemed to care as they lined the street on both sides and cheered the cast and crew.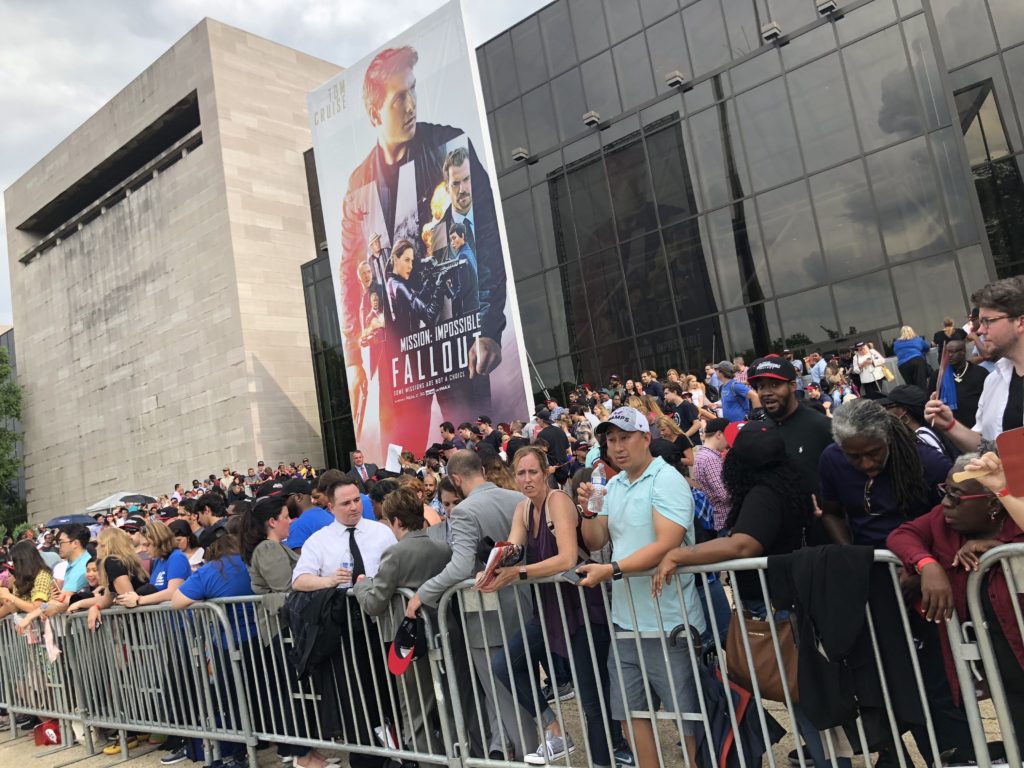 Photo credit: Janet Donovan
Cruise walked the Red Carpet and posed for selfies with guests in the historic setting. The Museum was introduced this way: "Our museum is filled with impossible machines. From the Wright Flyer rising above the sand at Kitty Hawk to Eagle setting down on the Sea of Tranquility, every milestone in our halls began as a mission to defy odds, expectations, and the gravity of conventional wisdom. The commonality in everything we commemorate here is the power of imagination. And we welcome all those who push the boundaries of their art, whether in flight or film making. Together with the Steven F. Udvar-Hazy Center in Chantilly, Virginia, this is the most visited museum in the world.  But we couldn't keep that title without the support of our friends. With us here, tonight, in the Lockheed Martin IMAX Theater, is the chairman, president, and CEO of Lockheed Martin, Marillyn Hewson. We are grateful to their long-standing support, particularity in advance of our own impossible mission: completely rebuilding this museum from the outside in and transforming our galleries to inspire the next generation of aviators and explorers. We are also grateful to filmmakers, Christopher McQuarrie and Tom Cruise, for being here this evening. Their commitment to excellence in the service of storytelling, particularly in the technical achievements in aviation cinematography in the Mission Impossible series, are truly at home here, at the National Air and Space Museum."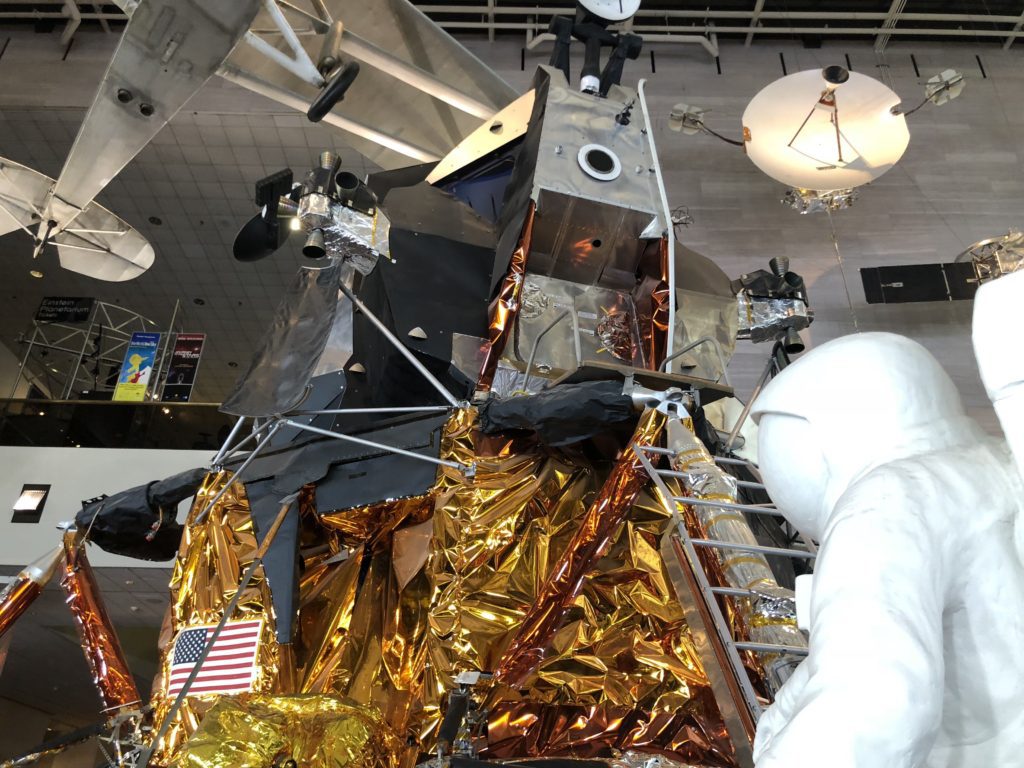 Air and Space Museum   Photo credit: Janet Donovan
Director Christopher McQuarrie was in high spirits and chatty as he introduced his teammates: "So this is the end of a three year journey for us, and it's been quite an extraordinary one. It's always a race against time. You're never quite sure how it's going to turn out. You don't know entirely who to trust. Not everybody is who you think they are, because, one day, your character is something, and then, the next day, it's something else. And somehow, we hope, they all manage to pull it off in the end.  And, what's really great is I have the amazing cast here as well, but I'm going to start with the guy who makes all of this possible, no, it's not who you think; it's Producer Jake Myers. If there is a Benji, and a Luther, and a Mister Secretary all rolled into one, it's this guy. This is the guy who has the thankless job of: 'Hey, we got a great idea! We wanna do a helicopter chase so we want to do it tomorrow, and we want to do it in New Zealand. Can you make that happen?' And Jake goes, Yeah, okay." McQuarrie then introduced the cast one by one.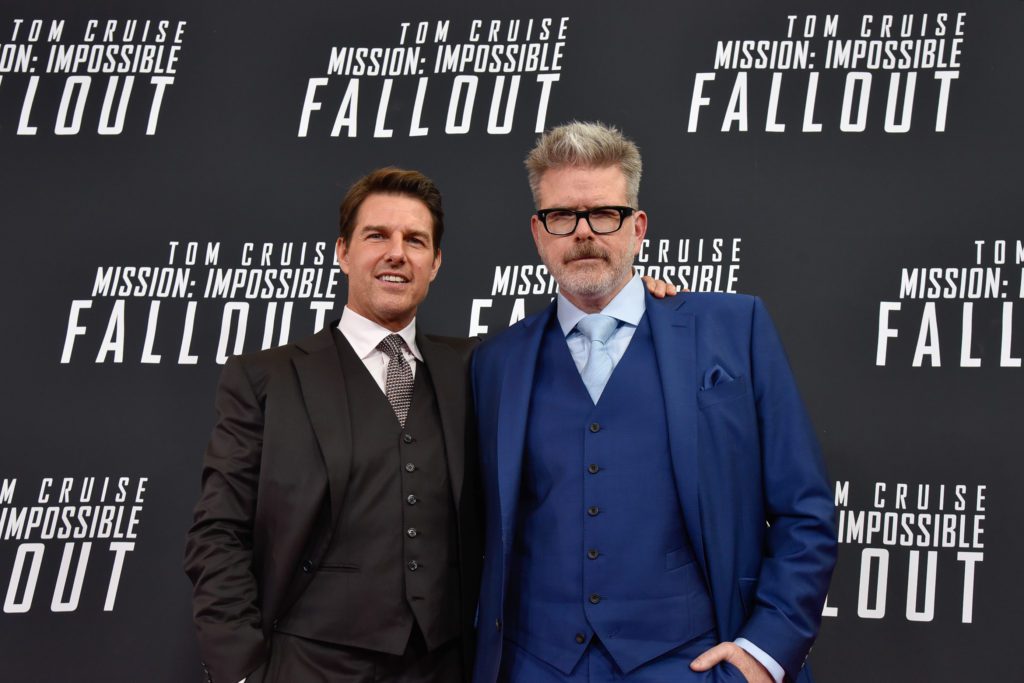 Tom Cruise and Christopher McQuarrie
"And of course, this was the coups of all coups …. we thought there's no way we can actually get this guy to be in the movie; there's no way they'll let this guy be in the movie – Mister Wolf Blitzer. You're now in The Situation Room because any room where Wolf is, it's a Situation Room. That's Wolf's line."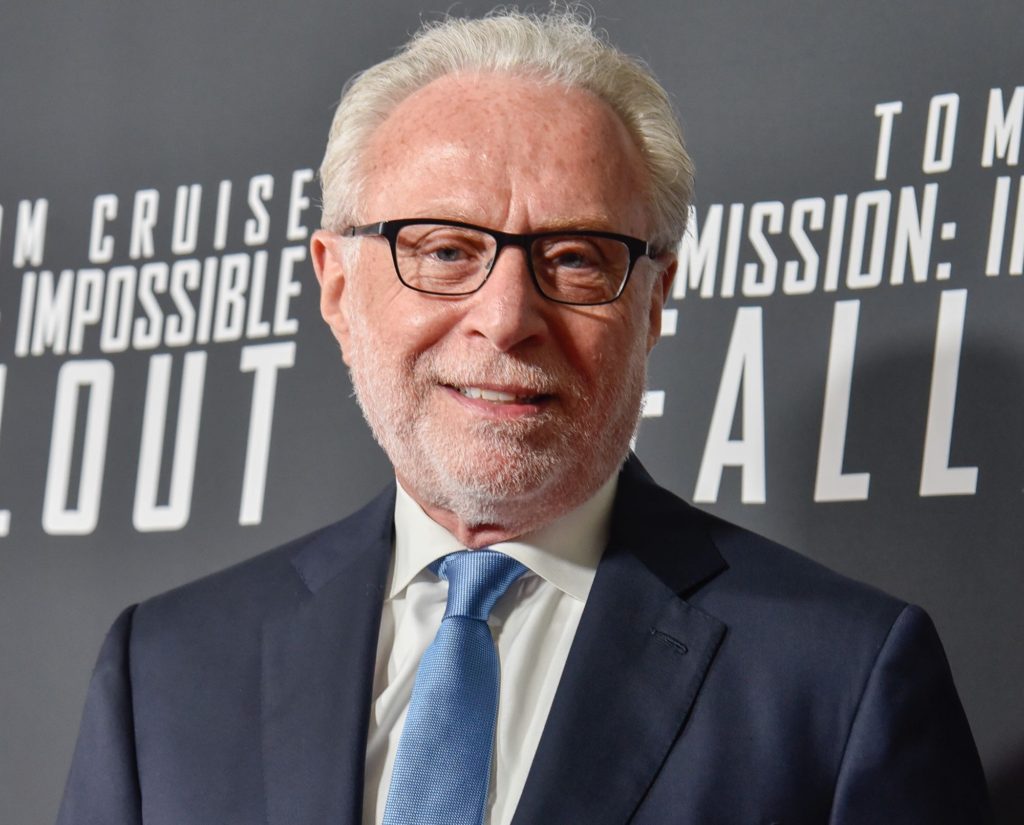 Wolf Blitzer
At the end of his introductions, McQuarrie added: "Oh! Yes, I'm sorry, there's one more. He's an actor who we're expecting great things from. We think he has a fabulous future. He's a discovery here at the Mission Impossible team. Also, by the way, something of a glutton for punishment: Mister Tom Cruise. So, before I hand the mic over to Tom, this the ninth film that Tom and I have collaborated on in some form or another in the last ten years. He and I met when I had not made a film in seven years, could not get a film made to save my life. Tom really backed me at a time when absolutely nobody else believed in me. And, at one point, turned to me in the middle of the night when we were working on another script and said, 'You know what? You should direct the next Mission Impossible.' And I smiled and thought to myself, 'Oh god, I don't want to do that. I worked on the last Mission Impossible, and that guy almost died.' And, of course, I said, 'Sure, we can talk about that later.' And Tom went, 'Okay.' He took the phone out of his pocket, went into the other room, called Paramount Pictures, came back in, and said, 'You're directing the next Mission Impossible.' I actually never accepted the job."
"Sometime during the making of that movie he started talking about the next Mission Impossible as though I had said yes to that," he added.  "I never accepted the job. But, more importantly, he believed in me when nobody else would. And more importantly, Tom, the things that everybody up here on the stage have accomplished are all things that I think, if you ask any of them, they would believe that it was not possible until they did it. He's inspired us. He has pushed us. He has led us. And he's convinced us all that we can do things far greater than, I think, anybody up on this stage thought possible. And I just want to thank you, Tom, on behalf of everybody, for making the impossible possible."
Tom Cruise
Tom Cruise went on to praise McQuarrie: "He's an extraordinary filmmaker. Elegant. Classic. Beautiful taste. And it's just a privilege to know you. You're an incredible friend, father, artist, and we all love you and want to thank you. And, I'm sorry, this is the last premiere that we have for this movie, so this is the last time I'll be standing here with this cast, and I just have to say, what a privilege it is to work with you all. I was excited about working with each of you every single day. And I was inspired by you. I learned from you. We had so much fun, even when my foot was broken. But it was just we always had so much fun and always worked so hard, and everyone brought it every step of the way. And I'm so privileged to be working with you all."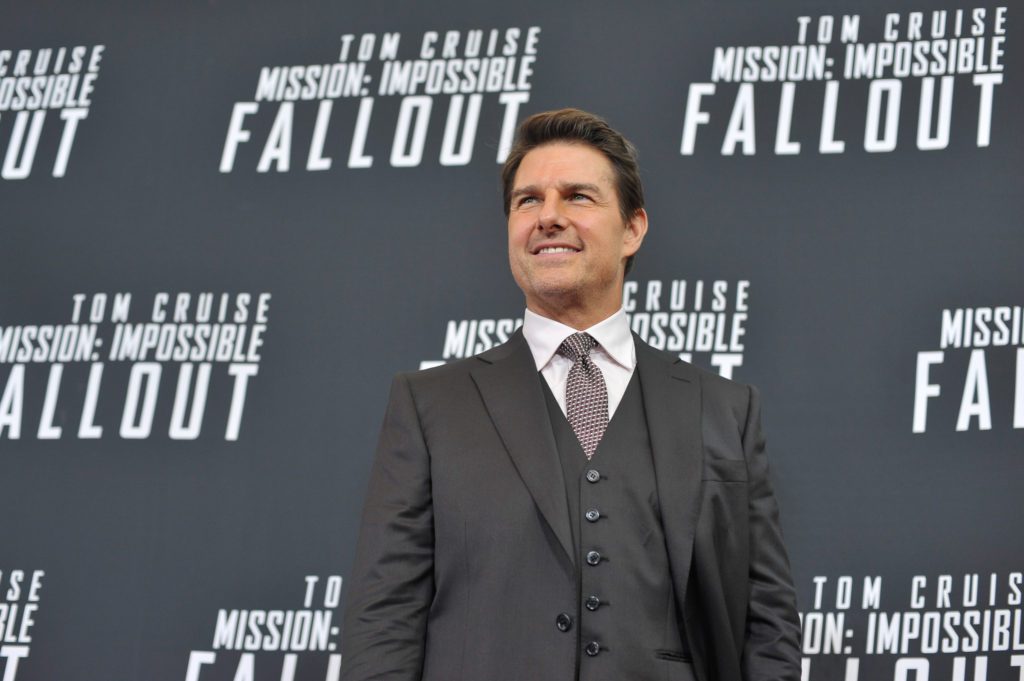 "And Jake, (producer Jake Meyers) you're incredible, I've got to say. I truly like what you said is the way we make these Mission movies.  I loved the questions like, 'So have you read the script?' I'm like,'The script is done when the film is done. We finished on my birthday.' That's literally when the script was done. And that's just the nature of making these movies. We find locations and come up with the tone….but still there's really no script and, Jake, what you accomplished with that, it really is very impressive and a bit fortunate. We've made many movies together, and you work on a film to help support us and support the vision of the movie. And you've fit the movie into that budget. It's impressive. Thank you. And thank you. Sorry; this is our last one."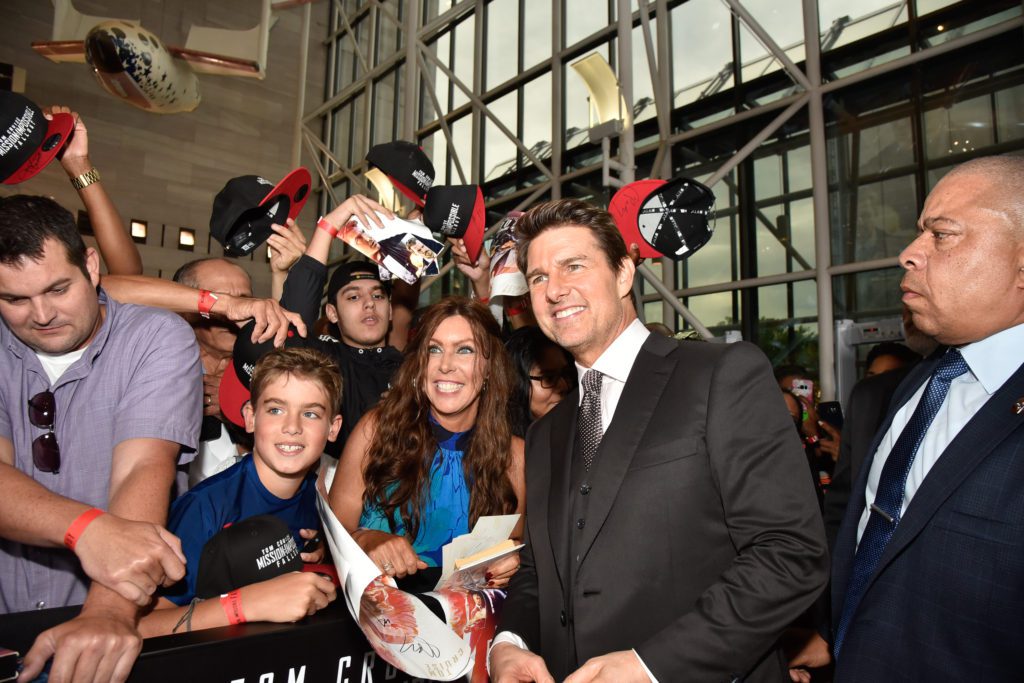 McQuarrie got the last word in:  "It's important for you to know that when we're out on a mountain somewhere and it's 25 degrees below zero, and we're on a glacier and hanging off the mountain, freezing our bones off in some god-forsaken place, we're doing it because of you. We are here to entertain you. This is the thing we love, knowing what's in store for you. Thank all of you, each and every one of you, for coming. Thank you so much everybody."