MOON!
Photo credit: Ben Droz
"When I started writing this book in February twenty-seventeen, it was a bit of a strange time in Washington to say the least. I think all of us, no matter our politics, kind of wondered what's going to happen in DC.  What will the city be like? Will we ever be able to come together again?" author Samantha Sault said to over one hundred guests who gathered at Cafe Milano in Georgetown to celebrate the publication of MOON Washington DC.  "I think it's clear that DC is resilient, if anything. And as I showcase in the book, there's actually no better time to visit Washington." Sault suggests you park your 4 inch Jimmy Choo heels (as seen below) in favor of a pair of Adidas Stan Smith sneakers and get on board with one of the walking tours.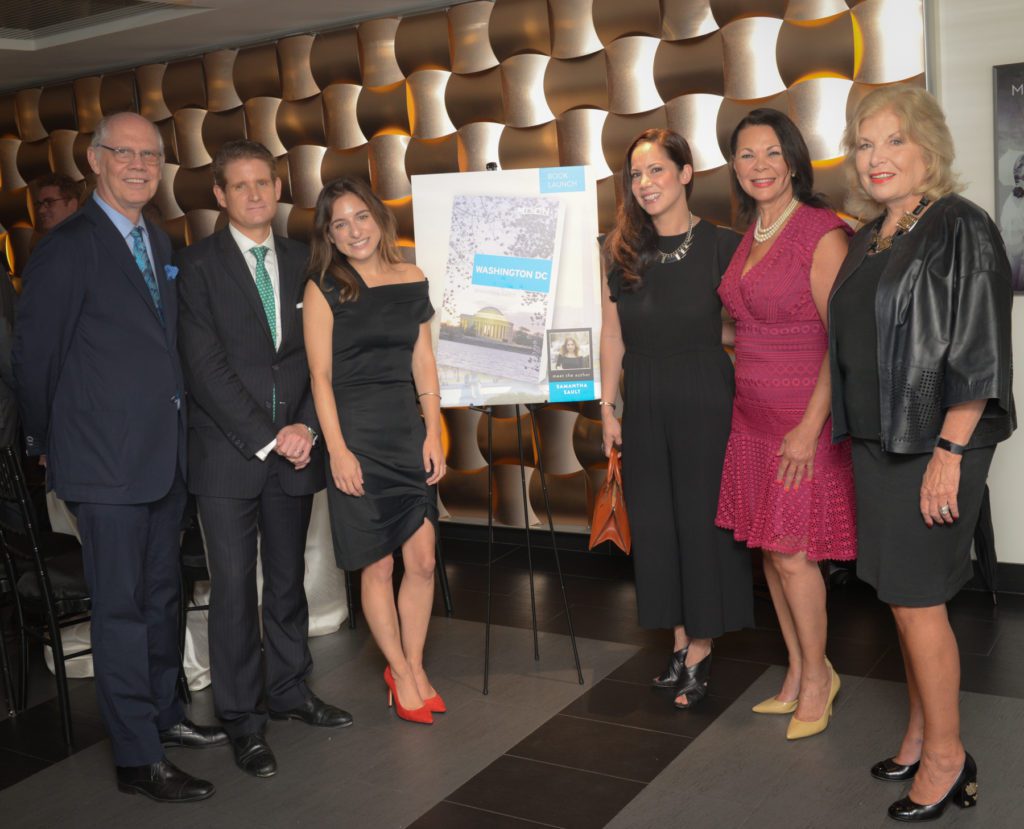 Hosts: Kevin Chaffee, Matt Lauer, author Samantha Sault, Karin Tanabe, Linda Mercardo Greene, Pat Harrison & (not pictured) Chuck Conconi
Designed to experience the city your way, you can: "Navigate the Neighborhoods: Follow one of our guided neighborhood walks through Penn Quarter, Dupont Circle and more. Explore the City: Tour the U.S. Capitol, rent a boat and paddle along the Potomac. Get a Taste of the City: Chow down on a late-night half-smoke at Ben's Chili Bowl.  Enjoy Michelin-starred seafood at a waterfront restaurant and enjoy the city's diversity of authentic fare from Ethiopia, Afghanistan and more. Bars and Nightlife: Watch a groundbreaking performance at the Woolly Mammoth Theatre Company, catch a live band at the 9:30 Club, or dance to a DJ set at the Black Cat.  Strategic, Flexible Itineraries including the three-day best of DC, a weekend with kids, plus day trips to Old Town Alexandria, Annapolis, and Shenandoah National Park. Tips for Travelers including where to stay and how to navigate the Metro, plus advice for international visitors, LGBTQ travelers, seniors, travelers with disabilities, and families with children.  Maps and Tools like background information on the history and culture of DC, full-color photos, color-coded neighborhood maps, and an easy-to-read foldout map to use on the go. DC is a bustling powerhouse of a city. From strolling the National Mall to hobnobbing at happy hour, get to know the capital with Moon Washington DC."
"We have Michelin and other travel guides and tonight Washington has a Moon Guide," said co-host Kevin Chaffee.  "All of the information in this book that was an amazing job includes having the websites, the phone numbers and the addresses of every single place that she has been to."
"When I look around the room it's evident to me that, in Washington at least, we can come together. Here tonight we have Trump staffers, we have Obama staffers and we have, I think, somebody from every administration all the way to Reagan. Is there anyone earlier than that?" Samantha responded garnering laughter at the latter part of the question. "We also have a lot of local government officials and community leaders. I want to give a shout out to the Chief of Police Peter Newsham as well as Marvin Bowser (brother of Mayor Muriel Bowser)."
Marvin Bowser and John Reid
"Thank you for being here. We have arts. We have media. We have everyone who makes up the fabric of Washington, DC and what makes this city unique and special, and what makes it work and continue to work no matter what the daily politics or what Twitter brings on a daily basis," Sault added. "This is what I tried to convey to readers to give them this understanding of Washington, DC that all of us here know and love and contribute to and the many communities that make up DC from the parties in Georgetown to Anacostia."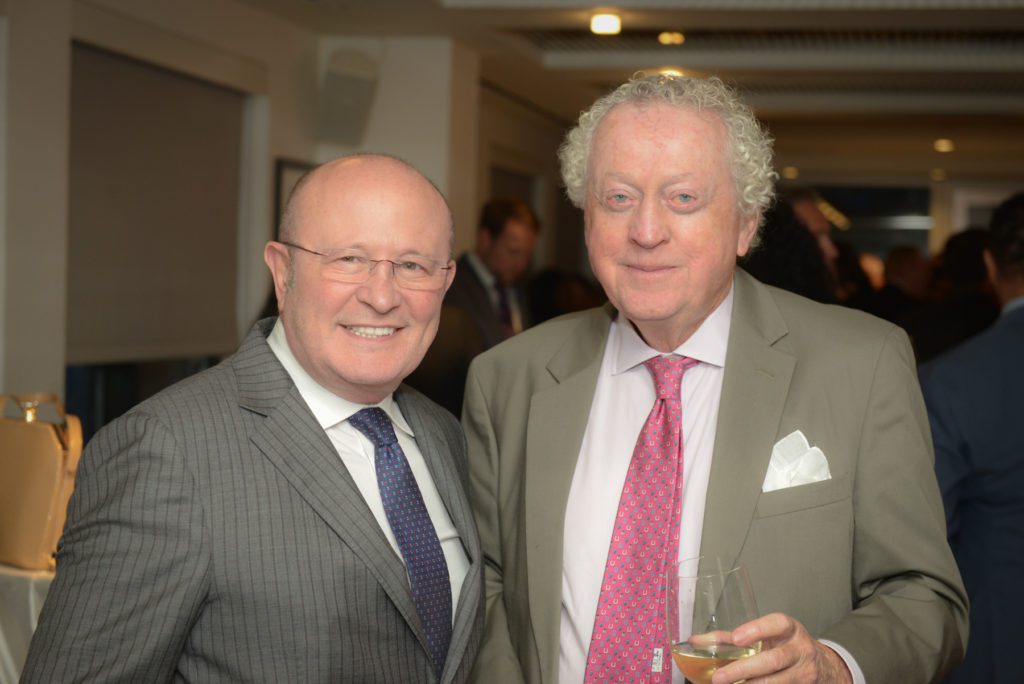 Co-host and Cafe Milano proprietor Franco Nuschese with the 'Mayor of Georgetown' Tom Quinn
"In fact my guide is, I think, the first book to have a walking tour of Anacostia, a tour of the Navy Yard and showcase for a lot of these other communities in Washington that haven't been in DC travel guides, so I was really excited about that. And I think most of all that when people read the book and come to DC, they will feel really good about of all you who live and work here. At least I hope. That was my intention."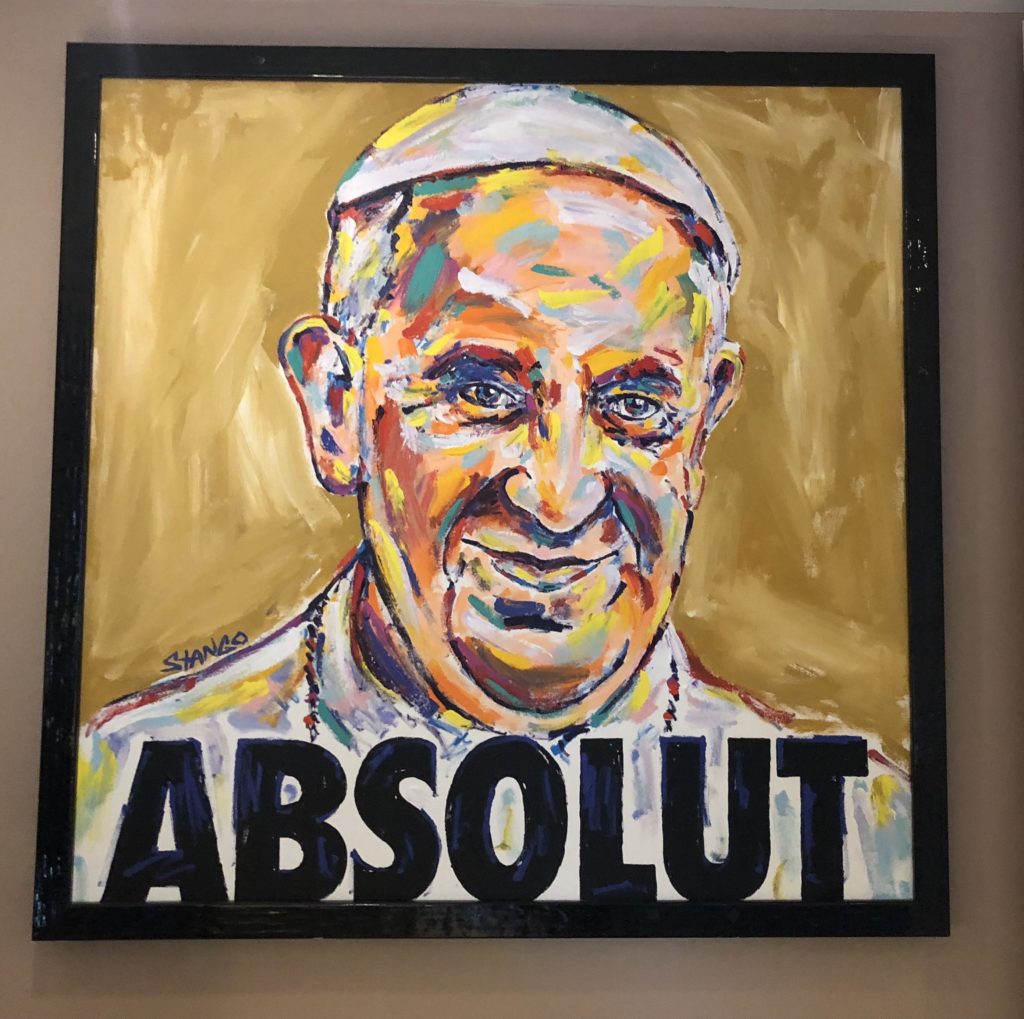 The Pope
Bonus factoid: Franco Nuschese hosted a lunch for the Pope's 81st birthday at Cafe Milano. Be prepared: You never know who you'll run into on your walking tour!