Free Solo!
Photo credit: Paul Morigi
For those of you who wonder why RBG's documentary didn't win the Academy Award for Best Documentary, you probably didn't see "Free Solo" that won.  Here is a look back at Hollywood on the Potomac's interview with the filmmakers and stars of Free Solo, from October of 2018.
By all accounts, according to National Geographic's documentary Free Solo, Alex Honnold was a melancholy child, shy and with expectations toward perfection. Since the future is often formulated in childhood, we asked him about that at a private screening in Washington, DC. 
Was he striving for perfection because it was expected of him?  "I don't think that, I mean I'm sure it all contributes," he told Hollywood on the Potomac. "I don't think it's easy to put your finger on one thing like that because I think there's a lot of things that the film maybe doesn't go into as much which is just general climbing, culture and history. The fact that I grew up looking up to some of the people like Peter Crops, the fellow you see in the film who's like a hero, is in my childhood. I think there was a lot of just history of free solo climbing that sort of drew me to it as well. It's not just the whole psychological side with family and whatever – part of it is just that it's fun. I just like it. It's just cool. But the thing is that everybody … plenty of people just have drive in their life for whatever reason – wants to do well in something. It doesn't need to be some dark childhood, it could also just be that you want to be good at what you do."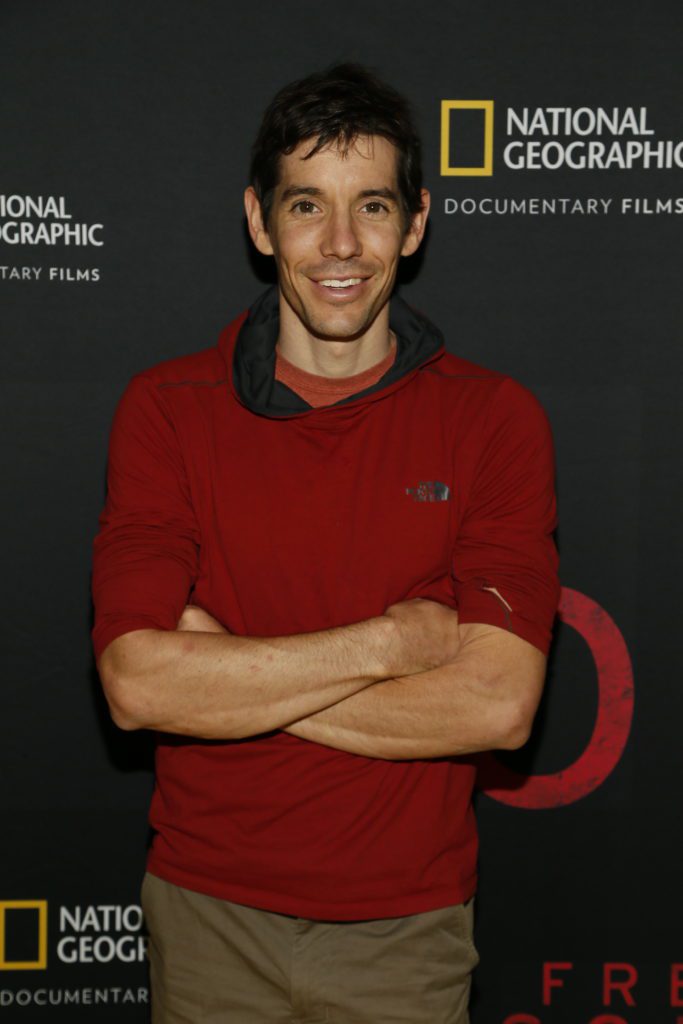 Alex Honnold
About Free Solo: "From award-winning documentary filmmaker E. Chai Vasarhelyi ("MERU") and world-renowned photographer and mountaineer Jimmy Chin comes National Geographic Documentary Film's FREE SOLO, a stunning, intimate and unflinching portrait of the free soloist climber Alex Honnold, as he prepares to achieve his lifelong dream: climbing the face of the world's most famous rock … the 3,000ft El Capitan in Yosemite National Park … without a rope.
Celebrated as one of the greatest athletic feats of any kind, Honnold's climb set the ultimate standard: perfection or death. Succeeding in this challenge, Honnold enters his story in the annals of human achievement. FREE SOLO is both an edge-of-your seat thriller and an inspiring portrait of an athlete who exceeded our current understanding of human physical and mental potential. The result is a triumph of the human spirit." NatGeo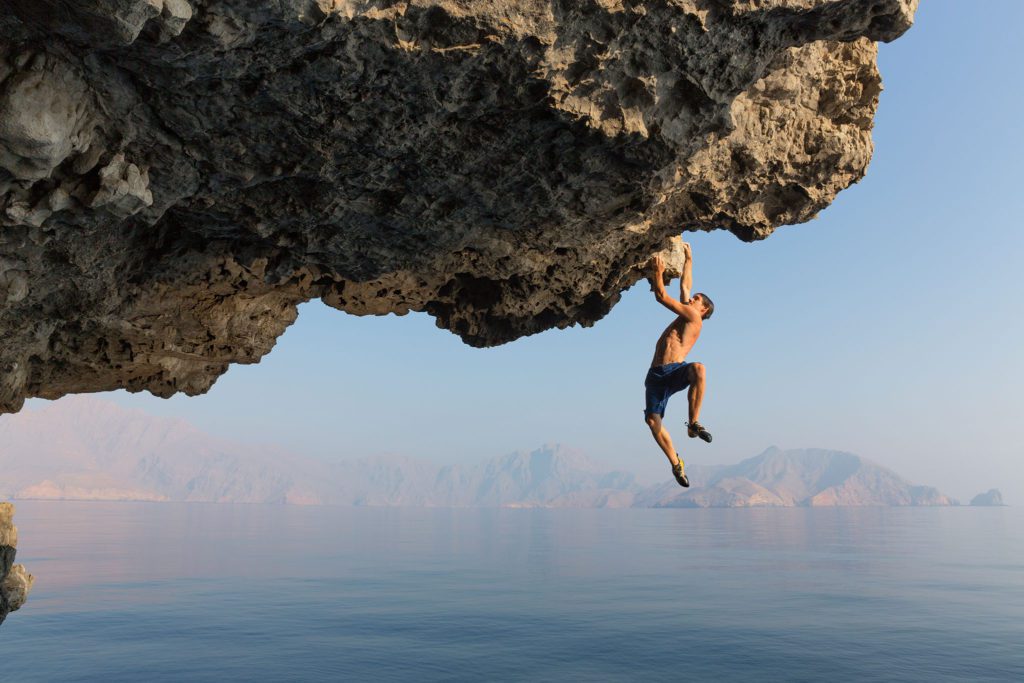 Photo credit: NatGeo
Risk vs. Consequences: "I normally define those two just because most people use risk to mean like they said free solo climbing must be super risky, they think that I'm going to die doing it. The thing is that I define risk as the likelihood of actually falling off whereas the consequence is what will happen if you do fall off.  So obviously, free solo climbing is extremely high consequence and you can see that in any photo. But you can't necessarily judge the risk because when you see a photo, see a video, you don't know how likely it is the person will actually fall off. It's hard to tell how risky something is just by looking at it because you don't know if the worst will happen or not. It depends on how easy the climbing is, how well prepared they are, what the conditions are like."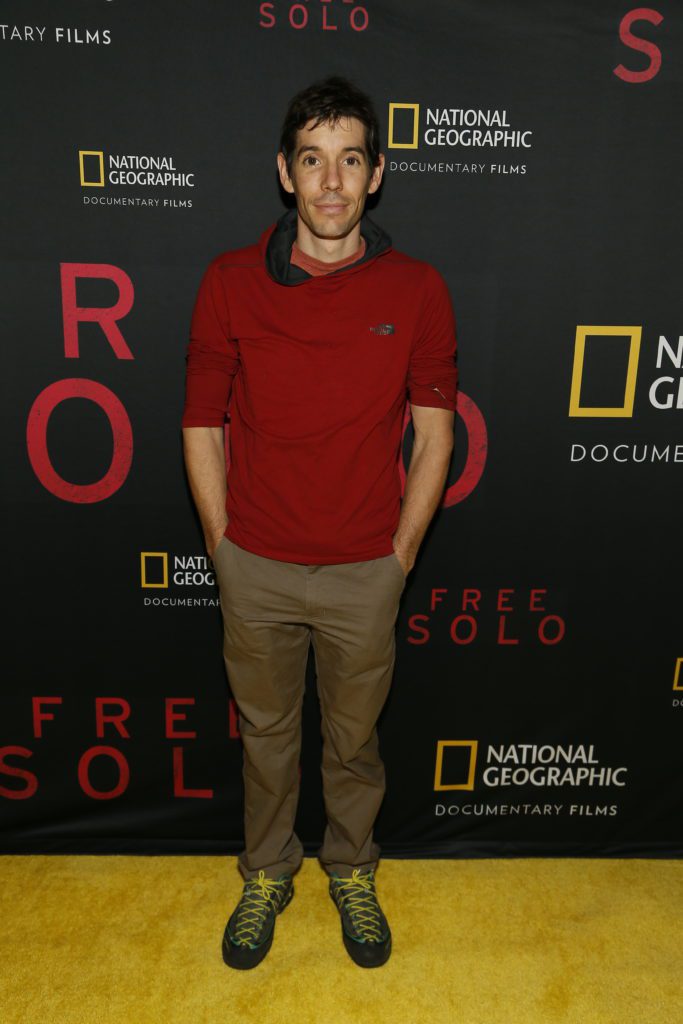 About death: "I'm still trying my very best not to (die). One of the big appeals of free soloing is to take something that seems really dangerous or risky and make it feel safe and comfortable. As you see in the film, it's the process of taking something that seems impossible and making it feel comfortable and normal."
About the camera crew: Was it distracting? "I mean a little bit here and there but as you see at the end of the film it was ultimately the experience … was exactly what I wanted and it all worked out perfectly. Basically, they were rehearsing as much as I was. We spent two years working together and by the end it was a very well synchronized team." 
As to whether they would use the film if he miss-stepped, would he mind if they did:  "Well, I don't think so, I'd be dead. I don't care. I wouldn't be stressed either way. The camera people were all really good friends of mine to begin with. They are all people I've climbed with over the years. Yeah, I mean it is difficult, but it also wouldn't be possible if we weren't close. You just wouldn't be able to trust each other like that if you didn't have a good relationship."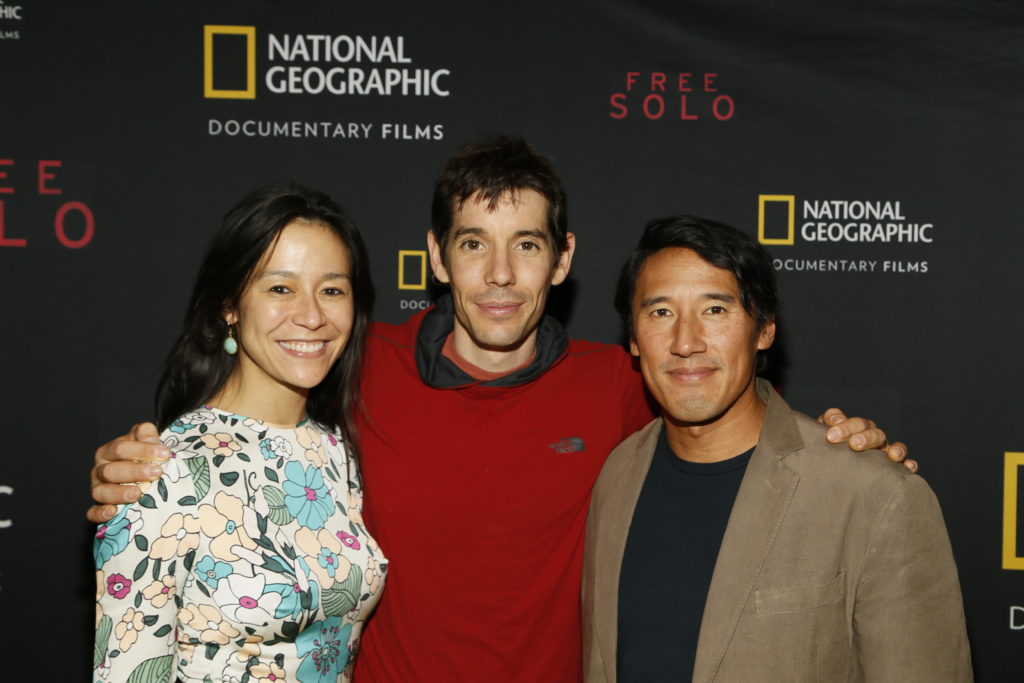 E. Chai Vasarhelyi, Alex Honnold, Jimmy Chin
Vasarhelyi and Chin are a husband and wife team. "I have made six features alone and then together we made Mirror which was Jimmy's personal story. And we just thought Alex was a wonderful subject and also a great opportunity for our collaboration because we bring such different things to the picture," said Chai. Since her husband was on top of the mountain filming it must have been an anxious time for her as well. "Yes, for me, I had a great fear. There's a lot of risk analysis, but I never go to sleep at night until all our guys were on the ground." Fortunately Jimmy climbs with ropes. "I trust Jimmy so long as he has ropes."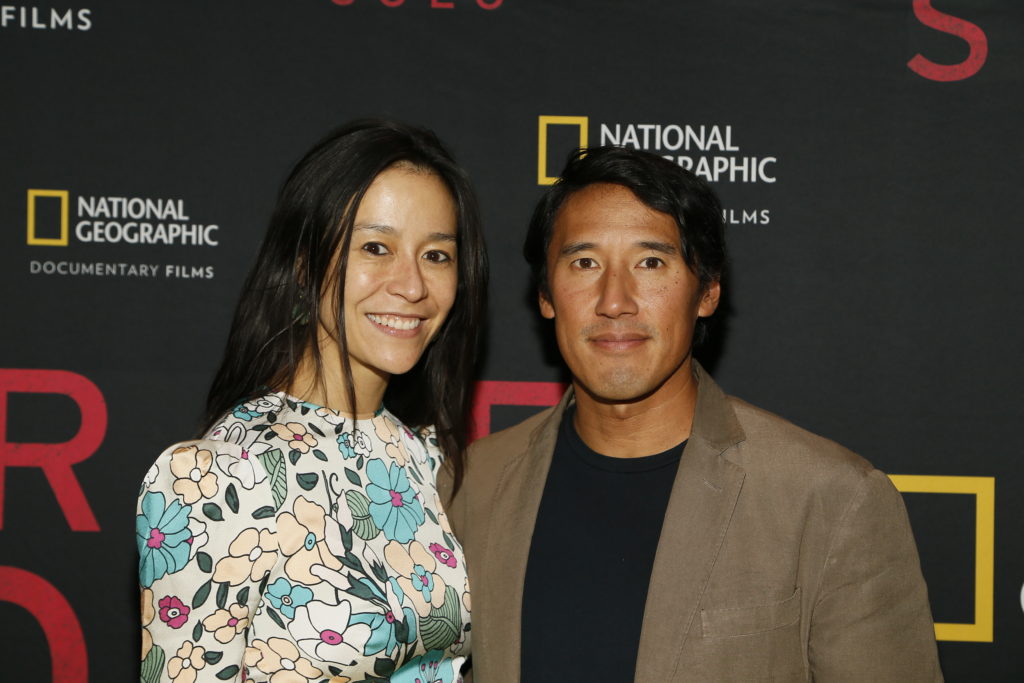 E. Chai Vasarhelyi and Jimmy Chin
Chin recognizes that Alex is the only one that can climb El Capitain without ropes. "There's nobody else in the world that would do that." And he's going to keep climbing? "Yeah."
Not to be morbid, but it certainly crossed our mind and was also addressed in the film, so we asked Jimmy what they would do if the unexpected happened and Alex took a wrong step. Would they continue shooting the climb?  "Well, we might not necessarily know whether or not we were going to shoot that scene, it could just be happening while we were filming it. So it wasn't necessarily like a choice of whether or not we would film it. I don't think we'd ever show it. Yeah, we'd never show it."
For those with vertigo, it's a tough film to watch; but the film making is so spectacular, you can't take your eyes off of it. Thumbs up!