Together We Travel!
by guest contributor Joe David
Photo credit: RRB-ITC

Local celebrities and diplomats packed the atrium balcony overlooking the atrium hall at the Ronald Reagan Building and International Trade Center (RRB/ITC) to celebrate the festive Seventh Annual Winternational. They came to sample a glamorous mixture of culture, crafts and food, skillfully presented to resemble a vibrant international market – in this case serviced by over 50 embassies and hosted by TCMA.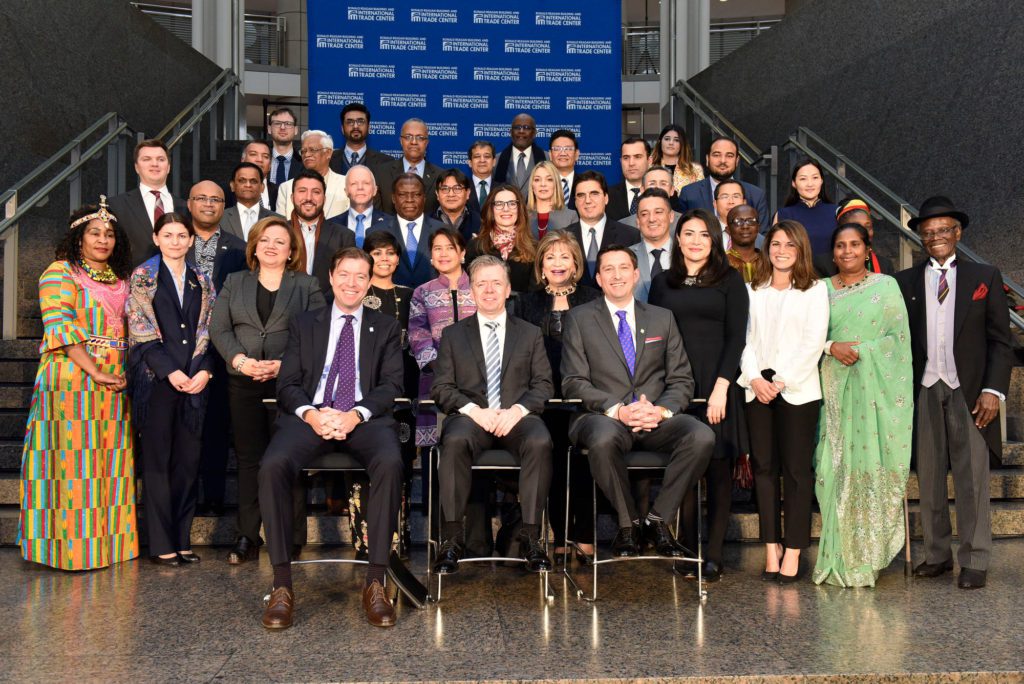 Group shot of VIPs and Ambassadors (Photo by RRB – ITC)
While Washington visitors enjoyed firsthand the tastes, sounds and crafts from around the world in the atrium hall on the balcony, Ambassadors, dignitaries and socialites mingled, ate finger food and shared with VIPs their excitement over this year's international trade show.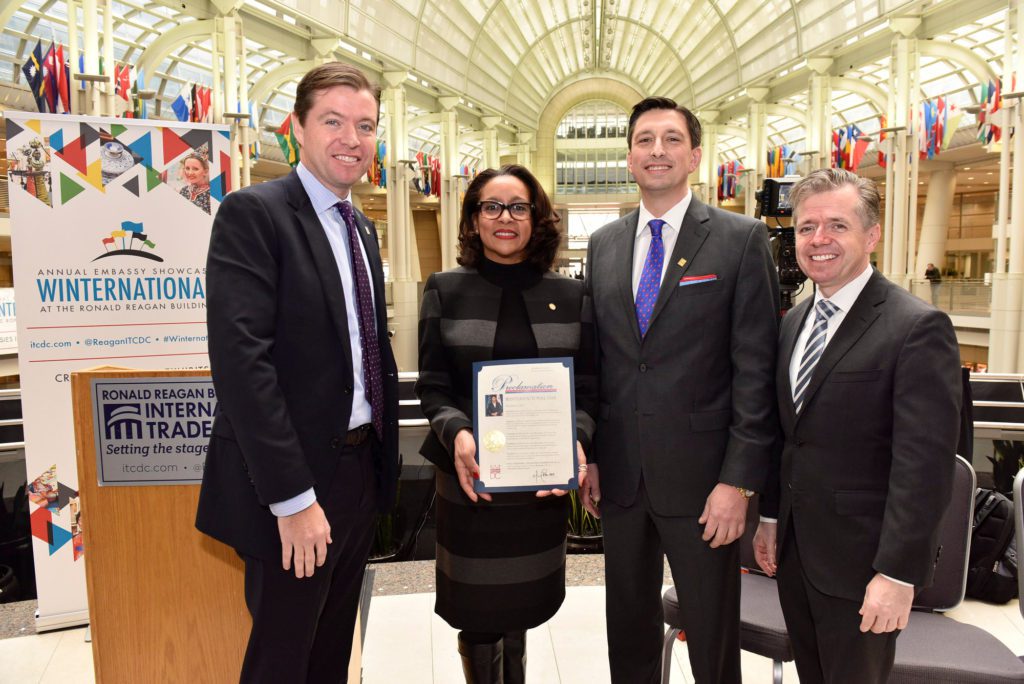 J. Drew, Pres-CEO, TCMA; L. Vaughan, Sec. of D C; A. Gelfuso, VP, TCMA; S. Lawler, Chief of Protocol USA (Photo by RRB-ITC)
Lauren Vaughan, a representative from Mayor Muriel Bowser's office, highlighted the afternoon by proclaiming December 6, 2018 as officially Winternational Day. "Washington's World Trade Center," Vaughan said, "has long served the Nation's Capital as the pre-eminent forum for advancing international commerce and cross-cultural dialogue. This year over 4,000 diplomats, embassy exhibitors, sponsors, special guests and visitors from around the world donated their time to participate in today's event by bringing the best of their culture to our city."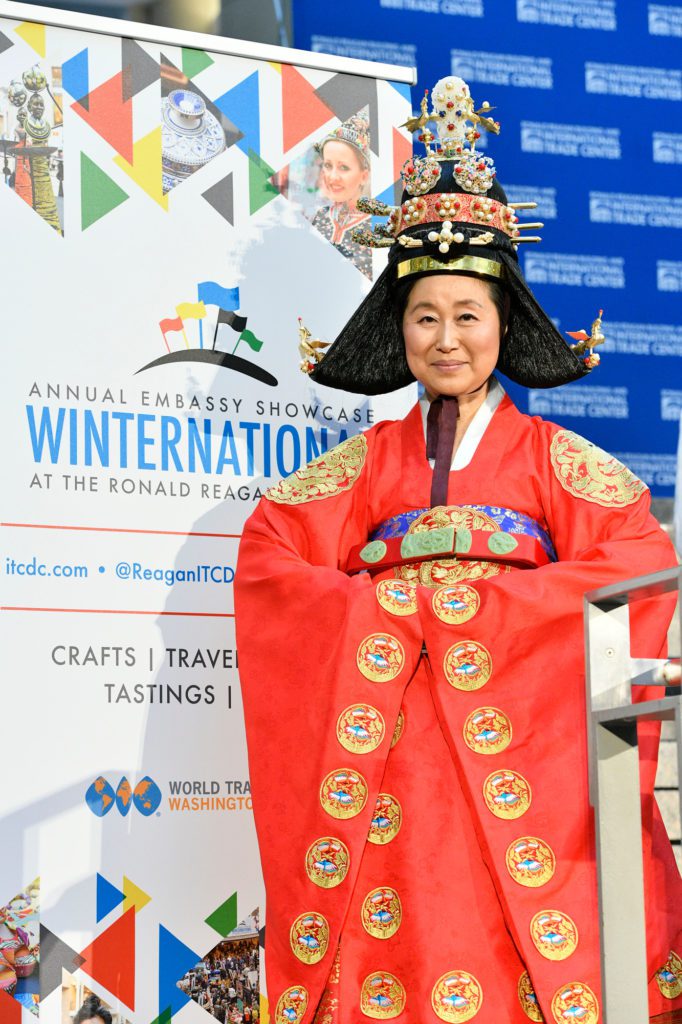 Korean woman who participates annually in costume (Photo by RRB-ITC)
Andrew Gelfuso, Vice-President of Global Business Development at RRB/ITC & Director of the World Trade Center DC, summarized the purpose of Winternational even more precisely by quoting an African proverb to the large crowd who gathered to hear him speak, "If you want to travel fast, go alone; if you want to travel far, go together." Together is what TCMA has been striving to do. As a result, together, Winternational has been able to grow significantly, from a modest handful of embassies to what it is today, a major event that is showcasing over 50 embassies and receiving thousands of visitors.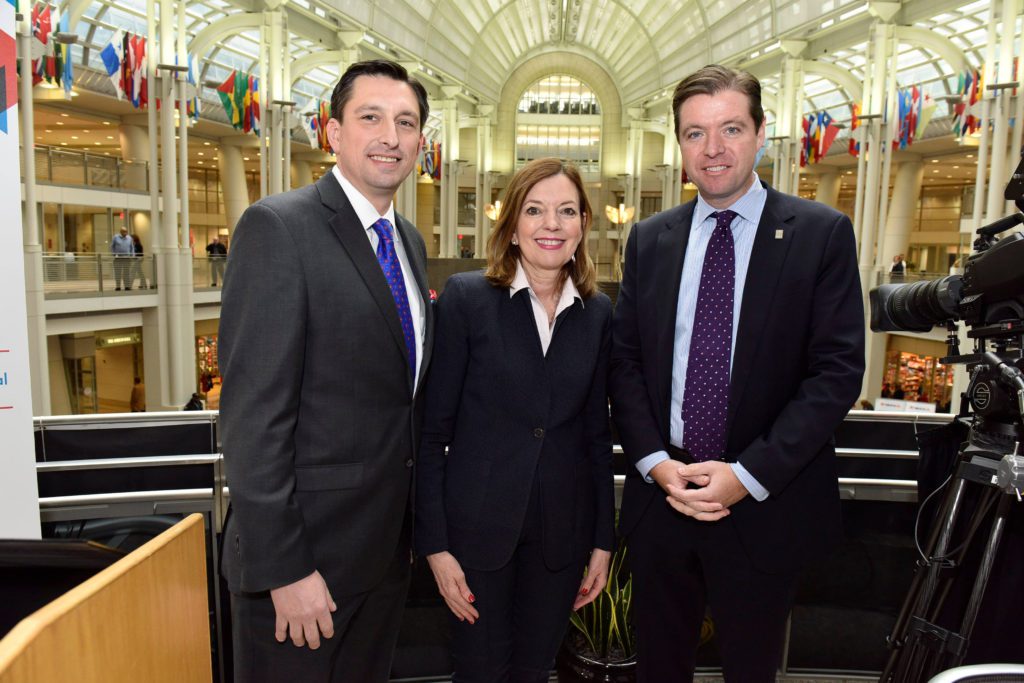 Andrew Gelfuso, VP of Global Business, TCMA; Maria Royce, Asst. Sec. of State, Ed. and Cultural Affairs; John Drew, Pres-CEO, TCMA
"Only at Winternational can you experience the heritage and traditions of over fifty countries all under one roof," John P. Drew, president and CEO of TCMA, told the select crowd. "For seven consecutive years, we at TCMA have proudly hosted over 300 international events annually. Each one has been carefully planned. Our unwavering purpose has been to connect nations and cultures, foster international dialogue, generate business opportunities, and raise awareness about the economic benefits of trading freely with each other."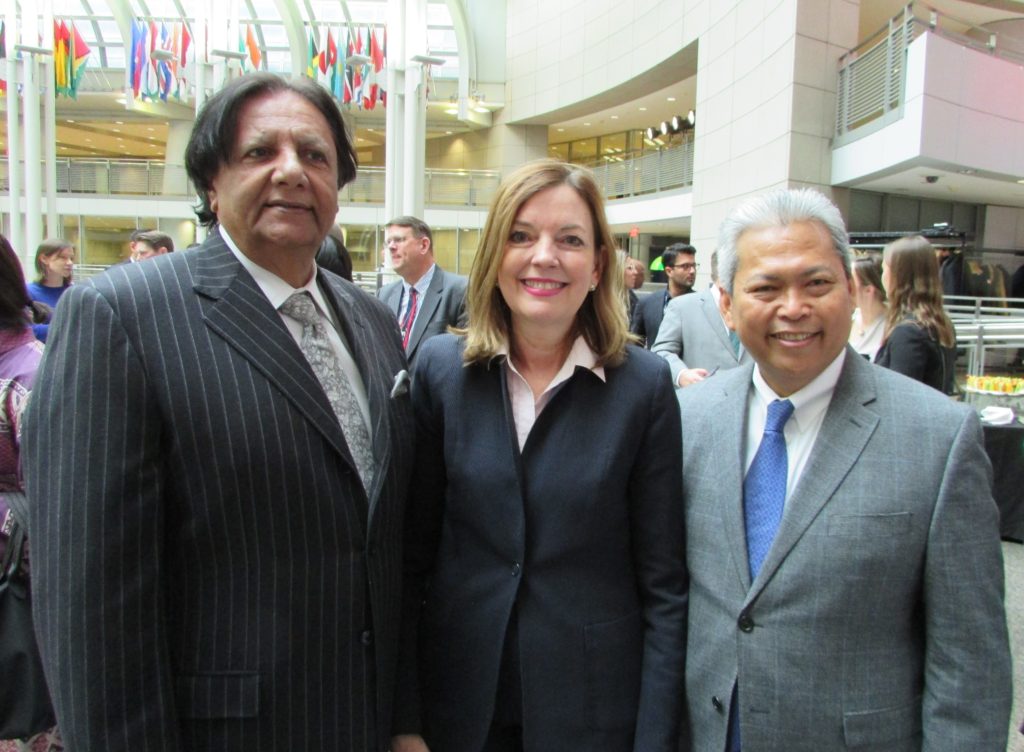 Ambassador Rafat Mahmood; Marie Royce, Asst. Sec. of State Educational Cultural Affairs; HE Budi Bowoleksono, Ambassador of Indonesia
Ambassador Sean Lawler, chief of protocol, U.S. State Department, added a layer of significance to this goal, "This annual embassy showcase," he said, "has given us all an opportunity to acknowledge our rich and diverse diplomatic community and the important work it is performing! We are especially proud this year to include so many of embassies in Winternational 2018."
The year-end cultural exposition, which showcases the culture, tourism, and trade initiatives of the largest and most dynamic diplomatic communities in the world, is one of the best free-to-the-public events held in Washington, DC, annually. By blending the colorful mix of cultures, costumes and gracious customs together under one roof, visitors were able to shop the globe and sample the best of its art, food, handcrafts in downtown Washington.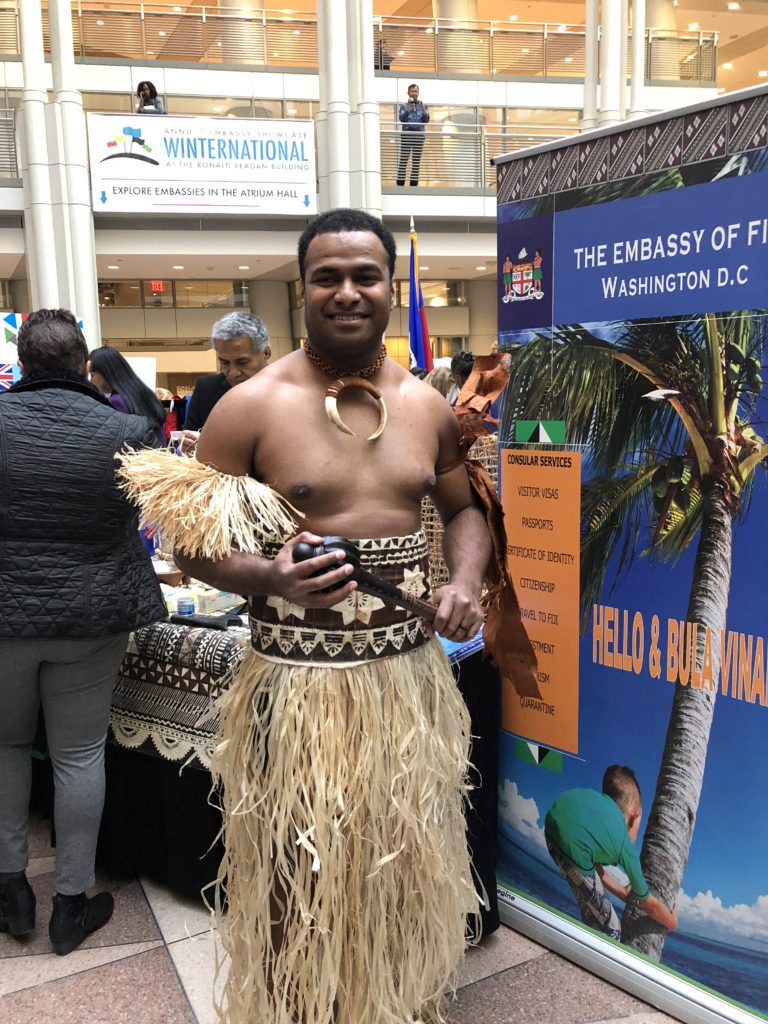 Representative from the Embassy of Fiji
Among the embassies presenting a taste of their culture were: Afghanistan, African Union Mission, Armenia, Australia, Bahamas, Bahrain, Bangladesh, Bolivia, Botswana, Brazil, Bulgaria, Cameroon, Costa Rica, Egypt, El Salvador, European Union Delegation, Fiji, Ghana, Guatemala, Guyana, Haiti, Indonesia, Kenya, Kosovo, Latvia, Lithuania, Malawi, Malaysia, Moldova, Mongolia, Morocco, Nicaragua, Nigeria, Oman, Panama, Paraguay, Peru, Philippines, Qatar, Russia, Saint Kitts and Nevis, Saint Lucia, Saudi Arabia, Singapore, South Africa, Sri Lanka, Tajikistan, Trinidad and Tobago, Uganda, Uzbekistan, and Vietnam.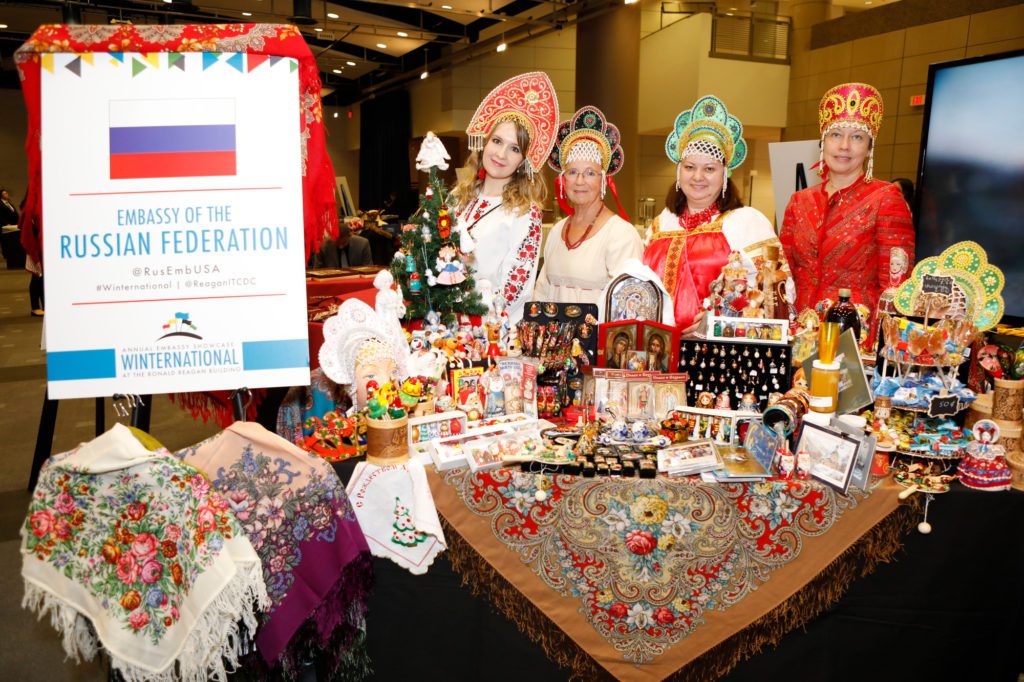 Embassy of the Russian Federation display table
Special guests, in addition to the participating Ambassadors at the private atrium reception, were: Marie Royce, Assistant Secretary of State for Educational and Cultural Affairs; Ambassador Sean Lawler, Chief of Protocol, US Department of State; Ambassador Rafat and Shaista Mahmood; philanthropist Annie Totah (sponsor); Shahin Mafi, founding trustee, Azar Foundation, Children of the World; Michael Akin, President, LINK Strategic Partners; Steve Shulman, Executive Director, Cultural Tourism DC; Rev Mark Farr, President, Sustained Dialogue Institute; Edie Fraser, Founder & CEO, STEMConnectors,(sponsor); and corporate/sponsors representing Carmel Charitable Endowment, LLC, 80MSigns, WebPort Global, A10 Associates, Just Smile, Washington Diplomat and Washington Life Magazine.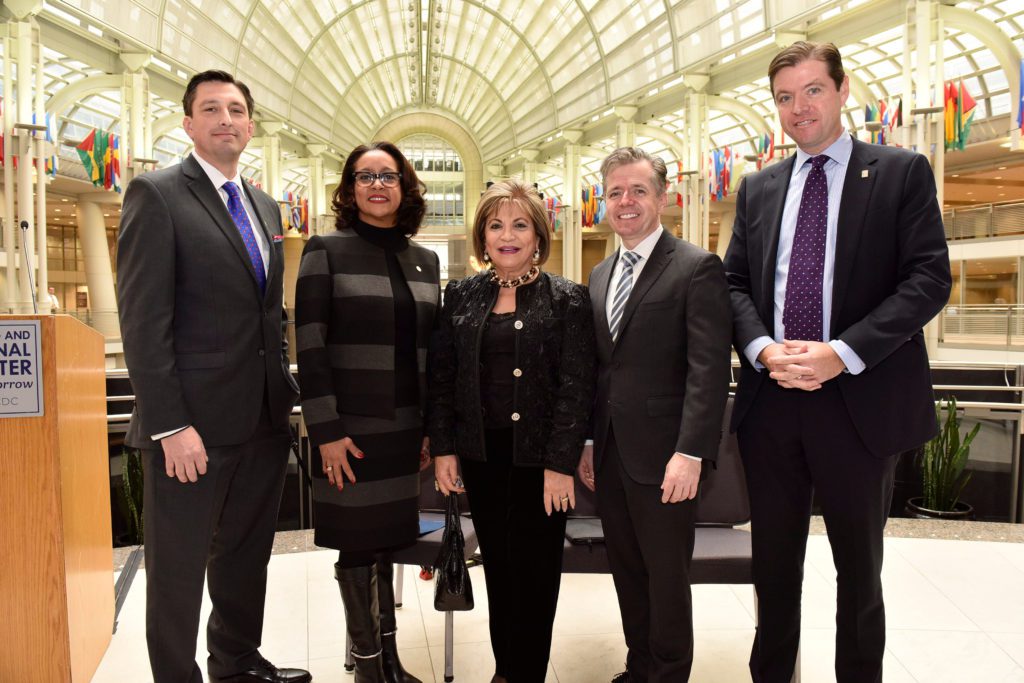 Andrew Gelfuso, VP Global Business, TCMA; Lauren Vaughan, Sec of DC; Philanthropist Annie Totah, Amb Sean Lawler; John Drew, Pres-CEO, TCMA
As a dynamic hub for government, business, culture and community, in the heart of the nation's capital, The Ronald Reagan Building and International Trade Center has become the preeminent forum in the heart of the nation's capital advancing international commerce and cross-cultural dialogue. As a seamless, unifying framework, the RRB/ITC provides a platform for building connections, fostering diplomacy, growing businesses, and creating a more prosperous U.S. and global economy. The Ronald Reagan Building is the first and only federal building dedicated to both public and private use; it has become the official World Trade Center in Washington, DC (WTCDC), and a premier conference and event venue with executive offices, and dining, retail, parking, and community services. Through the World Trade Centers Association, WTCDC utilizes a global network of 750,000 affiliated business from 300 trade centers in over 100 countries to maximize its connections and capabilities. For more information, visit www.itcdc.com or follow @ReaganITCDC.