A "Best" of 2018
Photo credit: Courtesy of NIAF
Video credit: Janet Donovan

"Welcome to this incredible celebration of our shared heritage, and welcome to our friends from the NIAF 2018 Region of Honor, Puglia," said NIAF Co-Chair Pat Harrison as she recognized the evening's honorees and VIPs seated on the dais.  "We're all Italians tonight."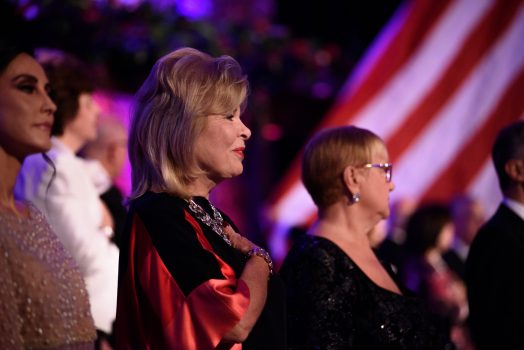 Pat Harrison and Honoree Lidia Bastianich

On Saturday, October 13, The National Italian American Foundation's 43rd Anniversary Gala hosted more than 2,000 Italian Americans and special guests from Italy in a weekend-long celebration of Italian heritage and culture at the Washington Marriott Wardman Park Hotel in Washington, DC.
The Honorees: Chef Lidia Bastianich, Vincenzo Boccia, President, Confindustria; Giovanni Caforio, MD., Chairman/CEO of Bristol-Myers Squibb; Antonio De Matteis, CEO, Kiton; Cav. Lav. Vito Pertosa, Founder, Angel Group; and Carl J. Schramm, an American economist and entrepreneur. 
Talking about her own life as a post-WWII refuge and immigrant girl in New Jersey and New York where she became one of America's most beloved television chefs, cookbook authors and food-empire entrepreneurs, Honoree Lidia Bastianich, recipient of the One America Award for Entrepreneurship, said "I am an immigrant and, yes, you cannot speak of Italian history unless you speak of immigrants." Paraphrasing Sophia Loren's famous quote about everything she had, she owed to pasta, Bastianich said: "Everything I have, I owe to the phenomenal Italian culinary tradition."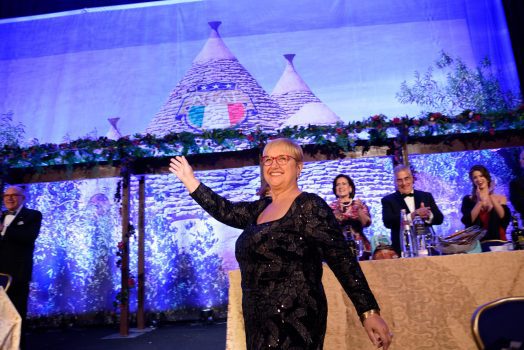 Lidia
In his robust remarks that started with "What a night!" and ended with "Tonight we celebrate our Italian and Italian American identity," the personable Ambassador of Italy to the United States Armando Varricchio emphasized the special ties between the United States and Italy, and called for increased promotion of learning the Italian language and increased business and trade between the two longtime allies.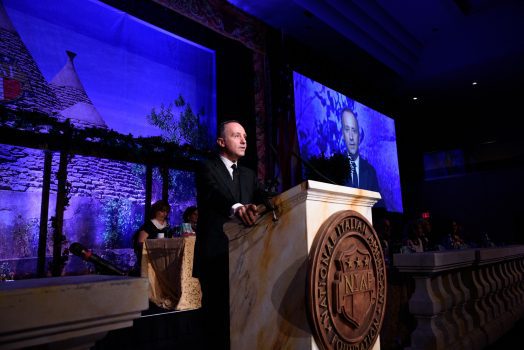 Ambassador Armando Varricchio
Speaking on behalf of the Region of Honor, President of Puglia Hon. Michele Emiliano told guests about the allures of Puglia and the celebrities who flock there for its beauty and charm, for special events, even to make films—from Madonna on Instagram to Justin Timberlake and Jessica Biel's wedding, to Hellen Mirren's mansion there. "Should it be for holiday or business, for love or friendship—or simply because you long for the scent of fresh Apulian bread and the caressing sea breeze—you shall always be welcome!"
Hon. Michele Emiliano
As Master of Ceremonies Mark DeCarlo, TV personality, comedian, travel and foodie expert, and author, took the stage, dinner was being served: orecchiette with sautéed broccoli rabe; braised short ribs with demi-glace; grilled julienne zucchini, red peppers and eggplant; and dauphinoise potatoes. Dessert? Rum-soaked almond sponge cake with chocolate cream and coffee buttercream, topped with a chocolate ganache, followed by Italian coffee from Gala sponsor Lavazza.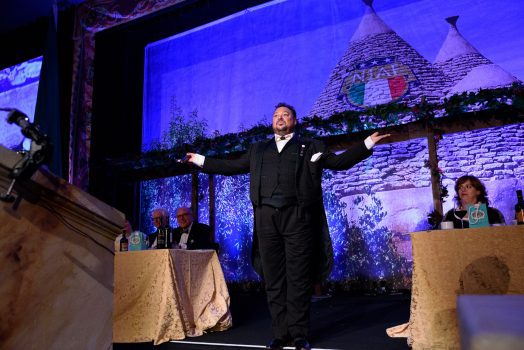 Carlos DeAntonis
Following a lively performance by Argentine opera singer Carlos DeAntonis, singing Andrea Bocelli's "Con Te Partiro," Puccini "Nessun Dorma" from the opera "Turandot" and Domenico Modugno's "Nel blu dipinto di blu," the Gala Dinner ended with La Notte della Taranta, a folk music and dance group from Puglia, performing the Pizzica, a traditional Pugliese folk dance that brought much of the ballroom to its feet and dancing.
As every year, the After Hours Party in the hotel's mezzanine brought the best and worst of karaoke talent and kept the dance floor into the early morning.
A special thanks to the NIAF team for their commentary.
US & Italian National Anthems by Italian tenor Marco Fiorante