The "Best" of 2018
Photo credit: Courtesy of Michelin
Nothing against tires, but guests that showed up for the Annual Michelin party at the Residence of France weren't there for tires. Guests indulged in a night of Champagne and gourmet cuisine hosted by Ambassador Gérard Araud and The Michelin Guide DC 2019 team to honor the best restaurants in Washington.  So, how did a tire company become an authority on fine dining?  Joanie Martin, Chief Administrative Officer for Michelin North America, explained it this way: "I've worked for Michelin for more than 21 years, including an assignment at our headquarters in Clermont-Ferrand, France. Working in the birthplace of Michelin really helped me understand the essence of the Michelin brand at a deeper level. I've traveled to cities across the country to represent Michelin with our customers. I have found that US cities like Washington, DC that have Michelin Guides also have a deep sense of identity and pride, which is expressed so beautifully in the cuisine and experiences created by these extraordinary chefs in their restaurants."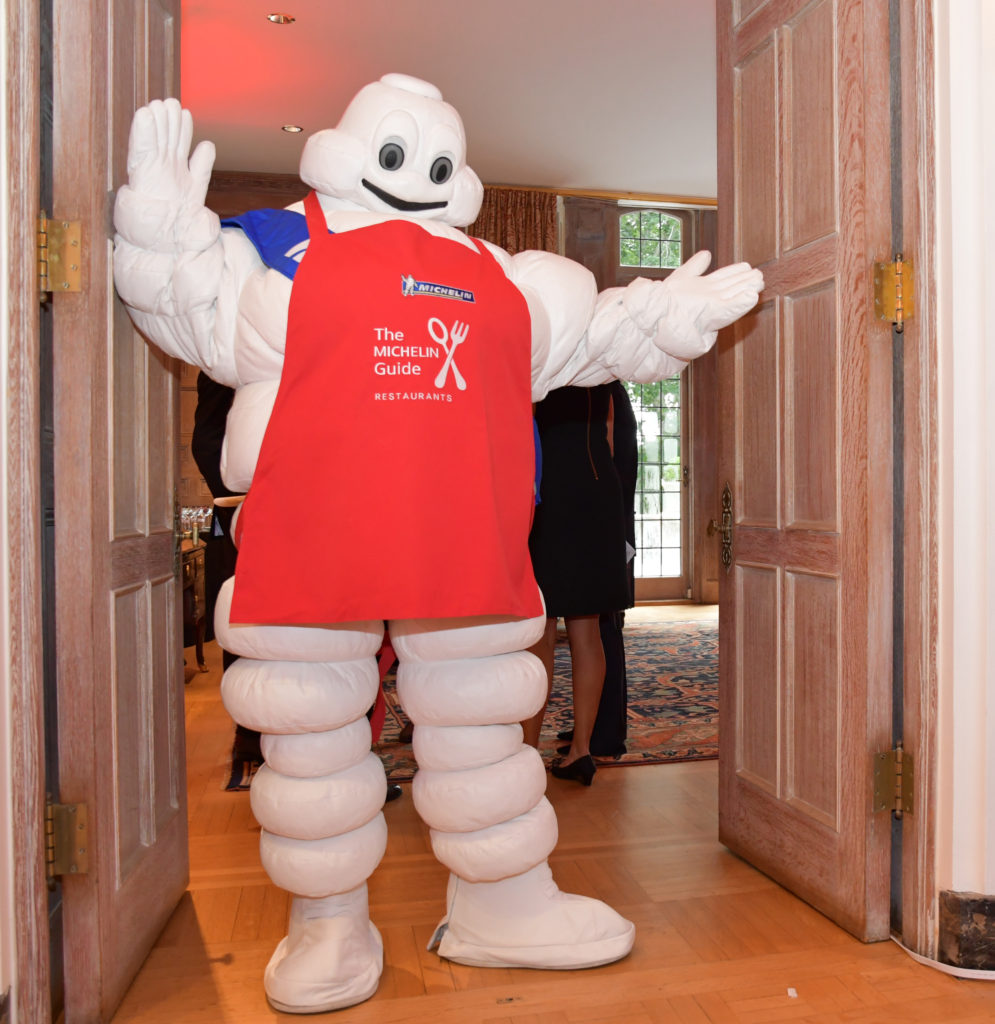 "Sometimes I hear people ask, 'The Michelin Guide, is that Michelin, the tire company? How are tires related to restaurants?' The answer to this question is, of course, yes, it is that Michelin," Martin further explained.  "In the early days of motoring, the Michelin brothers simply wanted to make it easier for people to drive more and enjoy the experience. The Michelin Guide started as a guide to services for the automobiles like fuel and tire repairs, and just a short time later The Red Guide began to include stars that rated the restaurants, the very same ratings framework that continues today.The guides helped establish Michelin as a trusted partner, a companion for trips to enjoy exceptional cuisine that is worth a special journey while also giving motorists the opportunity to use their tires. Nearly 120 years later, the same spirit is in the heart of Michelin's culture. Our purpose is that we care about giving people a better way forward. In a sense, every trip is a special journey. That spirit and purpose inspire Michelin's entire approach to mobility. We help make it possible for people and goods to move about affordably and efficiently."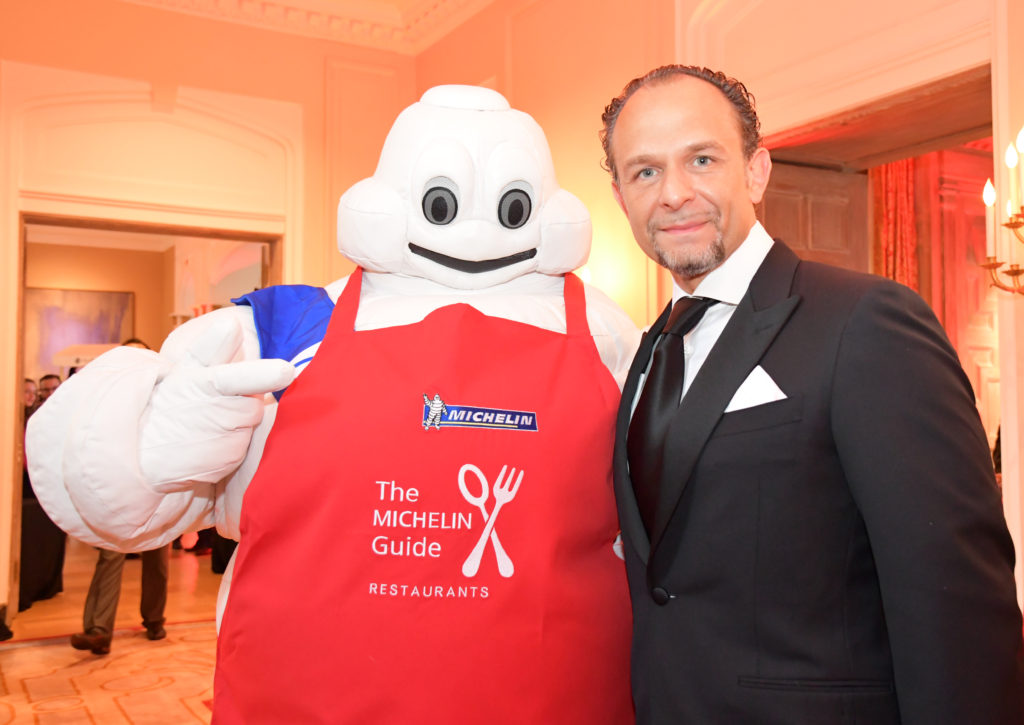 Chef Fabio Trabocchi
"The chefs in restaurants we honor tonight have the same passion for innovation when it comes to cuisine and creating a memorable customer experience," she added.  "In the kitchens, these chefs are creating beautiful experiences and fantastic meals for their guests every day. And in spite of some of the differences that sometimes divide us, for some reason people are willing to set those aside when at a table of hospitality. They make lasting memories of friendship and fellowship in these restaurants. I realize that you play important roles as diplomats in your own way. Perhaps it is possible to change the direction of our national conversation by bringing people together, just one memorable meal at a time. Thank you for your service to this community, and congratulations on your achievements."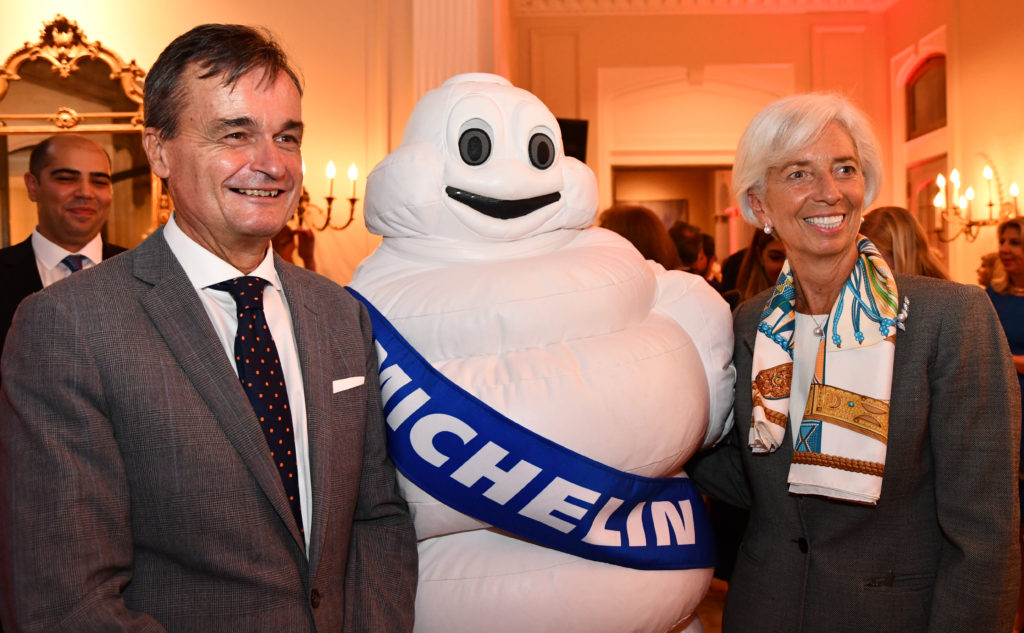 Ambassador Araud and Christine Lagarde, Managing Director of the International Monetary Fund
Gallery photo credit: Janet Donovan
According to the Michelin statement, the inspectors and selection process goes as follows: Made up of food experts, hospitality industry alumni and former chefs, Michelin inspectors are the ultimate arbiters of culinary excellence. The inspectors never tip off restaurants about their identity. They dine anonymously, paying their bills in full like any other unsuspecting patron. Just like locals, they make return visits to continue the inspection process.Inspectors judge each restaurant based on five criteria: product quality, preparation and flavors, the chef's personality as revealed through his or her cuisine, value for money, and consistency over time and across the entire menu.
Now that restaurants are operating within a Michelin Guide city, chefs throughout the DC metro area must remain on their toes – because in order to earn the highest praise, kitchens have to deliver a winning dish with each order.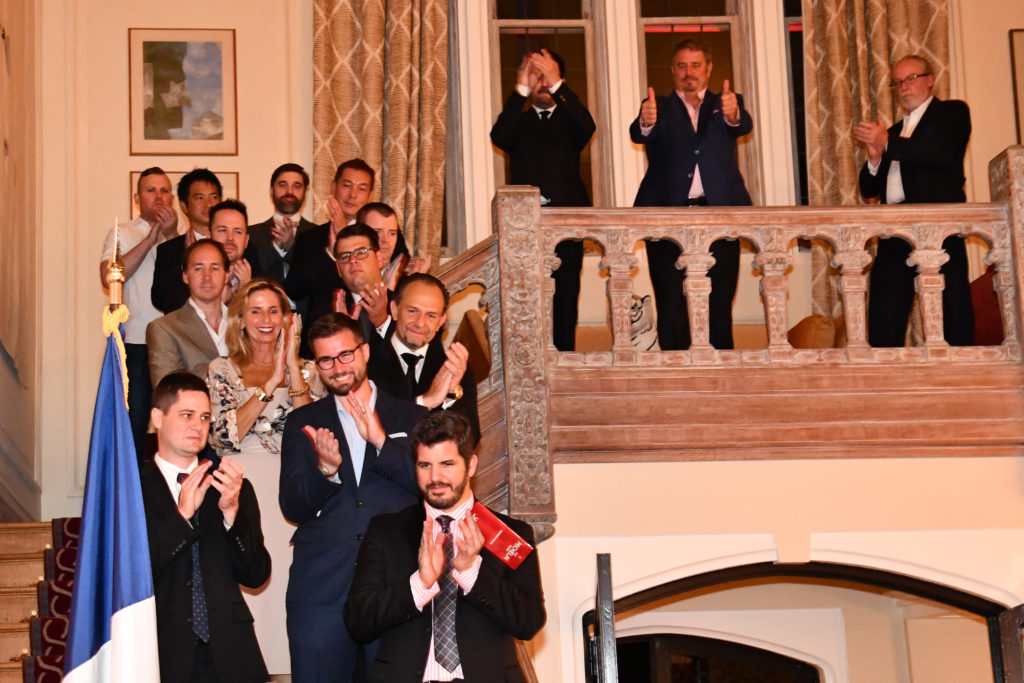 "We need a new momentum, we need a new energy, and I think there is nothing better for a new energy then thinking of all the good restaurants we are going to enjoy," said Ambassador Araud before introducing the Michelin Guide DC winners.  "Your country is more and more a very interesting place for food and because you are bringing also this American creativity to the foodie scene."
The winners: Three Stars: The Inn at Little Washington; Two Stars: minibar, Pineapple and Pearls; One Star: Blue Duck Tavern, Bresca (NEW), The Dabney, Fiola, Kinship, Komi, Masseria, Métier, Plume, Rose's Luxury, Siren by RW (NEW), Sushi Taro, Tail Up Goat.
Guests sampled the Embassy tasting food stations provided by Fabio and Maria Trabocchi of the Michelin-starred Fiola presented prior to the announcements :
"So today we're making a pansotti (ravioli to us) with sheep's milk ricotta. Inside the ricotta we have lemon zest, salt and pepper and a little bit of sage," Chris Watson told Hollywood on the Potomac. "So we're going to make a little butter sauce with some sage, brown butter, chicken stock and them I'm gonna cook the pasta, finish it with basil."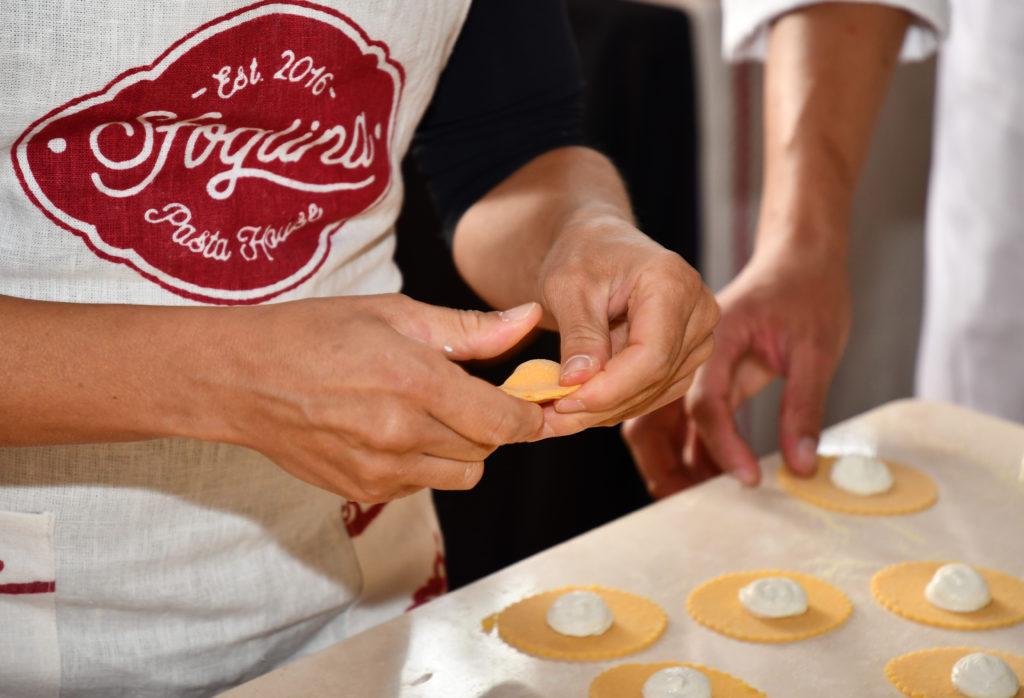 Michael Ellis, International Director of The Michelin Guides, introduced the third edition of The Michelin Guide to Washington, DC. "This event holds particular importance for me as that it will be my last. I think a lot of you will remember a very different city. Jimmy Carter had just lost the White House to Ronald Reagan. So, as they said back then, we replaced the peanut farmer with the B-movie actor – that was the conversation. Jean-Louis Palladin had basically a monopoly on the fine dining scene here at The Watergate and also there were no cellphones, there was no Internet, there was not Facebook and there was no Twitter. But you know, we got along just fine back then, although it is nice to have a cellphone now and then, I have to admit."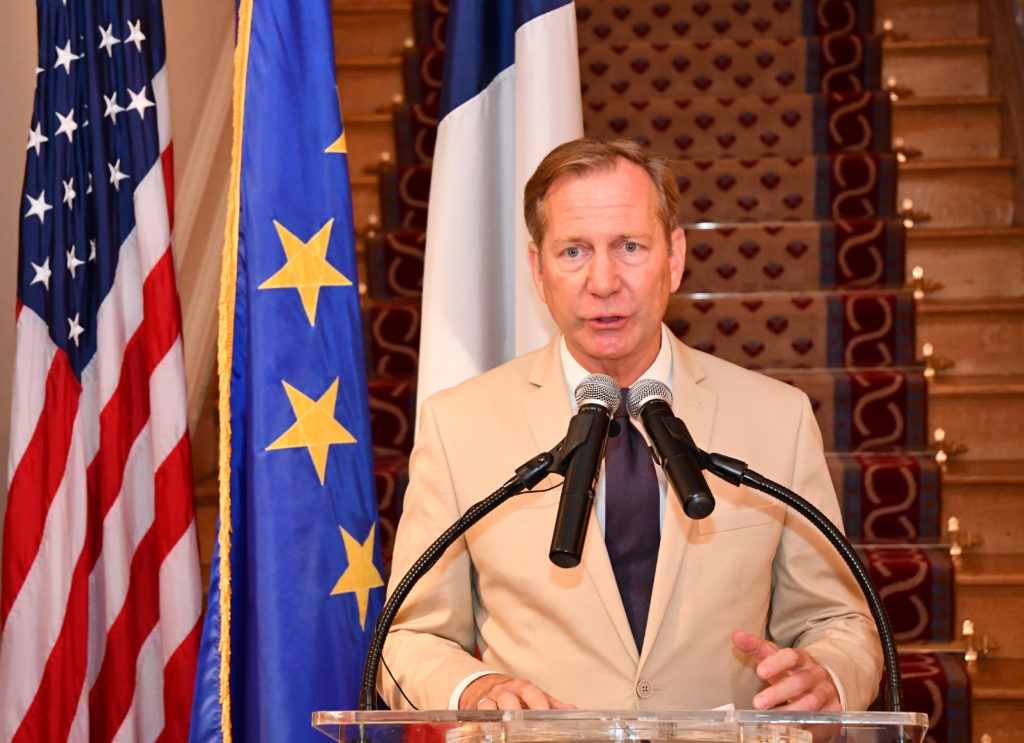 Michael Ellis
"The evolution of the Washington dining scene has over the years … is absolutely amazing," he continued. "You have really some of the finest culinary talent in the world here. And having been for seven years going around the world and seeing those talents, I can tell you what you have here is very, very special and it gets better every year. I'm also very pleases to announce that all of the Michelin stars that were in last year's guide have been maintained: That's a tribute to the quality of the dining scene here. And as I like to say, Michelin stars are not lifetime achievement awards. You have to win them back every single year. Since it's beginning in 1900 The Michelin Guide's mission has been to aid travelers and especially hook them up with good restaurants and places to sleep. That's been our mission for over a 100 years and we're going to continue to do that. The passion and the dedication of my inspection team goes undiminished. On the contrary, they get more and more excited every year."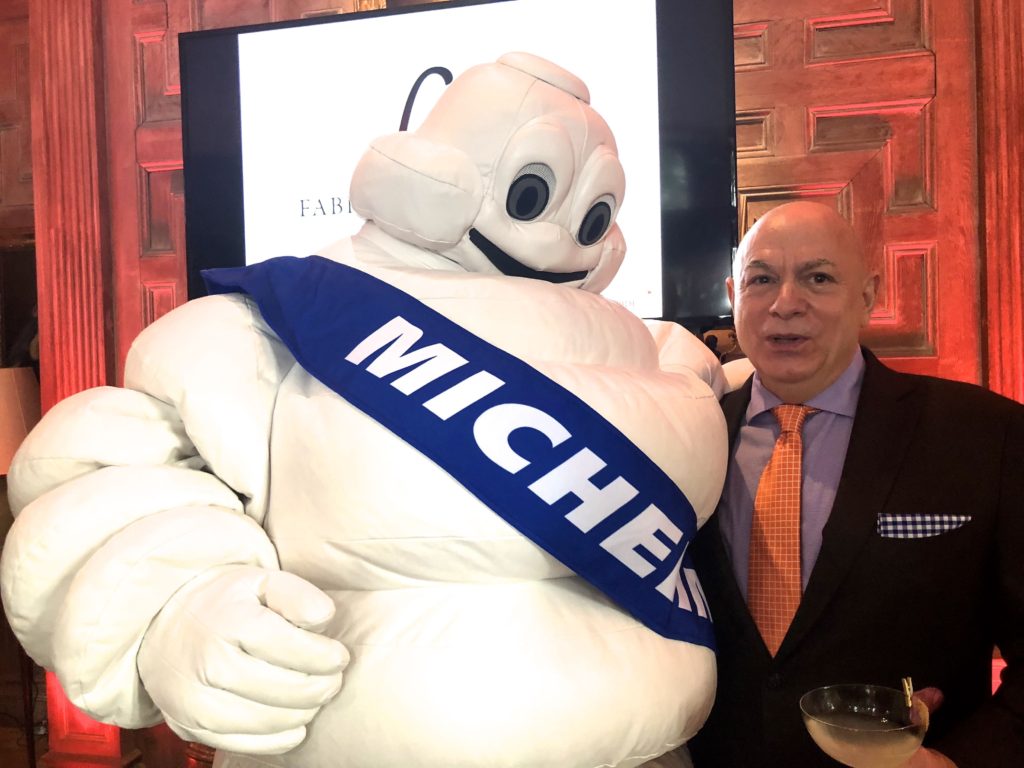 Dining critic/food writer David Hagedorn
All winners were announced, but since there were too many to mention here, we bring you the three star winner Patrick O'Connell of The Inn at Little Washington: "There are not too many things worth waiting 40 years for," said O'Connell, but this is certainly one of them. Michelin's 3-star acknowledgement of The Inn at Little Washington is because of the efforts of our entire team, and I need to thank them and salute them as well. And there are few times in life when reality is better than the movies, and today is one of them for me. I couldn't imagine that a DC boy born on South Capitol Street, who started his career in Prince George's County at Mister H Hamburgers, would be receiving this amazing accolade today. I want to thank all the people who helped us in our 40-year journey, many of whom are in the room tonight. We could not be here without your patronage and support, over the last four decades.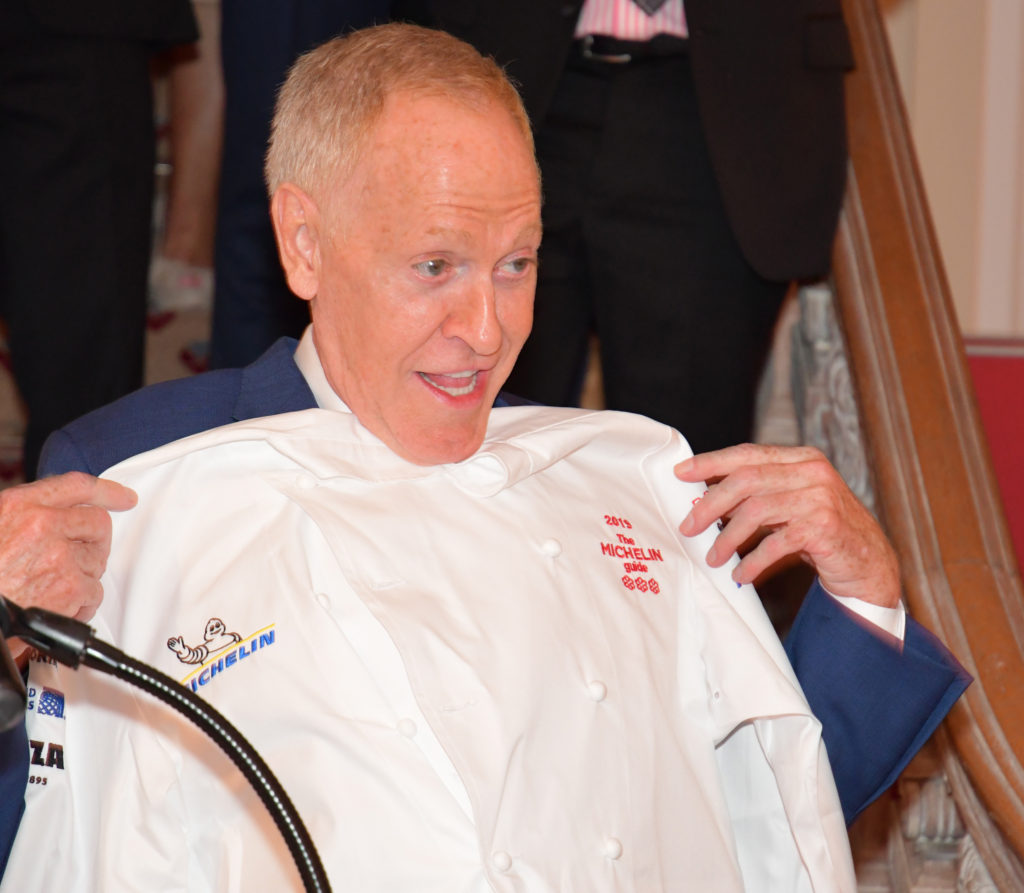 "When we opened 40 years ago, America's culinary landscape was very different: It resembled a desert. There was no role model to look for, for inspiration here at home, so at the end of our first year in business we closed the Inn and went off on a gastronomic pilgrimage to the great Michelin starred restaurants of Europe," O'Connell told us. "That first trip in 1978 was an eye opener and it provided us with a benchmark to measure our progress against. These trips to France continued for decades and the gap between what we were doing and what was happening there was huge; but little by little, year by year, slowly the gap began to narrow; then magically one day there was no gap, and Michelin came to New York City and made it official for the first time that America had restaurants on a par with the greatest in Europe. As an American chef I understood the significance of this. It was bigger than any one chef or one restaurant or one city. The most trusted authority in gastronomy was declaring that as a country the United States had arrived and taken its place on the world stage. I was immensely proud to have played a role in this culinary evolution, but I still never dreamed that I would win any stars myself and there was no certainty that Michelin would ever come to the nation's capitol, but you did, and now big Washington and little Washington have a lot to celebrate together."