Breslin and Hamill!
Photo credit: Joy Asico
Guests at the Motion Picture Association of America's (MPAA) screening of HBO's Breslin and Hamill: Deadline Artists at the Carnegie Institution for Science were in a New York state of mind, courtesy of Amphora Catering. The 240 guests that included filmmakers, diplomats and journalists noshed on pretzels, tacos, hotdogs, toasted cheese sandwiches and popcorn prior to the screening and panel that followed with moderator Margaret Brennan of Face the Nation and directors Jonathan Alter, John Block and Steve McCarthy.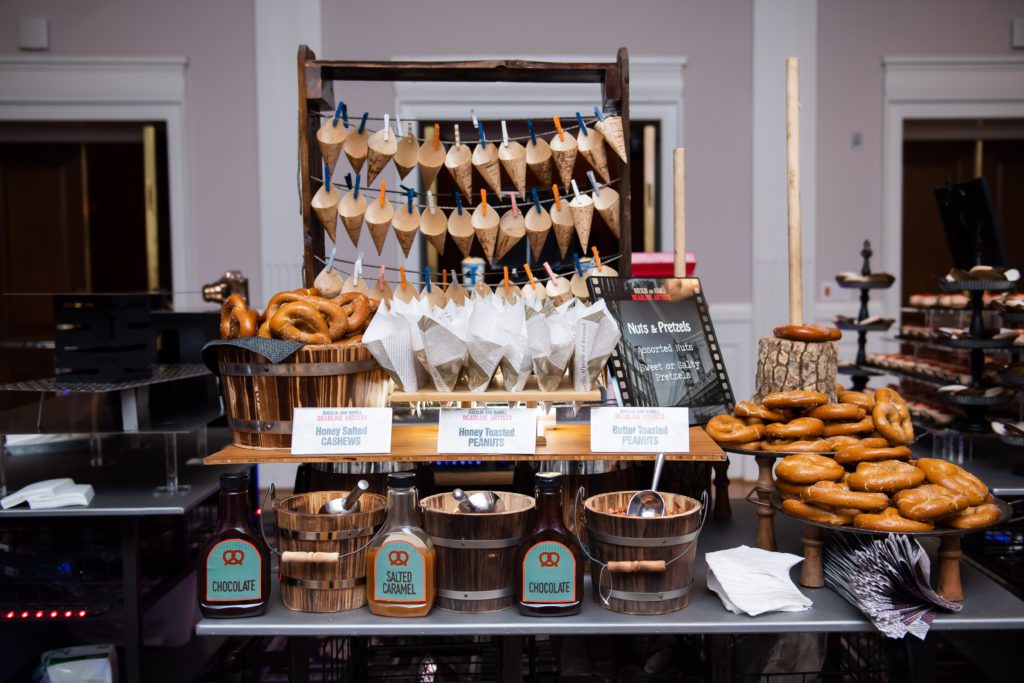 About the film: "Jimmy Breslin and Pete Hamill's brilliant, honest and courageous writing defined New York City journalism. For five decades, these colorful columnists and longtime friends spoke for ordinary people and brought passion, wit and literary merit to their reporting on their city and nation. Their writings probed issues of race, class and the practice of journalism that resonate powerfully today. Born and raised in working-class New York City neighborhoods, Breslin and Hamill were products of fractured Irish-American families. They rose through the ranks of reporting without formal training or college degrees. Sometimes working on competing newspapers, and sometimes working on the same publication, they became good friends who challenged and inspired each other. They were also swashbuckling, often controversial personalities whose TV appearances and comings-and-goings around town could be as entertaining as the stories they wrote. Filled with the humor and gusto they both personified, the documentary is a poignant look at two literary giants who epitomized New York during its last and greatest period of print journalism, whose pioneering influence still reverberates today." HBO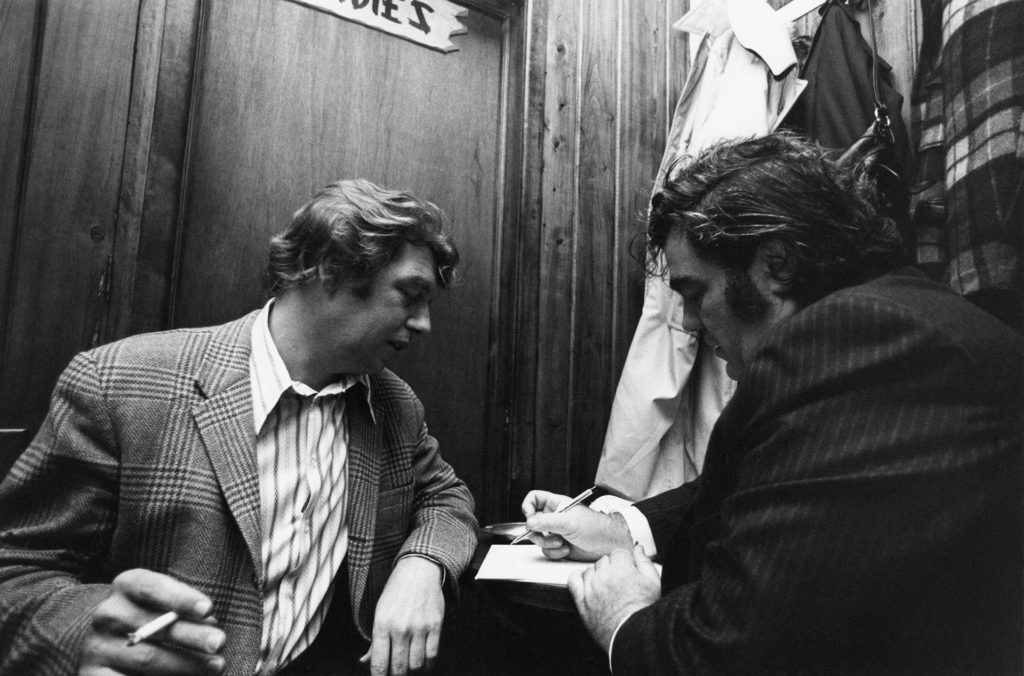 Pete Hamill and Jimmy Breslin     Photo courtesy of HBO
"Some people here know that for the last year we've been holding screenings in places like this around town as we patiently wait for our home to be finished. Our home is, of course, the iconic MPAA building at 1600 Eye Street," said Chairman and CEO Ambassador Charles Rivkin. "It's gonna be in about three months or so, maybe, let's call it this summer just to be safe. And we're going to have the best screening room in the entire city, a roof garden overlooking the White House and the Hay Adams, and a lot of real fun parties and films to come. So thank you for being here, because when the MPAA does a screening, what we like to do is not just see the movie, but we want you to live the movie. We want you to meet the filmmakers and hear about what goes on behind the scenes, so you not only understand Hollywood, but the creative process."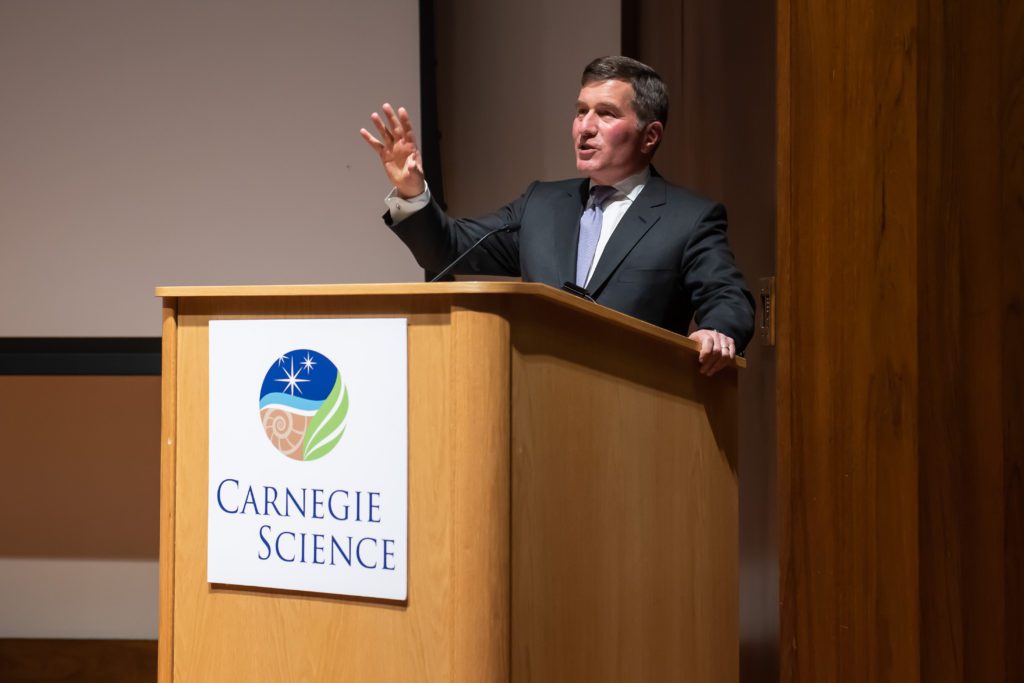 Ambassador Charles Rivkin
"So tonight's screening is a case in point," he added. "Not only are we gonna have the pleasure of watching the movie that pays tribute to two of the greatest journalists of all time, but we also have an amazing line-up to talk about it afterwards. Margaret Brennan has agreed to moderate tonight's panel, the current moderator of Face The Nation on CBS News and the network's senior foreign affairs correspondent, and the creative team behind the film: That's all three co-producers and co-directors. Steve McCarthy, who's also the cinematographer. John Block and Steve are both former Dateline producers and Jonathan Alter, former Newsweek columnist, New York Times bestselling author."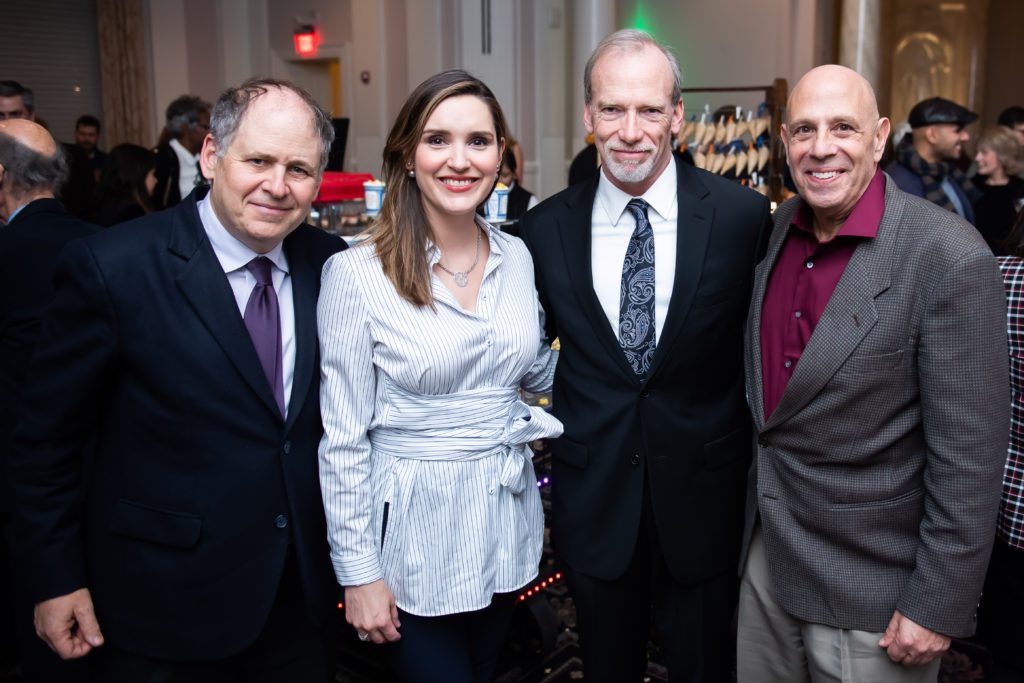 The Panel: Jonathan Alter, Margaret Brennan, Steve McCarthy and John Block
"I want to leave you with one quote from Jimmy Breslin that I always thought was interesting," Rivkin concluded. "He said: 'Those of Manhattan are the brokers on Wall Street and they talk of people who went to the same colleges; those from Queens are margin clerks in the back offices and they speak of friends who live in the same neighborhood.'  That was the journalism that Breslin and Hamill specialized in: Close to home, local news; like digging through the small details of New York life, they found its most universal truths."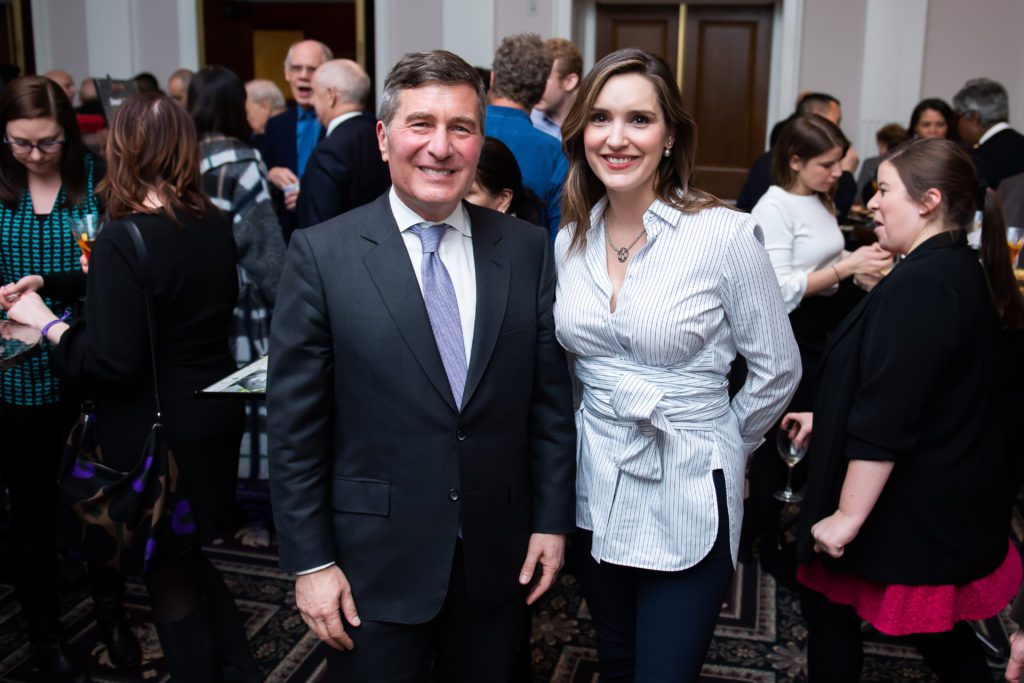 Ambassador Rivkin and Margaret Brennan
Here's what we learned from the panel.  It was truly a joint effort between the three of them. They were co-directors and equals in sharing the burdens of this all the way. A man by the name of Michael Rispoli, who is an actor of note, did the voice overs. Hundreds of hours were spent in an editing room where they had to pick the columns to use and decide what to leave on the cutting room floor. Steve McCarthy actually has a terrible term for this: 'Sometimes you have to kill babies, and forgive the terminology, but they were priceless stories that we didn't want to give up, but we had to.' Otherwise we'd still be watching the movie."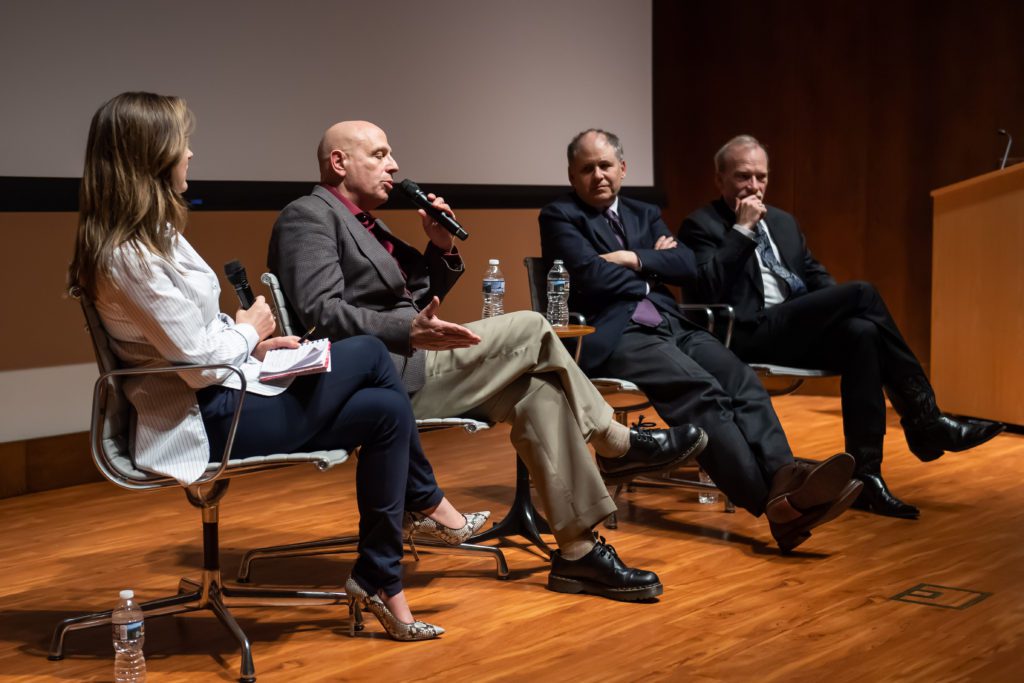 Margaret:  "I think for anyone who grew up in the New York area, the Central Park jogger story is just embedded, burned into your memory. It was such a huge moment. Why did you choose to include that in this? Is it because it was such a New York story or was it the role of Donald Trump?  Did you have concern that it would become political by including that one story in this? "
John: "I grew up in Brooklyn in the seventies and that crime was so bad, people were so upset about it, so angry about it. These guys covered them a lot of years in New York and we actually scaled it back because we didn't want it to be political. We think that there's a lot of the undercurrents in the film. Pete writes about the lower working class and how not to ignore these people. We think there's a lot of stuff going on in this film that is very relevant today. When you see this, you're like, wow, it's still happening.  So I think we really hit a pitch, a good pitch with it. So I think we hit it just right."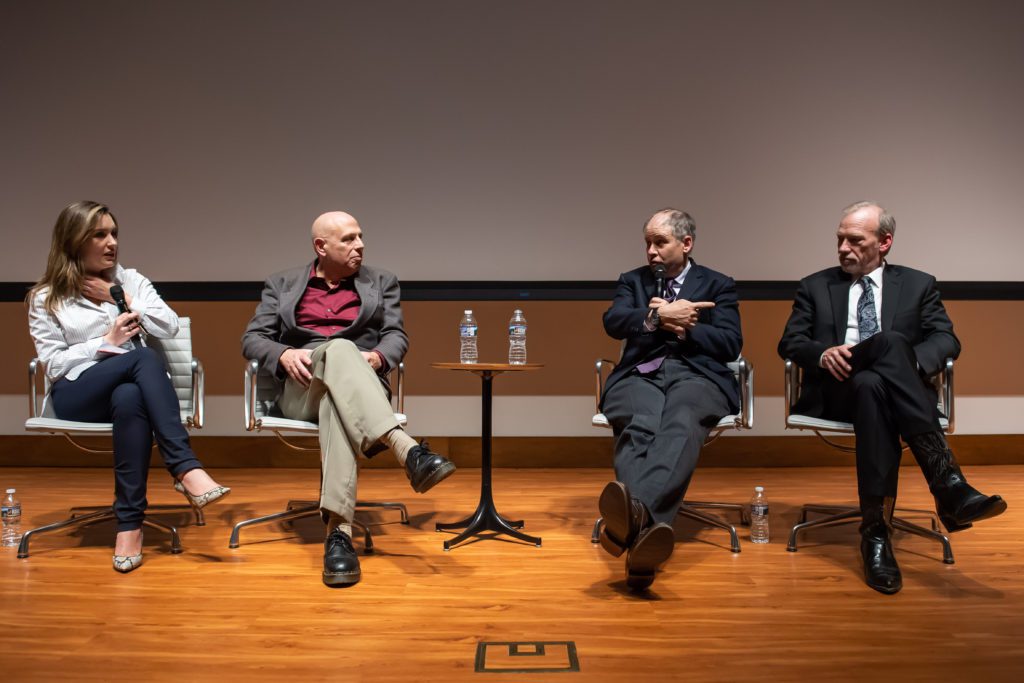 The team decided to do this movie because they wanted to do something about journalism – what we've lost, not just a biography of Jimmy Breslin.  They knew about his relationship with Pete Hamill.  One of the things they pointed out is that everyone read them and yet no one reads anyone in particular like them today.  They want local reporting to come back and think there is a disruption going on right now because of technology – 140 characters.  They are optimistic however that we will figure it out, the business model will eventually sort itself out and that local news will never die since the cavemen wondering what's going on in the cave, down the path. People have been interested in local news. It's just been a question of subsidizing.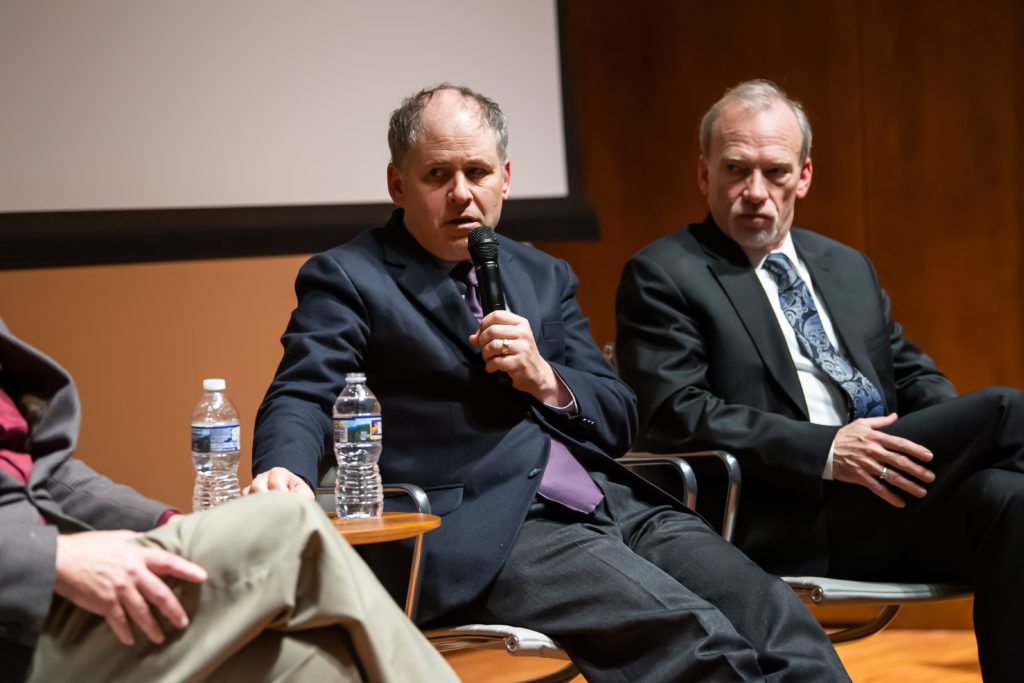 Jonathan: "We're in a transition period, but I think the question that we started with at the beginning of the process that we ask every single person we interviewed was what have we lost? Because before you can figure out how you move forward with quality journalism, you have to know what happened when giants roamed the earth. These guys were far from perfect. I wrote a very tough piece about Jimmy in the eighties. There's a lot of ways to write a column. It doesn't all have to be like they did it. My column was very different… my political column. But one thing I've learned from them and from other great columnists was you gotta have the reporting. You can't just sit there, you know.  That doesn't do anybody any good. We have an awful lot of it, and I do a fair amount of it myself. Really, the goal is to get out of the office, report, find those little details before you store your life."
"I think John Avlon, who was editor of The Daily Beast, really got it right," he added. "There will always be room for that. There will always be a need to comfort the afflicted and afflict the comfortable. What makes me crazy is when I see journals in the comforts of the already comfortable and afflicts of the already afflicted. So you know, we were trying to offer a model for people moving forward."