Oscar Countdown: VICE!
Photo credit: Janet Donovan
VICE has been nominated for eight Oscars including Best Picture, Adam McKay for Best Director, Sam Rockwell for Actor in a Supporting Role, Amy Adams for Best Actress in a Supporting Role and Christian Bale for Best Actor in a Leading Role.
VICE is the story of Dick Cheney, an unassuming bureaucratic Washington insider, who quietly wielded immense power as Vice President to George W. Bush, reshaping the country and the globe in ways that we still feel today. Glover Park Group hosted a special screening at the Newseum in Washington, DC to mixed reviews.  Why mixed reviews with so many nominations?  Perhaps because so many in the audience actually new the real players and weren't convinced of their respective portrayals.  You have to hand it to Christian Bale though who physically turned into Dick Cheney which puts him on the top of the pile to win Best Actor.  According to director Adam McKay, Bale loved the challenge of getting into Cheney's head and we must say that particularly in the latter years of VP Cheney, the optics were mind-blowing. Amy Adams did a commendable performance as Lynne Cheney.

There is one scene where they show the actual beating of a heart to emphasis Cheney's heart attack after 9/11.  We can't say we enjoyed that but here is a factoid that makes it more interesting:  McKay actually had a heart attack that was video taped so it was his heart in the flick. Wow! Who does that? Still didn't like the scene – was incongruous to the rest of the movie – but liked the Hitchcock cameo moment which McKay calls a happy ending.
The audience consisted of many who also knew the players: Journalist Annie Groer, CNN's Sam Feist, The Hill's Bob Cusack.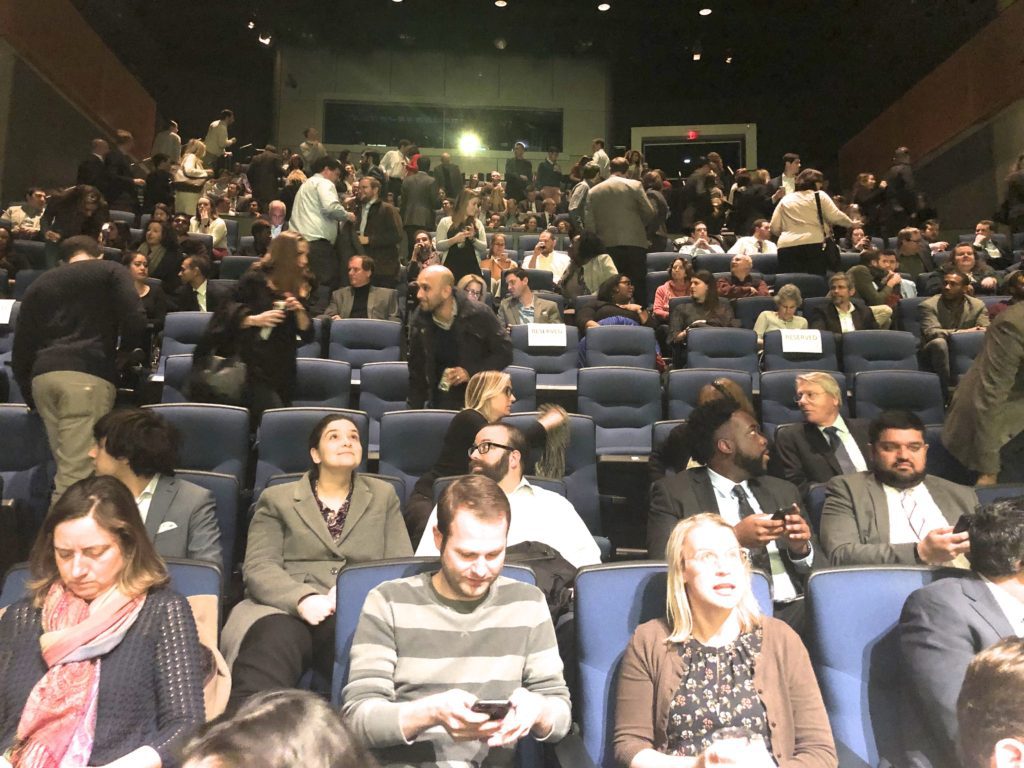 McKay was under the weather so not present but represented by film producers Dede Gardner and Jeremy Kleiner.
"We want to thank the members of Congress that are in attendance tonight as well as any other folks and you're here to watch Vice," said Kleiner, "the story of one of the most unexpected and audacious rise to power in modern history."
"Looking around this room, it's really clear to us how lucky we are to be here because so many of you guys lived this moment in history in real time and  you covered these events," added Gardner. "We really considered you the people who remain the foremost experts on this whole era. Adam in particular was so inspired by all the work that you guys put in day after day. And I think also the relevance and the impact of Dick Cheney's vice presidency is something that you will understand as it's something you still feel today and mostly a huge thank you to all of you for all your work because we as filmmakers really couldn't do what we do without you guys coming first and putting in the effort, so we're really grateful and we're super psyched to be here, so thank you for coming."
Among the nominees in VICE, we predict Christian Bale for Best Actor.
The Trailer: