Year of the Pig!
by guest contributor Shana Horwitz
Photo credit: Stephen Bobb Photography

Meridian International Center co-hosted the 9th Annual Chinese New Year Celebration with the Embassy of the People's Republic of China. Over 500 guests from Washington's government, diplomatic, policy, business, and cultural communities came together to honor the Year of the Pig and the 40th Anniversary of US-China Diplomatic relations.
Artists perform a traditional Chinese fan dance to celebrate the Year of the Pig

"Let me first of all wish our distinguished guests good luck and happiness for the Year of the Pig," said Chinese Ambassador Cui Tiankai. "Of course this year's celebration has a special significance. It marks the 40th anniversary of diplomatic relations between China and the U.S. The decision that our leaders took 40 years ago with such great vision and wisdom has not only changed our two countries in a profound way, but also had a great influence on the world. For both countries, the past 40 years have been successful and extraordinary."
Ambassador Cui Tiankai
"The past 40 years of China-U.S. relations have helped push forward the development of our two countries," he added. "China and the U.S. have interacted on such an extensive scale and influenced each other in so many ways that each is stronger and better than it would be otherwise. Normalization of relations with the United States and reform and opening-up have enabled China to concentrate on its modernization drive, while unprecedented development of China has provided the U.S.–and the rest of the world for that matter–with historic opportunities for peace and prosperity.  In a word, the past 40 years have proved that cooperation is in the interests of both countries while confrontation hurts both. There is no better option for us than cooperation. The past 40 years are no more than a split of a second in the history of human civilization, but in every second we are making history. On the occasion of this important anniversary, let's pledge ourselves to work together for a stronger and more stable China-U.S. relationship so that our two peoples can develop a lasting friendship and have their dreams fulfilled together."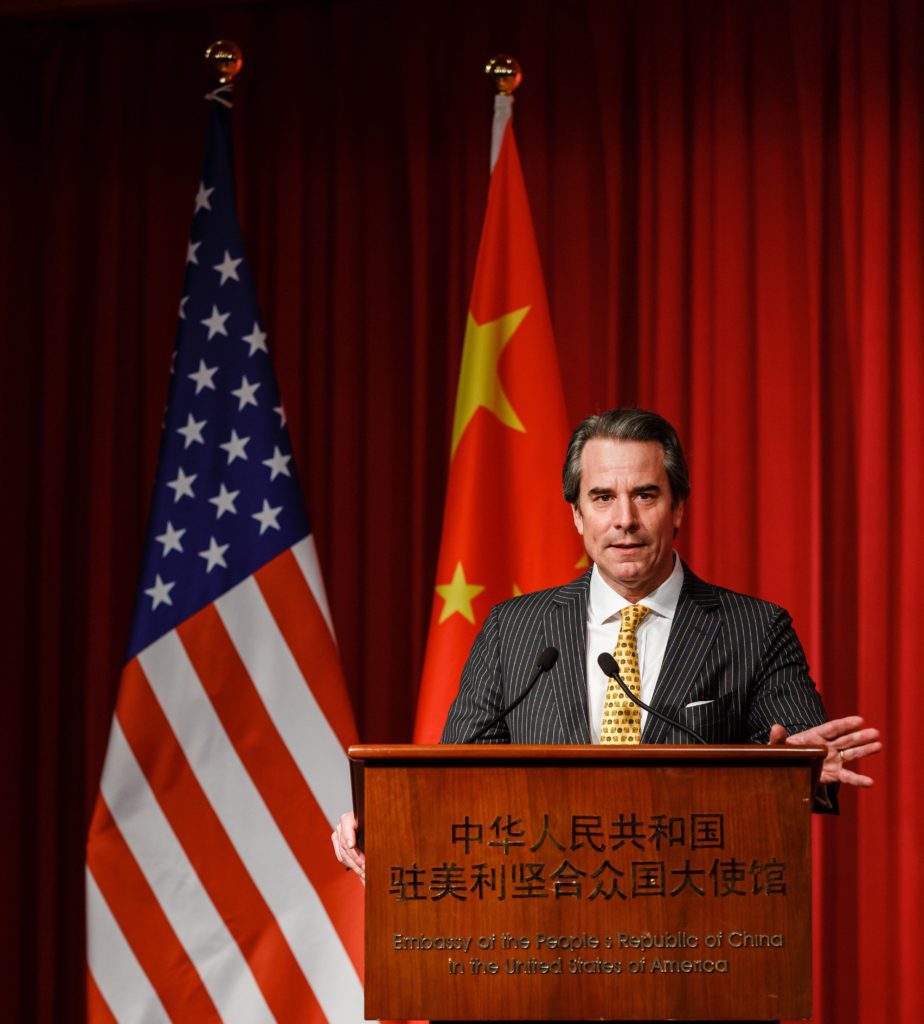 Ambassador Stuart Holliday
Meridian President and CEO Ambassador Stuart Holliday echoed these sentiments and discussed the importance of cultural events like Chinese New Year that continue bridging divides.
After the remarks, guests enjoyed a wide array of performances showcasing art from the Guandong Province, artist demonstrations, and popular Chinese cuisine like dumplings and fish. Performances included an ensemble for traditional fan dancing, acrobats, painting, magic, instrumental performances featuring the Dizi (bamboo flute), the Erhu (Chinese violin) and the four-stringed Pipa, as well as a photographic exhibition showcasing milestones and events during the last 40 years of normalized relations.
Notable guests in attendance included Secretary Wilbur Ross and Hilary Ross, OPIC President and CEO Ray Washburne, Congressman Gregorio Kilili Camacho Sablan, Secretary Barbara Hackman Franklin, Stephanie Grisham, Governor James and Janet Blanchard, Howard Fineman and Amy Nathan, Steve Clemons, DC Councilman Jack Evans, Kate Bennett Glassman, Jay Newton Small, Jon Decker, NSC Senior Director Matt Pottinger, Principal Deputy Assistant Secretary Patrick Murphy, Sean Cahill, Dr. Lawrence Jones of Edison Electric Institute, Michaela Chen and Carr Slayton of Boston Scientific, Sahra English and Brett DeWitt of MasterCard, Jay Taylor of PhRMA, Mei Xu, Chair of the Meridian Center for Cultural Diplomacy, Kate Beale and Doug Maguire, Lyndon Boozer, Steve Quamme, Mimi Burke, Chris Whittle, among others.
Secretary Wilbur Ross with Ambassador Cui Tiankai
In partnership with China Daily, China's largest English-language daily newspaper, the Chinese Embassy unveiled its new collaboration project, "My China Album," a photo contest where applicants submit an image showcasing their favorite memory or experience from China with the opportunity to win two round-trip tickets from New York to Beijing.
In an op-ed addressing shared values in today's China-US relations, Ambassador Holliday and co-author Hongxia Liu, a former Meridian Trustee, stated that, "Culture reminds us we have more in common than we do different while also providing a window into one another's worlds to increase understanding and dispel stereotypes." Meridian International Center is proud to co-host events like the Chinese New Year Celebration, which foster goodwill between nations by leveraging culture to engage people of different backgrounds in a shared cultural exchange.