"I Have an Idea"
Photo credit: Janet Donovan
"Jean, I have an idea." Those were the scariest words in the English language for Jean Becker during the 25 years of working as Chief of Staff for President George Herbert Walker Bush after his presidency in 1994 and as First Lady Barbara Bush's deputy press secretary. Jean joined a panel, along with a distinguished group of experts who worked closely with both President Bush Senior and Junior as well as the first ladies, after the screening of CNN's six part original series that examines the Bush family and their impact on American political history at the U.S. Navy Memorial Burke Theater in Washington, DC.  Narrated by Academy Award nominated actor Ed Harris, the series explores the Bush family's internal dynamics, the influential matriarchs, sibling ambitions, and unceasing competitive spirit, which drove them to power. The series premieres on CNN Sunday, March 3rd, at 9:00 PM titled Father and Sons.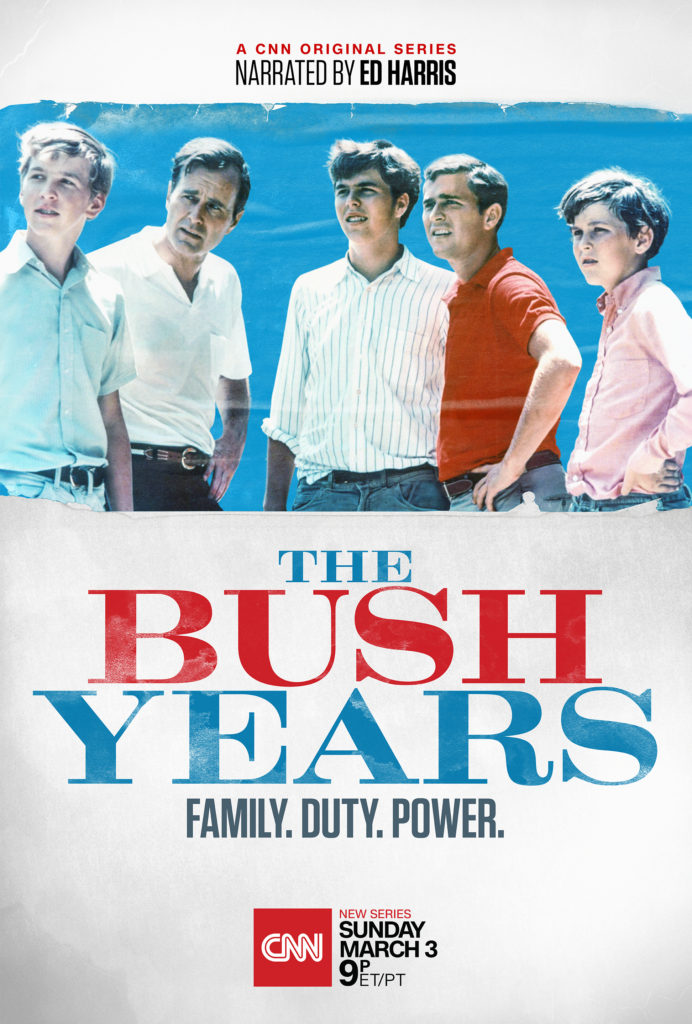 The panel was moderated by Jamie Gangle, an award-winning correspondent who has profiled both George H. W. Bush and George W. Bush, as well as Laura and Barbara Bush.  The other panelists included Anita McBride, assistant to President George W. Bush and chief of staff to First Lady Laura Bush, and Tom Collamore who began his career working for the George Bush presidential campaign in 1979, and subsequently chief of staff and for George H.W. Bush as a member of Vice-President Bush's senior staff. The series features interviews with Barbara Pierce Bush, Neil Bush, Dick Cheney, Colin Powell, Tony Blair, Jake Tapper, Van Jones, among others.  The first episode, "Fathers and Sons," explores the start to George H.W. Bush's family and early political career.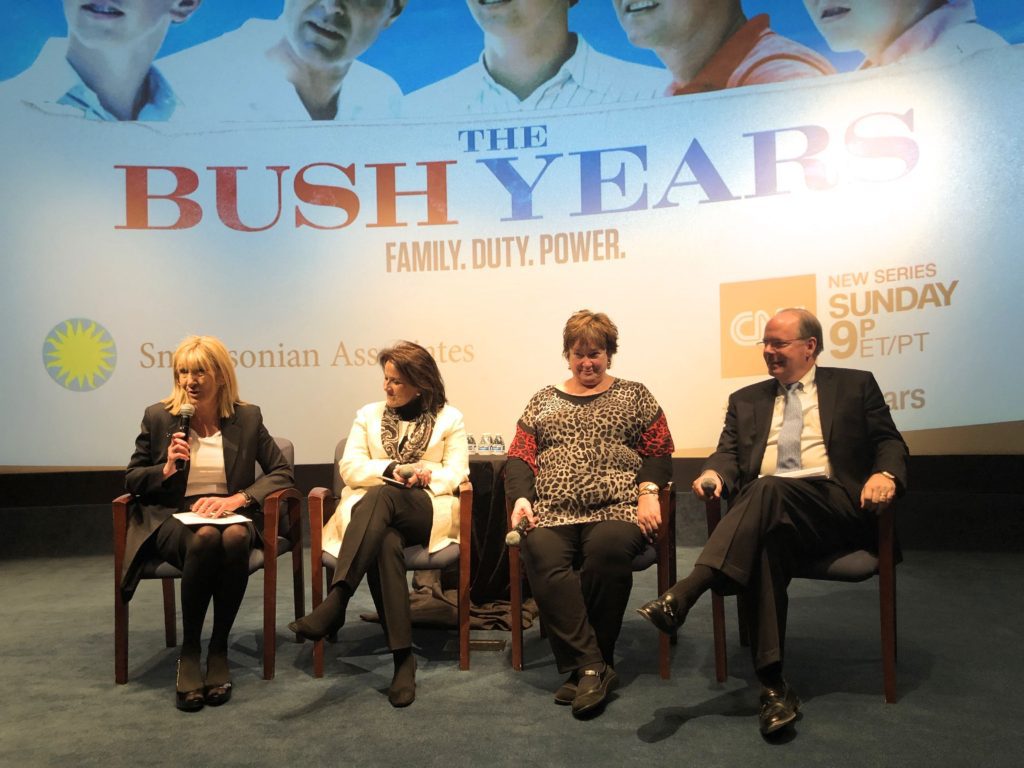 Jamie Gangel, Anita McBride, Jean Becker, Tom Collamore
Synopsis: The Bush Years follows in the footsteps of the top-rated CNN Original Series American Dynasties: The Kennedys. Through archival footage and interviews with historians, journalists, political figures and Bush family members, the series reveals a story of triumph, tragedy, heroism, faith, and an evolving conservatism.
The commentary among the panelists combined both sentiment and comedy to show us the family side of the Bushes: Comedy won.  "Okay. This is one of my favorite George Bush story," offered Jean Becker with a little nudging. "There were rumors everywhere that Prince Bandar – who was the Saudi Arabian ambassador to the United States for I think 20 years and who was the Ambassador during Desert Storm and was very close to President Bush –  had been assassinated by the Syrians.  So I called the CIA. They said: 'We've heard the rumors, he has not been seen for a couple weeks.' So all these phone calls went back and forth and finally Margaret Tutwiler called me and said: 'They're breaking the news in Europe that Bandar has been assassinated.' Some press person in France had gone to print with the story. So I decided I better tell President Bush because he would take it very hard."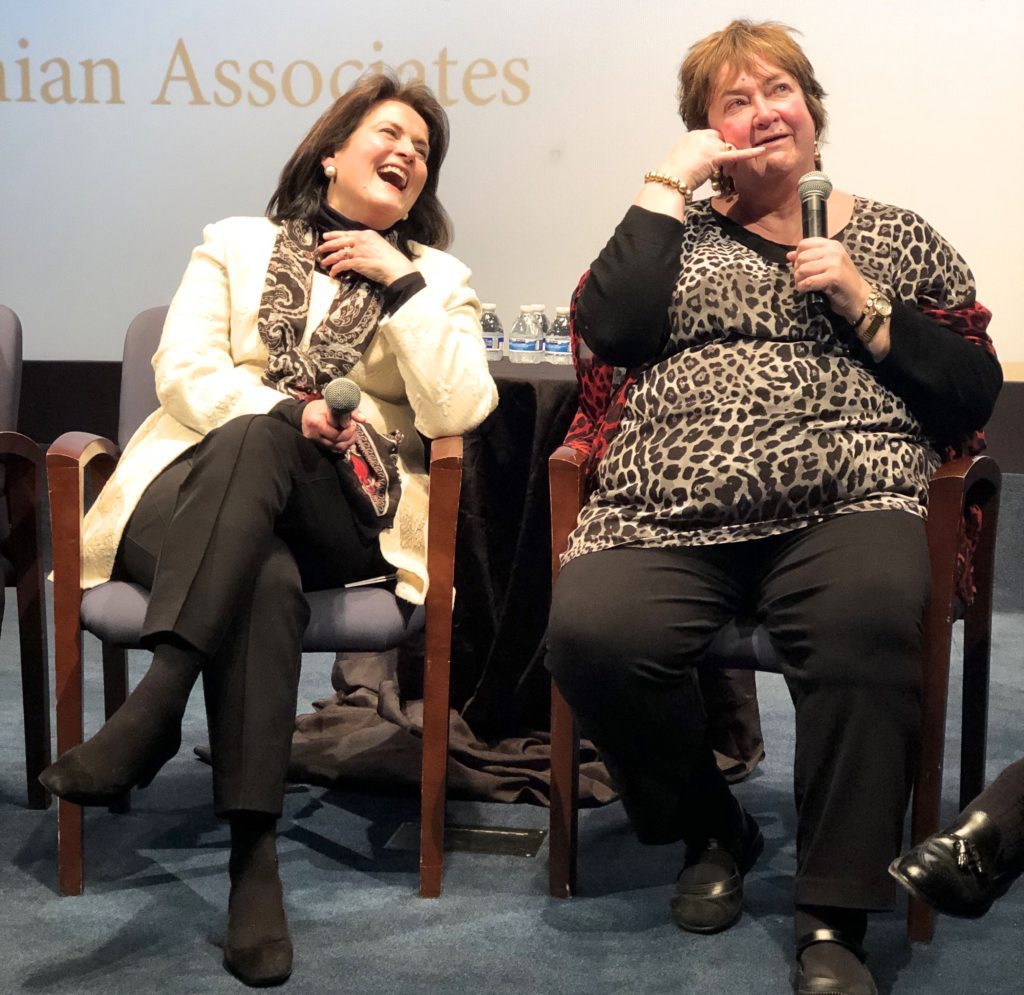 Anita McBride and Jean Becker
"So I told him the news. I told him from the beginning that no one had heard from him and no one knew where he was but he was feared dead. President Bush looked at me and he said: 'Well have you tried to call him?' And I said: 'No. I haven't tried to call Prince Bandar.' I told a young man named Jimmy who worked there to try to get Bandar on the phone. Two minutes later, President Bush and I were sitting outside, Jim yells out the window: 'Prince Bandar is on line one.'  If I write a book, that would be the title. President Bush gets on the phone. He goes: 'Yeah, Bandar, George Bush. Are you dead or alive? Everybody here thinks you're dead. Uh-huh. Uh-huh.'  And then he looked at me and said: 'He's alive!'  So anyway,  Bandar assures him he's fine 'and yes, the Syrians want me dead but I'm in hiding. I'm good. Don't worry about me.' So President Bush gets off the phone and says: 'Now Jean, that's what you do. If there's confusion whether people are dead or alive, call them.'"
Anita McBride and Jean Becker
There were lots of great anecdotes, but let's end with this from Jean: "I was in charge of both of their funerals. In their funeral file were the notes that they would write over the years about what they wanted for the funeral. Both of them said, in memos: 'Just open it up to the public and hope some people will come.'  I actually argued with Mrs. Bush about it. I said: 'Well Mrs. Bush, we have to have an invitation list. We'll have to do invitations.' And she said: 'Dearie, I just think we'll be lucky, my friends are all dead.' Two thousand people came to Houston, Texas and President Bush had a huge waiting list for his funeral here in Washington."