Gridiron Wrap!
Photo credit: Janet Donovan
"This is our second year of hosting this Gridiron Club event," said T. Dean Reed at a brunch at The Four Seasons in Washington, DC co-hosted by The Embassy of the State of Qatar and Kathy Kemper, IFE.  "Gridiron, as you know, has nothing to do with football.  It's a news organization that had its 134th dinner last night. It originated in 1885 when Grover Cleveland was President. I am privileged to be a senior member but it's not true that I've been to all the dinners."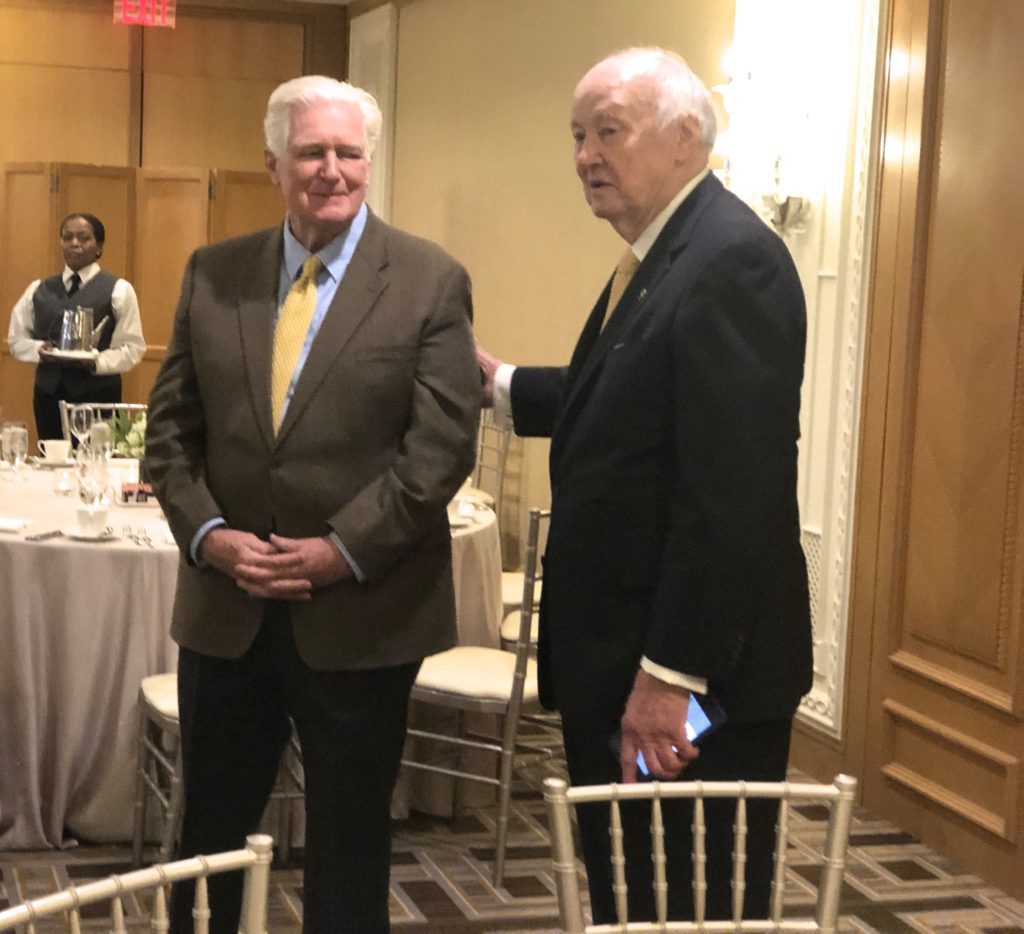 Jim Moran and Dean Reed
The dinner draws about 1,000 guests every year made up of journalists, lawmakers, administration folks and lots of boldface names that congregate in White Tie and are actually cordial to each other despite the political barbs that fly in numerous skits.  Sen. Amy Klobuchar, the Minnesota Democrat now running for President claimed: "My speech will be shorter than a Robert Kraft visit to Orchid's Day Spa."  After a bite back about the New York Times story on how she treats her staff and the eating her salad with a comb incident she hit back: "I'm telling you. You guys haven't lived until you've toasted a bagel with a blow dryer or ironed a grilled cheese sandwich on an ironing board."
Ivanka Trump on being born into a life of luxury: "The press seems to think it is ironic that I, born of great privilege, think people want to work for what they are given," she said, "as if being Donald Trump's daughter isn't the hardest job in the world."
The Club's motto is "singe, not burn."
T.H. Jim Moran, Director of Public Diplomacy the Embassy of Qater, Ambassador Esther Coopersmith
Dean introduced Sarah, Director of Public Diplomacy for the Embassy of the State of  Qatar. "Unfortunately our Ambassador couldn't make it today. He had to fly out but I'm very pleased to be here. I had the pleasure of attending the Gridiron dinner yesterday and it was such a great event and just a great opportunity to be with members of the media and to highlight and acknowledge all the great work that they're doing. We're really pleased to host this event. This is the second time, second year that we've hosted this event and we hope this is something that we continue to do every year."
Distinguished guests included The Ambassador of Estonia, Jonatan Vseviov and Evelyn Vseviov; The Ambassador of Kazaktstan, Kazykhanov and Danara Kazykhanov; distinguished former member of Congress Jim Moran from Virginia, Councilman Jack Evans, Ambassador Coopersmith,  Chris and Renee Liddell from The White House,  Jennifer Griffin and Greg Myre, Chris Golden, Francesca Craig, Nina Easton, Juliet Eilperin, Phaedra Chrousos, Daniel Lippman, Roxanne Roberts, Ambassador of Kosovo, Vlora Citaku and organizer Kathy Kemper.

"With that I think we're about to go," said Dean. "I have one story though I'm gonna tell you about. When Henry Kissinger was asked about the movie Lincoln that had just come out and he was asked if he had seen Lincoln, he said: "No, not since 1864."  So with that we're about to have lunch. It's open season. Please make yourself at home."