Knock Out!
Photo credit: Janet Donovan
"We are proud recipients of the generosity of Knock Out Abuse," said Kathleen Biden at a cocktail reception hosted by Nesrin and Mauricio Fraga-Rosenfeld – owners of Susheria in Georgetown – and Cheryl Masri, co-founder of Knock Out Abuse. "Since DC Volunteer Lawyers Project started, our volunteer attorneys have donated over one hundred thousand hours, allowing us to serve over five thousand people, children and victims. Knock Out Abuse was an early and loyal supporter of our program. With your help we will continue to grow and serve more victims escaping domestic abuse.  For every one dollar donated to our program we're able to leverage that into four dollars of legal services. That is a great investment. We are also proud to report that we have success in over 95% of our cases. For survivors, studies have shown that having an attorney can increase the likelihood of obtaining a civil protective order from 32% to 86%. Restraining orders, in turn, can reduce the occurrence of violence and help survivors feel safe and more empowered. Our attorneys can also help survivors through child custody and divorce."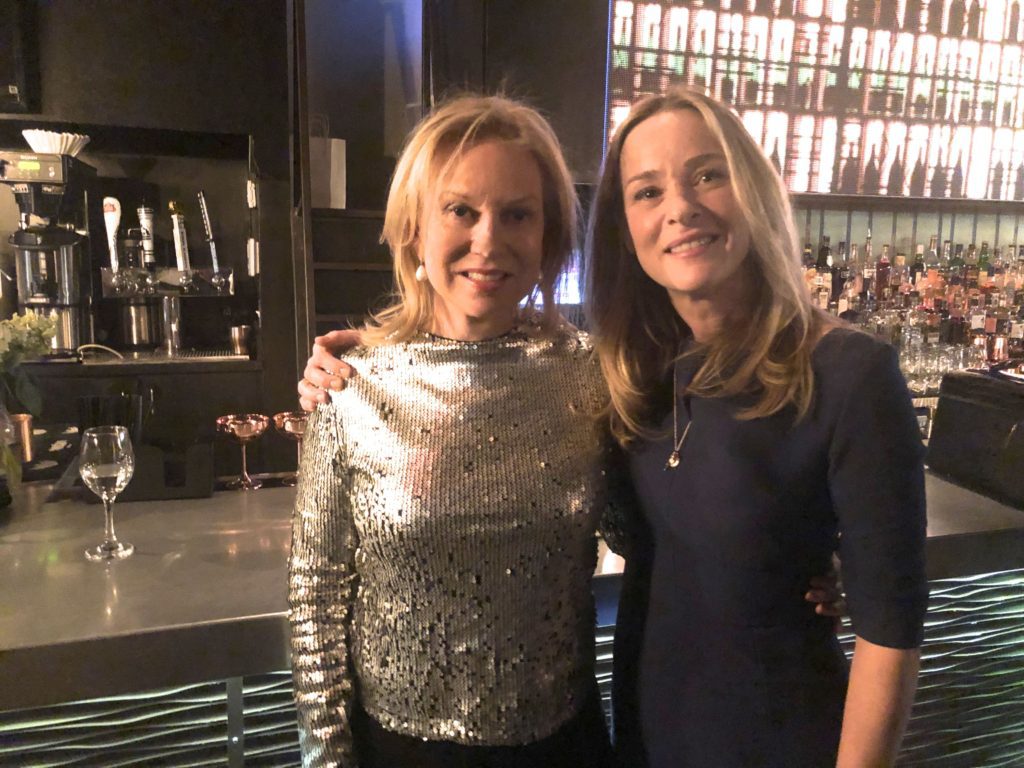 Cheryl Masri and Kathleen Biden
Cheryl updated us on the status of the Violence Against Women Act: "This landmark bill was originally cast in 1994 and basically made it a felony to beat up your partner. Abuse 25 years ago was just classified as a misdemeanor. There is a new, improved bill and it was introduced last July and supports additional vital programs for survivors of domestic violence including sexual assault, dating violence, stalking, strengthening housing protections, expanding prevention and educational programs and gun control loop holes. This is a really difficult one to describe because it's so outrageous that in many states convicted domestic abusers are still allowed to own their guns.  So that's part of the bill that we hope to eliminate. We urge you to contact your congressperson and ask them to vote for the re-authorization of the domestic violence against women and it's HR6545. In December it expired and it was up for re-authorization in February, but it did not go through. Hopefully sometime this spring they will reauthorize it. This is really important because there isn't any additional funding going to shelters and people throughout the country that government agencies support, so it's critical."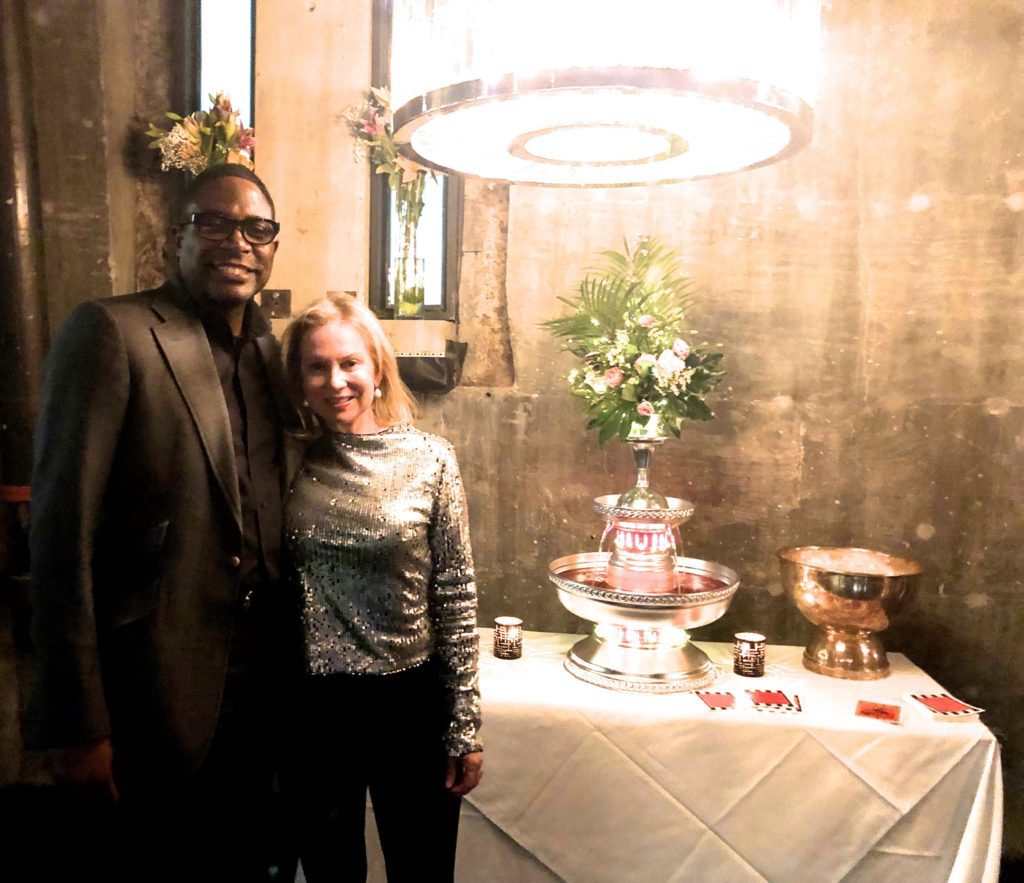 Andre Wells and Cheryl Masri
Sara Tennen, Deputy Director of the DC Volunteer Lawyers Project, explained the nuts and bolts of the program. "For a number of years now we have operated the only domestic violence resource clinic in Washington, DC. This clinic, which takes place on each Wednesday at Westminster Presbyterian church in southwest DC, is a place where domestic violence victims can come in to seek assistance with legal issues, with housing issues and with social service issues with our partner organization, My Sister's Place. In 2018 we opened two new clinics. Every Thursday, DCVLP lawyers are at Children's National Medical Center where we have a family law clinic and every Friday our attorneys are in Anacostia at the Commons at Stanton Square where DCVLP is co-located with partner organizations Martha's Table and Community of Hope. Through these weekly clinics, we are creating more entry points so that more domestic violence survivors are able to access our legal services. In 2018 alone, we touched the lives of one thousand of DC's most vulnerable residents."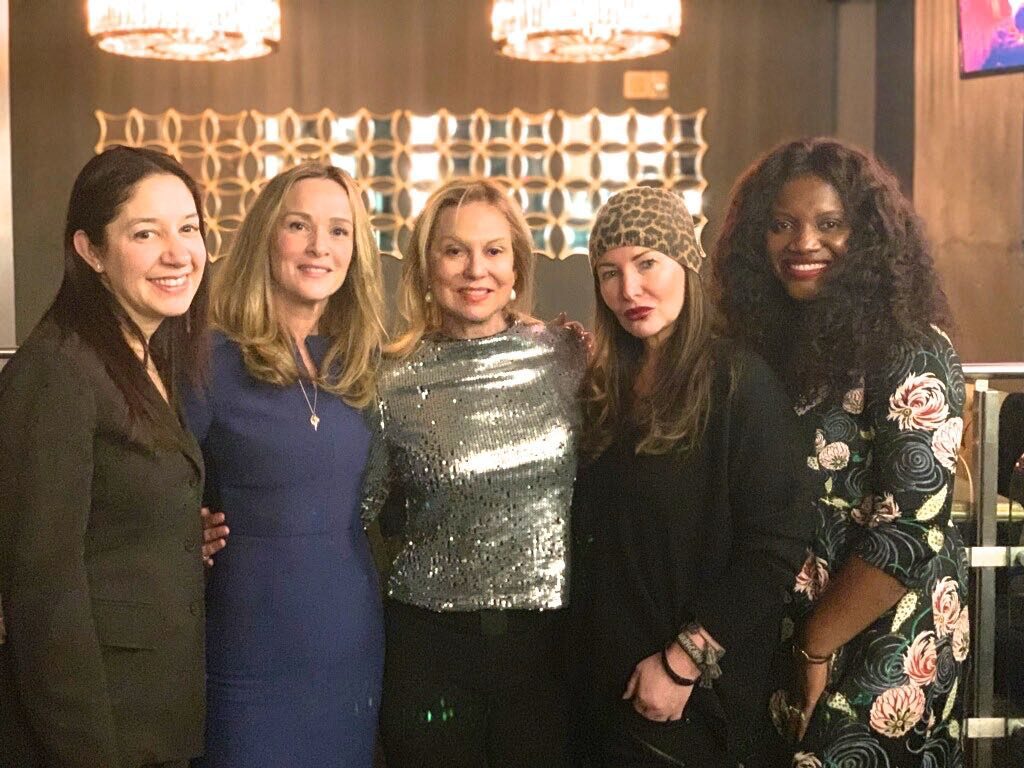 Sara Tennen, Kathleen Biden, Cheryl Masri, Tara Engel, Aba Bonney Kwawu
Aba and Tara, co-chairs for the 2019 Knock Out Abuse Gala were introduced after which guests dined at exquisite food stations
"For the month of March," Nesrin explained, "we're featuring these Knock Out Abuse Cocktails: Knock Out Cosmo, Pink Tasty Margarita, Jameson and Ginger. Throughout the whole month of March, whatever drink you come in and order, 50%of the proceeds will go to Knock Out Abuse."
To celebrate women's month, Metropolitan Realty and Beauty Counter are also donating 10% of all proceeds.