GRAMMYs on The Hill
Photo credit: Brendan Kownacki
"This is surreal because I'm here most of the time honoring other people and it feels kind of weird being honored, but it feels so good to be honored," said American gospel singer and actress who was honored at the GRAMMYs on The Hill at The Hamilton in downtown Washington, DC.
"Then it feels scary to be honored because now I've got to do more. But it's okay because I love doing more. I think that we as creators, we know what it's like to birth something out of our experiences. The one thing that I do know is that every person on earth, no matter which side of the aisle they are, no matter what color, creed, ethnicity, everyone has a heart."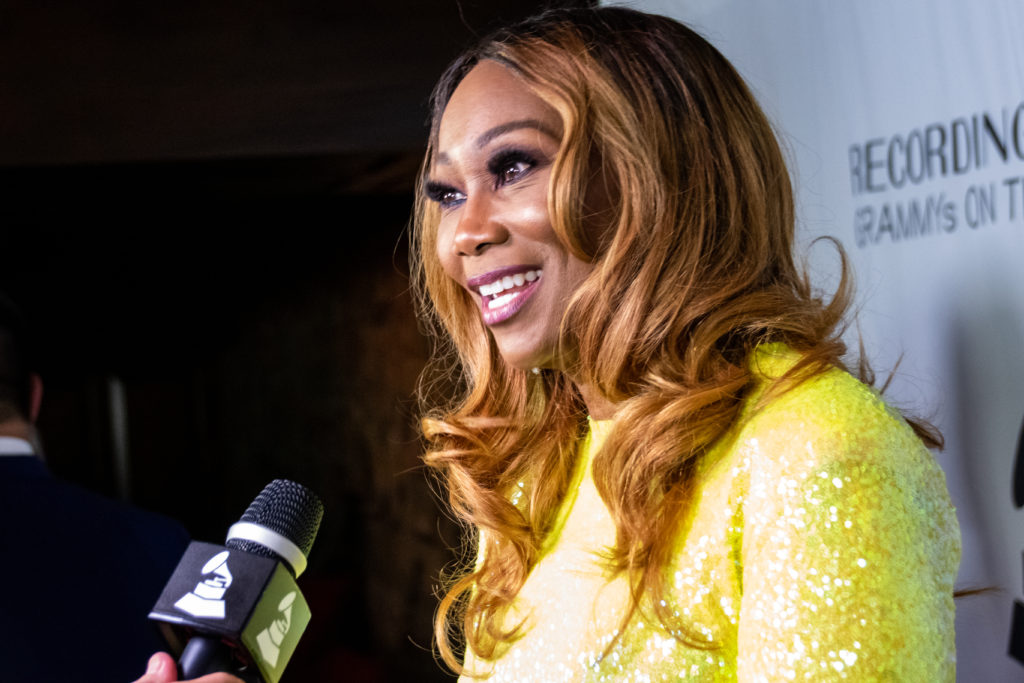 Yolanda Adams
The Recording Academy™ united the worlds of music and politics at the annual GRAMMYs on the Hill® Awards. The Awards honored four-time GRAMMY®-winning gospel artist Yolanda Adams for her advocacy on behalf of fellow creators and Tony and Emmy Award-winning actress and singer Kristin Chenoweth for her philanthropic contributions to the music community. Sen. Chuck Grassley (R-Iowa) and Rep. Hakeem Jeffries (D-N.Y.) were honored for their roles in achieving bipartisan support of the Music Modernization Act, further advancing music creators' rights. Joined by more than 60 members of Congress, performances included Adams, Chenoweth, songwriter and musician PJ Morton (Maroon 5), and GRAMMY-nominated songwriter Linda Perry.

"For 20 years, the Academy has been instrumental in advancing important policy issues such as the historic Music Modernization Act, which was signed into law in 2018 after years of effort. Our Washington-based Advocacy & Public Policy team partners with Academy members in all 12 Chapters to present a powerful lobbying force that fights for music creators' rights at the local, state and federal levels. The Academy used each of these initiatives to advance the Music Modernization Act. This milestone demonstrates what Academy members can achieve through advocacy whenever Washington considers issues that will affect music creators." National Advocacy Committee.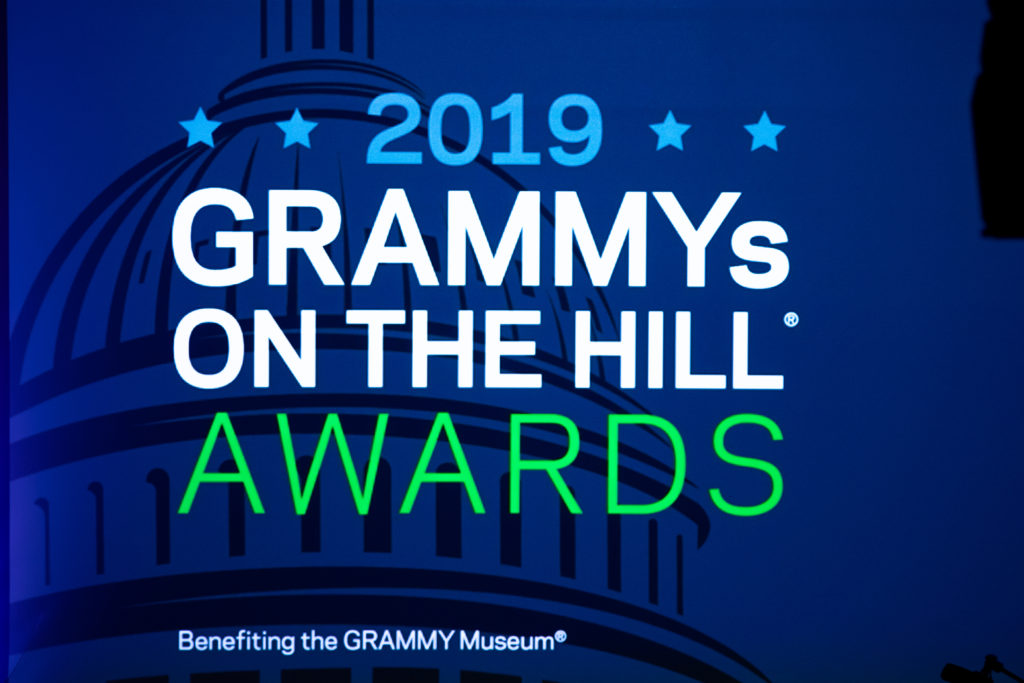 Speaker Pelosi introduced Chenoweth: "Kristen Chenoweth has honored the values and mission of the Recording Academy throughout her prolific and celebrated career. As an Emmy and Tony award, winning singer and actress, Kristen's soaring soprano and joyful vivacious spirit have warmed the hearts of millions. Kristen's music transcends styes and genres, revealing the unifying force of music and the arts to speak to our common humanity. Kristin knows that music and the arts have a powerful and unique ability to, inspire and educate us."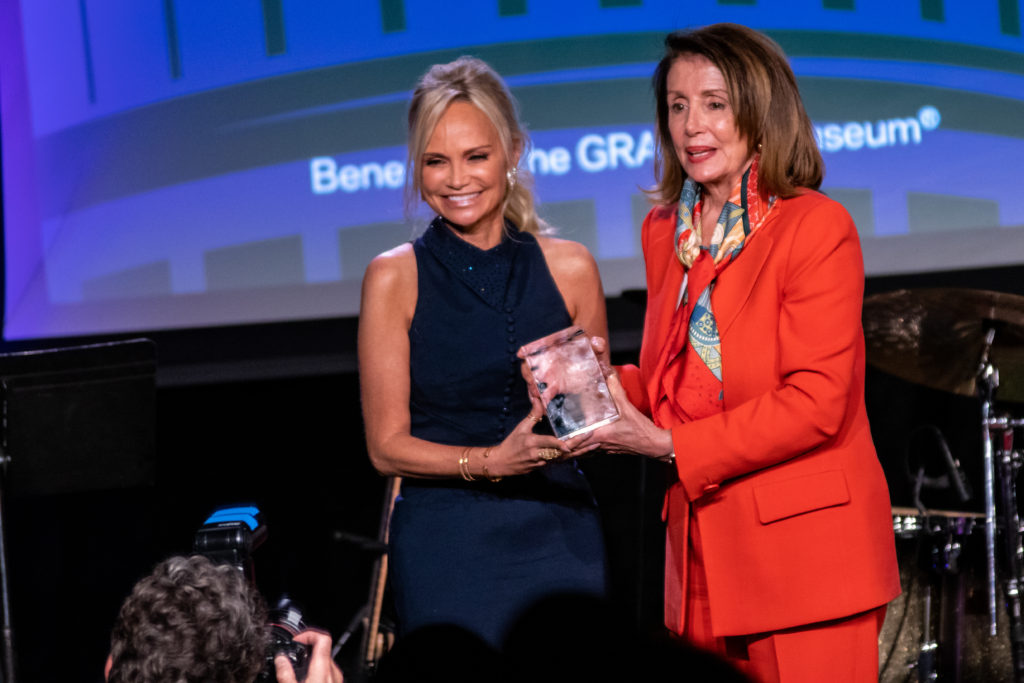 Kristen Chenoweth and Speaker of the House Nancy Pelosi
Rep.Hakeem Jeffries thanked President of The Recording Academy Neil Portnoy for his years of phenomenal advocacy on behalf of musicians and creators all across the country and in fact, the world. "It is really a high honor and privilege to receive this award as a result of my serve in Congress because I have the opportunity to serve with so many phenomenal members of the House and the Senate; many members of the House who are here today who help to make the Music Modernization Act possible. And so I'm just thankful we came together as Democrats and Republicans, progressives and conservatives, the left and the right, because music is such a universal language. It captures the soundtrack of our life, of love, of moments of loss, of a life well lived. And it's had such a great tradition on the judiciary committee and beyond, of people putting aside their partisan differences to do what is right on behalf of artists, songwriters and creators."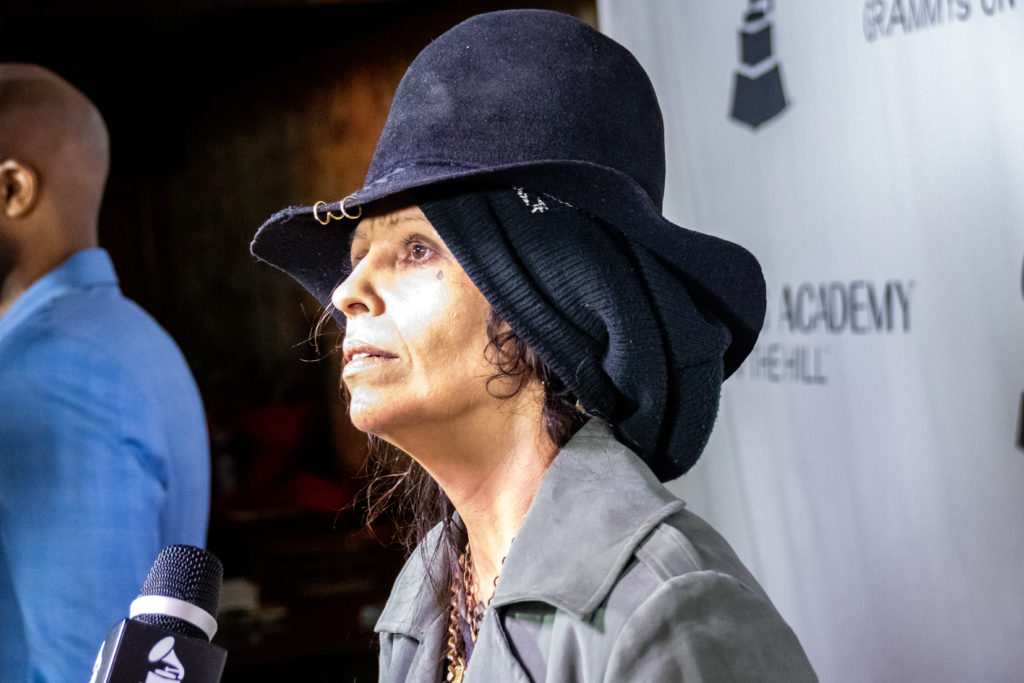 Singer-songwriter, leader of 4 Non Blondes Linda Perry

The following day, the Recording Academy hosted the annual GRAMMYs on the Hill Advocacy Day, Capitol Hill's largest and most prestigious legislative event for music creators which brings GRAMMY winners and nominees, along with other esteemed industry leaders to meet with lawmakers. Participants  acknowledged and thanked Congress for its support of the Music Modernization Act and asked that the work be continued to ensure fair compensation for artists, songwriters and producers on unresolved issues. The GRAMMYs on the Hill Awards are sponsored by music rights organization SESAC.
HollywoodOnPtoductions: Janet Donovan & Brendan Kownacki
The Red Carpet
The Show