"À Bientôt"
Photo credit: Janet Donovan

Friends of Ambassador Gérard Araud and Pascal Blondeau received a goodbye note shortly after their farewell reception in the presence of His Excellency Jean-Yves Le Drian, French Minister of Europe and Foreign Affairs at the residence: "Thank you deeply for your friendship and support over the years." The dynamic duo who have dominated the social scene in Washington since 2015 landed in New York City after they left their official diplomatic post on April 19th.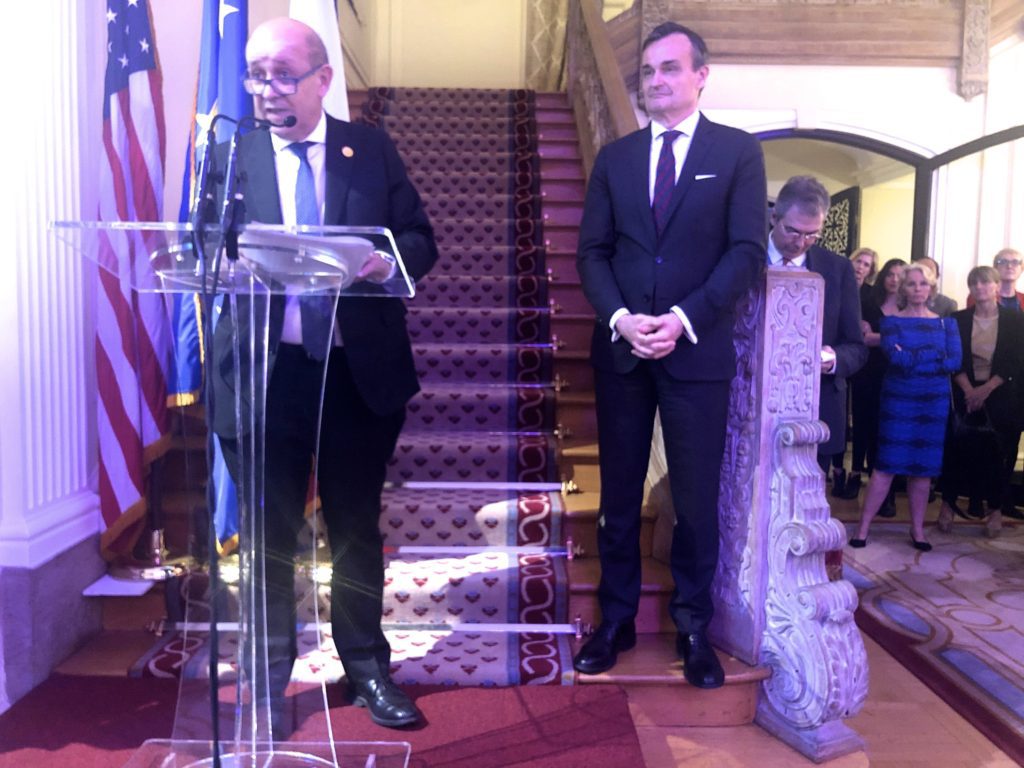 Jean-Yves Le Drian and Gérard Araud

"It is with regret to see you go, but we are also certain that you have not finished surprising us," said the Minister who went on to outline his career and accomplishments. Those included his contributions to diplomatic history to his current endeavor of fulfilling a memoir to be published in the Fall. "Your playful spirit delights us on both sides of the Atlantic. You have all the marks of a man of humor and wit  that are very often thought provoking or even contrarian. We often have in mind that you practice Tweets as a political art form, that is complimented by other memes. In this city, I am told that, you are not the only one to have discovered this art form. You are both an intellectual and a man of action. You have played a key role in certain decisive episodes of our recent diplomatic history, and you might tell us later what was pushing you along, goading you. Maybe it was your love of travel. Maybe it was the call of the sea that one always feels as one grows up, as was your case in Marseilles on the shores of the Mediterranean.  You were sent to Tel Aviv where you were to go back 20 years later as an Ambassador. This knowledge of the Middle East led you then from the center of analyses and forecasting of our ministry to our Embassy in Washington. Dear Gérard Araud, due to your exceptional career and your commitment, your life in the service of France, I wanted to express my esteem and express our gratitude, mine and the gratitude of our President who is aware of this meeting tonight. I also wanted to tip my hat to Pascal, who has been your partner for a quarter of a century. Your friends know that he is often your compass, and that the differences between you enrich you both."
The farewell speech:
There have been so many amazing events over the years that it's hard to say which one was the best, but it would be hard to top the "Green Attitude Gala: La Parole est Aux Femmes" in support of the Anne Fontaine Foundation at the Maison Francaise on the International Day of the Forest and the First Day of Spring!
From the Polar Vortex to Macron you will find all these events by Hollywood On the Potomac  by clicking on the link.