YCA…..
by guest contributor Didi Cutler
Photo credit: Michelle Belliveau

Young Concert Artists, the non-profit organization dedicated to discover and launch the careers of exceptionally talented musicians, celebrated the 40th Anniversary of it's Washington Chapter with a glamorous dinner-concert benefit gala honoring its Chairman of the Board, concert pianist Gilan Tocco Corn held at The National Museum for Women in the Arts where President Susan Sterling welcomed the two hundred fifty enthusiastic attendees.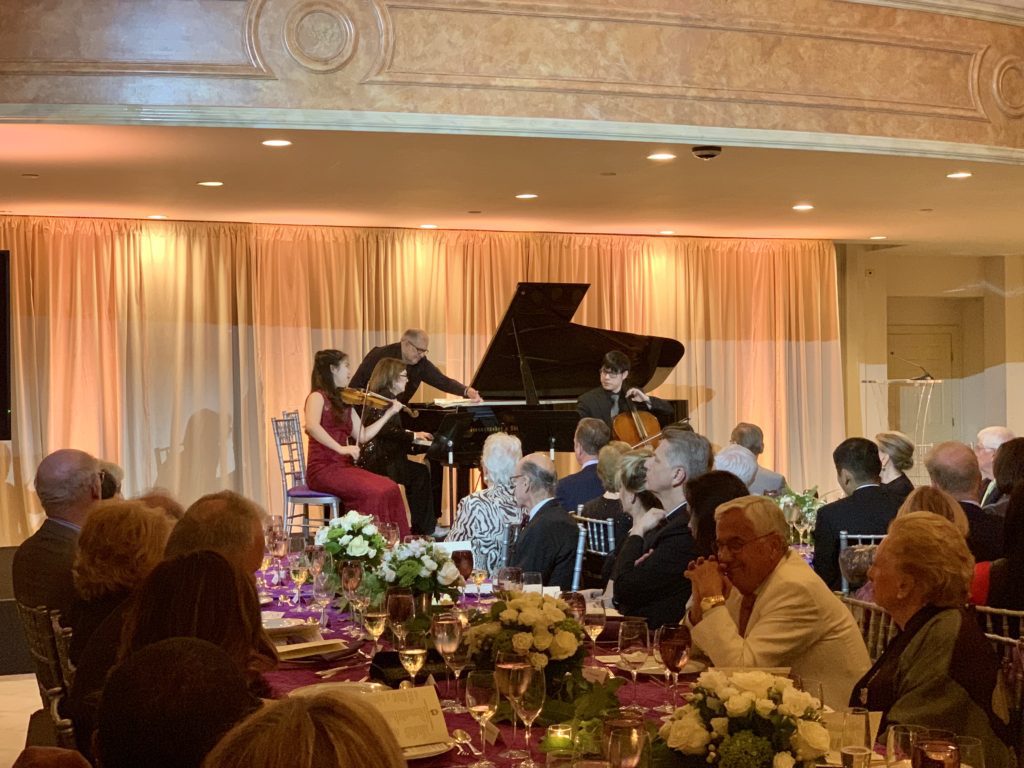 The Patron of the Evening, Her Majesty, Empress Farah Pahlavi, traveled from Paris to honor Gilan and to express support for the YCA. In introducing the Empress, Aniko Gaal Schott said: "It was during her time in Iran that the country became widely known for its beautiful museums which she established across the land and filled with the world's treasures. She will always be known as the Grand Cultural Ambassador of Iran."
Her Majesty, Empress Farah Pahlavi and Aniko Gaal Schott
Mary Mochary, Vice Chair of YCA, introducing the Honoree said: "For the past 28 years Gilan has been encouraging her friends and other music lovers to attend concerts and support Outstanding Musicians. Her dedication and charm built YCA of Washington. Thank you Gilan."
Mary Mochary
Guests were entertained by the Mendelssohn piano trio with pianist Anne-Marie McDermott, violinist Soo Been Lee and cellist Zlatomir Fung. Co-chairing the  Gala were Didi Cutler, Mary Mochary, Jennifer Myerberg and Aniko Gaal Schott.
Aniko Gaal Schott, Hungarian Ambassador Laszlo Szabo and wife, Dr. Ivonn Szeverenyi
Among the many attending music lovers were: Jacqueline Mars,  Senator and Mrs. Chris Dodd, Senator & Mrs. Larry Pressler, Mr. & Mrs. Rod Rosenstein, Soroush Shehabi, Bitsey Folger, Jeannie Ruesch, Jane and Calvin Cafritz, Dr Ryuji Ueno of Evermay, Vicki and Chris Kellog of Palm Beach, Karon Cullen and Rick Meyer of Savannah, GA, Keiko and Steve Kaplan, Willie and Finlay Lewis, Anthony Di Resta, Wendy Benchley and John Jeppson, concert pianist James Tocco, Diane and Roland Flamini, Dr Eric Motley, France and Rolf Graage, a number of Iranian dignitaries from the Cabinet of the Shah and the  Ambassadors of Denmark, Hungary, Kazakhstan, Azerbaijan, and Bulgaria. The totally sold out gala exceeded all expectations.