#RightToBearArts!
HollywoodOn Productions: Janet Donovan & Brendan Kownacki
Photo credit: Brendan Kownacki
"I'm sure many of you know, but it doesn't hurt to reiterate, that The Creative Coalition educates, activates and mobilizes its members on issues of public importance," CEO Robin Bronk told a star-studded audience at their Annual Gala at The Intercontinental Hotel located at Washington, DC's wharf. "We are able to do this through friends like you and especially through corporate citizens, like our partner Optune who is here tonight."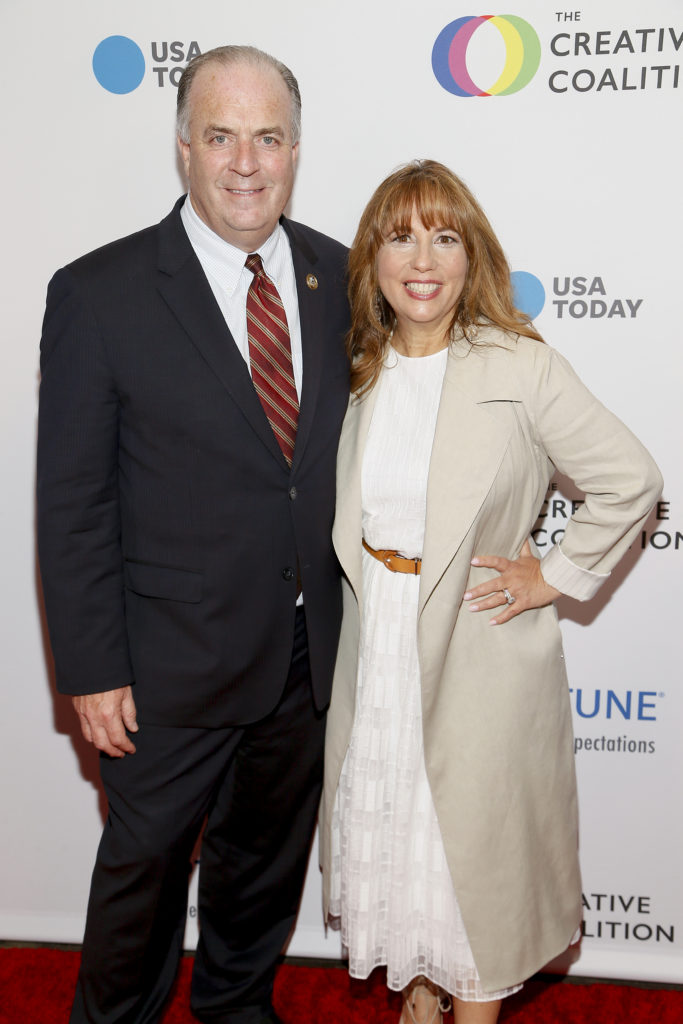 Rep. Dan Kildee (D-MI) and Robin Bronk
"We're a non-profit, non-partisan organization founded by prominent members of the arts and entertainment community who believe it is our responsibility to use our voice to educate and inspire our audiences to mobilize around issues of public importance, primarily the arts. It's our mission to promote, protect and defend the arts as a basic human need.  So today we did some old-fashioned advocacy. We went door to door on Capitol Hill making sure that your kids, the future generations and communities, will have arts in the schools and arts in public funding."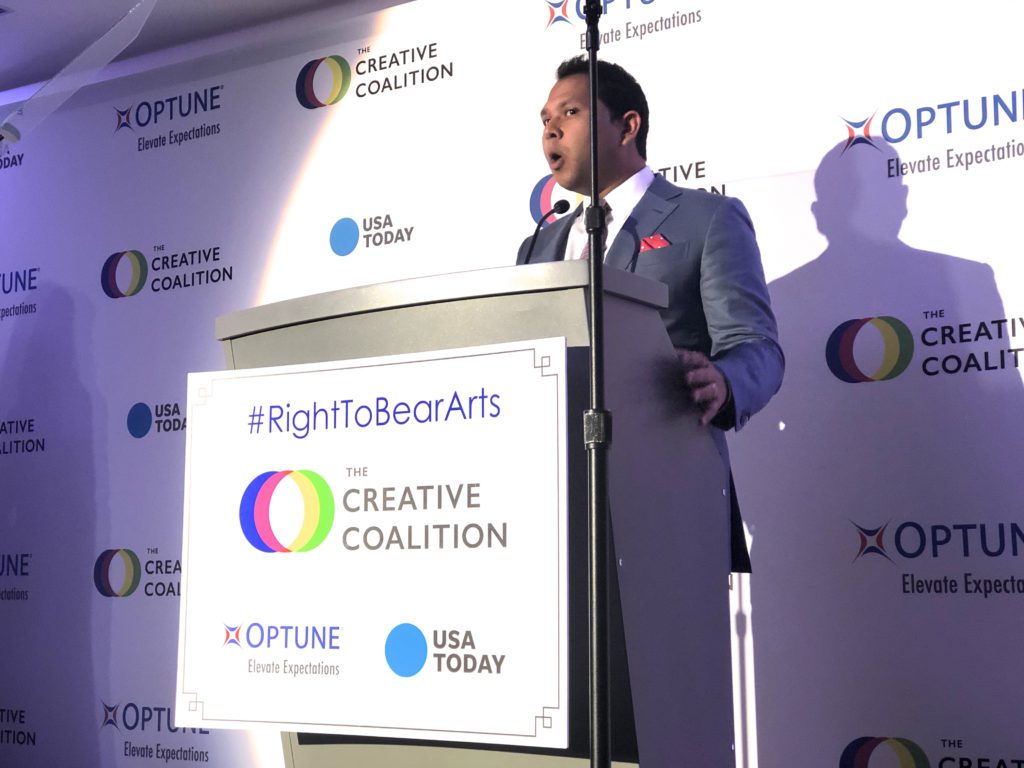 Pritesh Shah, chief commercial officer of Novocure  Photo credit: Janet Donovan
This year TCC partnered with Novocure that makes Optune, an amazing device for patients with brain tumors.  "When I first tell people about our partnership with an organization that promotes arts, they usually look at me initially with a look of confusion," said Shah.  "And then I explain what we're doing together and I can see the understanding dawn in their eyes. So I hope I see a couple of nods of understanding here tonight, as I explain why an ontology company and an arts advocacy non-profit came together. So at Novocure our overarching patient forward vision is to make a difference in cancer. And one of the ways that we do that is through Optune, a device that you've heard a lot about today. This device is FDA approved and it creates electric fields that actually can help treat cancer.  We recognize that while our treatment impacts our patients physical health, we also realize that mental health is also vitally important when coping with such a devastating diagnosis. Each person finds a different outlet for expression; and you all know this because as you're impacted by things in your life, you look for empowerment. And for many that might be a form of arts, whether that's playing an instrument or through painting, through drawing. We recognize that arts have power, they have power to empower. And that's what we too hope to bring to our patients, a feeling of empowerment in the face of this difficult disease. As an organization, we support the arts and the power it has to impact and influence. And we hope that all of you in turn can use some of this influence to help us in bringing awareness about this therapy, to our patients and to the broader population."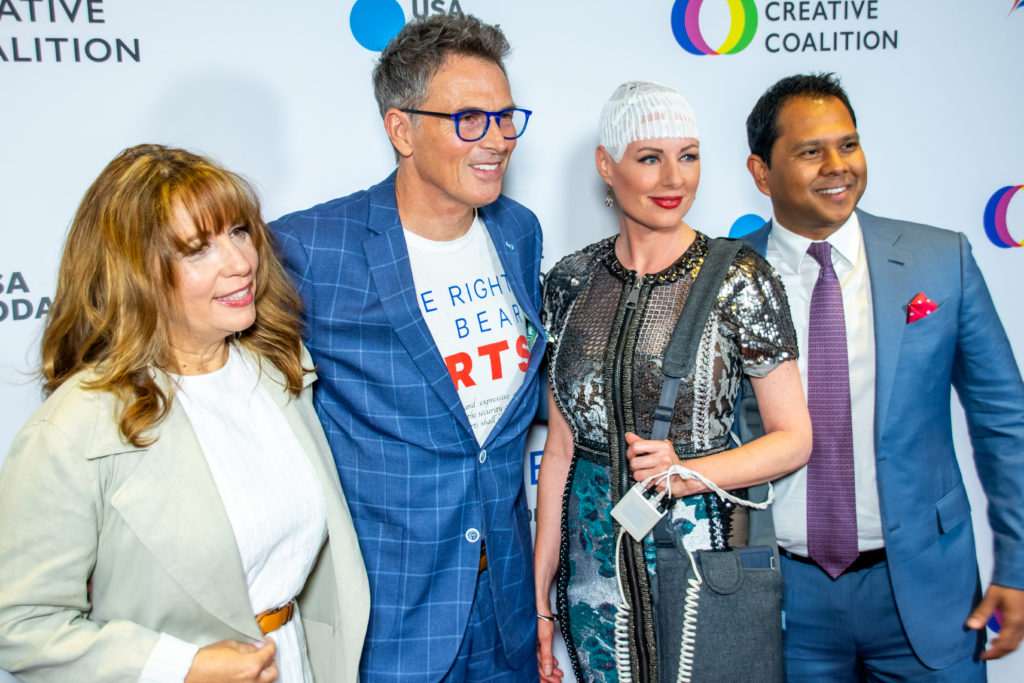 Robin Bronk, Tim Daly, Super model and patient Jennifer Riston with Pritesh Shah
The evening featured a celebrity delegation including Tim Daly (Madam Secretary), Wendi McLendon-Covey (The Goldbergs), Caterina Scorsone, (Grey's Anatomy), Dean Norris (Breaking Bad, The Act), Ethan Cutkosky, ("Shameless"), Steve Howey, ("Shameless"), Anthony Carrigan, ("Barry"), Anthony Rapp, ("Star Trek: Discovery"), CCH Pounder, ("NCIS: New Orleans"), Dean Norris, ("Breaking Bad," "The Act"), Shiri Appleby, ("unREAL"), Sheryl Underwood, ("The Talk") and more honoring arts inclusivity and spotlighting artists living with brain cancer as part of Brain Cancer Awareness Month. It was also co-hosted by a bipartisan congressional committee featuring Eighty-Five Members of Congress including Senator Ben Cardin, Senator Dianne Feinstein, Senator Ed Markey, Senator Jeff Merkley, Senator Doug Jones, Senator Chris Van Hollen, Representative Karen Bass, Representative Debbie Dingell, Representative Joseph P. Kennedy, III;  Representative Eleanor Holmes Norton and more. The evening was also co-hosted by USA TODAY.

The centerpiece of the evening featured artists in a fashion show who are living with a rare and aggressive form of brain cancer all of whom are wearing Optune, a portable device to treat their cancer, and are able to continue to put their "life on play" with their artistic endeavors. 
Gallery photo credit: Paul Morgi – Getty Images
"I'm not sure how and when the arts became a political football," Robin told Hollywood on the Potomac.