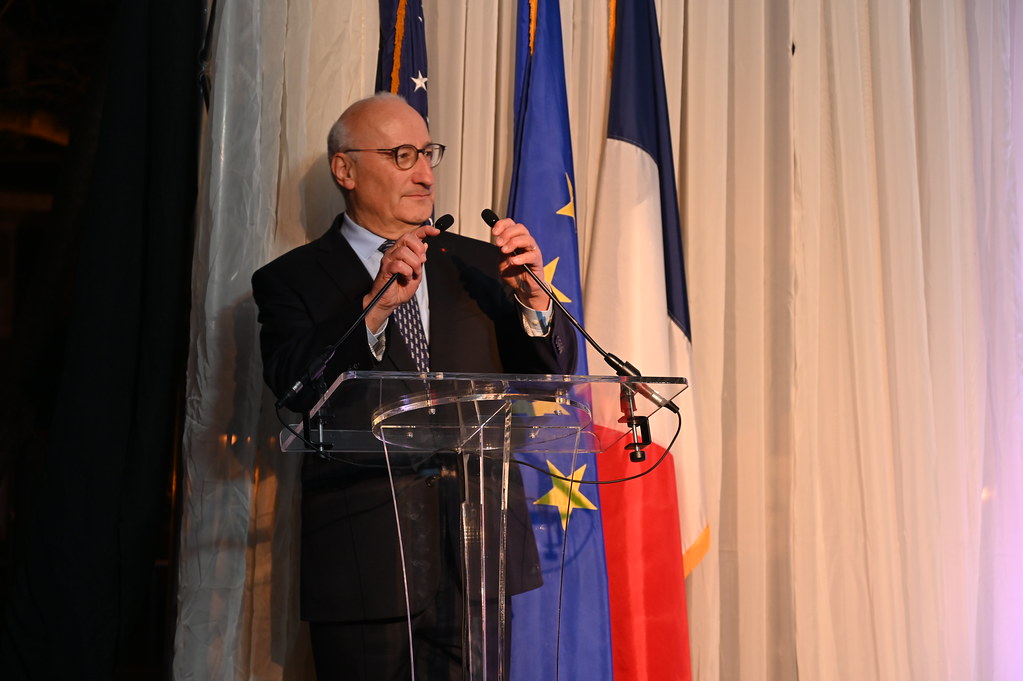 "À Bientôt"
Photo credit: Embassy of France, Nassereen Mirza

"I have had some great adventures during my time as Ambassador," said French Ambassador Philippe Étienne at his farewell party at the Residence.  "We have managed to visit 43 of the country's 50 states and we will try to visit others. We have friends from Nebraska here tonight who came to see us. We are so lucky to see our friends from Florida, California, Louisiana, Wisconsin, Kansas, Virginia, Minnesota, Maine, New York and many others. Thank you so much. We were able to see how this extraordinary country is made up of extraordinary people and also to realize not only how strongly France's presence is felt throughout the US in its history, but also in its everyday social and economic life. We received a very warm welcome (wherever we went). Your hospitality is deeply rooted in America's culture and identity and will remain forever in our hearts and memories."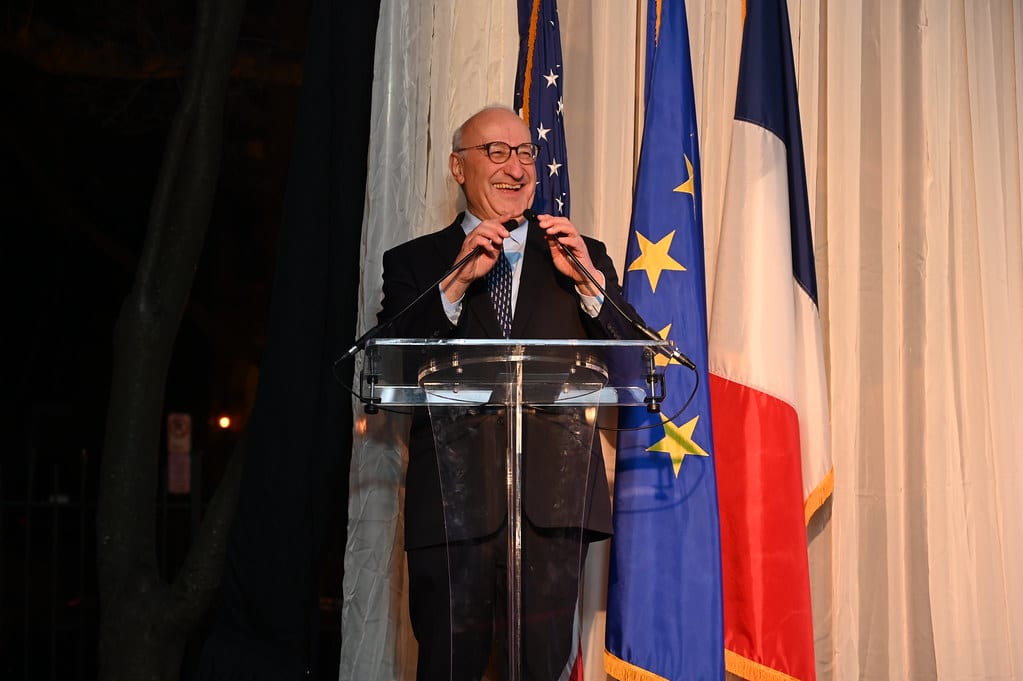 Ambassador Philippe Étienne
The French diplomat served as Ambassador of France to the United States since 2019. France is America's oldest friend and ally, dating back nearly 79 years. Here is a brief collective of statements on the enduring diplomatic relationship during his tenure.
A promenade of influential policy makers, diplomats, administration officials, supreme court justices and friends of France were ushered onto an endless receiving line to bid adieu to Philippe Étienne and Madame Patricia Étienne while snacking on foie gras and sipping Champagne. We spoke to a few that knew him well.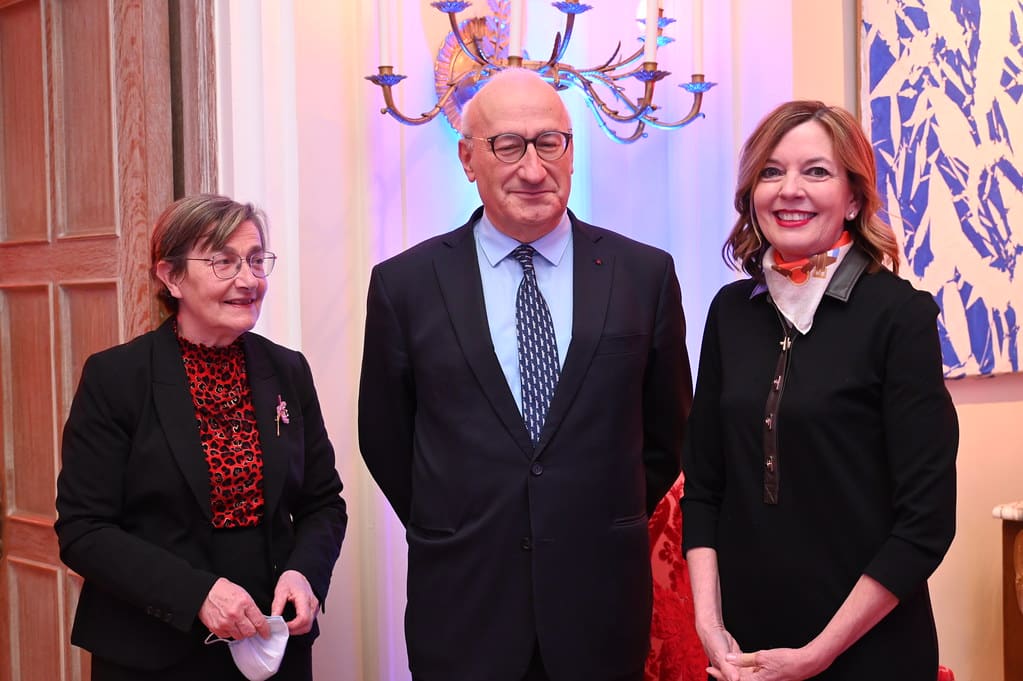 Madame Patricia Étienne, Philippe Étienne and T. H. Marie Royce
"I was so impressed that Ambassador Étienne invested his time and energy into the Gilman Scholarship program. He even personally visited some of our U.S. community colleges before he and I signed the historic agreement at the Residence of France supporting U.S. scholars. The Embassy's financial contribution enabled more scholarship recipients from the United States to study abroad in France by providing an opportunity that would have been otherwise inaccessible. The success of this program would not have been possible without his commitment and leadership." Marie Royce, Assistant Secretary of State, Educational and Cultural Affairs 2018-2021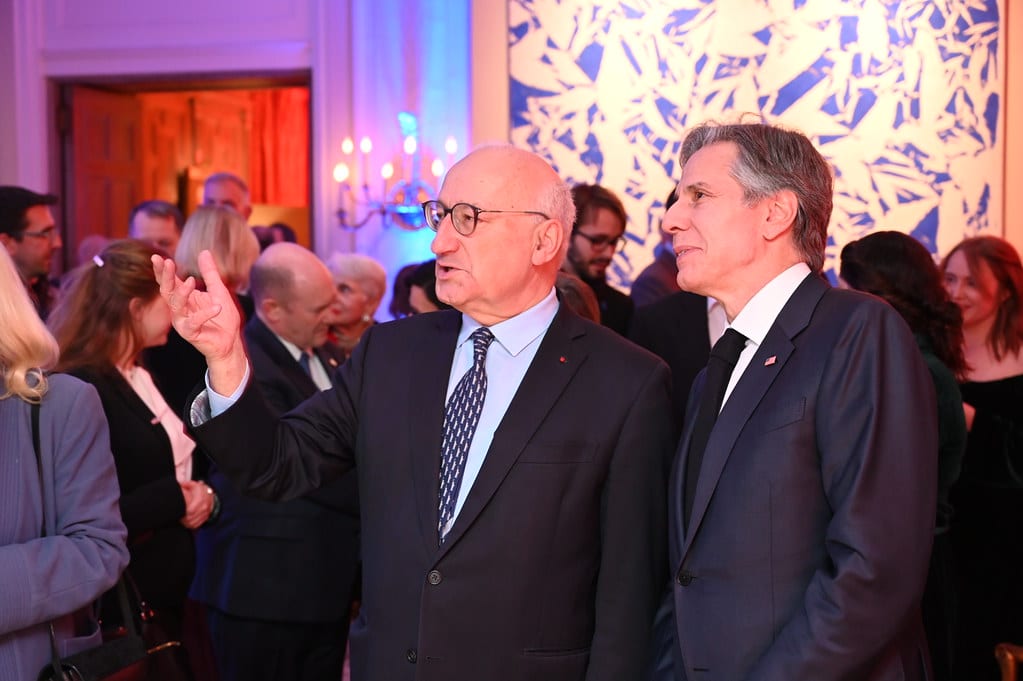 The Ambassador of France and Secretary of State Tony Blinken
"In many ways, we've been mirrors of one another, holding up not only our greatest achievements, but also our greatest flaws. That's the journey of America. That's the journey of France."
— Secretary of State Antony Blinken on Bastille Day 2022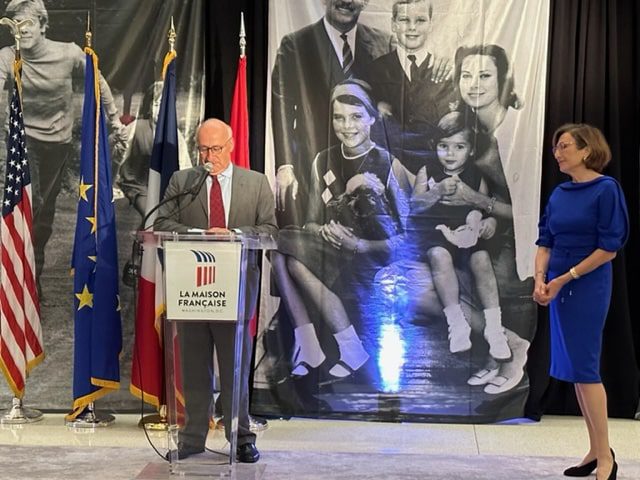 Photo credit: Courtesy of the Embassy of Monaco
"It was always a pleasure to collaborate with  the Ambassador and his wonderful team at the French Embassy. Our interactions were mostly cultural, culinary or artistic: during his tenure we continued our Francophonie partnership (held annually in March): in 2021, due to COVID we presented a three-part virtual program at www.MonacoEventsUSA.com and in 2022 we held similar online events but happily also a joint sold-out IN-PERSON  film screening at La Maison Française. Monaco and France share not just physical borders but a long, varied history, and I was privileged to share a warm friendship and happy alliance with my Kalorama neighbors, Philippe and Patricia. I wish them both "bonne chance"!  Ambassador Maccario Doyle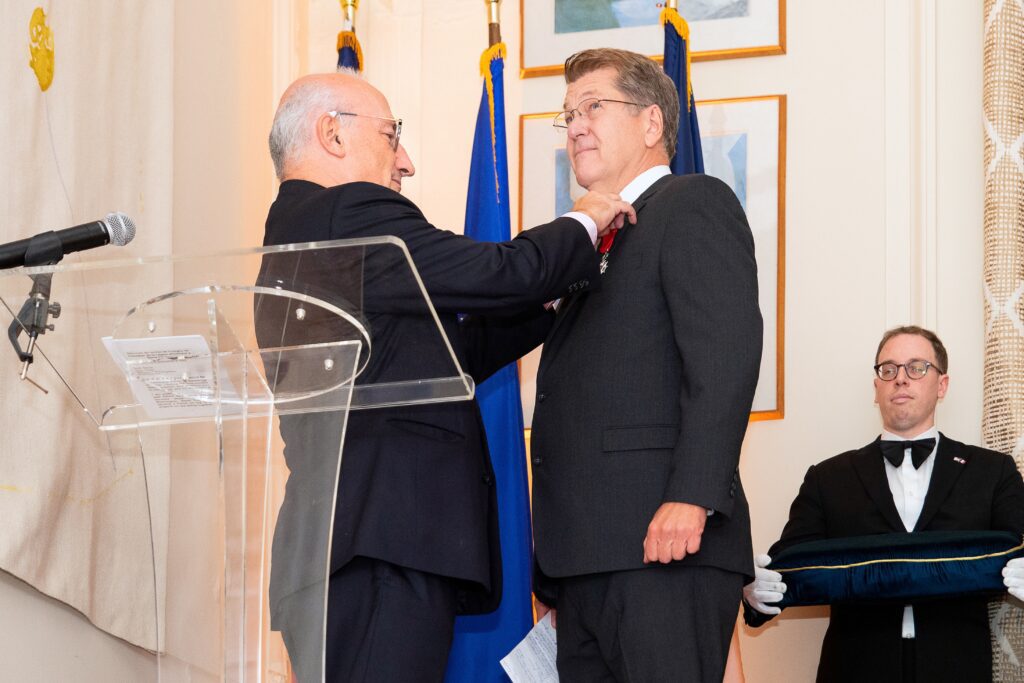 Steve Clemons receives an award from France
French Ambassador Philippe Étienne was the vital Ambassador America needed France to have these last several years. The French-American relationship needed a reset after the trust challenges of the Trump-Macron years and also the beginning of the Biden-Macron period. During Trump, President Macron thought that NATO had become untethered to the purposes it needed to serve and that the U.S. was pulling back from international commitments. And at the beginning of the Biden administration, the US government's role in getting Australia to cancel a major submarine contract and to build nuclear subs instead created the most serious breach of trust in French-American history, and Étienne was recalled to Paris for consultations after the AUKUS incident. Ambassador Étienne masterfully resewed the fabric of trust back together after these tensions. He helped unite transatlantic commitments to Ukraine after the Russia invasion, and dramatically installed in his front yard a commanding miniature Statue of Liberty draped with Ukraine's national flag. He oversaw the bridging of goals between America on climate, on trade, and on the raging conflicts of the day which resulted in the Biden White House hosting President Macron and his wife for the Biden's first state dinner, a perfect high point on which Ambassador Étienne has finished his very active and challenging tenure in Washington." Steve Clemons, Editor at large, SEMAFOR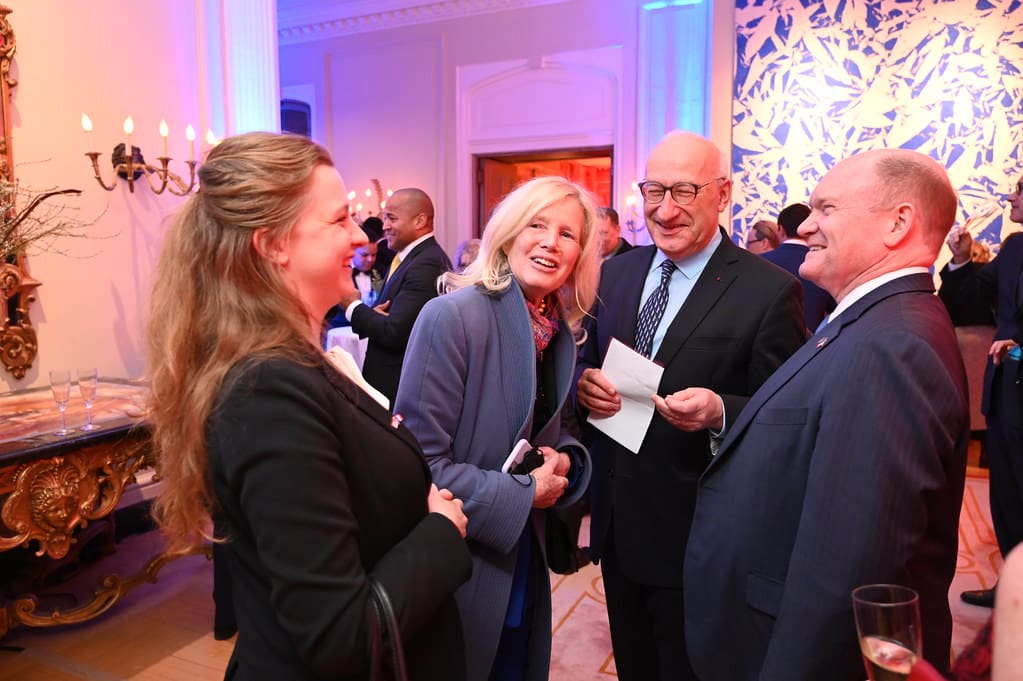 Dr. Susan Blumenthal Markey
"Ambassador Philippe Étienne was a wise, deeply knowledgeable, and universally admired statesman who with his wife, Patricia, served as a treasured diplomatic couple building strong bonds of friendship between our countries, " said Senator Edward Markey.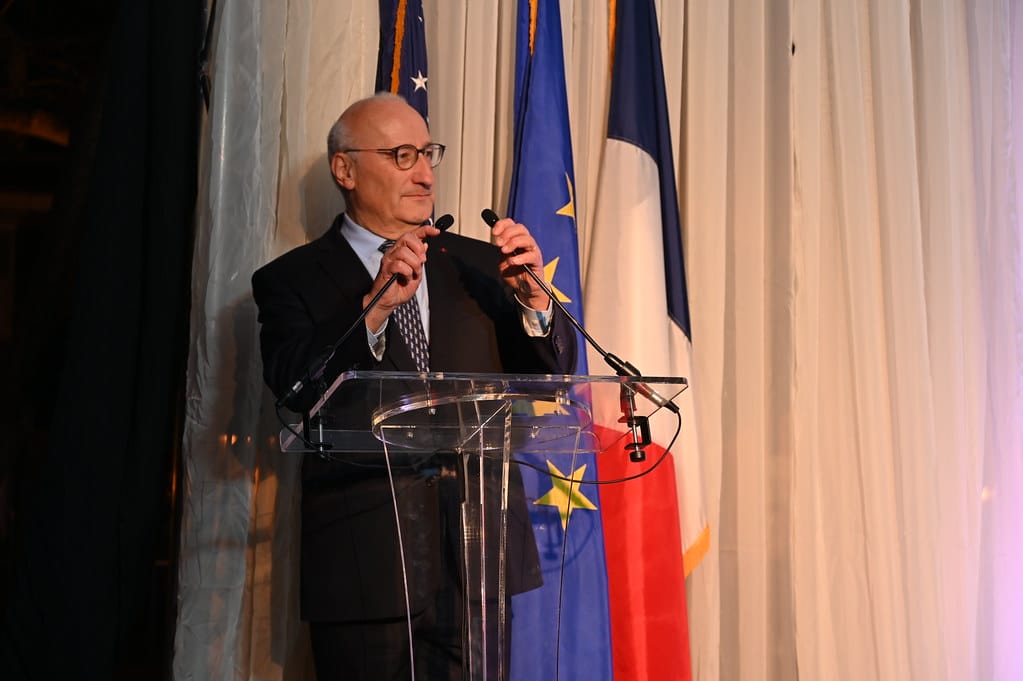 "Saying farewell to all of you is a very emotional experience for us – farewell to this incredible, fascinating country where I had a wonderful time serving 
as the Ambassador of France, the country that has so many incredible opportunities."