A Triple Header!
by guest contributor Kirsten Fedewa
Photo credit: Miguel Leonardo
On Thursday evening December 20th, the newly-renovated Phoenix Park Hotel, situated in the shadow of the nation's capital, hosted a spectacular holiday soiree to celebrate the season and pay tribute to those who protect America's freedoms. Guests included high-ranking government, military, diplomatic, media and business representatives, and many veterans also in attendance.
One nonprofit group highlighted was the Warrior Canine Connection, a charitable organization which offers a unique service to disabled military veterans. Operating on the unique connection which exists between humans and dogs, the Warrior Canine Connection recruits veterans who have sustained injuries, whether physical or psychological or both, to train service dogs for use by other recovering warriors. Two results of the program are accomplished simultaneously: Rehabilitation of the soldier and training of the dog. The outcomes have been extremely encouraging, sometimes astonishing.
The audience was treated to a "triple header," consisting of a briefing by experts in the use of canines to aid rehabilitation, a concert by internationally acclaimed tenor Anthony Kearns and finally a reception initiated by the U.S. Army's 69th Regiment (New York) of "Fighting Irish" fame. Another program segment was scheduled – namely, remarks by sitting members of Congress, but a suddenly scheduled vote was called as they were preparing to leave for the party. Undaunted, the program proceeded.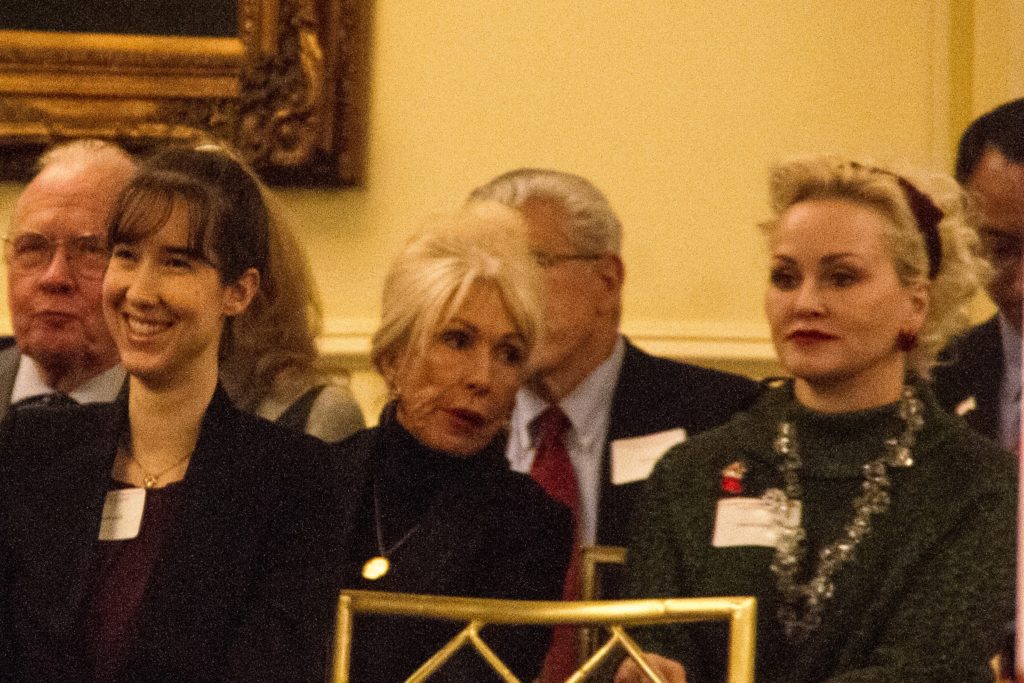 Cornell Ph.D. candidate Kristy Perano, Alice Butler Short, and Christine Enstice
Master of Ceremonies Kevin Corke, White House Correspondent for Fox News Network, called the house to order and paid tribute to the Warrior Canine Connection. He then called on Colonel James Tierney (1st Battalion, 69th Army Regiment) with his Wolfhound "Stacey" in tow to lead the Pledge of Allegiance. The massive Wolfhound is the mascot of the 69th Army Reg., one of the most highly-regarded fighting units in U.S. history. Next, Tenor Anthony Kearns sang the National Anthem (to thunderous applause).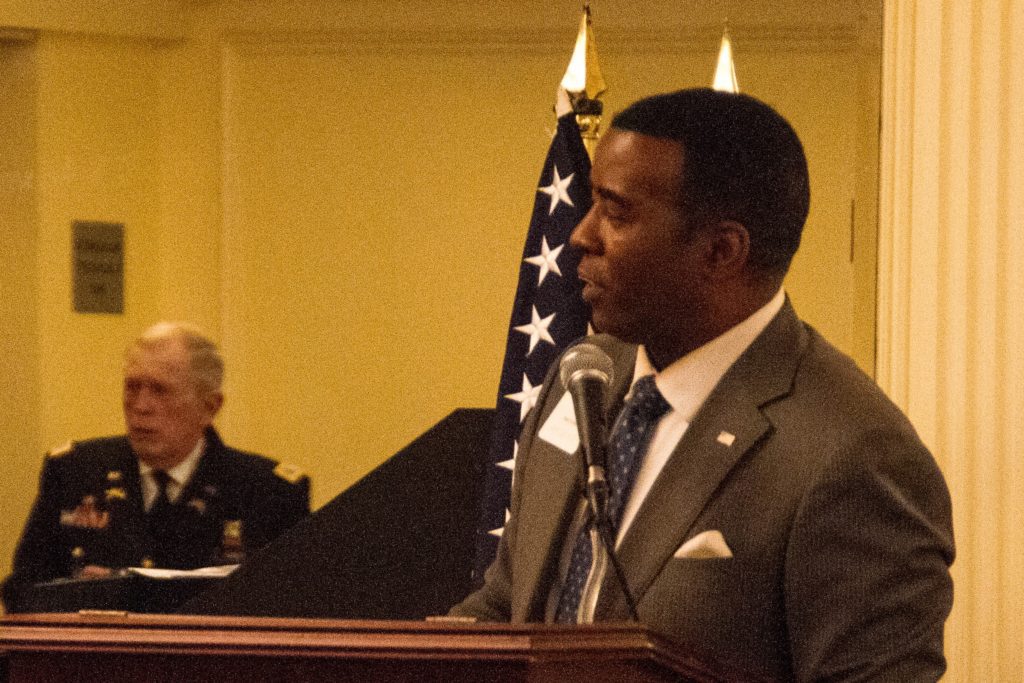 Kevin Corke, Master of Ceremonies, calls house to order with Colonel James Tierney (69th Army Reg., New York) at his side.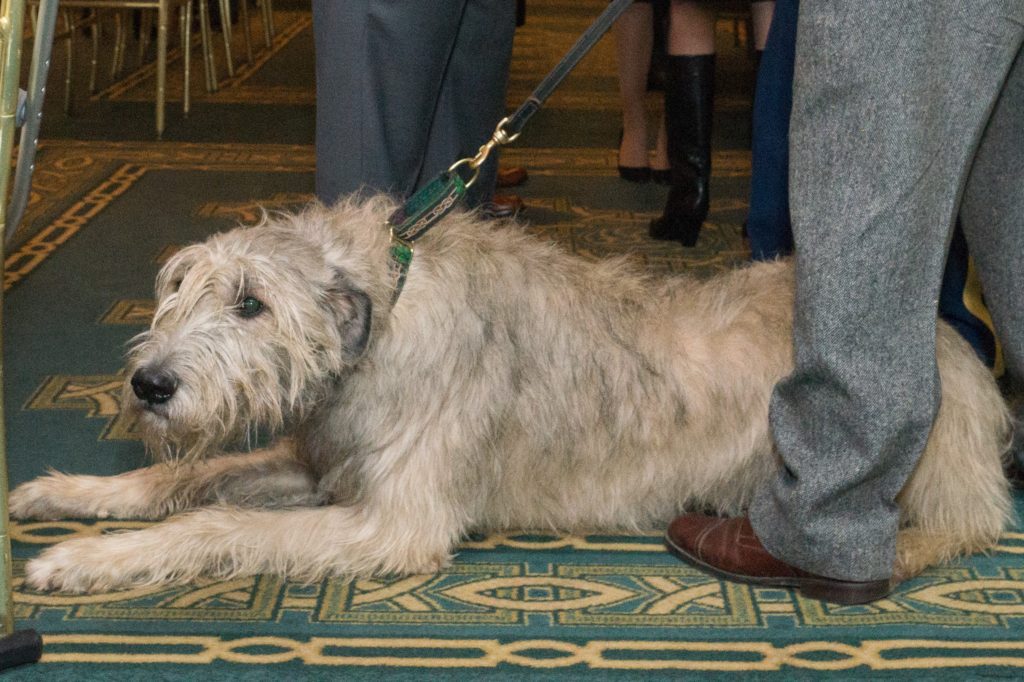 An Irish Wolfhound named "Stacey" in attendance. The Irish Wolfhound is the official mascot of the famed "Fighting 69th "Army Reg. (New York).
In lieu of the remarks by the bipartisan members of Congress, Mr. Corke read a list of the missing guests and added a special recognition of U.S. Congressman Mike Coffman (CO) for his many acts of support on behalf of the Country's veterans. Colonel James Hickey (US Army, retired) who led the mission to capture Iraqi dictator Saddam Hussein was also recognized, after all service members were asked to stand.
Next was a riveting "mock interview" by Erin Como, of Fox 5 (Washington DC) and Debra Alfarone, recently of WUSA9, (CBS Washington DC) of Rick Yount, Founder and Executive Director of Warrior Canine Connection. Rick, a licensed social worker with 30 years' experience, helped pioneer the use of dogs for rehabilitating veterans at Walter Reed. Dog therapy is now an officially recognized program at the National Intrepid Center for Excellence and the Walter Reed Army Medical Center Warrior Transition Brigade. Warrior Canine Connection trains dog and connects them with veterans in need.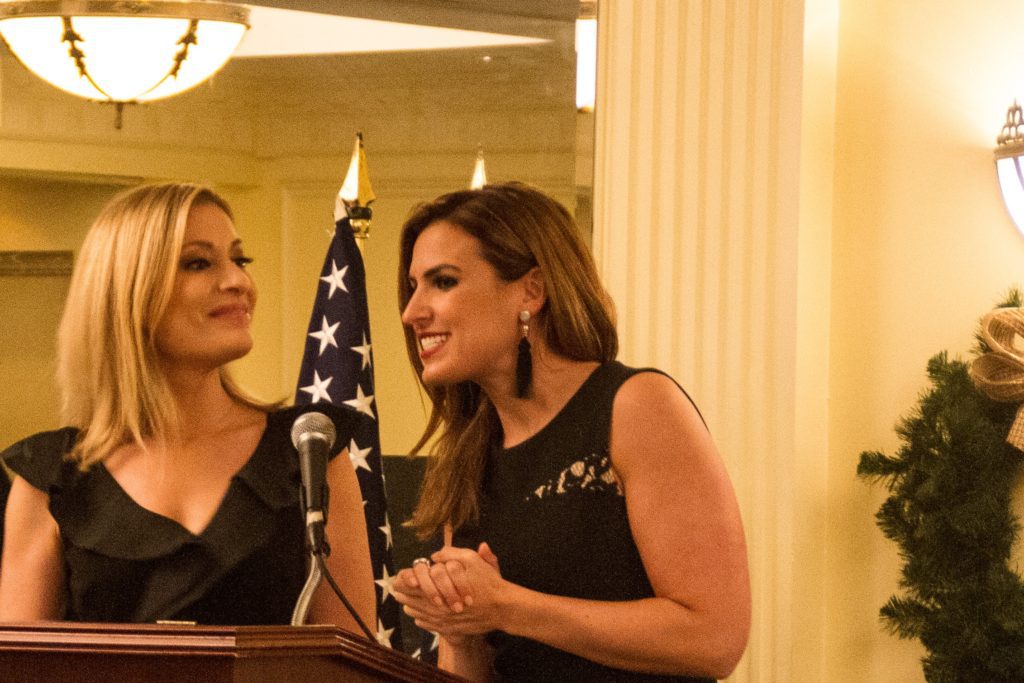 Erin Como of Fox 5 (right) shares story about interviewing the Canine Warrior Connection team as Debra Alfarone listens.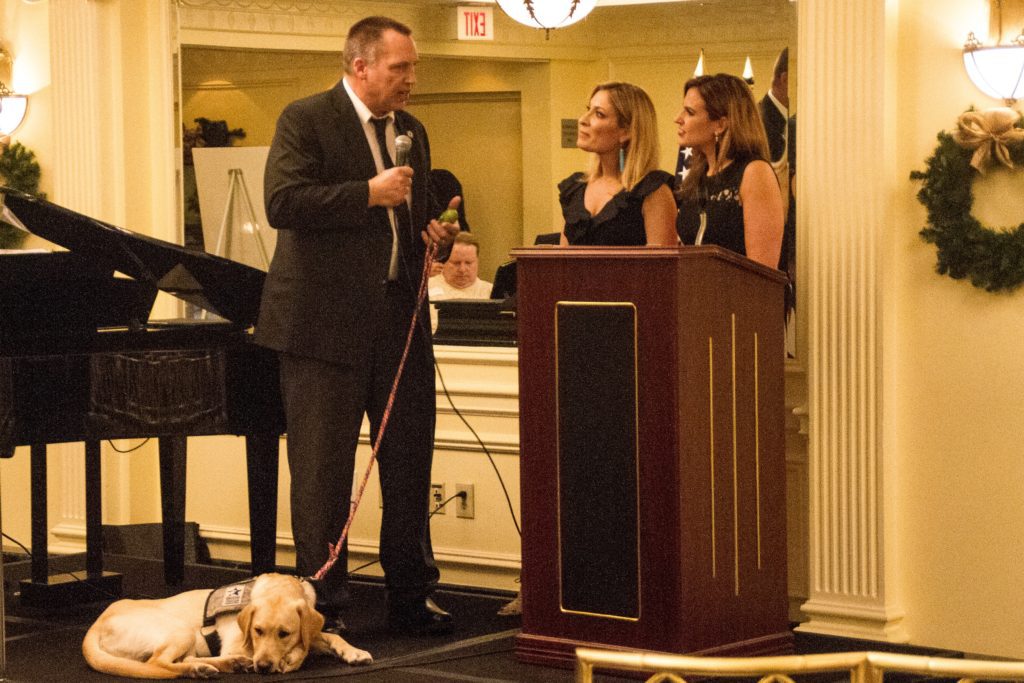 Rick Yount with dog "Sully," Debra Alfarone, and Erin Como capture the crowd during an informative "mock interview" session.
The bond between these warriors in need of re-connecting with the world and the dogs who seem to have a sixth sense of how to fulfill this need is truly beyond human understanding.
Cases demonstrating this connection given by Rick Yount and the next guest, one of the Navy's top medical professionals, Dr. Robert Koffman, a psychiatrist specializing in PTSD and brain trauma for over 30 years and Senior Medical Advisor to Warrior Canine Connection, were extremely enlightening. Dr. Koffman received the U.S. Special Operations Patriot Award for his work in treating Special Forces Operators for traumatic injuries and psychological conditions. He is a pioneer in treating veterans, and his operational mental health expertise is unparalleled in Navy medicine.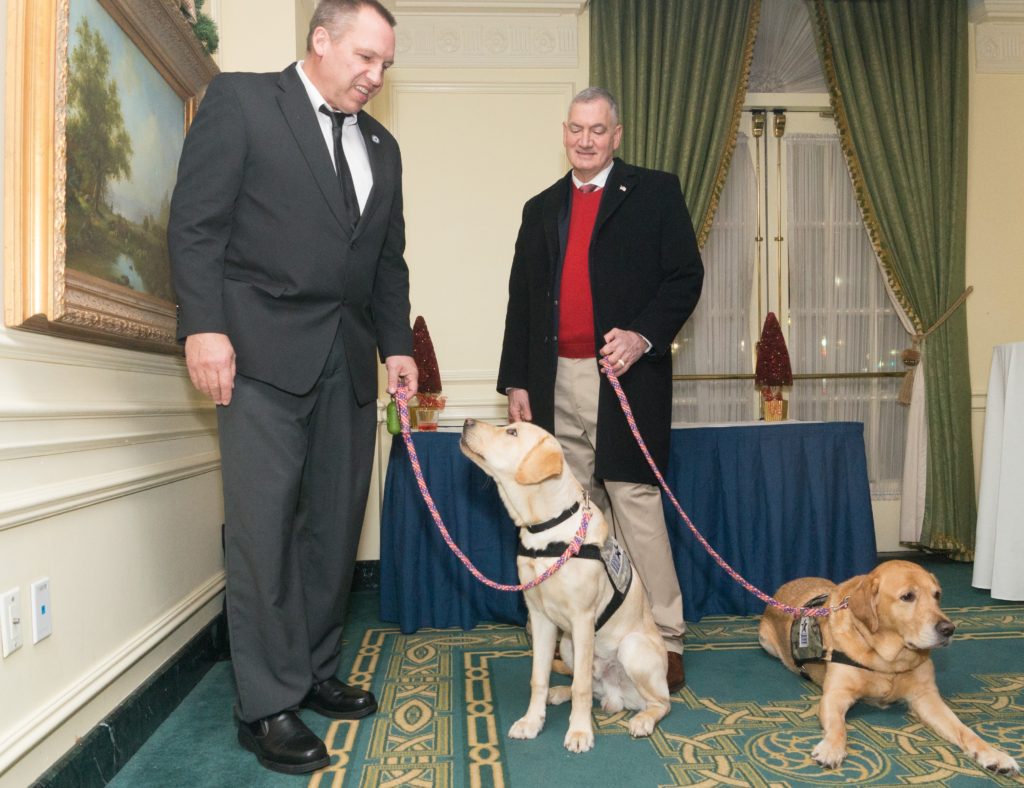 Rick Yount (left) and Dr. Robert Koffman (right) with the stars of the show, rehabilitation dogs, "Sully" and "Ron."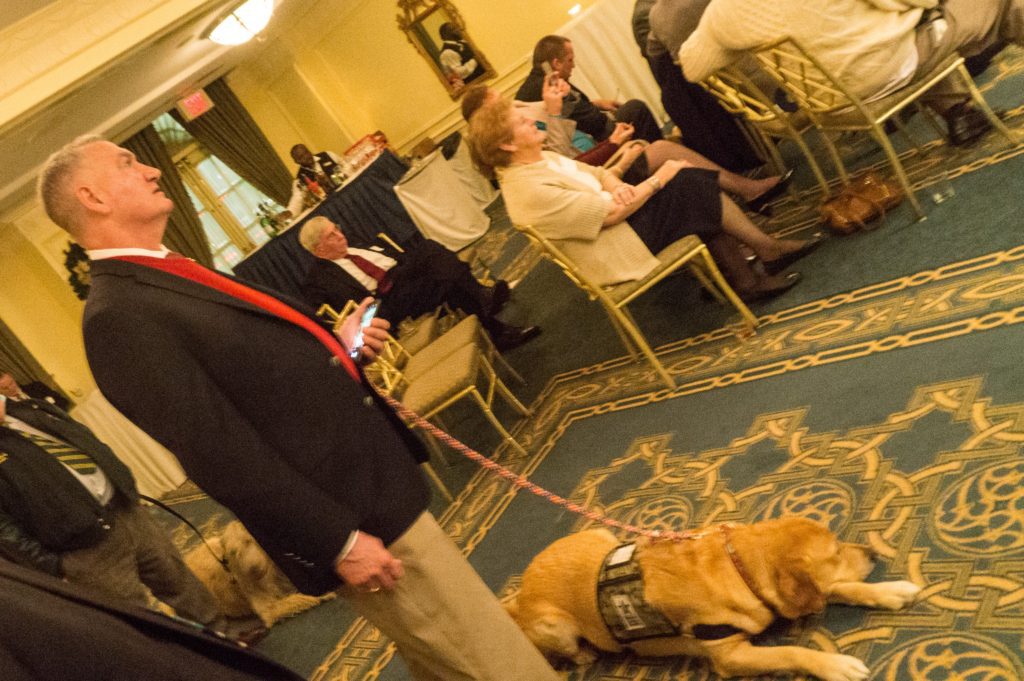 Dr. Koffman prepares to speak with service dog Ron relaxing at his side.
Yount and Koffman illustrated the amazing ability dogs have to awaken human responses even in so-called "hopeless" cases — like the soldier who had been in a semi-vegetative state after three years and five hospitalizations, who suddenly responded to the opportunity to train a service dog – thus saving his life!
Yount also tells a poignant about being on Capitol Hill on June 14, 2017 – the day House Majority Whip Steve Scalise was gravely shot. Yount was meeting with Members of Congress about the Warrior Canine Connection when he was urged by Congresswoman Martha McSally to take his Golden labs to the Whip's office to comfort his shaken staff. So, Yount and his Goldens spent several hours comforting the staffers who had gone to the ball game that day and found themselves looking into the abyss. Rick feels the dogs made a difference. They knew what to do. This was just one of the stories he recounts about the extraordinary power of animals and how they can help humans heal.
Next, Dr. Lynda Davis, Chief Veterans' Experience Officer, U.S. Department of Veterans Affairs, who is nationally recognized for her leadership to support veterans in all areas of need, detailed for the audience the support systems now available to veterans in need of canine company as either training or service dogs and the significant impact these programs are having.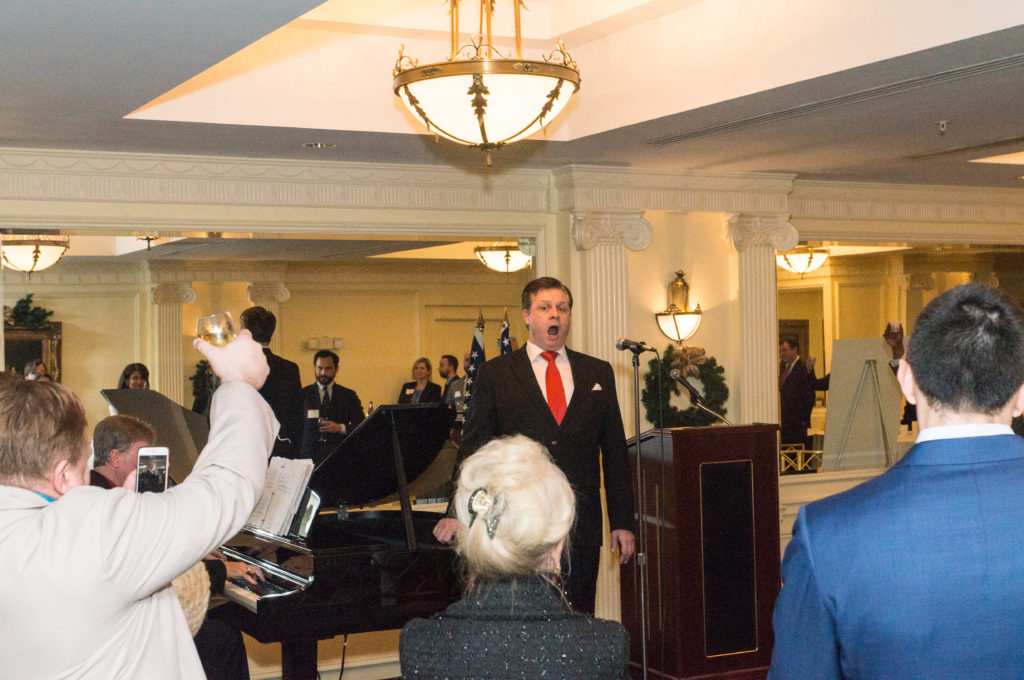 David George (left) accompanies tenor Anthony Kearns (right) during a performance of holiday songs.
The evening's entertainment was a short concert by Anthony Kearns, one of the world's foremost tenors, whose recent Washington appearances have included the 2018 National Christmas Tree Lighting at the Ellipse, the Friends of Ireland Luncheon at the U.S. Capitol, and other high profile engagements in the D.C. area and throughout the country. Kearns had just been on tour with the double platinum recording artists, The Irish Tenors. Accompanied by David George of Louisville, KY, his playlist included a variety of songs, from American folk songs to Christmas carols and other classics. Toward the end of his program, he induced the audience to join him in "Silent Night," "Silver Bells" and "White Christmas," ending with a rousing "God Bless America."