Amb. Series: Ireland
Video credit: Hollywood on the Potomac Productions – Brendan Kownacki
Photo & interview credit: Janet Donovan
Michael Collins is one of the most popular Ambassadors in Washington who presented his credentials to President George W. Bush in September of 2007 at The White House where he expressed how the people of Irish descent helped build this country and how today they provide "a living bridge" between both countries.
President Bush affirmed those sentiments: "The ties between Ireland and the U.S. are deep and broad, as deep as the Irish family roots that 45 million Americans proudly claim and as broad as the extensive network of trade and commerce that flows between our countries."

The Ambassador of Ireland to the United States sat down with Hollywood on the Potomac to talk about the global economy, the relationship between Ireland and the United States, Ireland's role as the current President of the EU…………and his popularity of course.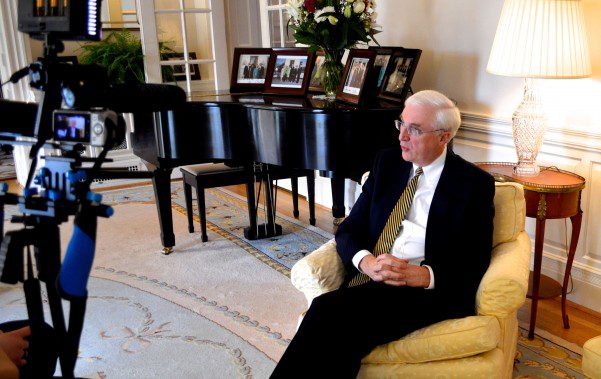 "Obviously, every Ambassador tries to put their best foot forward," he said. "And if you have additional popularity to boot that helps you in assuring that you get your message across and maybe helps in the way that people hear and receive that message as well."
Ambassador Collins and his wife Marie have hosted many cultural events such as the popular St. Patrick's Day party where you can find all of the O'Neill's as well as other popular Washingtonians of Irish descent.  We've even partied at the residence with Gabriel Byrne – a definite plus.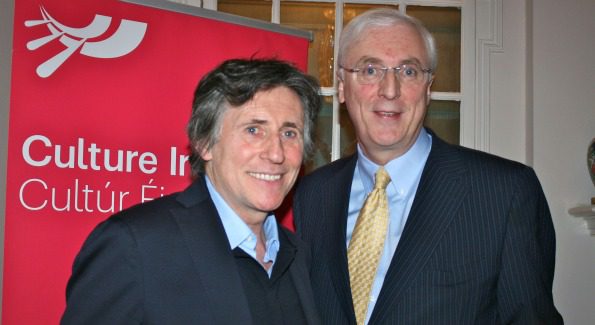 Gabriel Byrne and Ambassador Collins
Popularity aside, Amb. Collins talked to us about his more serious role as Ambassador and the ascent of Ireland to the Presidency of the EU (European Union), a six month rotating term.  "It's very good for Ireland not only to fly its own flag – the green, white and orange – but also the European flag side by side."

One on One with Ambassador Michael Collins