Chefs gone Wild!
Photo and video credit: Janet Donovan
"The only way to keep moving in this country is moving forward. We cannot be building walls, we need to start building bridges." Jose Andres.
Chef Jose Andres has been nominated for the Nobel Peace Prize. "Because of Mr. Andrés's work, millions of people have been fed. This is the most basic human need and Mr. Andrés has proven to be world-class in this essential humanitarian field. With an incredible spirit and an innovative mind, Mr. Andrés is solving one of the world's ancient problems and supplying world leaders with a new road map to provide more effective disaster relief in the future."  Drew Hansen, The Washington Post.
We took a look back at some of the events that Andres chaired on behalf of DC Central Kitchen……seen in this article previously posted in October of 2012 with Anthony Bourdain.  Don't miss the Iguana video at the end.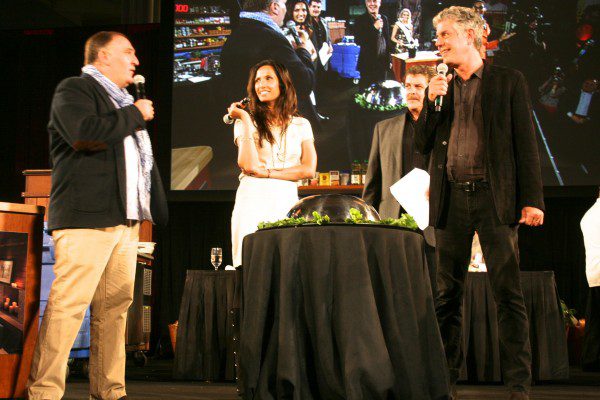 Jose Andres, Padma Lakshmi, Mark Kessler and Anthony Bourdain
Jose Andres, Anthony Bourdain and Andrew Zimmern were like "The Three Tenors" of food at DC Central Kitchen's ninth annual Capital Food Fight at The Ronald Reagan Building on October 8th.
Bourdain and Andres, who co-hosted the event, advised us to "eat heartily, make friends, and enjoy the show," which throngs of committed foodies did.  "But don't forget the real food fight is out in the streets of DC," added Andres.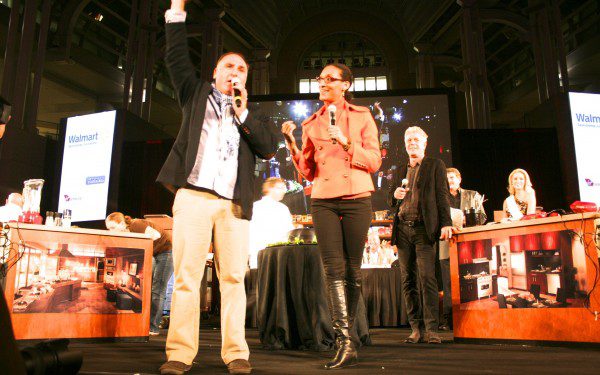 Jose Andres and Carla Hall
The hosts were joined by Judges Andrew Zimmern – co-executive producer of Travel Channel's "Bizarre Foods" and his new series "Bizarre Foods America"; Carla Hall, co-host of ABC Daytime's lifestyle series "The Chew" and Emmy-nominated Padma Lakshmi, internationally know actress, food expert, model and award-winning author and host of "Top Chef."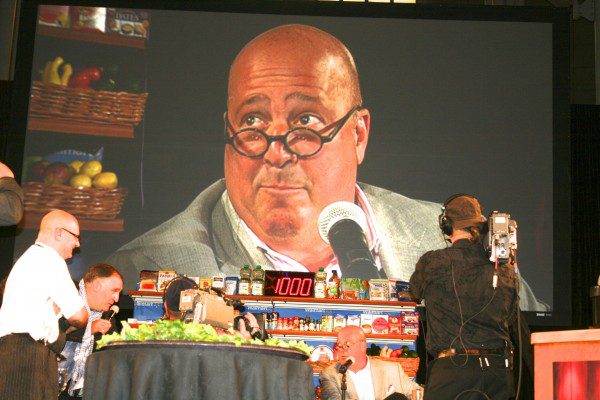 Andrew Zimmern
Things went swimmingly, pardon the pun, until Zimmern did what he does best – the BIZARRE.  Check out the brief video clip below where he unexpectedly cooks up an Iguana – er, correcto mundo – an Iguana, eliciting exactly the response he wanted – lots of guests squirming in disbelief.  I mean, some of us have Iguanas as pets, but guess it's no different than rabbit or deer, but not your typical family dinner.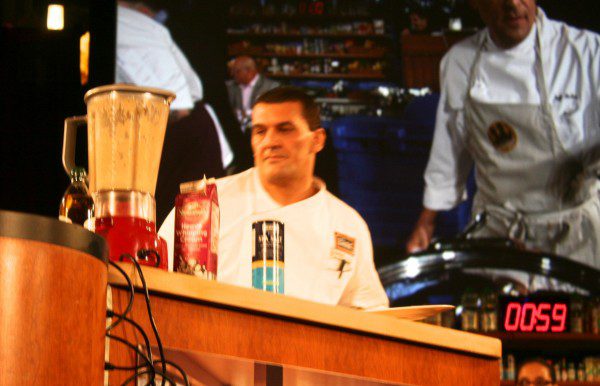 Chef Enzo Fargione of ELISIR
The Battling Chefs – Jeffrey Buben of Vidalia and Bistro Bis; Enzo Fargione of ELISIR; Guillermo Pernot of Cuba Libre and Adam Sobel of Bourbon Steak – duked it out for the cause using 'secret ingredients.'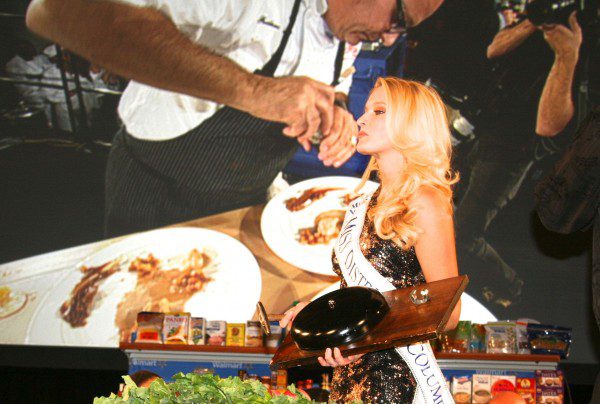 Allyn Rose, Miss District of Columbia 2012
Miss D.C. kept the beauty thing going, while Master of Ceremonies Mark Kessler handled the auction where items were going for thousands of dollars, including one brave item – a taste of the Iguana for a thousand dollars a pop.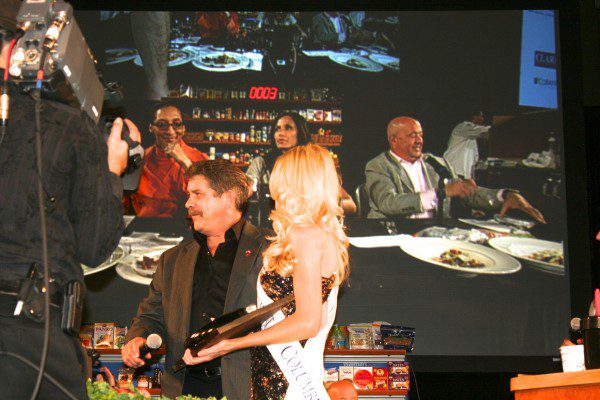 MC Mark Kessler
DC Central Kitchen prepares more than 80 individuals for jobs in the food service industry each year. The Shining Star award honors a Culinary Job Training Graduate who exemplifies the spirit of empowerment. This year's winner was Anand Shantam.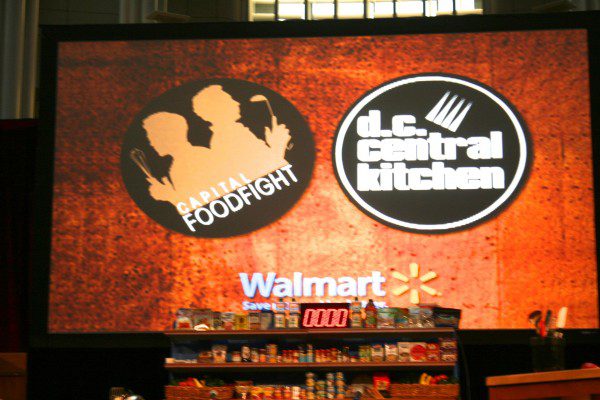 With special thinks to Brian MacNair and Liz Reinert of the DC office.  Sponsors and further information here.
The Iguana: EEEEEWW
 The Scene: