Cutest Pets!
by guest contributor Jennifer DiSiena
Photo credit: Courtesy of HABRI
One dog, one cat and one exotic animal were named the winners of the annual Cutest Pets on Capitol Hill Contest, which took place on the evening of September 18. The 2019 winners are Rep. Susan Wild's (PA-07) dog, Zoey the Congressdog; Charlotte, a cat owned by Ben Mullany in Rep. Denver Riggleman's (VA-05) office; and Senator, a turtle owned by Megan Thompson in Sen. Jacky Rosen's (NV) office.
Henry the Avalanche Rescue Dog
The Cutest Pets on Capitol Hill Contest is conducted annually by the Animal Health Institute (AHI), and winners are announced at Pet Night on Capitol Hill, a celebration of the importance of pets to our health and well-being. The contest brings lawmakers and staffers together to celebrate the cutest congressional companions from both sides of the aisle. The theme of this year's contest is "Paws-itive Politics."
Rep. Susan Wild (PA-7) and her dog Zoey the Congressdog  joined by contest judges Rep. Kurt Schrader (OR-5) and Rep. Ted Yoho (FL-3)
Reps. Kurt Schrader (OR-05) and Ted Yoho (FL-03), who worked as veterinarians prior to serving in Congress, unveiled the winners. Reps. Schrader and Yoho served as bi-partisan judges for the contest, narrowing the entries to a list of finalists in each pet category. Winners were then selected by the public through online voting.
Capitol Hill judges Rep. Ted Yoho (FL-3),  Rep.Kurt Schrader (OR-5) , who were veterinarians prior to serving in Congress, congratulate the cutest cat winner, Charlotte, whose owner is in of the Office of Rep.Denver Riggleman (VA-5)
Rep. Schrader said, "Thank you Animal Health Institute for one of the most fun evenings of the year for my staff and me, and for the important work that you do that helps keep our four-legged friends healthy. While we did have to pick favorites tonight, every pet is certainly a winner in my mind and they make life up here on Capitol Hill a whole lot cuter."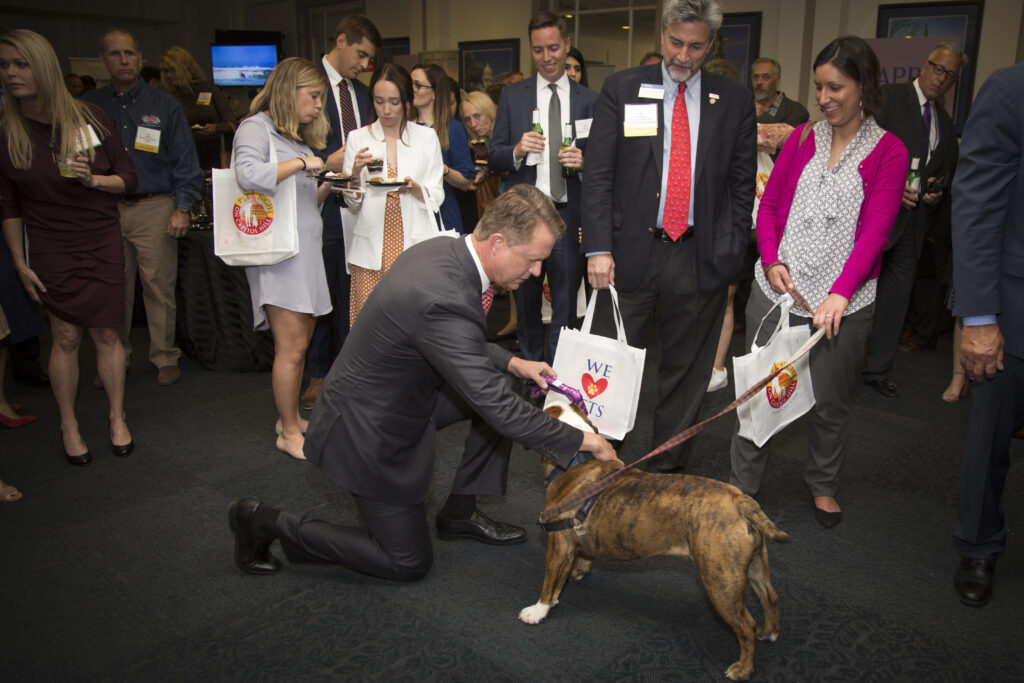 Rep. Roger Marshall (KS-1) pets one of the finalists for the Cutest Pets
Throughout Pet Night, the pet care community shared the positive message of how pets improve our lives and honored members of Congress who advocate for pet-friendly policies. The Pet Night hosts, including The Human Animal Bond Research Institute (HABRI), the Pet Leadership Council (PLC) and the Pet Food Institute (PFI), highlighted a number of meaningful programs and initiatives championed by the pet care community.