Cutest Pets!
by guest contributor Jennifer DiSiena
Photo credit: Jennifer DiSiena
On September 6, 2018, Members of Congress and Hill staffers from across the aisle gathered together in the Rayburn House Office Building to learn the winners of the 10th Annual Cutest Pets on Capitol Hill contest.
The Cutest Pets contest is organized each year by the Animal Health Institute (AHI) and takes place at Pet Night, which is hosted annually to help educate Capitol Hill about the importance of pet ownership in America and the growing scientific evidence that pet ownership leads to improved well being for both people and animals.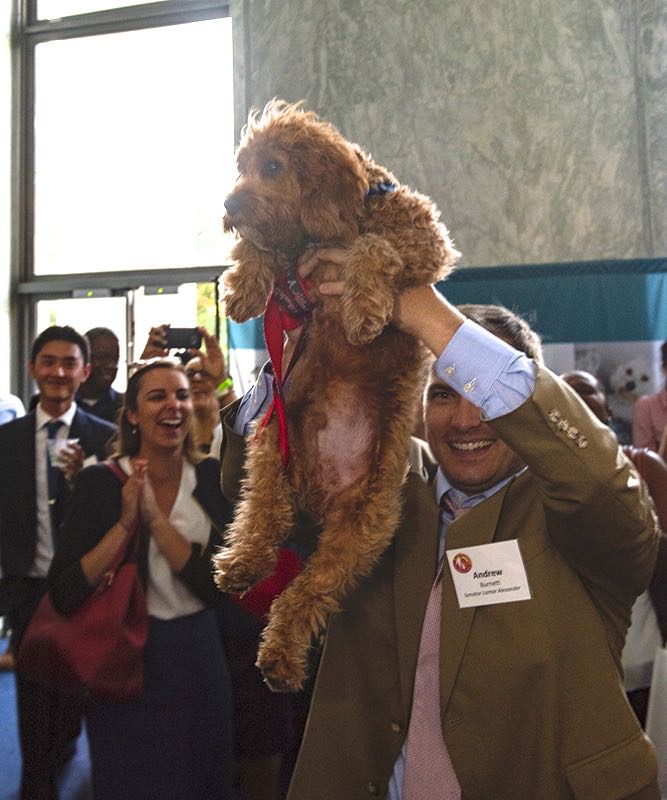 Andrew Burnett from the Office of Senator Lamar Alexander (TN) takes the Cutest Dog Ralph to the winner's area
Representative Kurt Shrader (D-OR 5), who was a veterinarian prior to his time in Congress, announced this year's winners: Ralph the dog from the office of Senator Lamar Alexander, Milo the cat from the office of Representative Bill Johnson, and Ruby Sue the goat who belongs to Representative Paul Mitchell.
"It's always fun to celebrate the Cutest Pets on Capitol Hill, and Pet Night is really about celebrating the bond between people and their pets," said Ron Phillips, Vice President Legislative and Public Affairs, Animal Health Institute. "Research shows that pets play an important role in contributing to the health and well-being of their owners, and it's important to engage with Congress on policies that help keep our pets healthy."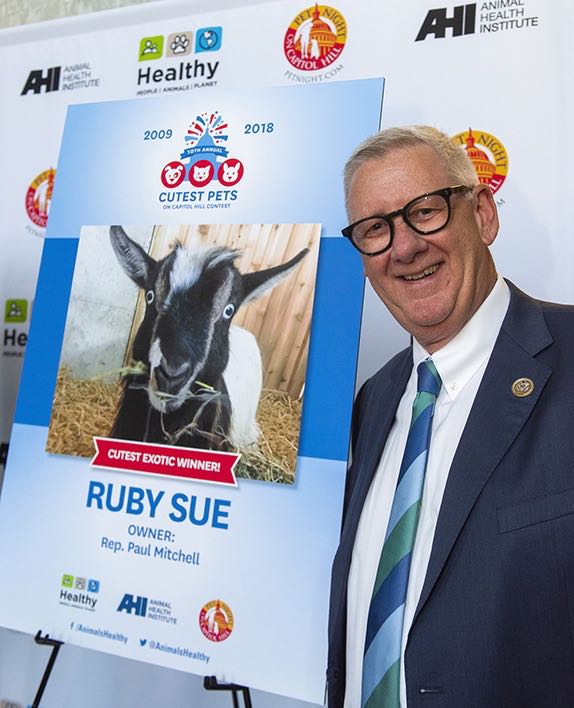 Rep. Paul Mitchell (MI-10) with a poster of his winning entry in the Exotic category, Ruby Sue the Goat. Ruby Sue is one of Rep Mitchell's six goats, 18 chickens, three dogs, and several barn cats.
This year was the first year that a goat was nominated for the exotic animal category. Phillips mentioned the new species in his speech: "In recognition of the array of animals Americans consider pets, we're excited to add a new species to our ever-increasing list of winners with a goat taking the exotics category."
The winners were selected from the more than 200 entries submitted by Members of Congress and their staff. Results were then narrowed down by bipartisan judges and finalists were voted on by the public through an online vote.