"I Am Jane Doe"
Photo credit: Daniel Swartz

Backpage is not what you think it is. It's not a catchy name for a local bar, nor is it a place for footnotes in a book.  According to Cindy McCain, Backpage is an "absolute scourge…….it's an online site selling children for sex. It hides behind the Communications Decency Act and The First Amendment. We're enacting change in that and also enacting the ability to make sure that these guys can't do this anymore and keep our children safe," she told Hollywood on the Potomac at the DC Premiere screening of I Am Jane Doe at The Naval Memorial.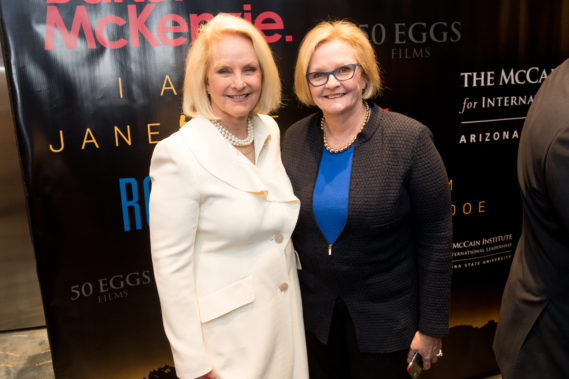 Cindy McCain with Senator Claire McCaskill
Joining her on The Red Carpet was Senator Claire McCaskill who added: "I have been involved in investigating Backpage for years now on the permanent subcommittee on investigations in the Senate. In fact, our investigation required the company to produce documents that had never been produced before, and we had to take that fight all the way to The Supreme Court. So, what we were able to do, by forcing those documents from them, we were able to uncover that they were complicit in selling children for sex on Backpage. And the night before the day they were finally going to have to appear, they shut down the site. So, obviously, this is one of these moments that's incredibly rewarding for somebody who was a sex crimes prosecutor for years to be able to have a role in shutting down the most egregious location for the marketing of people, human beings, much less children is really exciting. I think trafficking goes on in every city in America. And I think that is one of the things about this movie that's important is that there are way too many families out there that think this can never happen to our child. …..  this could never happen to someone that we know. In fact, it is happening all over our country."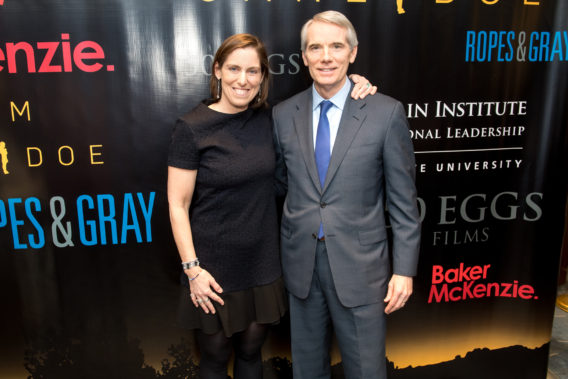 Director and Producer Mary Mazzio with Senator Rob Portman
I Am Jane Doe chronicles the epic battle that several American mothers are waging on behalf of their middle-school daughters, victims of sex-trafficking on Backpage.com, the adult classifieds section that for years was part of The Village Voice.  Reminiscent of Erin Brockovich and Karen Silkwood, these mothers have stood up on behalf of thousands of other mothers, fighting back and refusing to take no for an answer.  I Am Jane Doe is a gut-wrenching human story and fresh look at a social and legal issue that affects every community in America.
We asked Mazzio about the numbers in trafficking: "When I learned about the numbers, most will say 15% of all homeless youth are trafficked. How many homeless youth are there? How many runaways? Somewhere between 1.6 and 2.5, what's 15% of that? It's extraordinary. Who knew? I didn't know. Not only does it happen in India, or 'Aw, there's a poor kid here, there's a poor kid there' – that's just simply not the case. If you ask law enforcement how much harm that they can deal with online, they will tell you that they can attack about 1% of the harm online, which means 99% of the harm is not addressed, so you tell me, right? And the First Amendment advocates have a very good point: they're worried about free speech. This is not a free speech issue. This is about the sale of children, that's criminal. And you heard it here."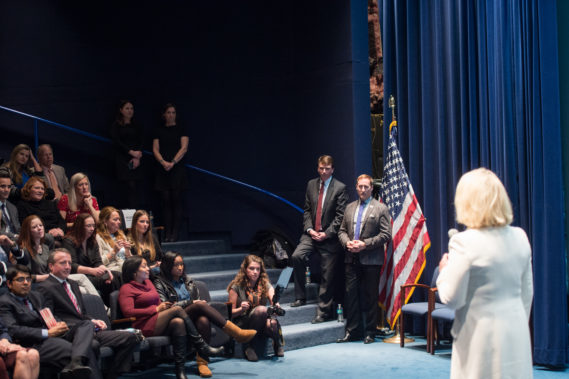 "We're here to talk about extremely important issues depicted by the film I am Jane Doe –  human trafficking. Child sexual exploitation is the equivalent of modern slavery and it is not confined to any community or any country or any jurisdiction. This is a very powerful film," said Mike Wagner of Baker McKenzie while introducing the film. "A film that should make you mad. A film that will mortify you, but we want you to leave here feeling motivated and mobilized to address this issue and that's why we're all here. We're all here in unison to approach what is arguably, and in my view, one of the most compelling and discriminating issues of the generation. I represent the law firm Baker and McKenzie and I am pleased to be here with partners who are coming together sponsoring with the McCain Institute and I want to say a word about Cindy McCain, who's going to speak here as well, who has been an absolute champion for this issue not just in America but around the world.  Our involvement as a law firm began several months ago when by chance at an important conference in London, England – The Trust Women Initiative. We met with filmmaker Mary Mazzio and upon speaking with Mary very quickly we decided there was synergy and an opportunity to come together and raise awareness about this important issue and so Mary has presented for all to see here a call to action and that again is really the takeaway. There's nothing more important than protecting our children, our youth, and we're living in a time of a lot of division not just here in the United States, but around the world. This is an issue where we're all on the same side, an issue protecting children and protecting future generations.  It is one that is truly going to make the world a better place."
Doug Hallward-Driemeier, managing partner of the Washington DC office of Ropes & Gray, has been committed to the issue of child sex trafficking for over a decade. "There is nothing that we've done in that area of which we are more proud than the work of a cross-office team of attorneys and staff who took on the challenge of litigating against Backpage.com. We think that this effort in tonight's film shows the incredible power of the combination of public interest groups, pro-bono work by private law firms, the importance of our public servants, the press and the incredible work that Mary Mazzio has done to bring all of this to life in film. The title of tonight's film I am Jane Doe of course references the pseudonym under which we sue on behalf of the plaintiffs in the litigation to protect their privacy, but it also suggests the way in which these victims are
"This is a game changer," said Cindy McCain.
The Q and A panel after the film:
The Trailer:
Save
Save
Save
Save
Save
Save
Save
Save
Save
Save
Save
Save
Save
Save
Save
Save
Save
Save
Save
Save
Save
Save
Save
Save