IFE Salon……
by guest contributor Elise Ravenscroft
Photo credit: Courtesy of IFE
At a virtual "Countdown to the Election" salon hosted by the Institute for Education (IFE),with featured speaker, Margaret Brennan, moderator of 'Face The Nation' and senior affairs correspondent for CBS News, discussed moderating 'Face the Nation' and covering an unprecedented election year as the country and world grapple with Covid-19.
Coach Kathy Kemper
The evening began with introductory remarks from IFE founder and CEO Coach Kathy Kemper and Irish Ambassador Daniel Mulhall. Mulhall spoke to Brennan's Irish heritage, pointed out her contributions to Ireland, and celebrated her distinguished career as one of America's most prominent journalists.
Ambassador Daniel Mulhall and his wife Greta Mulhall
Brennan, joining live from her at-home studio, began by emphasizing the heightened importance of good journalism during the pandemic, "all of us on Face The Nation, on my team, feel like we have this responsibility to help walk the public through what is going to be a pretty rocky next few months."
Margaret Brennan
She continued to explain that it could take days for the results of the upcoming presidential election to be determined and noted that the press is focused on communicating that to the American people.
After in-depth remarks, 60 Minutes's Brit McCandless Farmer moderated a Q&A session with attendees. Questions covered a broad range of topics from Israel-Palestine relations to the future of the media industry itself.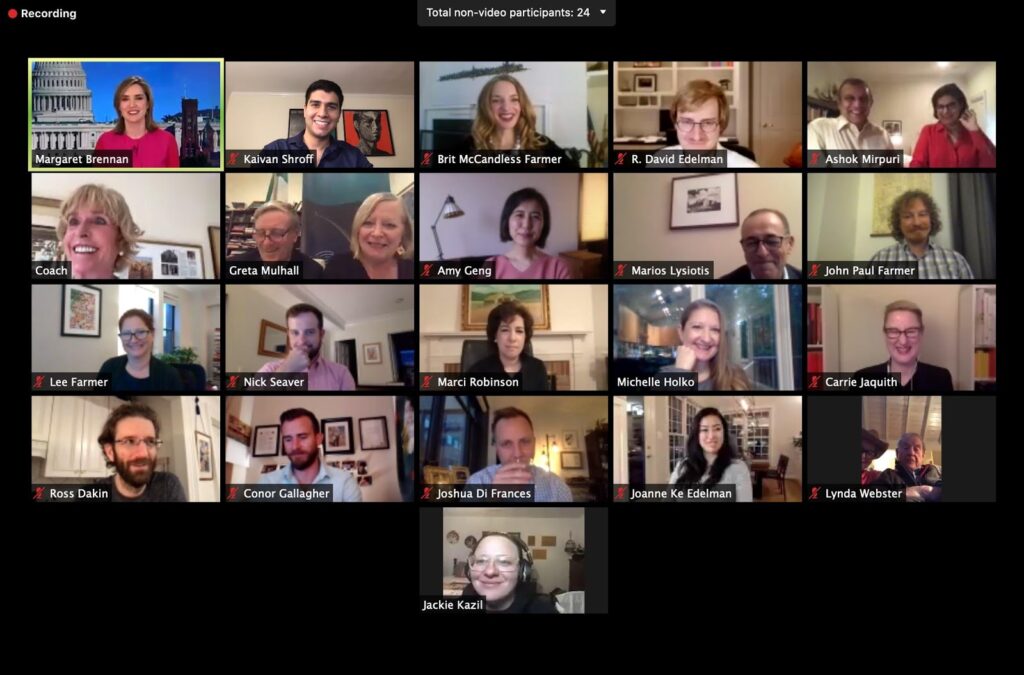 One of the over a dozen Ambassadors in attendance asked Brennan how she perceived the international community's assessment of the U.S. political climate. Brennan explained that leaders she has spoken with view the tumultuous American dynamic as part of a broader global upheaval, "a lot of countries around the world are going through great transitions themselves."
The salon was part of a series of virtual events hosted by the Institute for Education, connecting leaders from around the world to discuss timely issues impacting domestic and international politics, business, and culture.
SPOTTED: The Hon. William H. Webster, Ambassador Daniel Mulhall, Ambassador Floreta Faber, Ambassador Jonatan Vseviov, Ambassador Ashok Mirpuri, Ambassador Sydney Collie, Ambassador Bojan Vujic, Ambassador Tihomir Stoytchev, Ambassador Mamadou Haïdara, Ambassador Marios Lysiotis, Ambassador Gerald Zakios, Ambassador Francisco Campbell, Coach Kathy Kemper, Brit McCandless Farmer, Lynda Webster, R. David Edelman, Joshua Di Frances, Marci Robinson, Kaivan Shroff, Joanne Ke Edelman, John Paul Farmer, Amy Geng, Yado Yakub, Reina Sugiyama, Carrie Jaquith, Marisa Levine, Frank Reyes, Michelle Holko, and Soni Meckem..