Joni Mitchell Gershwin Tribute!
Photo credit: Janet Donovan
Slider photos and video courtesy of LOC
"I'm here as a passenger and a fan tonight," singer/songwriter extraordinaire Paul Williams told us at the cocktail reception prior to the dinner for this year's award recipient Joni Mitchell at The Library of Congress hosted by CPB CEO Pat Harrison. "This is one of the great events of the year, The Gershwin Prize. It's the peak of honors for our songwriters. It's named for the brilliant Gershwin. It's a lot of fun. The last time we were here was March of 2020 for for Garth Brooks." Yup, we were there. Williams is a member of the Songwriters Hall of Fame. He "wrote the songs."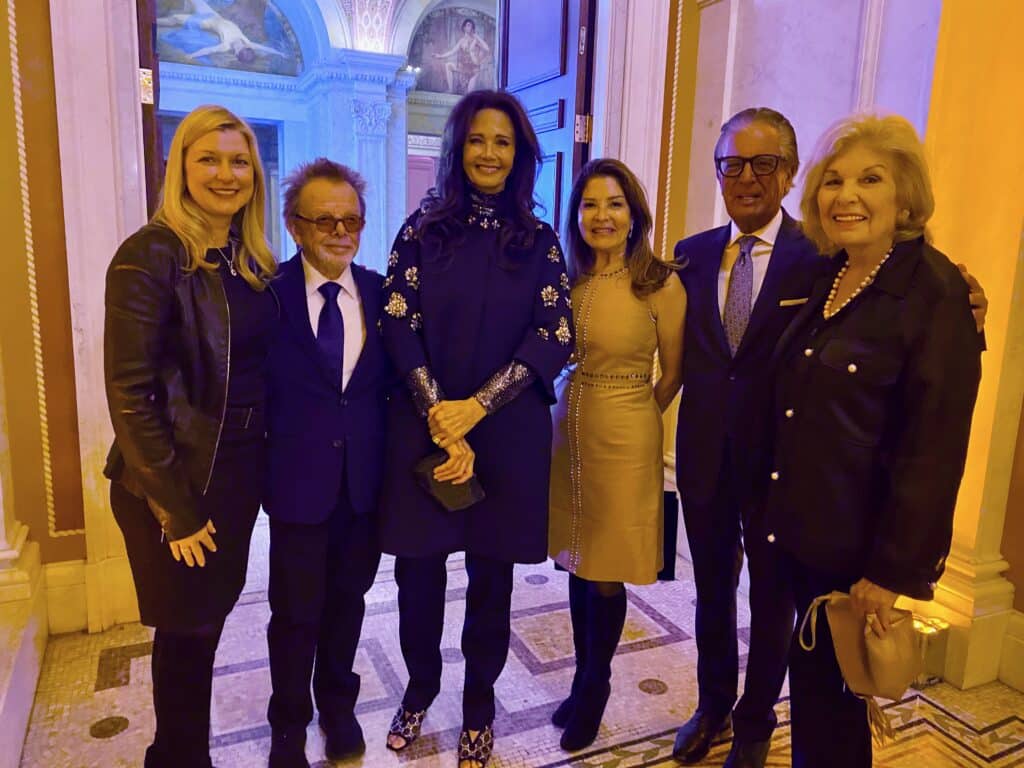 Friend of Paul Williams, Paul Williams, Lynda Carter, Aileen Carlucci, Robert Carlucci, Pat Harrison
"It is my pleasure to welcome you to The Library Congress," said Dr. Carla Hayden, Librarian of Congress.  "It means so much for all of us to be here together and that music has brought us together. I have to tell you that tonight's Gershwin winner is probably one of the biggest ones we've ever had and this is a testament to how much this year's honoree is loved and respected.We are thrilled to present this year's Gershwin Prize for Popular Song to one of the greatest singer/songwriters of all time, Miss Joni Mitchell. Millions have grown up listening to her music. Her distinct sound pierces down to your soul. This speaks of independence and pulls on your heartstrings. For more than a half of a century her music has touched the nation and world and has become part of an American legacy] and it continues to resonate today even penetrating into the pop-culture history of the TV show Friends to Oscar winner Lost in Space. Her music is the outlet Emma Thompson cries to in Love Actually and most recently, Both Sides Now was covered at last year's Academy Award winner for Best Picture, CODA. She represents everything this prize was created for. The Gershwin Prize for Popular Song is, we believe, the nation's highest award for influence, impact and achievement in popular music."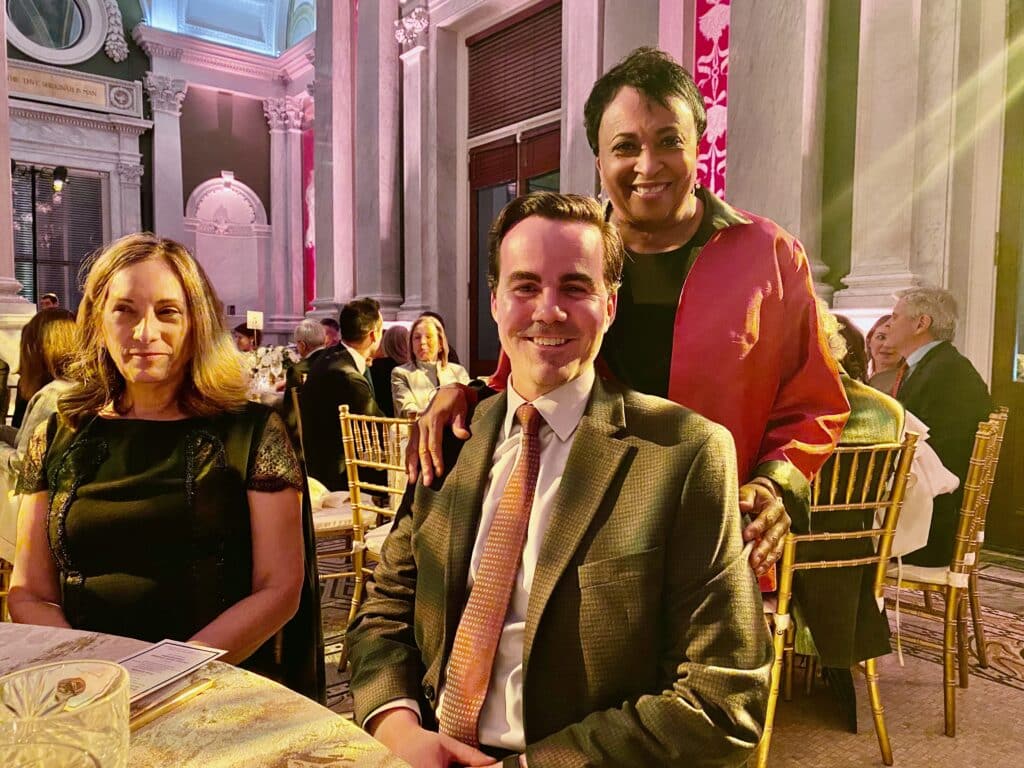 Liz Sembler, Bob Costa, Carla Hayden
The evening included both verbal and musical tributes that featured James Taylor, Senator Amy Klobachar, Speaker of the House Kevin McCarthy and was an intimate prelude to the musical extravaganza that took place at DAR Constitution Hall the following night featuring a star studded lineup that oncluded James Taylor, Brandi Carlile, Annie Lennox, Herbie Hancock, Cyndi Lauper, Marcus Mumford, Graham Nash, Diana Krall, Angelique Kidjo and Ledisi. The show is premiering March 31 on PBS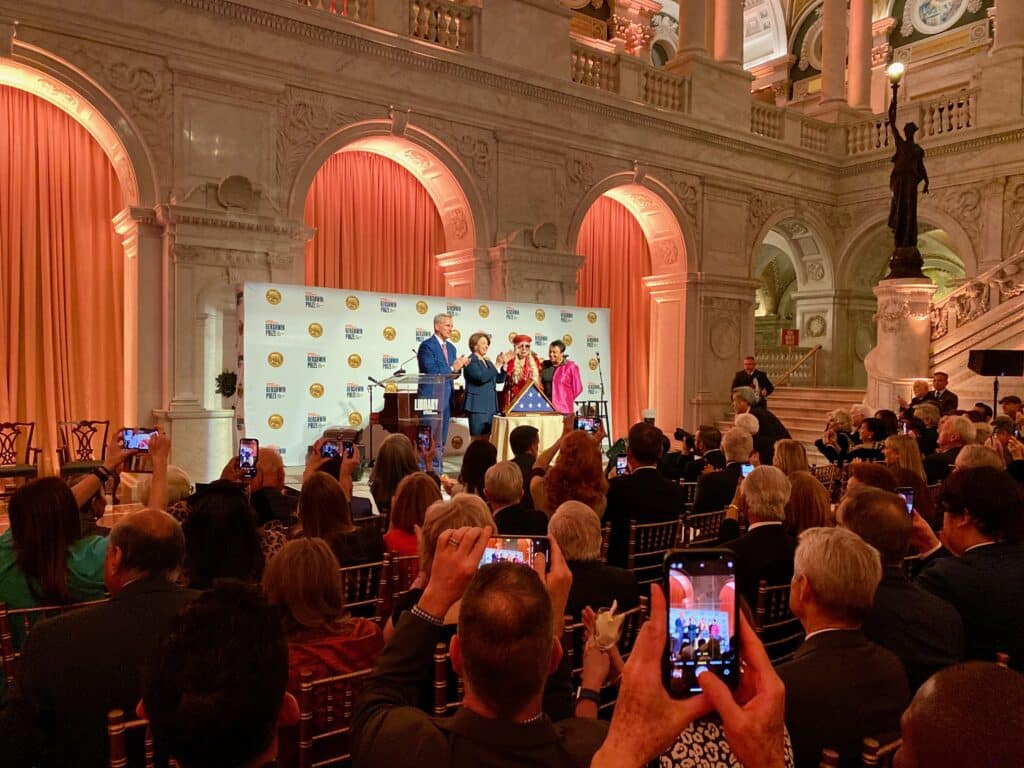 Speaker McCarthy, Senator Klobuchar, Joni Mitchell, Dr. Carla Hayden
A clip here.