Moonlight of Winter.
by contributor Donna Shor
Photo credit: Russell Hirshorn and Stephen Elliott

The Choral Arts Society's "An Enchanted Christmas" holiday concert at The Kennedy Center truly was an enchanting evening.  After the opening night's performance, gala supporters continued up to the Roof Terrace to enjoy a reception, dinner and dancing at the 32nd Annual Choral Arts Gala, "In the Moonlight of Winter."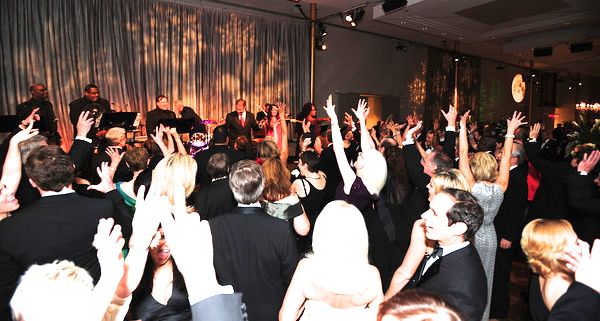 'Round Midnight' Band
Early in the program, the combined musicianship of both the 160-voice choir and conductor Scott Tucker set the scene with some quietly soulful carols enhanced by the other worldly sweet voice of soprano Carrie Henneman Shaw.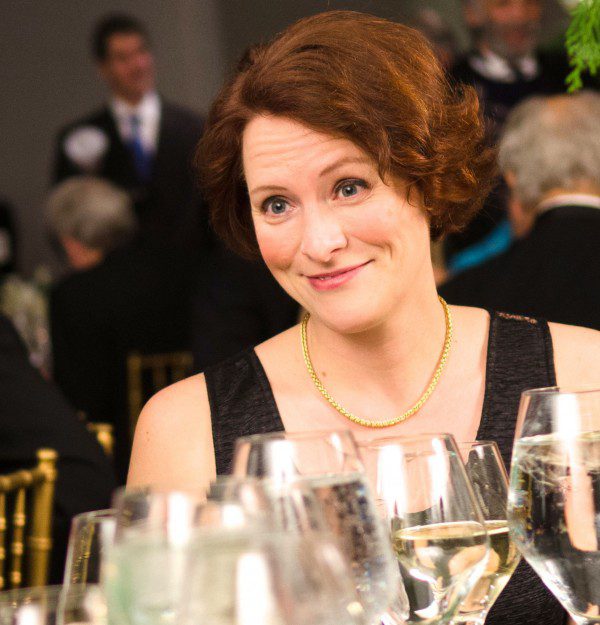 Carrie Henneman Shaw
To honor the event's Honorary Patron, the Ambassador Gary Doer of Canada, the program included carols of yesterday and today from his country. "It was an especially interesting program for us as choir members," said chorister Joyce Kornick, "because some of the carols were new to us, and were fun to sing."  Fun for the listeners too, gauged by the hearty applause after each offering, and the final standing ovation.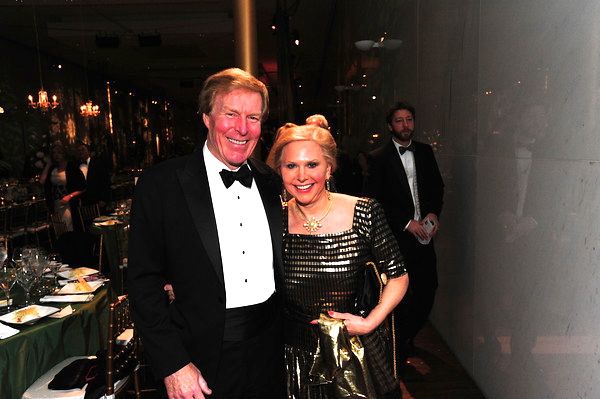 Bob and Olga Ryan
Many in the audience, long-time attendees, were especially interested in this Choral Arts debut by Scott Tucker, the conductor hand-picked as his successor by the beloved Choral Arts founder Norman Scribner, who led the choir for 47 years. After a year-long search drawing 80 applicants, Tucker was called from Cornell University, where as a teacher, composer and leader of five choirs, he was already recognized as a sensitive and skilled conductor.
Charles and Barbara Rossotti, Scott Tucker and Julie Huang
With interests in symphonic works and world music, Tucker laid a special emphasis on new music, commissioning thirty original works during his seventeen years at Cornell. Scribner's choice was unanimously approved by the board of directors, headed by Barbara Rossotti.  Executive director Debra Kraft summed it up: "It has been wonderful to hear of Scott's excellent qualifications and his desire to dedicate his many skills to Choral Arts, with his inspired leadership and artistic vision."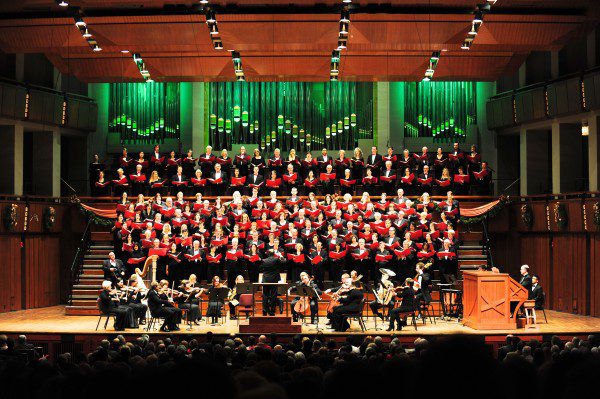 This summer, Scribner formally welcomed the boyish Tucker to Choral Arts and "passed the baton" to him at a program concluding the Choral Arts season: With this first Choral Arts performance, Tucker proved that Scribner's faith in him had not been misplaced.
At the concert another multi-talented musician, a composer, pianist, organist and choral conductor was given a splendid ovation. Paul Leavitt, the organist for the evening, heard one of the choir's selections, his expressive " Christmas Madrigal" resoundingly applauded. "It was a joy," said Leavitt, "for the first time to hear this music I had written backed by the power of a 160-voice chorus."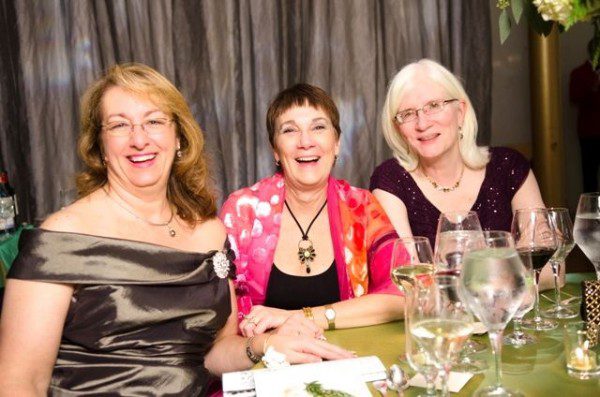 Virginia Pancoe, Nancy Witherell, and Joyce Korvick
Paul Leavitt began his career at age fifteen, as a concert pianist with the Albany Symphony Orchestra directed by Julius Hegyi.  He earned his masters in music from New York's prestigious Juilliard, and was a laureate of the International Steinway Competition in Paris. He has performed throughout Europe and the United States and is now Director of Music and Arts at Capitol Hill's Lutheran Church of the Reformation, whose choir he has led on two 10-day tours of both Central and Western Europe.
A concert performance in 2009 introduced "Requiem," Leavitt's first major work for double chorus, chamber orchestra, organ and harp. The European premiere was held at the Church of St. Sulpice in Paris in April, 2011, followed in May by the New York premiere at Alice Tully Hall in Lincoln Center.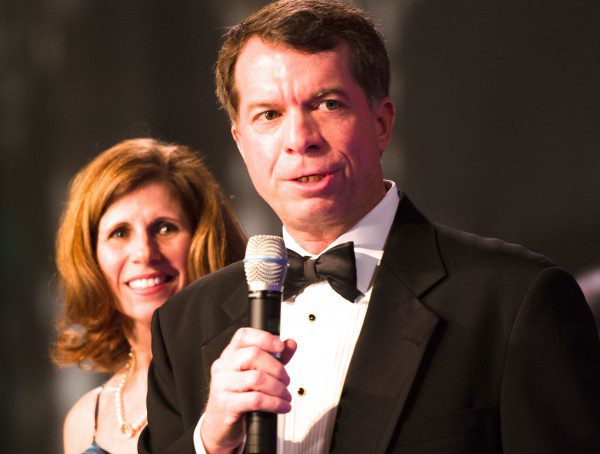 Ashley and George Wilson
The gala was chaired by George and Ashley Wilson, with Catherine Jones chairing the finance committee. Mary Shaffran and Sarah Vassiliou co-chaired the silent auction, amassing a stunning selection of fine wines, furs, jewelry, trips and embassy event hostings to be bid on.  Popular floral designer Jack Lucky and DC Rental collaborated on the evening with Restaurant Associates and the Round Midnight Orchestra provided very danceable music.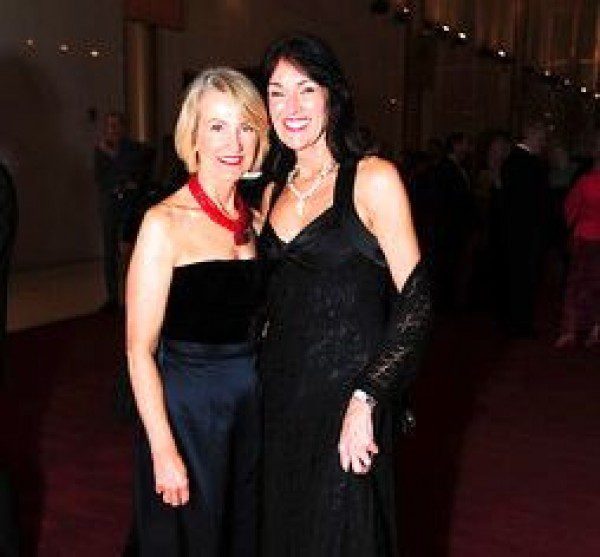 Catherine Jones and Debra Kraft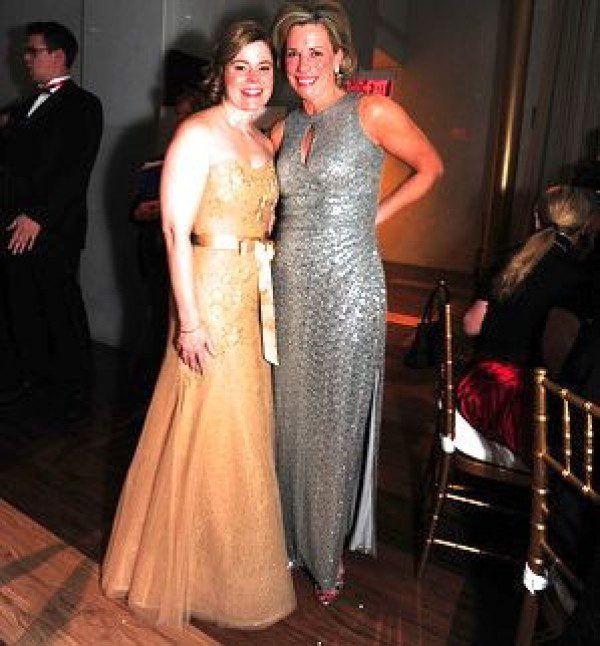 Mary Shaffran and Sarah Vassiliou
The annual gala is Choral Arts' major fundraiser, supporting musical education through community outreach programs. Choral Arts also offers a musical tribute to Martin Luther King each year. This year's performance, "Living the Dream…Singing the Dream," a choral celebration of King's life, will be presented February 10th.
.