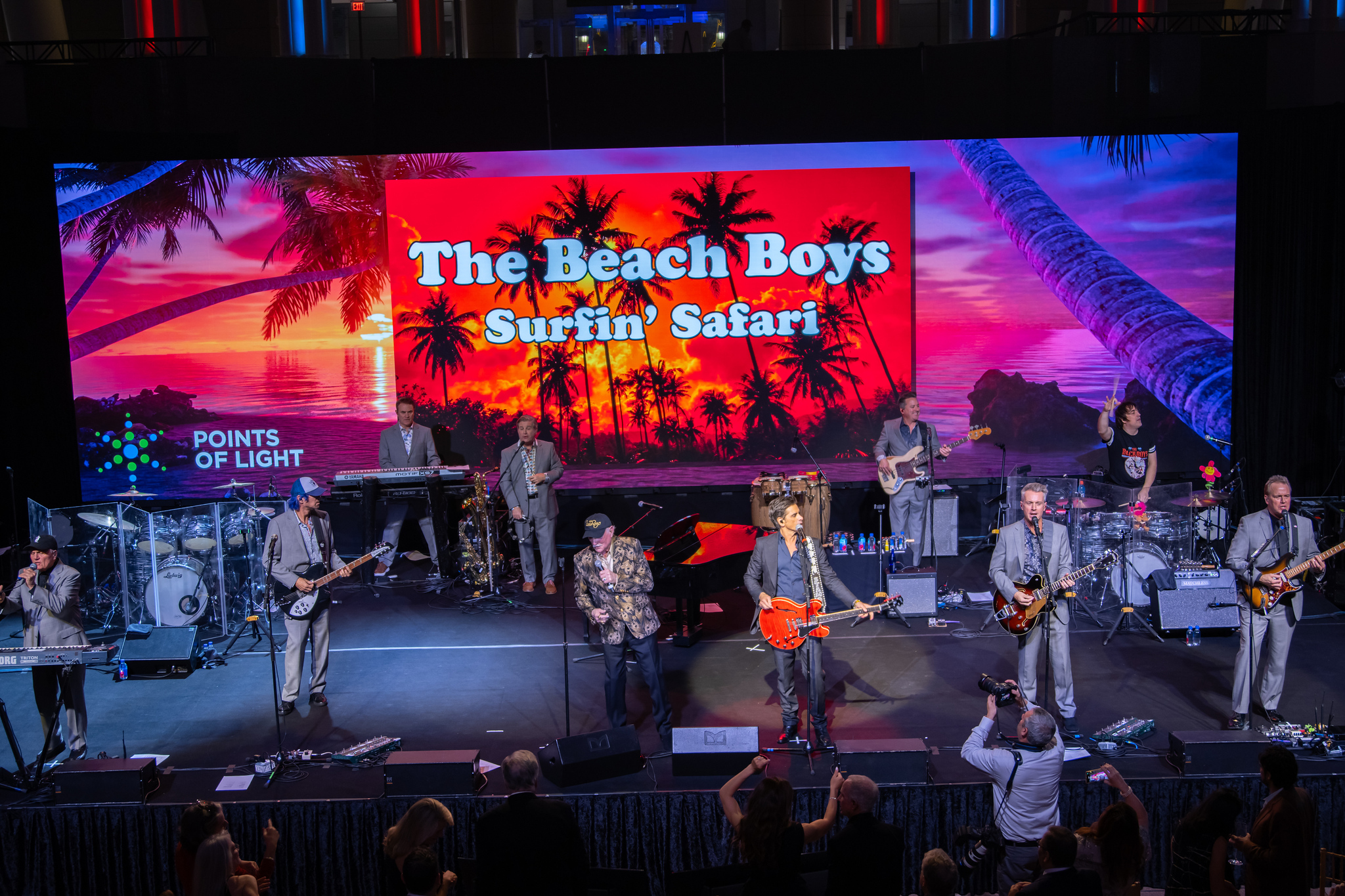 Points of Light Gala ……
by senior contributor Brendan Kownacki
"My father founded Points of Light knowing that Washington could not solve all of our most intractable problems," said Neil Bush. Board Chairman of the Points Foundation and son of George H.W. Bush at the 5th Annual Points of Light Awards Celebration held in Washington DC. "Individual points of light working with nonprofits all across the country were changing lives and building stronger, more resilient communities."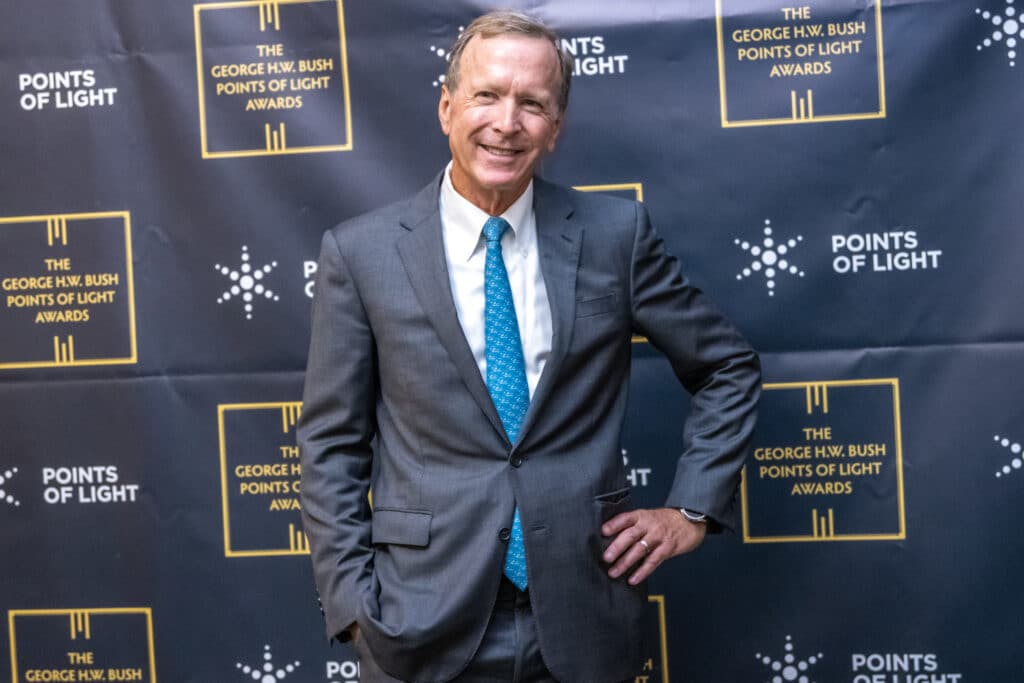 Neil Bush
The Points of Light Foundation was founded in 1990 as a nonpartisan, nonprofit organization devoted to service and invoking the vision and phrasing that President George H.W. Bush had used in his Inaugural address a year earlier. The President conjured up a citizenry that was devoted to helping others and described the "thousand points of light" that could be spread throughout the nation doing good and serving as an example to others. President Bush not only wanted to inspire others but also celebrate the champions who were paving the way. During his administration, he honored more than 1000 volunteers and individuals for their contribution to serving others and that same spirit embodied the stage of this year's gala.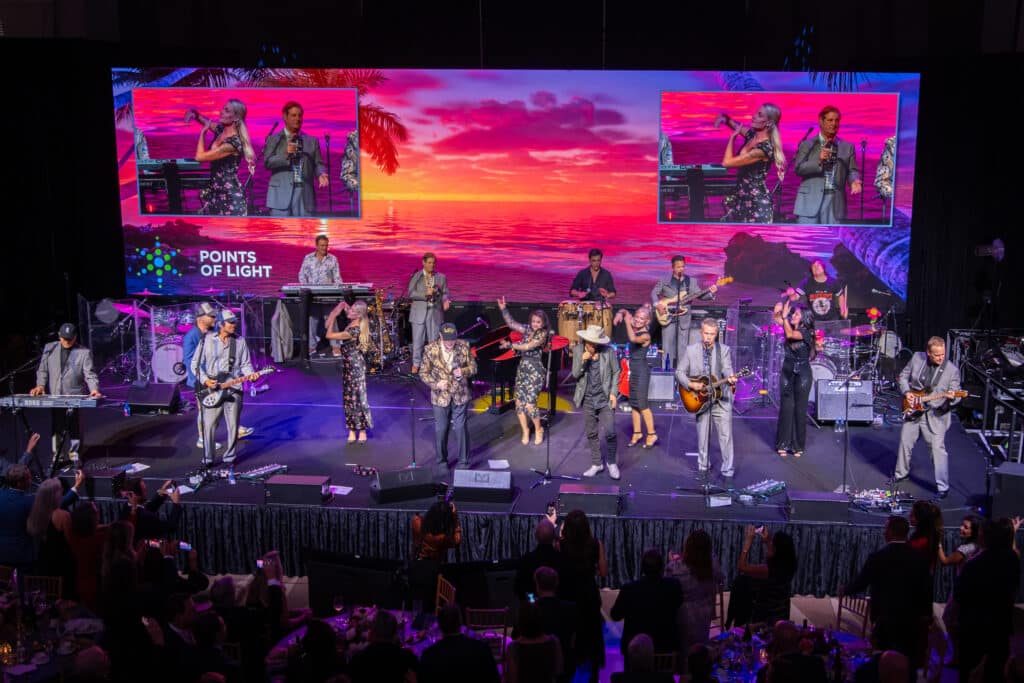 The foundation says that the awards honor "individuals who demonstrate the transformative power of service and who are driving significant and sustained impact through their everyday actions and words that light the path for other points of light," and this year's class of honorees have done a remarkable job of inspiring and helping people across every corner of society.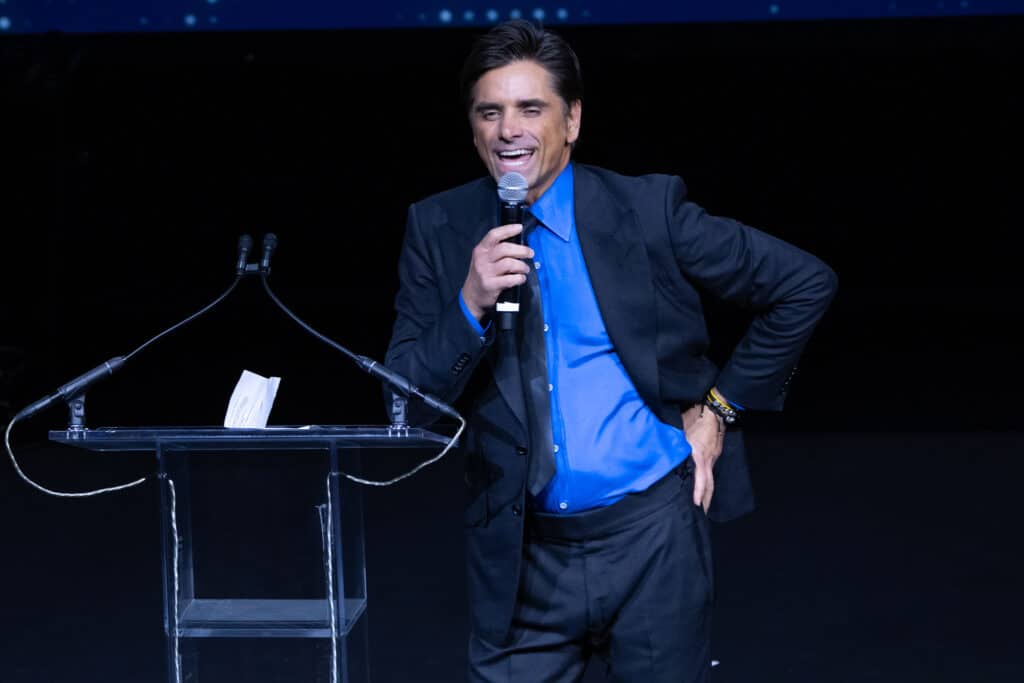 John Stamos
Throughout the night, actor and musician John Stamos served as master of ceremonies and introduced the evening's honorees and shared jokes and pearls of wisdom about service. He recounted a quote from President Bush that said that the solution to many problems begins when someone steps forward and says "I can help," and that was so often true of those honored at the event.
Mike Love
Stamos posed the elderly needing a helping hand as a good example "like last week when Mike Love ran out of Metamucil," he quipped about the 82 year old Love who is a founding member of The Beach Boys. "Luckily we're in DC, we'll just go right to the White House – there's an infinite supply right there. At this point Biden is more Metamucil than man." The buttoned up crowd slowly began to chuckle as they prepared for an uplifting evening of service, stories and entertainment.
Each of the 2023 honorees were chosen for their embodiment of the foundation's core tenants to 'Inspire, Equip, Mobilize.'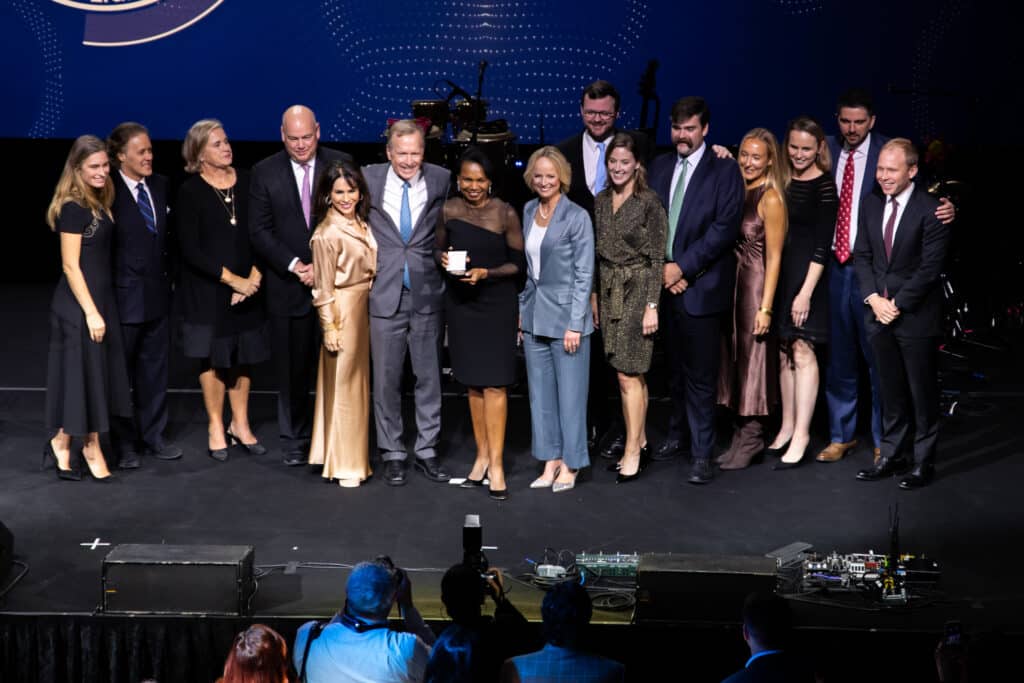 Dr. Condoleezza Rice
Dr. Condoleezza Rice is a model to many for breaking down barriers in a life of public service. Rice has been a champion around the globe as the 66th Secretary of State of the United States, the second woman and first black woman to hold the office. Rice reflected on the organization's impact of supporting service being far more than just an American ideal. She shared "this is an idea that has taken off not just in our country but across the world, that those individual points of light can become one great shining sun for humanity."
Dr. Rice described multiple stories of her time with the elder President Bush and talked about a humble sense of humility that made him great. "He had all of the characteristics that you would want; integrity and honor and intelligence and hard working ability to make the impossible seem inevitable in retrospect. But he also understood the essence of America."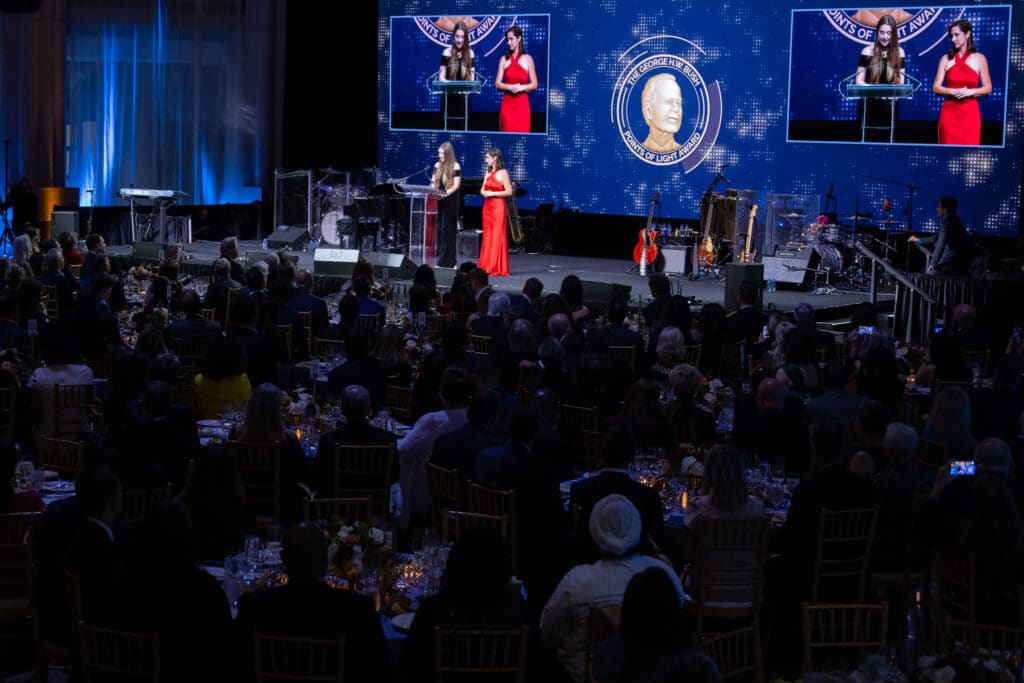 Honorees Rebecca and Christyn Taylor
Rebecca Taylor and her mother Christyn showcase a very different kind of leadership and service than Dr. Rice. Rebecca was diagnosed with chronic pancreatitis at age seven, and instead of letting her illness define her, she was driven to help others. With the support of her family, Rebecca Taylor founded Rebecca's Wish, a 501(c)3 nonprofit designed to support children with pediatric pancreatitis. "I will never be able to reverse any of my diseases or regrow my missing organs or to have a single moment where I'm not in pain," said Rebecca about her will to persist. "I do know my life isn't over and I know that many other children out there think that theirs is. That their diagnosis means the end of all things that are good and beautiful. And out of everything that I have gone through, what breaks my heart the most is the thought of another child walking through the same hopeless path that I did.  "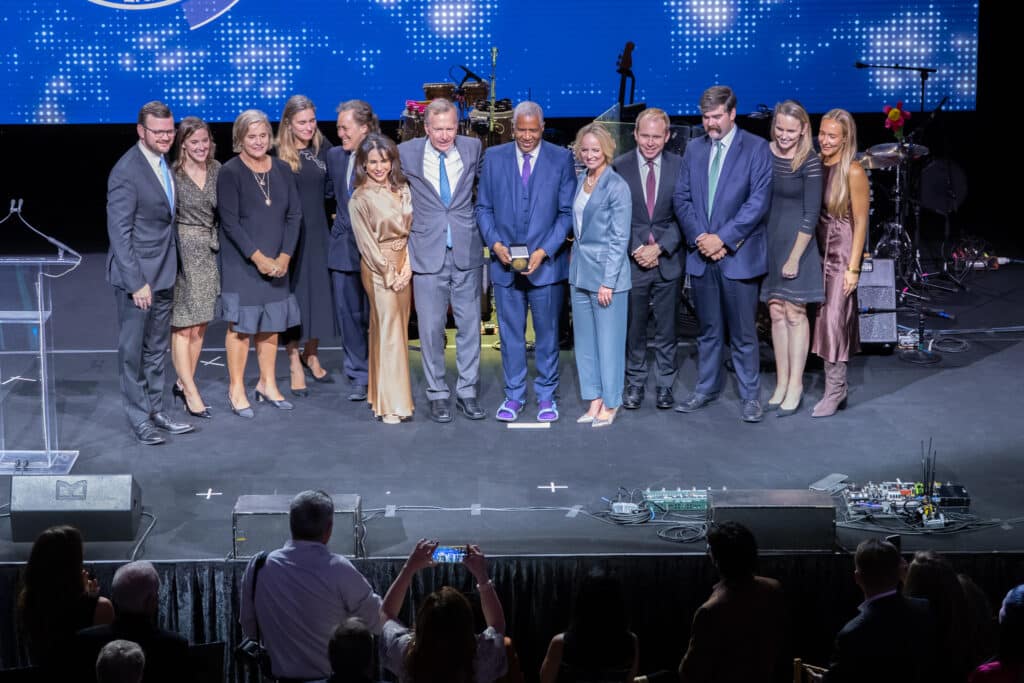 Robert F. Smith
Robert F. Smith has been a dynamic champion of opportunity for others and transforming those moments presented with him as a chance to help others. He has been a steadfast supporter of under served communities in an effort to end generational inequity. He is the first black American to sign the giving pledge, agreeing to give away the majority of his wealth to philanthropic causes. Smith said that growing up in Denver, his community was the "other America" where values, love and encouragement were more plentiful than wealth or opportunity to succeed. "And there were these women who took us into their homes, who educated us, gave us nutritious snacks; the older children taught the younger children; and when I look at those women and those families, they were those points of light. They did it without celebration. They did it without any reward outside of knowing they were contributing to the essence of America."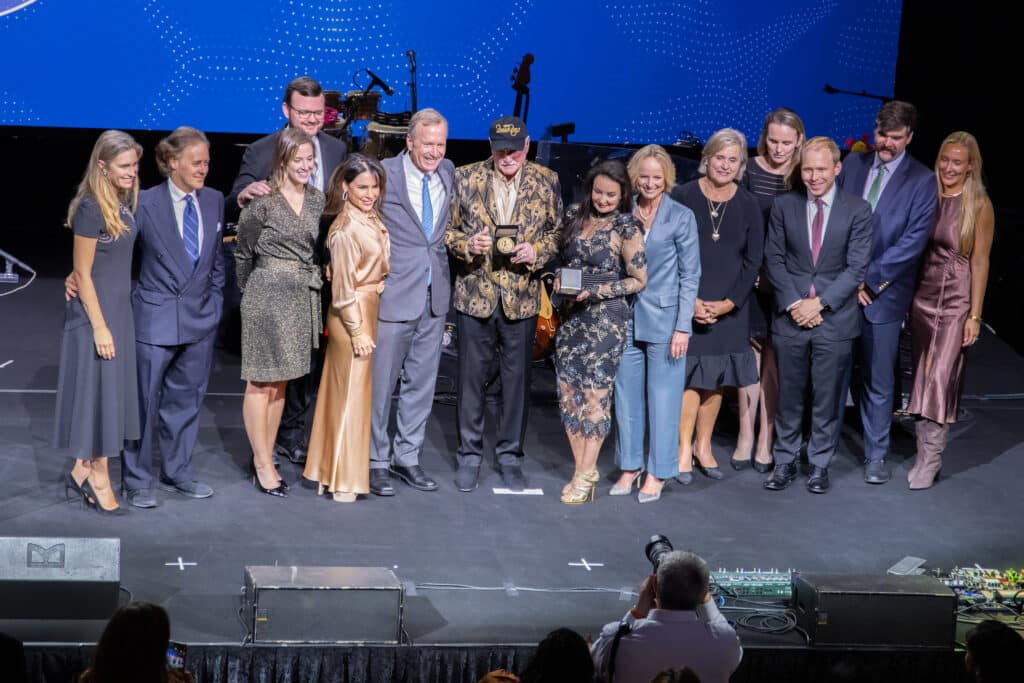 Mike Love
The last honorees of the evening are about as American as apple pie. Mike Love is perhaps best known for being a founding member of The Beach Boys, but throughout his life and musical career he has found moments to share support and generosity with those around him. Along with his wife Jacquelyne, Mike has helped to support Education and the Environment through countless pursuits.
Being in DC, it was hard NOT to retell the story of Ronald Reagan's Interior Secretary, James Watt banning The Beach Boys from performing at DC's Fourth of July celebration and saying that their surf-heavy sound might attract the 'wrong element' with their rock n' roll tunes. Worry not though, First Lady Nancy Reagan and then vice-president, George H.W. Bush came to the rescue and of course Love and the band became linked with Bush leading to this moment perhaps.
The relationship with George H.W. Bush was a special one through the years including a charity event at the White House where they played "Barbara Ann" by special request of the First Lady "for the obvious reason." Love called the legacy of Bush and Points of Light "fantastic" and "fundamentally decent" and mentioned that it was Bush who got the band to play their only political fundraiser ever.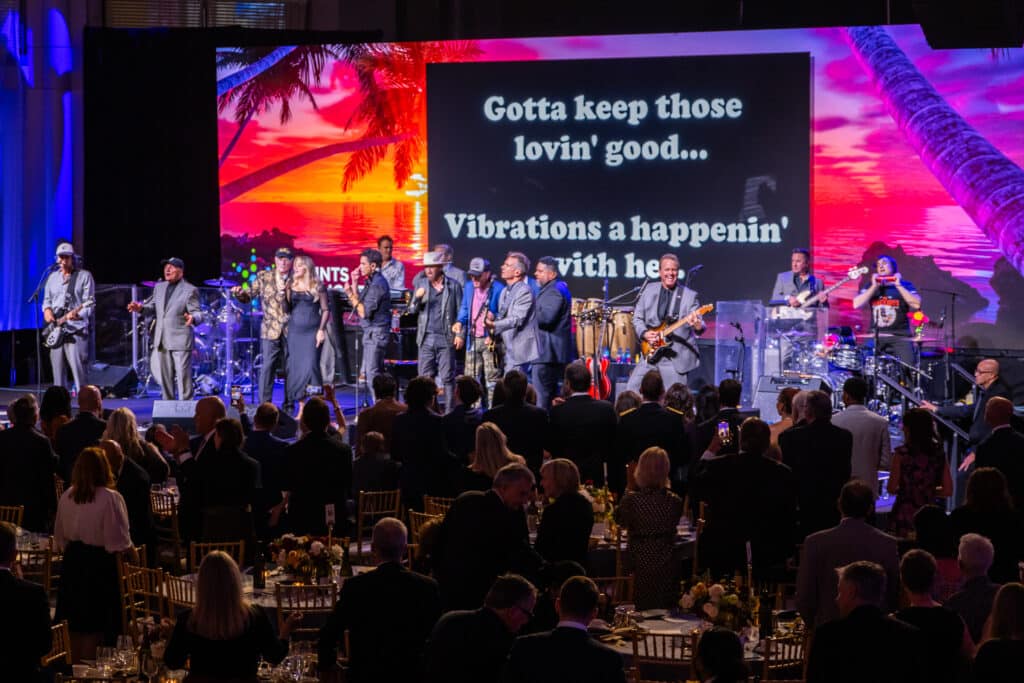 "The Beach Boys are known for good vibrations and we've always accentuated the positive in what we do."
And those good vibrations were not far behind. To celebrate the mission of the evening, The Beach Boys took to the stage along with numerous special guests to play some music and spread some love. John Stamos filled in on guitar and drums as he has done many times in the last three decades, as well as musical contributions from Richard Marx, LOCASH and Fernando Varela.
Safe to say that The Beach Boys won't be accused of attracting the wrong element in DC ever again. Surf on.