Since 1933!
Photo credit: Janet Donovan

In the 1950's as a Representative, then Senator, JFK lived 2 blocks down N Street and sat in Martin's Tavern Booth # 1 "The Rumble Seat" reading the Sunday papers with his breakfast after Mass at Holy Trinity.  He later moved on to Booth #3 a.k.a. "The Proposal Booth."  JFK and Jackie frequently dined there. On Wednesday, June 24, 1953, having returned from covering the Coronation of Queen Elizabeth for the Washington Times Herald, Jack popped the question in their favorite booth
.

Harry Truman, then Senator from Missouri, his wife Bess and daughter Margaret often dined at Martin's while Margaret attended George Washington University. Margaret wrote 14 mystery novels set in Washington, many mentioning Martin's Tavern.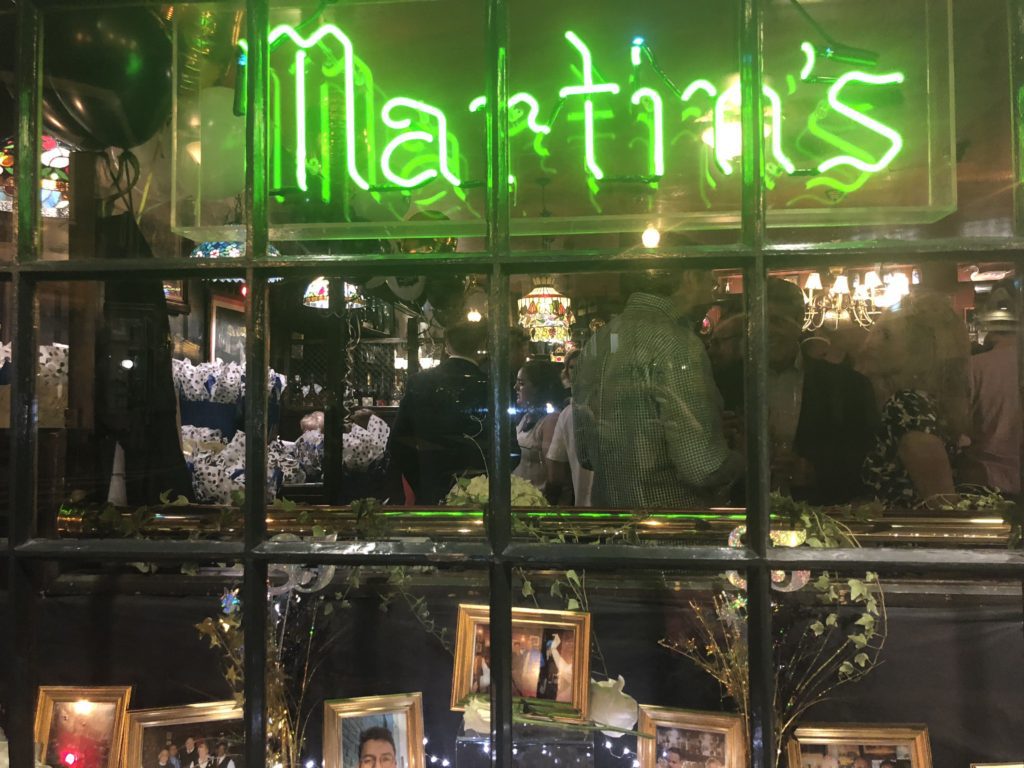 Supreme Court Justices deliberated 1954's
 Brown vs. Board of Education in Martin's Tavern
. One of their regular customers, a Washington attorney in international business and financial services, stopped by January 2007 and told Billy Martin his story: "I grew up near the corner of 30th and N Streets. My family regularly came to Martin's starting in the 1940's. In 1954, he and my mother came in for dinner. They sat in Booth # 2, known as the Nixon Booth. Sitting in the booth next to them (Booth # 3) were five Supreme Court Justices and they were deliberating Brown vs. Board of Education, a landmark case. Shortly thereafter, Earl Warren read the unanimous opinion of the court. When my parents read the opinion, they recognized the discussion in the neighboring booth at Martin's. This is not just my Martin's Tavern story, but part of our family history since 1954."
In the 1940's and early '50s, Richard Nixon sat in Booth# 2 as a Congressman, then Senator from California and later as Vice President of the US. He enjoyed Martin's meatloaf, usually with colleagues from Congress or the Administration.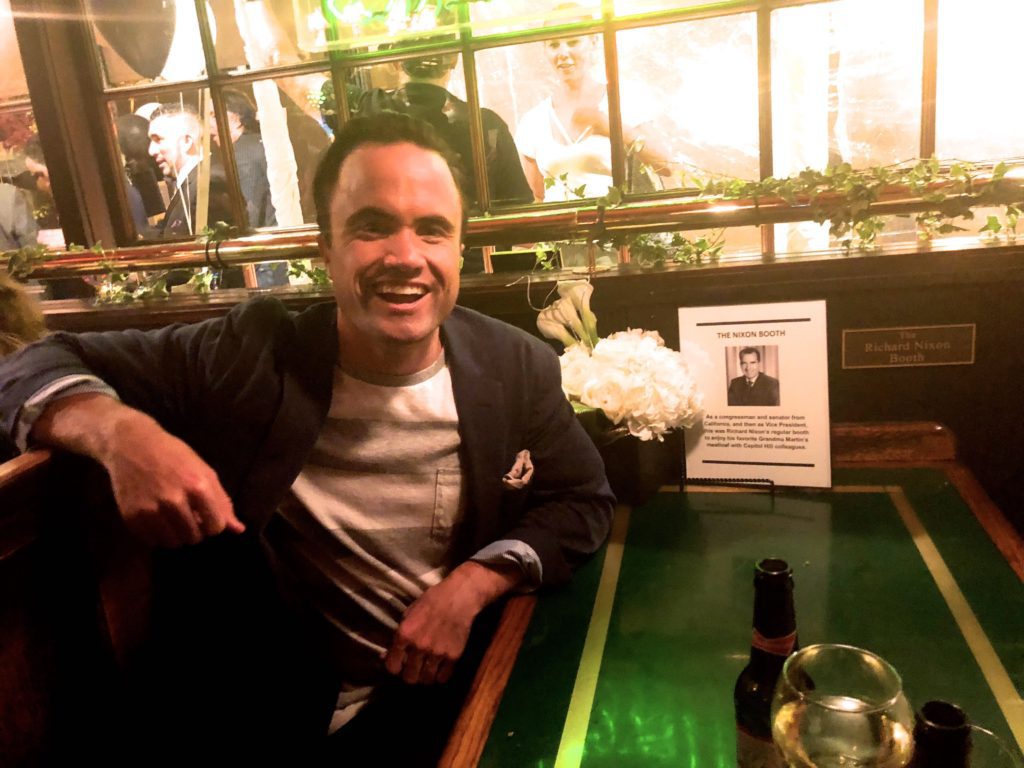 Bloomberg's Kevin Cirilli in the Nixon Booth sans meatloaf
Martin's Tavern celebrated the restaurant's 85th anniversary on what would have been the 65th wedding anniversary of President John F. Kennedy and Jacqueline Kennedy Onassis.
"Big celebration here at Martin's Tavern. Give Billy a big round of applause," shouted Councilmember Jack Evans whose microphone didn't work. "This is the 85th birthday. Isn't that unbelievable? 85. How old were you when you started this? Huh? 12. Oh, all right. You don't look a day over 85. so you're doing great. Anita Bonds (Councilmember-at-large) is here today. And because this is not a political event, I will not mention that she's up for reelection. Not going to mention that, so don't forget to vote. So I have here a ceremonial resolution. As you can see it has a number of whereas-es but I'm not going to read them all, so that deserves some applause as well. But it starts out – I'll read a couple: This is to honor Martin's Tavern. I'll be done with this in a second. To honor Martin's Tavern on the occasion of the celebration of 85th Anniversary. Martin's has the honor of serving every president from Harry Truman to George Bush all before they were president. George H.W. Bush frequented Martin's when he was the CIA director;  Bill Clinton when he was a university student; and we all know that John F. Kennedy proposed to Jacqueline right there in this corner. This one right over here. It's where he proposed. Anybody who wants to get married, go over to that booth. But I recommend against it, don't do it." [laughter]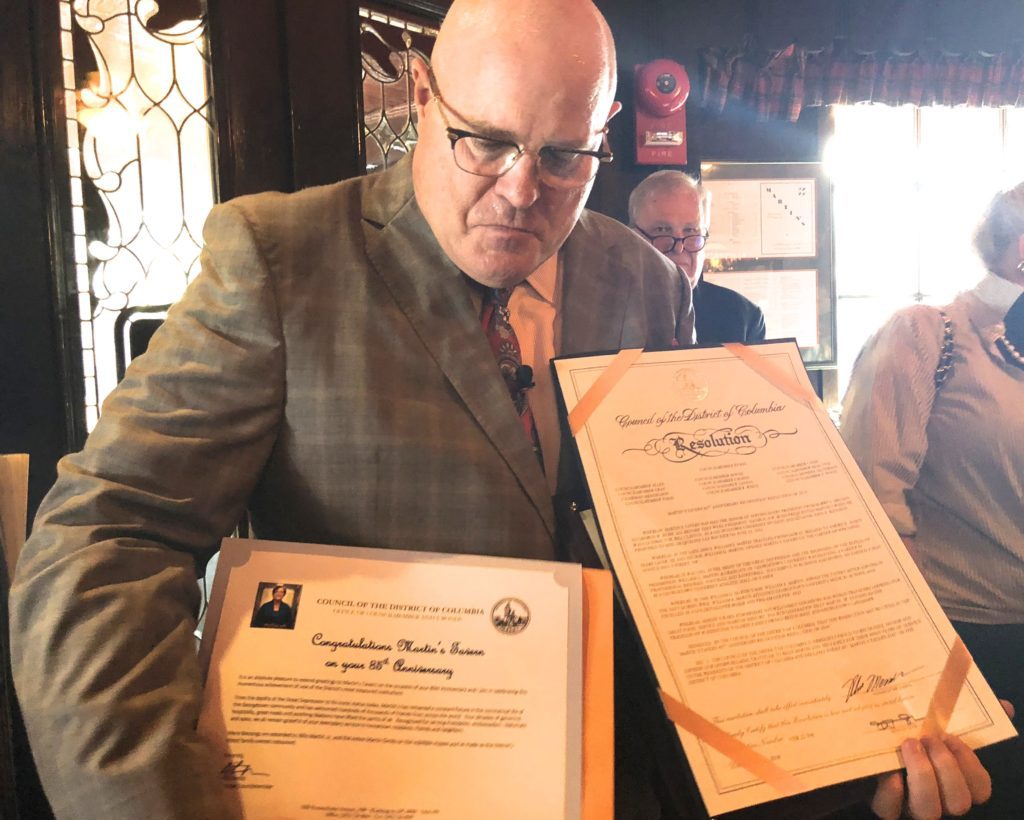 Billy Martin, Jr.
Hollywood on the Potomac sat down with Billy to talk about how Martin's came about. In his own words: