Slainte!
by Kirsten Fedewa & Janet Donovan
Photo credit: J.D. Mack
St. Patrick's Day has come and gone, but in Washington, DC the Irish spirit is omnipresent.  A look back at this year's celebration: "We come together here to honor those who are known for the gifts of Blarney and the Tall Tales which in this town means absolutely everybody," said House Speaker Paul Ryan (R-WI) at the United States Capitol at a luncheon hosted with the Friends of Ireland with World-renowned tenor Anthony Kearns performing.
"Ronald Reagan and Tip O'Neill were fierce political opponents: This goes way back to those days. Their heritage was their bond. When it came to Ireland the only thing they would argue about was who was more Irish. Reagan was so committed to winning this argument that he would say he was old enough to have actually met St. Patrick."
Paul Ryan
"On June 14th of last year Leo Varadkar became the 13th person in Ireland's history to hold the position of Taoiseach," Ryan added.  "At the age of seven or eight, I'm told, he announced that he wanted to become the Minister for Health: He fulfilled that mission and much, much more. Please join me in giving a warm welcome to the Taoiseach, Leo Varadkar. So Leo, this is actually not your first time here. This is really a welcome back and what's exciting about this is you used to be an intern here not too many years ago and now you are the guest of honor and I think that is just incredible. Many of us got our start that way. I too started as an intern here. Politicians go on and on and you hope to get a free meal out of it. So that is where we are here today and the good news is we have Guinness. Now the Guinness does taste better in Ireland, but this is probably not the right year to bring up trade issues. But our ties with Ireland are as strong as ever."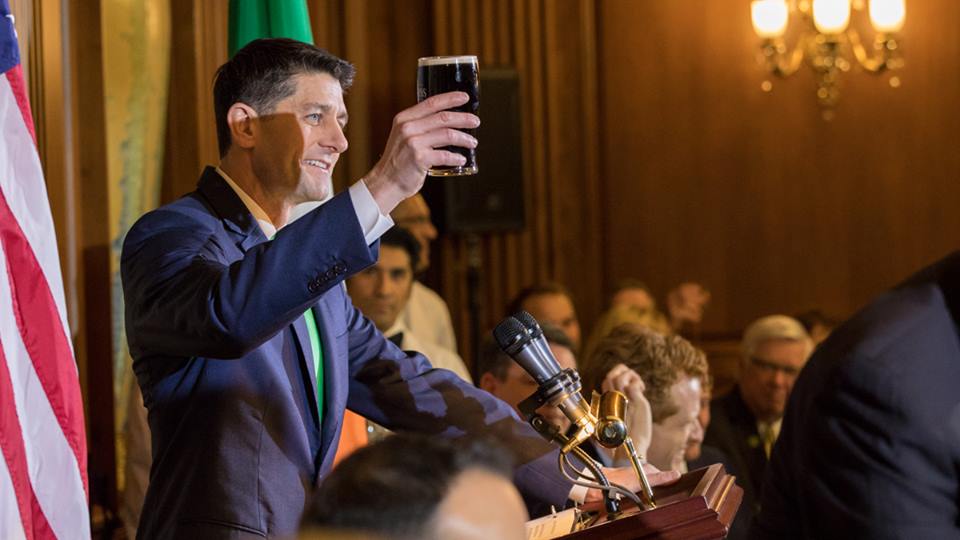 "My own family comes from County Kilkenny, from a small town called Graiguenamanagh from the back side of the Black Steer Mountains. My wife and extended family and I visited Graiguenamanagh just a few years ago. We went and found the farm that our family came from, where my cousins still live. We went to the Abbey where our family, our ancestors were married and buried. And our cousin William O'Shea still farms the same place. I look around the room and I see we have a Speaker that's Irish, we have a Senate Majority Leader that is Scots Irish, we've got members of the President's cabinet here," joked Ryan. "We've got maybe even a Kennedy running for President. Where is Joe? There he is. He's right here. Well, think about it. You've got Pence. You've got Kelly. You've got Mulvaney. You got O'Mnuchin. You got Fitz Mattis. You can go on and on. But on this very serious note what's wonderful about this tradition is our rich and deep heritage. Before Notre Dame was known as the Fighting Irish that name belonged to the US Army's 69th infantry regiment. They say Lincoln was so moved by this, he was so moved by the bravery of this brigade that on a visit to the battlefield he picked up a corner of the Irish flag, he kissed it and he said God bless this Irish flag. Well, God bless the Irish people too. The Irish people in the spirit of the great St. Patrick have always turned darkness into light and hardship into hope."
"They were our friends when we were friendless. And they were the defenders of our union when we were divided. The Irish came here in search of a better life. And they made this a better country with their faith, with their passion, gentle hearts and a people of strong roots. So in these times as we strive to secure peace and opportunity the friendship of the Irish remains our anchor in the choppiest of waters. So I would like to offer a toast with a proper head on the Guinness. May the winds of fortune sail you, may you sail the gentlest sea, may it always be the other guy or gal who says this drink's on me. Slainte."
Leo Varadkar
"Thank you very much," responded Varadkar. "My private secretary very kindly put my speech underneath the podium for me, sat it on the second row, just down here. He didn't tell me that it was going to be weighed down by two pints of Guinness: Only in America. I actually used to give tours of this building, believe it or not, because that's part of what interns had to do. Now I imagine it was probably a strange experience for people coming down from Buff to meet an Irish intern with an Indian name to bring them on a tour of their capitol building. But somehow or another it seemed to work and I gave a pretty mean tour I reckon and I do know each and every statue from each and every state and where they come from; but I believe they've changed over the years a little bit. It is a very special place for me for another reason as well and it's a place that I hold dear. One of the things that was given to me when I finished up my time working here was an American flag, a Star Spangled Banner that flew over at Cannon Office Building where I worked for some time. And that's a memento, a keepsake that I've kept with me since then and is one that I keep in my office that's now part of the furniture in the Taoiseach's office – that American flag that flew here 20 years ago. It very much reminds me of that special friendship that exists between Ireland and America and this special place which helped me to develop my view of the world, helped me to learn the art of politics and spurred me towards a career in public service and the politics as well."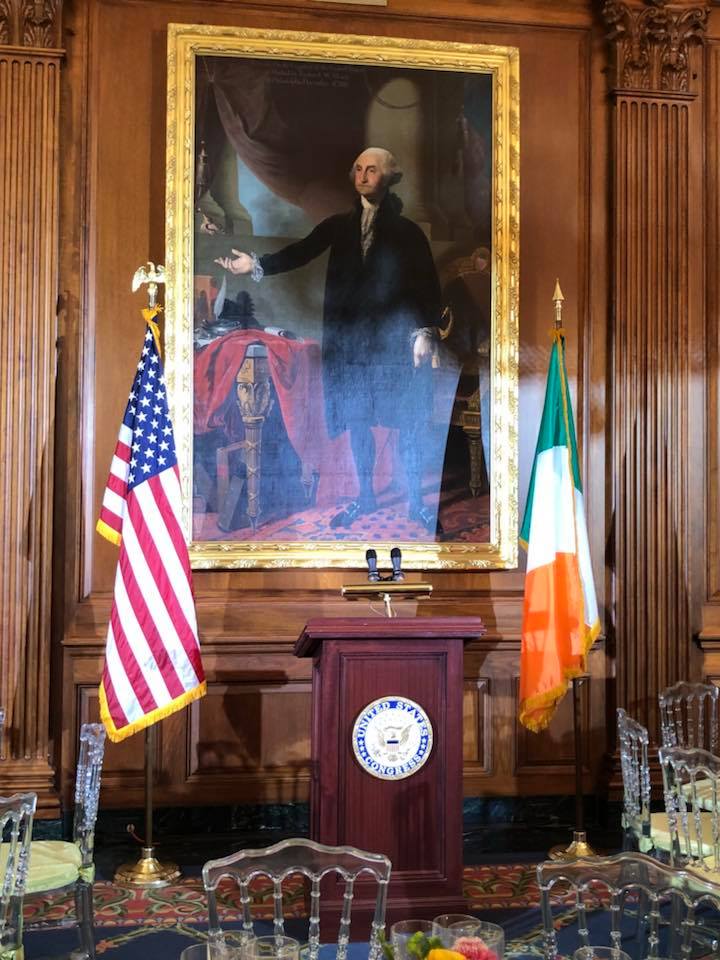 "I also want to thank President Trump in particular for taking the time to be with us here today, continuing a remarkable tradition which as you know was started back in 1983 by two really great Irish American, Ronald Reagan and Tip O'Neill. And I'm really glad that this tradition has continued. We had a really good meeting earlier on, talking about some important issues, talking about some of the undocumented Irish people who are here in America. Hard working, tax paying people who are very loyal to America and what we may be able to do about that. Talking about trade, I'm an optimist on that one. I think we can have a new fair trade and free trade deal between Europe and America. And there's no better man to make a deal than President Trump. So I'm sure if we all put our minds to that it can be done. And also talking about Northern Ireland, the real need and desire that we all share is to make sure that we don't go backwards, that people keep working together in Northern Ireland and that we don't have a hard border on our island ever again. So I want to thank Congress and the White House for your indispensable and steadfast support for Northern Ireland over the years."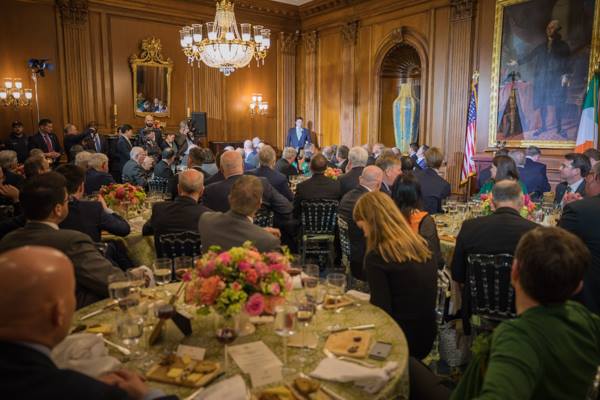 "I forgot to tell the story, Mr. President. As the President alluded to the fact that we actually have been in contact before, before the President became President and before I became Taoiseach, it happened three or four years ago when I was Minister for Tourism. And just to show how small the world really is I was over in London – I think for a Rugby match. I was Sports Minister as well by the way. So I was there on business. My assistant John Carroll said that there's a call, you know, Donald Trump wants to speak to you. And I just thought this can't be the case, you know, this has to be a (joke) by one of my staff members, you know, surely a business man like Donald Trump would write a letter first and we'd organize a meeting. But as we all know President Trump doesn't work like that, he's a very direct man, likes to get things done. So at the other end of the phone was Donald Trump saying to me that he bought a resort in Ireland, this beautiful golf resort called Doonbeg. But there was a problem nearby, somebody was trying to build a wind farm. And that, of course, could have a real impact on tourism and the beauty of the landscape. So I endeavored to do what I could do about it and I rang the county council and inquired about the planning permission and subsequently the planning permission was declined. And the wind farm was never built, thus the landscape being preserved. And the President has very kindly given me credit for that, although I do think it probably would have been refused anyway. But I'm very happy to take credit for it if the President is going to offer it to me."
President Trump
"Well, we're honored to welcome Taoiseach," said President Trump. "We actually knew each other from a different life. St. Patrick's Day is a time for us to honor and build up on the lasting bonds of our friendship between the United States and Ireland. Bonds forged through a very common heritage, shared value and a united vision for a peaceful and prosperous future. More than 30 million Americans today claim Irish heritage. That's why you have such power in the halls of Congress and everywhere else. 30 million people. Among the many wonderful Americans who trace their roots back to Ireland are elected leaders, like Paul, like Kevin, like Mike. I just have to look at almost this whole room. But we have just a tremendous group of unbelievable leaders."
"There was our first Catholic President John Kennedy, himself of Irish descent to set our nation's sights on the moon. We're looking at Mars by the way, in case anybody asks. Trying to top him. We're going to get there. And astronaut Michael Collins, who you all know and of Irish descent, and he piloted Apollo 11 mission that planted the American footprint and the American flag where no man had ever gone before. This impressive legacy of accomplishment is woven into our national character, the toughness. The grit, and the fighting Irish resolve are fundamental American ways of life. So in this St. Patrick's Day we celebrate our long friendship and close ties with the people of Ireland. Special, incredible, wonderful people. And we look forward to an exciting future that we will all share together. And it's an honor to have you with us and I look forward to seeing you often, whenever there's a problem you call, we'll solve it."
Jon Laird, Anthony Kearns and Ambassador Mulhall
The annual event is a time-honored tradition started in 1983 by House Speaker Tip O'Neill and President Ronald Reagan who rose above politics to unite in their shared heritage and desire for peace. Tenor Anthony Kearns performed. "It is indeed a privilege to accept the invitation of Speaker Ryan to sing for the Friends of Ireland Luncheon which highlights the shared history and enduring affection between Ireland and America," said Kearns. "I hope to express that closeness through my music on this special occasion." He was accompanied by Jon Laird of Virginia. 
Mr. Kearns first took the American television audience by storm in 1999 as the youngest member of The Irish Tenors, whose extraordinary collaborations include 5 television specials and a dozen CDs, most reaching Gold, Platinum, and Double Platinum status. Now living in the U.S., Kearns enjoys a robust international solo career, performing in the world's most prominent venues with the finest symphonies, in operas, on television, and at prestigious charity benefits. He has had the honor to sing for three U.S. Presidents, the chairman of the Joint Chiefs of Staff, and at the pre-Mass Concert for Pope Francis I in Philadelphia.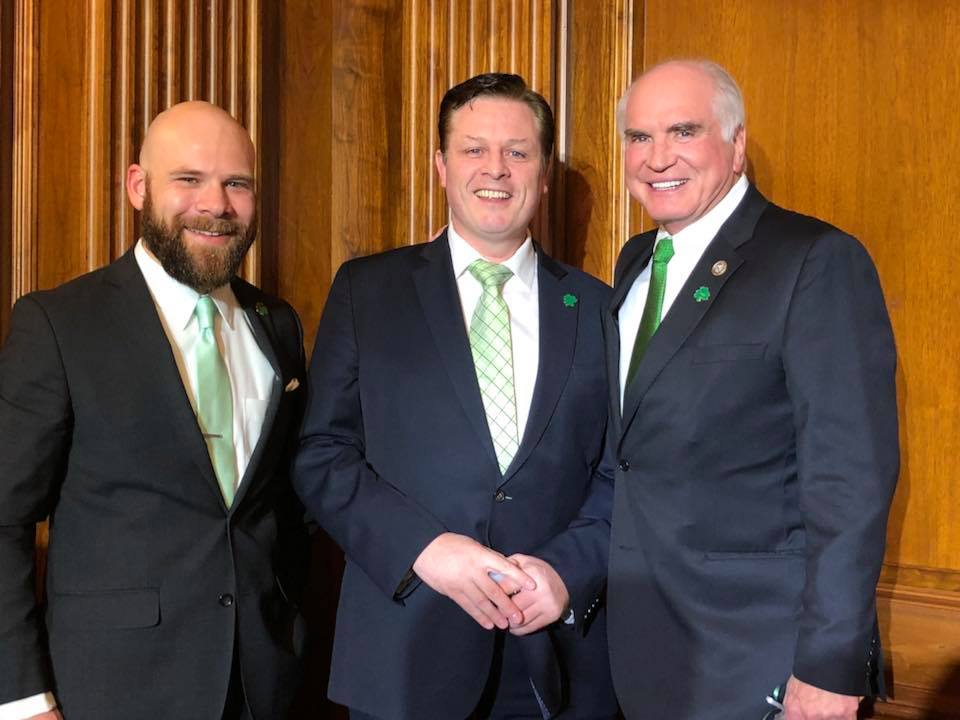 Jon Laird, Anthony Kearns and Rep. Mike Kelly
A legendary interpreter of Irish vocal music and a powerful operatic and classical voice on the global stage, Mr. Kearns is considered to be a musical ambassador on both sides of the Atlantic, with a large repertoire of inspiring songs that has guided the Irish people and people of faith through famines, wars, migrations and tyranny, raising their spirits, nourishing their hopes, and sustaining their courage. Kearns was honored to be a part of the 1916 Easter Rising centennial celebrations in New York and in Washington, D.C