Curse of Hope!
Photo credit: Misc. Smithsonian
As reported in the Palm Beach Shiny Sheet, "Mildred 'Brownie' McLean, a longtime fixture on the Palm Beach social scene who once turned down the Hope Diamond, died at home Wednesday, Jan. 9, 2019, at age 101. Known as 'The Duchess of Palm Beach,' Mrs. McLean led a grand and glamorous life full of parties, travel, philanthropy and adventures that included not only her brush with the legendary diamond but the selling of her Palm Beach home to John Lennon and Yoko Ono."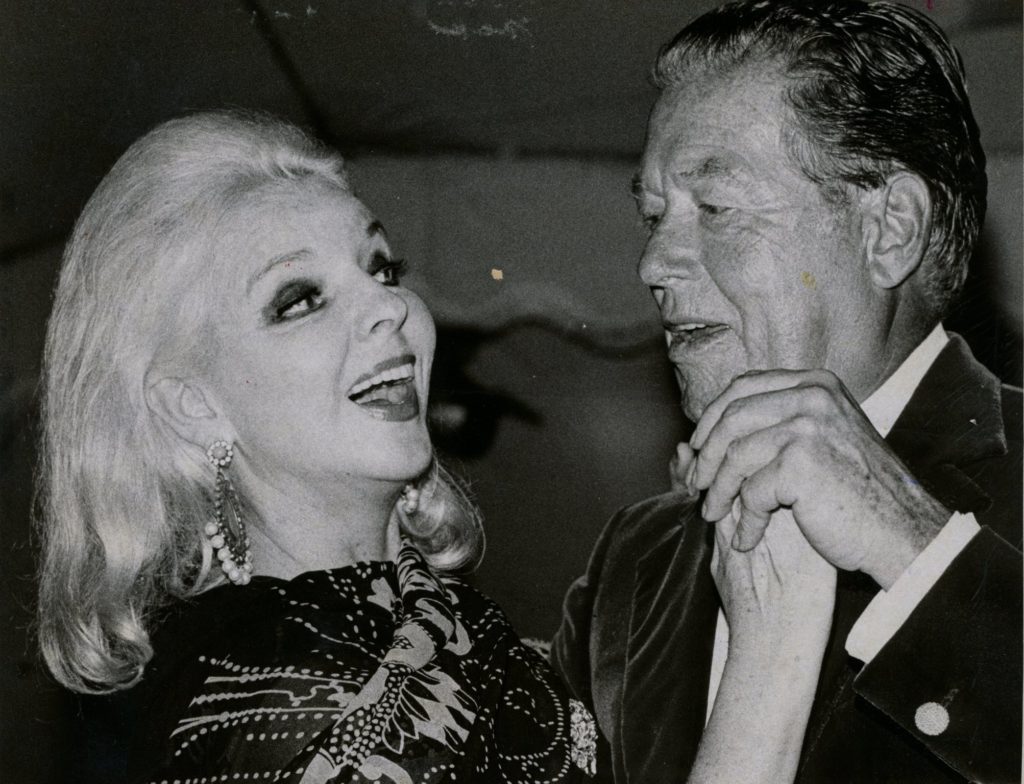 This note was published when she turned 100: Brownie McLean, grande dame of Palm Beach, turned 100 on Bastille Day.  I was introduced to her many years ago by Baroness Garnett Stackelberg with whom I often went to Palm Beach.  My favorite destination with Brownie was a trip to Morocco for the King's birthday where we stayed at La Mamounia in Marrakech and where she was a fixture on the disco dance floor until 3 AM and where and when I became friends with Astronaut Alan Sheppard.  The Palm Beach Post (The Shinny Sheet) has just published an article to commemorate her birthday.
My article and interview with Brownie was first published in 2013:
When we noticed a photo in Biznow of The Hope Diamond gawkers at The Smithsonian with this commentary: "Economic Club prez David Rubenstein pulled out the Hope Diamond, the Smithsonian's most valuable item ($200M) and everyone ran up to snap a cell phone photo, including Anthony Williams and Mark Ein," we couldn't help ourselves.  We called "Brownie" McLean, daughter in law of Evalyn and Ned McLean, (the last private owners of the Hope Diamond) in Palm Beach. OK, so you can see where this is going.  But first, a little background on the famous jewel.

Photo credit: The Smithsonian
According to the legend, a curse befell the large, blue diamond when it was plucked (i.e. stolen) from an idol in India – a curse that foretold bad luck and death not only for the owner of the diamond but for all who touched it.
"Whether or not you believe in the curse, the Hope diamond has intrigued people for centuries. Its perfect quality, its large size, and its rare color make it strikingly unique and beautiful. Add to this a varied history which includes being owned by King Louis XIV, stolen during the French Revolution, sold to earn money for gambling, worn to raise money for charity, and then finally donated to the Smithsonian Institution. The Hope diamond is truly unique."  Jennifer Rosenberg, About.com Guide
Evalyn Walsh McLean was a mining heiress and socialite whose original home in Washington is now McLean Gardens.  She was said to not believe the curse although her first son was killed in a car accident; her husband Ned ran off with another woman and eventually died in a sanitarium;. their family newspaper, The Washington Post, went bankrupt; eventually her daughter died of an overdose and one of her grandsons died in the Vietnam war.  Evalyn, though, is said to have worn it as a good luck charm. She died at age 60 of pneumonia.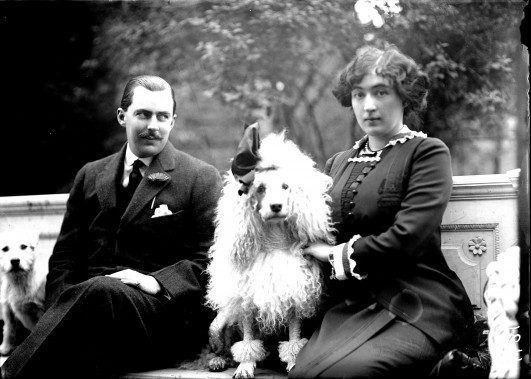 Ned and Evalyn McLean – Photo credit: public domain
Like the Tutankhamen curse, it's hard to separate fact from fiction and folklore, but we're going to try – enter Brownie McLean.  Here is her version:
"I was married to John McLean, the son of Evalyn Walsh & Ned McLean.  When she died, he was in charge of everything and he said to me "would you like the Hope Diamond as our wedding present?" And I said "yes, I would love it, I'm so excited about it."  That was the beginning of the end of Brownie's association with the famous diamond.

Mildred "Brownie" McLean is the daughter of Mr. and Mrs. C. Hudson Brown, descendants of the first settlers of Virginia, so she was no slouch in the connections department even before her marriage to John.  The exuberant and fun loving McLean has graced society pages for years and is still part of the international jet set.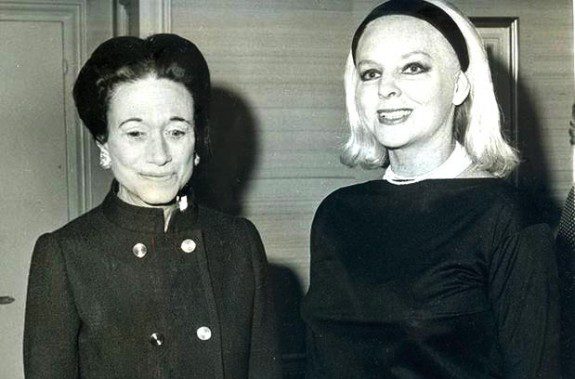 Wallace Simpson (The Duchess of Windsor) with Brownie McLean. Photo credit: public domain
"We then (John and Brownie) made an appointment to go see it.  At that point Harry Winston had picked up all of her jewelry.  She had so much jewelry including the Star of the East – all kinds of stuff like that – but you probably know that from being in Washington.  Anyway, when he had access to the diamond I said okay what do we do now?  Do we go to Harry Winston, take a look at it and pick it up?

In a physic moment when two feet away from the diamond, she noticed that it started shooting red sparks. "It was the most beautiful thing I had ever seen. …. a perfect blue white diamond.  But, when I saw red sparks coming out of it I couldn't move, I couldn't take another step toward it and so I never did touch it or try it.  I mean, would you touch a candle flame?  I'm trying to give you that feeling about the reaction I had. I was very young and didn't even know about the 'curse'.  I was absolutely stunned about that feeling.  I still get crawling skin even now when I think about it."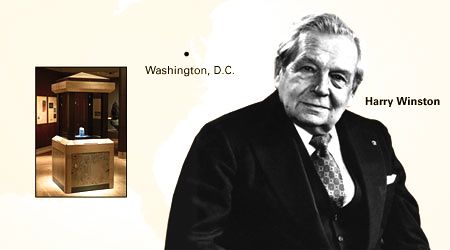 Photo credit: Courtesy of The Smithsonian
Although her husband begged her to wear it for a fashion show she wouldn't and said she would be back to see it again another day, a day that never happened.  "That was the end of my story there."
"I got home that night after being with Harry Winston to our apartment in New York City and the painting of Evalyn with the Hope Diamond around her neck had been hung that day after receiving it from Washington," she continued.  "I looked at it but started getting the same reaction. I thought  – "I can't do this"  – so I called the butler and asked him to take it down and decided to call the Mayflower storage people to come and get it. 
He put it outside in the back where they could pick it up the next day because it was too late to be picked up that night …………..and would you believe it…………there was a fire in the corridor that burned surroundings but didn't touch the painting.  The Mayflower picked it up the next morning but the driver had a car crash and broke his leg. It finally made it to storage though I have no idea what happened to it.  As far as I know, it could have gone up in smoke."  As for the diamond, Harry Winston (who probably wasn't taking any chances) donated it to The Smithsonian.  The last time she saw it was at a show in New York. "It didn't shoot fire at me this time, so I presume it's ok, " she laughed.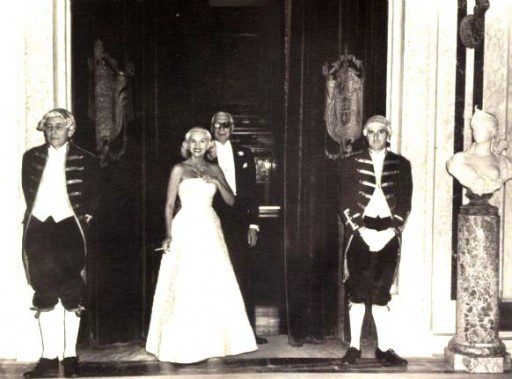 Photo courtesy Brownie McLean for The Palm Beach Post
Today, Brownie McLean resides in Palm Beach where she is still the life of the party and doesn't regret giving up the Hope Diamond for one second.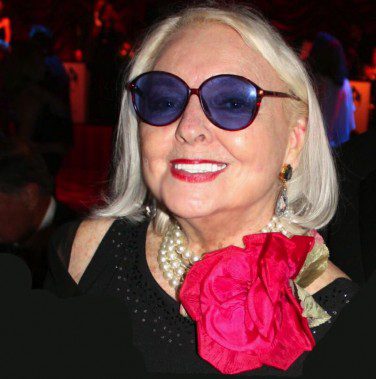 Photo credit:  www.palmbeachtoday.net
Footnote:  The red sparks, it was later revealed, were actually the result of an ultraviolet light that causes the gem to glow red-orange for about five minutes.  Oops.

Save