The Saudi Vision!
Photo credit: Daniel Swartz
"All success stories start with a vision, and successful visions are based on strong pillars." Mohammad bin Salman bin Abdulaziz Al-Saud, Chairman of the Council of Economic and Development Affairs for Saudi Arabia.

If the celebration of the 87th Saudi Arabia National Day held at The National Building Museum in Washington, DC on September 23rd hosted by The Royal Embassy of Saudi Arabia and Ambassador Khalid bin Salman bin Abdulaziz Al Saud was any indication, the visions are indeed based on strong pillars – music and color and dance and song and food and camaraderie that are the ingredients and the fabric of Saudi Arabia's heritage.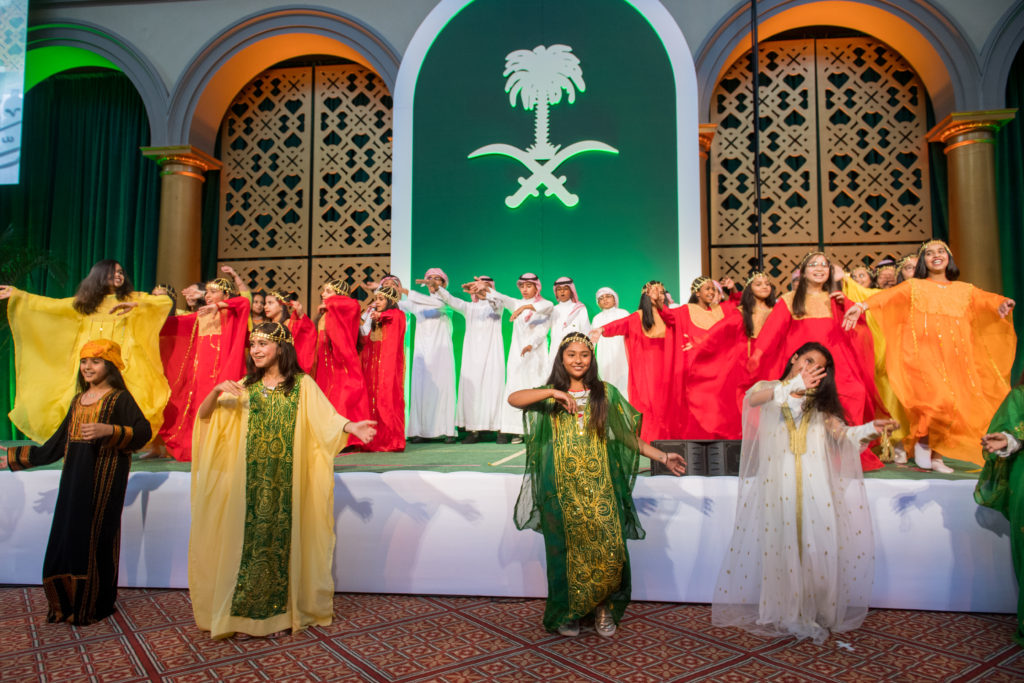 That message was loud and clear from the stage where it was captured on a teleprompter for what seemed like a thousand guests.  "My first objective is for our country to be a pioneer in the successful global model of excellence on all fronts, and I will work with you to achieve that. The Saudi Vision 2030 was launched in April of 2016 under the overview of his royal highness Prince Mohammad bin Salman. It provides an ambitious plan to raise the Sunni society and economy into a higher level. What is the Vision 2030? The Vision utilizes Saudi Arabia's three major strengths. Saudi Arabia is the heart of the Arab and Islamic worlds. Saudi Arabia is an investment powerhouse. Saudi Arabia is the hub connecting the three continents of the old world. Saudi Vision 2030 is built on three strong pillars: a vibrant society, a thriving economy, and an ambitious nation. A vibrant society with strong roots, improving lives with strong foundations. Our strong roots compel us to focus efforts to serve Umrah visitors, to take on our national identity, and to live by Islamic values. Our ambitious plan is to serve 30 million Umrah visitors." (The ʿUmrah is an Islamic pilgrimage to Mecca, Hijaz, Saudi Arabia, performed by Muslims that can be undertaken at any time of the year.)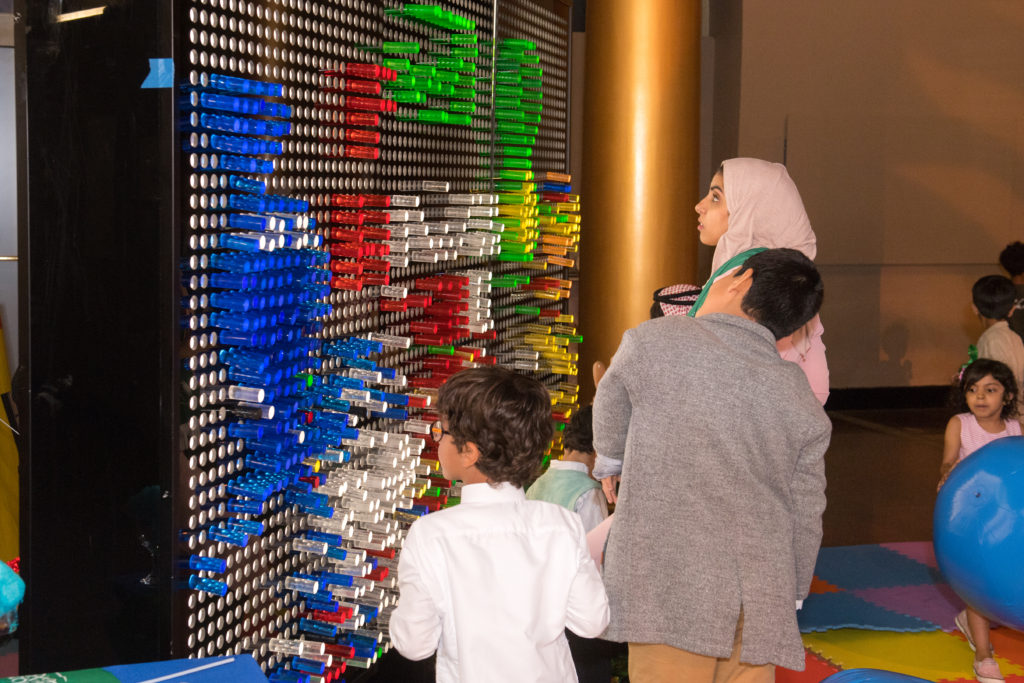 "In order to provide fulfilling lives for Saudi citizens, the Vision promotes culture and entertainment, living healthy and being healthy, developing our cities, and achieving environmental sustainability. The goal is to increase household spending on cultural and entertainment to six percent of total income. To assure strong foundations, we will work to care for our families, empower our society, develop our children's character, and care for our house. The second pillar of the vision is a thriving economy …… to lower the rate of unemployment from 11.6 to 7%. To increase the return of investment. We are going to maximize our investment capabilities, launch our promising sectors, and privatize our governmental services. The objective is to increase the public investment fund's assets to over 7 trillion. To achieve an economy open for business, we will work towards improving the business environments, rebuilding economic sectors, establish special sums needed to increase the competitiveness of our energy sector. The aim is to increase the private sector's contribution to 65% of GDP. In order to obtain an economy able to leverage its unique position, we will build a unique, regional, logistical hub integrating regionally and internationally, and to support our national companies. We will target to raise the share of non-oil exports in non-oil GDP to 50%. The third pillar on which the Vision is built is an ambitious Nation, effectively governed, and responsibly enabled. In order to achieve highly effective government we will embrace the country's currency, protect all viable resources, engage everyone, organize ourselves with agility, and commit to efficient spending, and balance finances."
Insert food break here: We took a breather from the speeches to enjoy the bountiful culinary landscape: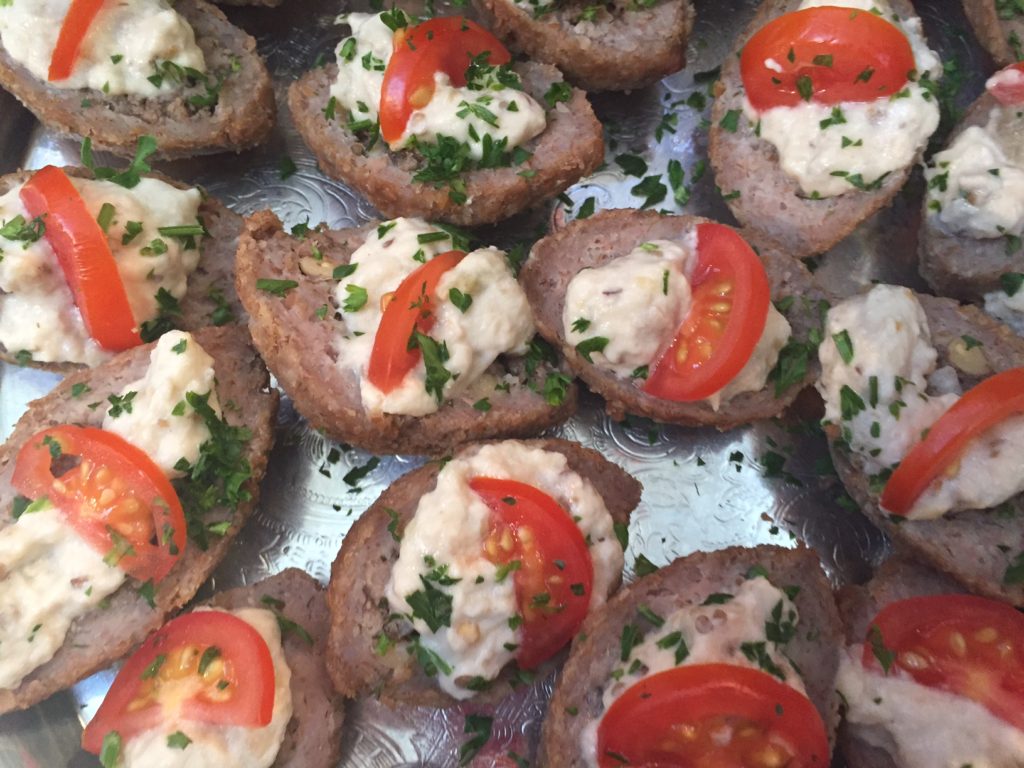 Photo credit: Janet Donovan
And to chat with Shadem Mahagub who works for Saudi Arabian Airlines.  Standing in front of a mountainous display of branded boxes we waited with bated breath like a child looking for the prize at the bottom of the Cacker Box hoping to hit the jackpot with a free ticket. We were out of luck.  Shadem proceeded to explain the contents, but we just wanted the free ticket!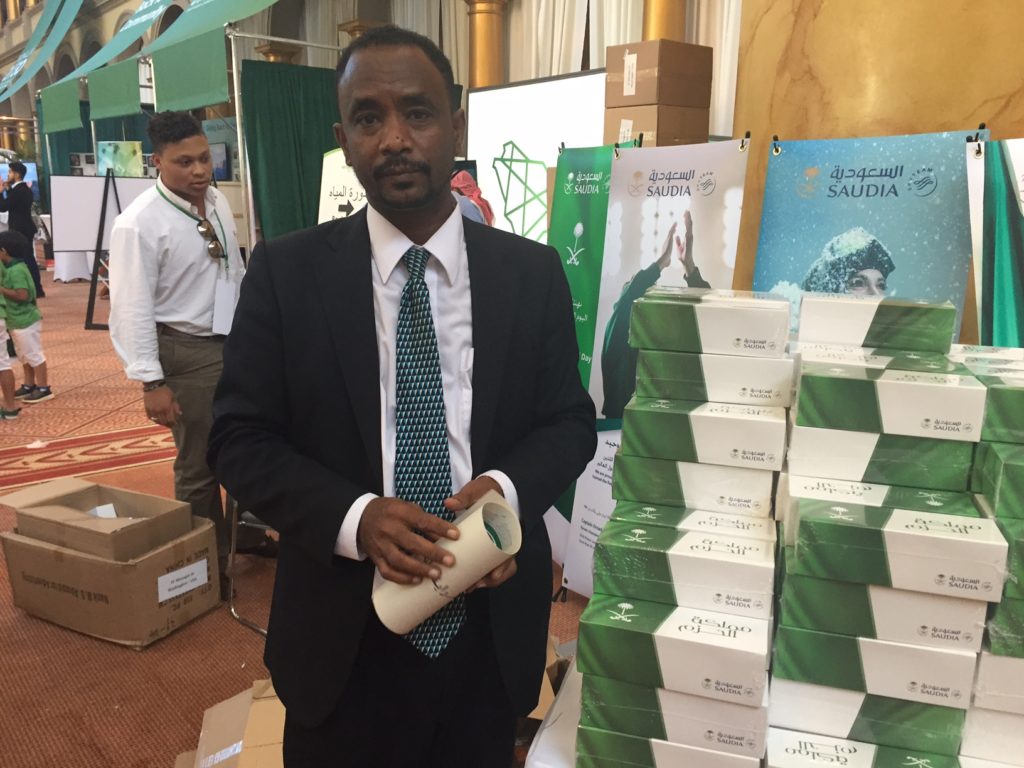 Shadem Mahagub   Photo credit: Janet Donovan

And to chat with Manal from Saudi Arabia about special education. "I'm doing my Masters degree at Howard University in special education," she told Hollywood on the Potomac, "and I'm helping those people who with disabilities."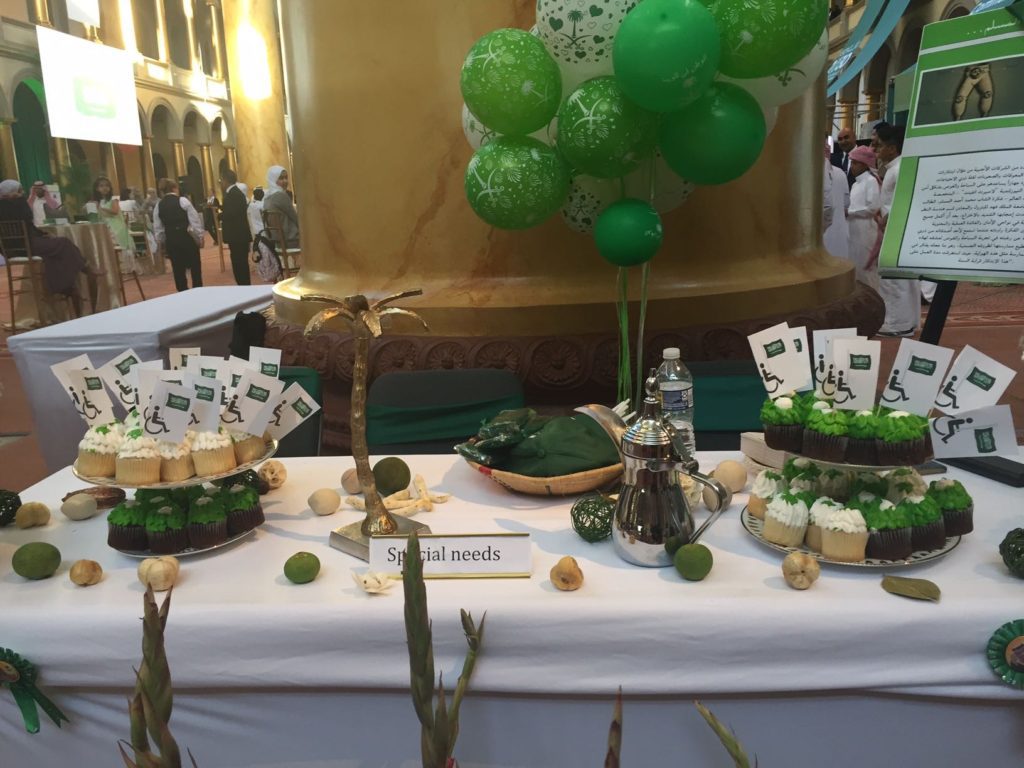 And to take in the sights and beauty of colorful Saudi Arabian wares: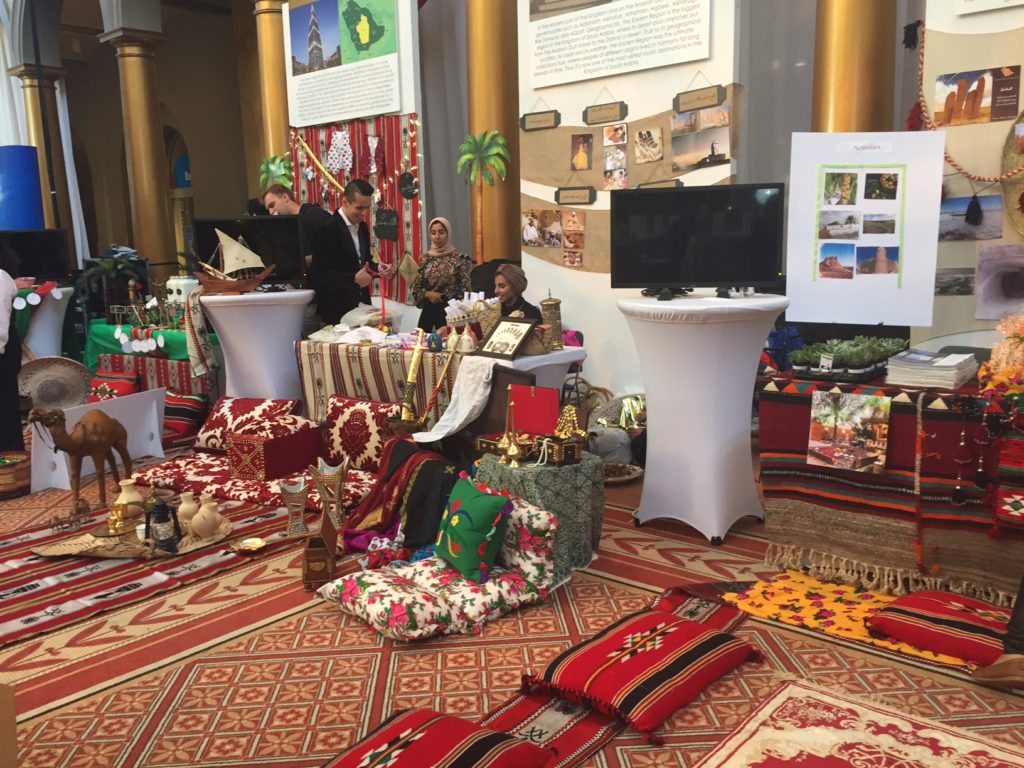 Photo credit: Janet Donovan
And to watch the entertainment prior to the arrival of Ambassador Khalid bin Salman bin Abdulaziz Al Saud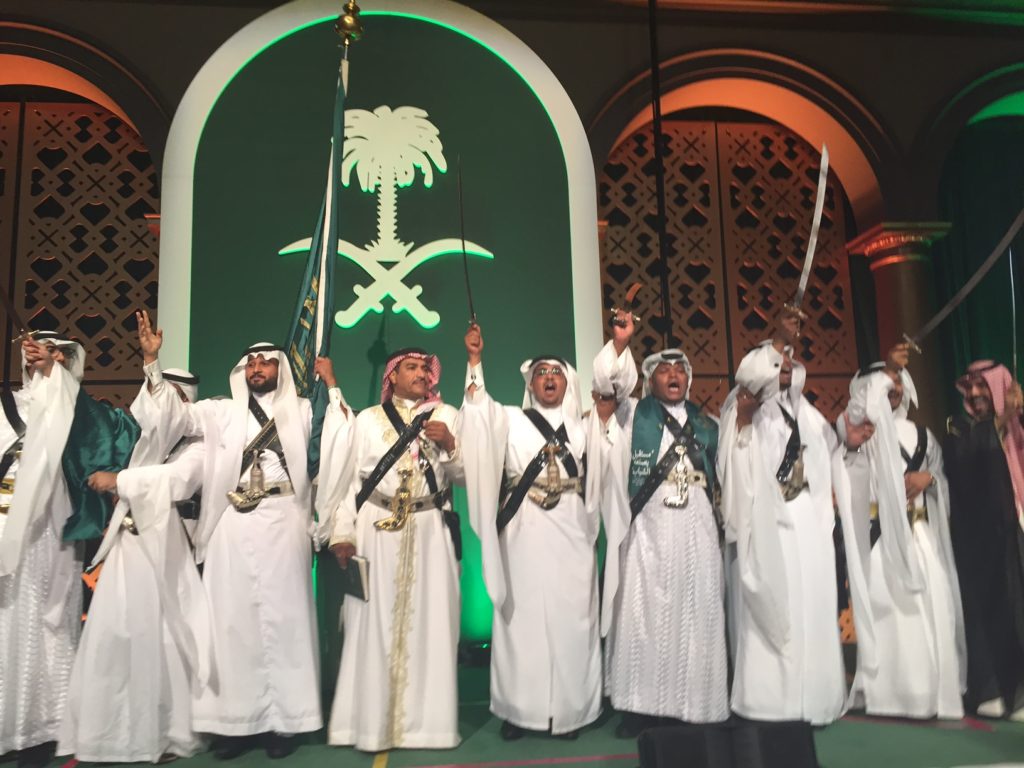 Photo credit: Janet Donovan
The price of fame: The arrival of Ambassador Khalid bin Salman bin Abdulaziz Al Saud caused quite a commotion as guests flocked to the receiving line where oxygen was in short supply: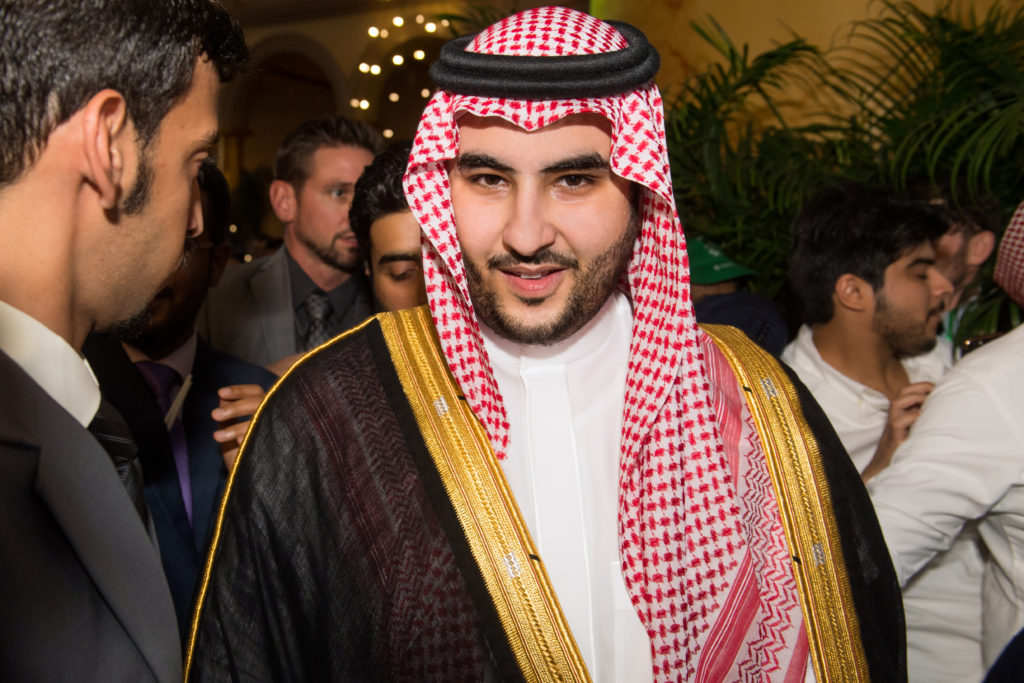 Ambassador Khalid bin Salman bin Abdulaziz Al Saud
HRH Prince Khalid bin Salman bin Abdulaziz Al Saud officially began his tenure as the Ambassador of the Kingdom of Saudi Arabia to the United States today with the presentation of his credentials to President Donald J. Trump at a White House ceremony on July 21st.

"I am honored and excited to represent the Kingdom of Saudi Arabia to the United States of America. Close friends and long-time allies, now more than ever, our two countries are aligned in shared interests and common purpose," said the Ambassador. "We are expanding trade and investment, increasing cultural exchanges, and fighting terrorism side by side. My first priority is to build on the outcomes of the Riyadh Summit to foster closer cooperation on our collective security and to expand our economic partnership. I also want to reintroduce Saudi Arabia to the United States. Under our new leadership, Saudi Arabia is continuing to change and modernize. I want to engage Americans in new ways to introduce and describe the important economic and social reforms now underway."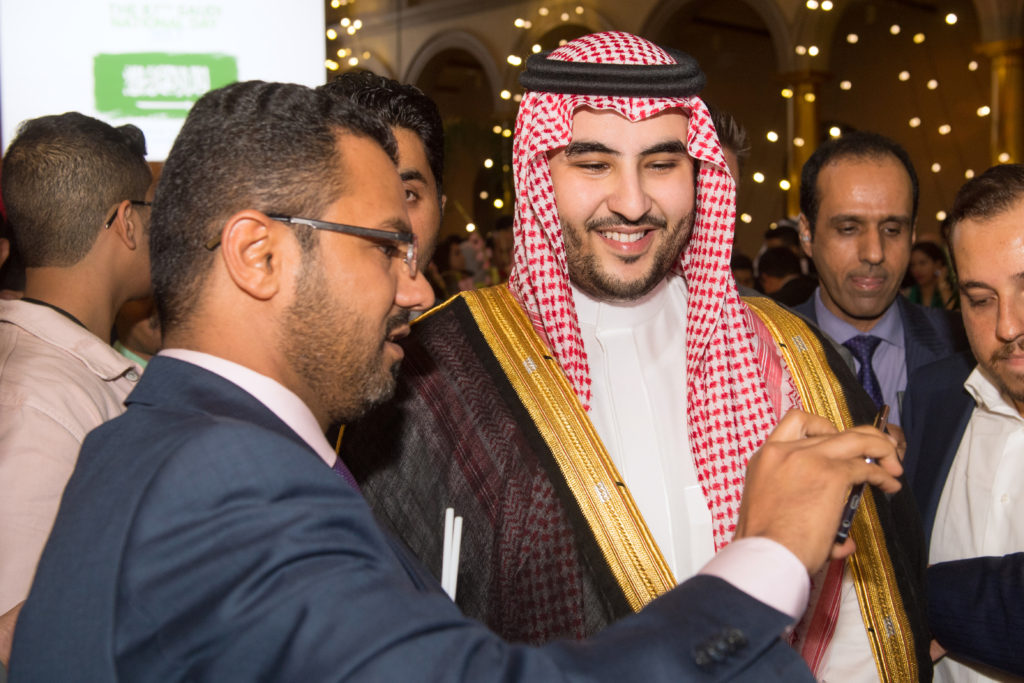 Most recently, Prince Khalid was a senior civilian advisor in the Ministry of Defense. Previously, he was an officer in the Royal Saudi Air Force (RSAF) where he flew F15-S combat missions in Syria and Yemen.  As a result of a back condition that prevented him from flying, Prince Khalid served as a tactical intelligence officer at ‎the King Abdulaziz Air Base in Dhahran. Prince Khalid graduated from the King Faisal Air Academy in Riyadh and was ‎commissioned a second lieutenant in the RSAF. He received pilot ‎training in the United States at Lackland Air Force Base in San Antonio, Texas and Columbus Air Force Base in Columbus, Mississippi. He also studied advanced electronic warfare in France.‎ Prince Khalid is the 10th Ambassador of Saudi Arabia to the U.S. since 1945.  SOURCE Royal Embassy of Saudi Arabia, Information Office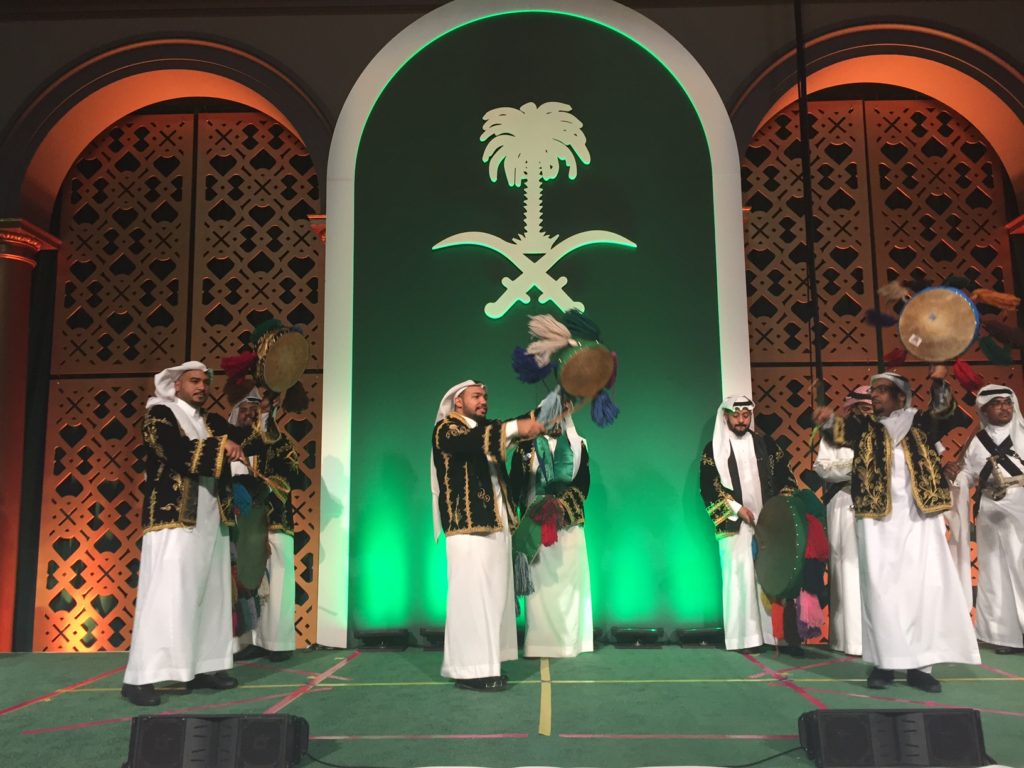 Photo credit: Janet Donovan
En fin: We circled back in time for the end of the speeches: "To realize a reasonably-enabled Nation, we will be responsible for our lives, be responsible in business, and be responsible to society. We aspire to rally one million volunteers per year. Saudi Vision 2030 incorporates and utilizes 12 programs to realize its objectives. The enrichment of the Haj and Umrah Experiences program. The National Transformation program, the PIF program, the National Industrial Development and Logistics program, the Financial Sector Developments program, the Lifestyle Improvement program, the National Confidence Promotion program, the Strategic Partnerships program, the Housing program, the Privatization program, the Saudi Character Enrichment program, the Fiscal Balance program. We are working tirelessly to achieve our Vision's goals and objectives. We know we'll get there because the pillars we are standing on are strong."
Save
Save
Save
Save
Save
Save
Save
Save
Save
Save
Save
Save
Save
Save
Save
Save
Save
Save
Save
Save
Save
Save
Save
Save
Save
Save
Save
Save
Save
Save
Save
Save
Save
Save
Save
Save
Save